Stan Jones & the Legend of Ghost Riders in the Sky
By all accounts, one-time Forest Ranger, firefighter, rodeo cowboy, songwriter, singer, and actor Stan Jones was a born raconteur. He turned the rich fodder of his life into stories and songs, one of them being his enduring country-folk tune Ghost Riders in the Sky.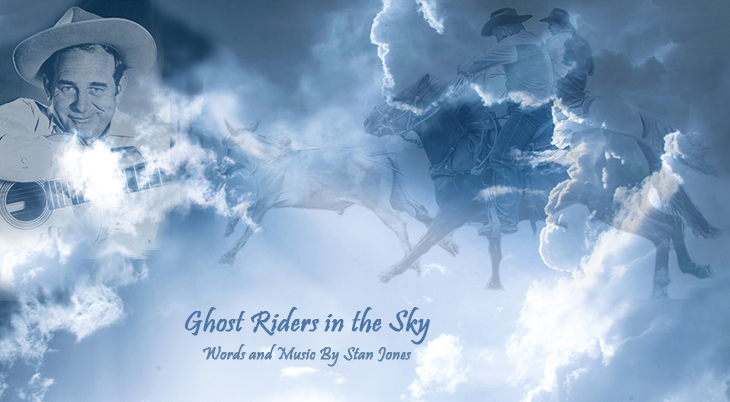 (Stan Jones / Ghost Riders in the Sky Photo Blend: © 2020 Anita Hamilton)
Stanley Davis Jones was born June 5, 1919 in Douglas, Arizona, and grew up in that state. He was a rodeo rider in his youth, earned his master's degree from U.C. Berkeley in zoology, and served in the U.S. Navy in the early 1940s. 
There are several versions of what inspired Stan Jones' lyrics for Ghost Riders in the Sky. One version of how his most famous song came about is that he was told of the legend of spirits in the sky resembling ghost riders, by an old Native American in Arizona (where he grew up).
Another take on it by It's the Cowboy Way!: The Amazing True Adventures of Riders in the Sky (2004) author Don Cusic, is this: 
"An old cowboy, Cap Watts, and a young cowpoke, Stan Jones, were working. As a storm began to develop, the moving clouds looked like figures riding through the sky, and Watts yelled "ghost riders". Later, Watts told Jones the story of "ghost riders" who tried to "catch the devil's herd" when cold air and hot air currents collide, which often results in tornadoes. Jones remembered the story and later wrote the song." 
The Death Valley Movie Days of Stan Jones
By 1945 Stan Jones had discovered a calling as a Forest Ranger with the National Park Service, eventually being assigned to work as a Park Ranger in Death Valley.
According to Michael K. Ward, author of Ghost Riders in the Sky: The Life of Stan Jones, The Singing Ranger (2014), says that Stan Jones wrote his song Ghost Riders in the Sky in 1947 while working as a Death Valley Forest Ranger.
The following year, 3 motion picture companies converged on Death Valley, and Jones was among the Rangers assigned by the Park Service to be on site when they were filming. The first of the three movies to be filmed in Death Valley around May 1948, was a biggie:
3 Godfathers (1948), a classic western film directed and produced by John Ford. The film stars John Wayne, Pedro Armendáriz, Harry Carey Jr., Ward Bond, Mae Marsh, and Mildred Natwick, with Ben Johnson in a small role as the member of a posse. Stan Jones is listed as an uncredited technical advisor on 3 Godfathers, and Death Valley was one several of the film locations for that movie. 3 Godfathers premiered in December 1948 but wasn't released until January 1949. 
Some tales have it that it was Stan Jones' connection to John Ford, and singing his Ghost Riders on the Sky song around the campfire to the cast and crew of 3 Godfathers, that lead to him getting the song recorded and published.
The second movie to use Death Valley as a film location that year and to have Jones assigned to it, was the modern film-noir western The Walking Hills (1949).
The Walking Hills stars Randolph Scott, Ella Raines, Edgar Buchanan, Arthur Kennedy, John Ireland, Jerome Courtland, and William Bishop. Stan Jones is listed as an uncredited technical advisor on IMDB for The Walking Hills. Set in the modern west, The Walking Hills was released in March 1949, and Columbia Pictures served as the distributor for the film.
According to author Michael K. Ward, it was when Stan Jones was heard singing his Ghost Riders on the Sky song for the cast and crew of The Walking Hills in the evenings, that star Randolph Scott urged him to pursue recording and publishing his song.
From May-July 1948, director William Wellman and actor Gregory Peck filmed the third of the 3 movies with scenes shot in Death Valley that year – Yellow Sky (1948).
Yellow Sky (1948) is a traditional western starring Gregory Peck, Anne Baxter, Richard Widmark, Robert Arthur, Harry Morgan, James Barton, Charles Kemper, and John Russell. Jay Silverheels (Tonto on The Lone Ranger) has an uncredited roles in the film as Indians; Jock Mahoney (future star of TV and films in his own right) was Gregory Peck's uncredited stunt double. Yellow Sky was released in January 1949. 
The movie crews left Death Valley when filming was over, and regardless of whatever film crew he first sang it to, or who encouraged him to pursue getting his song published and recorded (it could well have been all three of the movie crews who did this), Stan Jones had made some valuable connections in the film biz before he arrived in Hollywood.
Ghost Riders in the Sky Success
It didn't take long between Stan Jones shopping his song around in 1948, before it was recorded – by the songwriter himself.  
Riders in the Sky, sung by Stan Jones and his Death Valley Rangers, was recorded in either late 1948 or early 1949, and released by Mercury Records (Mercury #5320) in early 1949.
The first well-known performer credited with recording Ghost Riders in the Sky, is legendary country-folk singer Burl Ives. Burl Ives' version of Riders in the Sky was released by Columbia Records in February 1949.
However, it was big band leader and singer-actor Vaughn Monroe 's version of Ghost Riders in the Sky that made it to #1 on the music charts, in early May of 1949 – where it stayed for the next 3 months.
On May 21,1949, Frank Sinatra sang the #1 hit song Ghost Riders in the Sky, on Your Hit Parade. Late in 1949 Vaughn Monroe finally sang Ghost Riders in the Sky / Riders in the Sky on The Ed Sullivan Show, the third time it had been performed on the series that year.
Singers from a diverse array of musical genres have since recorded their own versions of this very popular song – Bing Crosby, Frankie Laine, Lawrence Welk and his Orchestra, Tom Jones, Marty Robbins, Peggy Lee, Vic Damone, Elvis Presley, Roy Clark, Willie Nelson, and Dean Martin.
Meanwhile, inspired by the massive hit Vaughn Monroe's recording of Jones' song was enjoying in early 1949, cowboy singer-actor Gene Autry quickly recorded his own version and based a movie on it – Riders in the Sky (1949). IMDB's trivia details for the film Riders in the Sky have songwriter-actor Stan Jones riding herd and singing his song along with Gene Autry in the opening and closing scenes of Autry's film, although Jones is only listed in the film credits as the soundtrack songwriter. 
Riders in the Sky (1949) is a musical western starring Gene Autry, Champion, Gloria Henry, Mary Beth Hughes, Alan Hale Jr, Pat Buttram, and Hank Patterson. The plot of the film revolves around a (fictional) story for how the Ghost Riders song came about. This clip from Riders in the Sky features Gene Autry singing Riders in the Sky as Old Man Roberts (actor Tom London) lies on his deathbed. 
Also in the cast of Riders in the Sky are Autrey's horse of course, Champion; actresses Gloria Henry and Mary Beth Hughes, and supporting actors Alan Hale Jr., Tom London, Hank Patterson, and Pat Buttram.
In addition to the 1949 Gene Autry film of the same name, Ghost Riders in the Sky can be heard in several television series and movies, notably:
Blues Brothers 2000 (1998), a musical action comedy starring Dan Aykroyd and John Goodman. Aykroyd and Goodman as the Blues Brothers, sing Ghost Riders in the Sky. The fantastic soundtrack for Blues Brothers 2000 also includes performances by music legends B.B. King, Aretha Franklin, Wilson Pickett, Sam Moore, James Brown, Gary U.S. Bonds, Eric Clapton, Bo Diddley, Isaac Hayes, Billy Preston, Lou Rawls, Travis Tritt, and Steve Winwood, among others.
Entourage (2015) starring Adrian Grenier, Kevin Connolly, Kevin Dillon, Jerry Ferrara, Jeremy Piven, Devi Mazar, and Emmanuelle Chriqui. Johnny Cash can be heard singing his version of (Ghost) Riders in the Sky. 
Ghost Rider (2007), a fantasy thriller starring Nicolas Cage, Eva Mendes, Brett Cullen, and Peter Fonda. Spiderbait performs their alt-rock version of Ghost Riders in the Sky for the film.
Television and Movie Success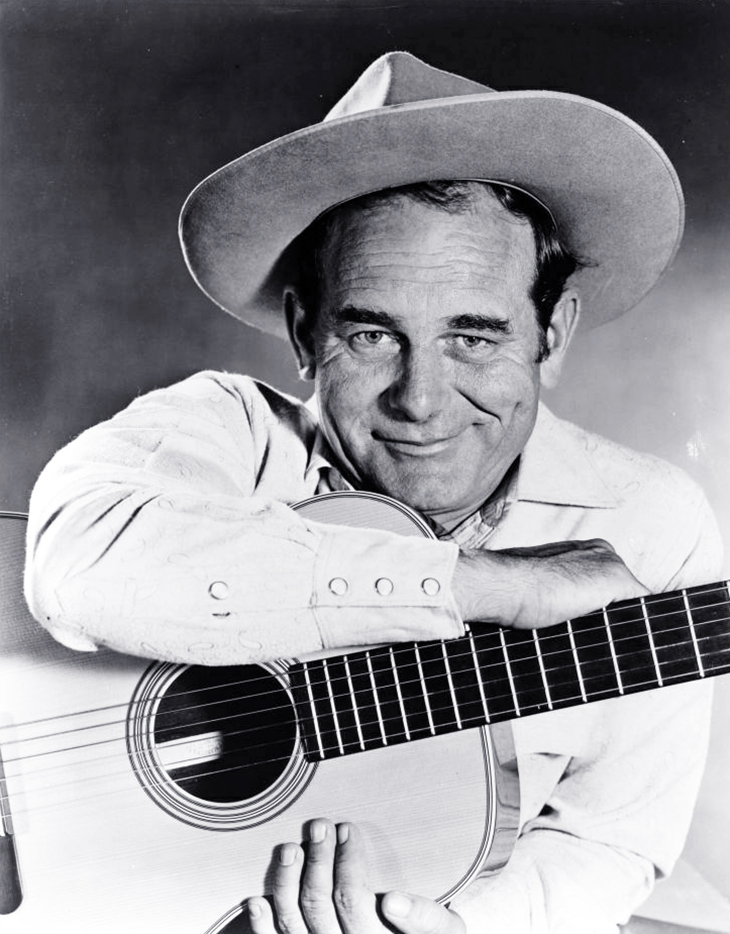 (Stan Jones 1958 Photo: Hollywood Press Syndicate)
Stan Jones' Death Valley/Hollywood connections with John Ford, John Wayne, Harry Carey Jr., Ward Bond, and Ben Johnson (from 3 Godfathers filming in Death Valley) paid off almost immediately, with work in the film industry writing songs and occasionally appearing in small parts.
Wagon Master (1950) – Songs: Wagons West, Song of the Wagon Master, Shadows in the Dust, Chuckawalla Swing. Directed by John Ford, Wagon Master stars Ben Johnson, Joanne Dru, Harry Carey Jr., Ward Bond, and Charles Kemper.
Future star of TV's Gunsmoke James Arness is in the film, as is athlete Jim Thorpe. 
Rio Grande (1950) – Songs: My Gal is Purple, Footsore Cavalry, Yellow Stripes. Jones has his first credited role on film playing a sergeant in this classic John Wayne / Maureen O'Hara western. John Ford directed, and Wayne's co-stars are Ben Johnson, Claude Jarman Jr., Harry Carey Jr., Chill Wills, J. Carrol Naish, Victor McLaglen. Wayne's younger son Patrick Wayne makes his movie debut in Rio Grande. 
Gene Autry, who had so admired Stan Jones' mega-hit Riders in the Sky that he recorded it himself and named a film after it, tapped the songwriter-actor again for his 1951 western Whirlwhind (1951). Jones wrote the title song, performed by Gene Autry, and has an uncredited role as a rider in the film. In addition to Autry, Whirlwind stars Champion, Gail Davis, Thurston Hall, Harry Lauter, and Gregg Barton.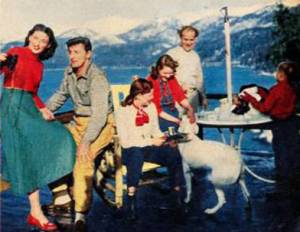 (Margaret Sheridan, Robert Mitchum & wife, Olive & Stan Jones 1951 Photo: Modern Screen)
At some point, Stan Jones and his second wife Olive had become friendly with actor Robert Mitchum and his wife Dorothy.
In 1951, Mitchum and his wife, and their sons, stayed with Olive and Stan Jones at the Jones' lodge on Lake Tahoe, California.
Perhaps because of these early and impressive film credits, Stan Jones was cast as Sheriff Blake in the 1952 movie The Last Musketeer, a western starring Rex Allen, Koko "The Miracle Horse of the Movies", and Slim Pickens. 
Stan Jones was confined to acquiring soundtrack / songwriting film credits for these movies:
The Rough, Tough West (1952) – Song: Cause I'm in Love. This western stars Charles Starrett and  Jock Mahoney (who had been a stuntman in the movie Yellow Sky, filmed in Death Valley).
The Steel Trap (1952) – Song: So Much to Me. A film-noir thriller starring Joseph Cotten, Teresa Wright, and Jonathan Hale. 
The Marshal's Daughter (1953) – Song: The Marshal's Daughter. This musical adventure film stars Laurie Anders, Hoot Gibson, Ken Murray, Preston Foster, Johnny Mack Brown, Buddy Baer, and Harry Lauter.
Hannah Lee: An American Primitive (1953) – Song: Hannah Lee. A western starring Macdonald Carey, Joanne Dru, and John Ireland (Dru and Ireland were married at the time).
Escape from Fort Bravo (1953) – Song: Yellow Stripes. A western set during the Civil War, Escape from Fort Bravo stars William Holden, Eleanor Parker, John Forsythe, William Demarest, William Campbell, Polly Bergen, Richard Anderson, and Carl Benton Reid. 
Jesse James' Women (1954) – Song: In the Shadows of My Heart. Another western starring Don "Red" Barry, Peggy Castle, Jack Buetel, and Lita Baron.
Tribute to a Bad Man (1956) – Song: Rough Wrangler. This western romance stars James Cagney, Don Dubbins, Stephen McNally, Irene Pappas, Vic Morrow, James Griffith, Onslow Stevens, and Lee Van Cleef as Fat Jones.
1956 was a stellar year for Stan Jones. He wrote the theme song for director John Ford and star John Wayne's classic post-Civil War western The Searchers (1956). The film also stars Vera Miles, Jeffrey Hunter, Ward Bond, Natalie Wood, Ken Curtis, Harry Carey Jr., and others. Jones didn't have a role in the films but writing the song could be considered a reunion of sorts for his Death Valley filming days.
That same year, his song Wringle Wrangle made it onto the movie soundtrack for Westward Ho, the Wagons! (1956), starring Fess Parker, Cathleen Crowley, Jeff York, David Stollery, Sebastian Cabot, and George Reeves.
Stan Jones once again had a supporting role with pal Harry Carey Jr. in the Civil War family adventure film The Great Locomotive Chase (1956), and penned the song Sons of Old Aunt Dinah for the movie. The Great Locomotive Chase stars Fess Parker, Jeffrey Hunter, Jeff York, John Lupton, Kenneth Tobey, and Claude Jarman Jr.; perennial western actor Slim Pickens is also in the movie.
From 1956-1968, Stan Jones co-starred as Deputy Harry Olson on the contemporary western TV series The Sheriff of Cochise, starring John Bromfield as Sheriff Frank Morgan. Stan Jones is also credited as the series creator. This episdoe of The Sheriff of Cochise "Husband and Wife", has star John Bromfield as the Sheriff, Stan Jones as Deputy Olson, guest stars Willis Bouchey as rancher Bert Peterson, and Mike Connors as conniving cowboy bigamist Jess Stiles.
Other television screen credits for Stan Jones include a minor role as Frank on 1955's The Adventures of Spin and Marty TV show and the made-for-TV movie of the same name. Both the television series and movie starred Tim Considine as Spin Evans (later of My Three Sons fame), David Stollery as Marty Markham, Dee Aaker as Russell the Muscle, Roy Barcroft as Col. Logan, and Harry Carey Jr. as Bill Burnett.
Stan Jones wrote the theme song for the popular 1950s western TV show Cheyenne starring Clint Walker, and appeared in a couple of episodes.  
John Ford's western romance The Horse Soldiers (1959) starring John Wayne, William Holden, Constance Towers, Hoot Gibson, Ken Curtis, Denver Pyle, and Strother Martin, has Stan Jones in a bit part as General Ulysses S. Grant. He also wrong the song I Left My Love, heard in the film.
Stan Jones' last credited acting role in a feature film is Walt Disney's Ten Who Dared (1960), about the 1869 Grand Canyon expedition lead by John Wesley Powell (actor John Beal) to chart the Colorado River. Jones has a co-starring role as team member Seneca Howland, along with Brian Keith, James Drury, Ben Johnson, L.Q. Jones, and R. G. Armstrong, among others. 
Stan Jones was only 49 when he died of cancer on December 13, 1963. He was elected into the Western Music Association Hall of Fame in 1997.
His legend and that of Ghost Riders in the Sky, lives on in his songs.
*Images are believed to be in the public domain and/or Creative Commons licensed & sourced via Wikimedia Commons, Vimeo, YouTube, or Flickr, unless otherwise noted*