Celebrating Seniors - Patrick Wayne Turns 77
Actor Patrick Wayne (nee Patrick John Morrison) was born on July 15, 1939 in Los Angeles, California. Patrick was his famous father John Wayne's second son, by John's first wife Josephine Alicia Saenz, and Patrick adopted his father's stage last name of Wayne for himself.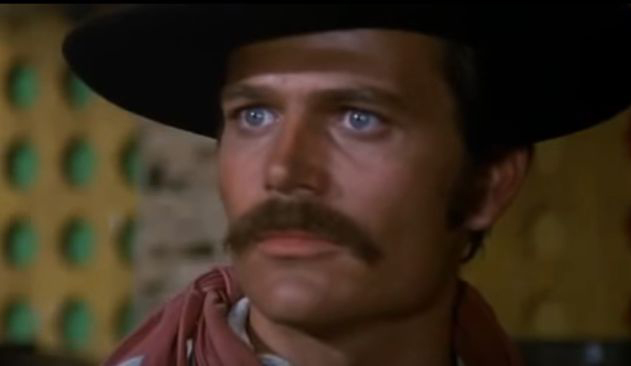 (Patrick Wayne 1971 Big Jake Screenshot)
Patrick Wayne's first 5 movie acting roles were in movies directed by his father's friend, director John Ford; Patrick told Box Office Mojo that John Ford was his godfather. In both Rio Grande (1950) and The Quiet Man (1952), his father John Wayne co-starred with Maureen O'Hara, another friend of Wayne's.
Other John Ford films Patrick Wayne appeared in as a teenager were The Sun Shines Bright (1953), The Long Grey Line (1955) starring Maureen O'Hara, and Mister Roberts (1955) starring Henry Fonda.
Of the over 40+ movies and another 40+ television credits Patrick Wayne accumulated during his career, 11 were movies and television works directed by the legendary director John Ford, 11 featured his father John Wayne, and five had John Wayne's frequent co-star Maureen O'Hara in a leading role. Baby boomers will remember Patrick from these classic movies, which have frequently appeared on television in years gone by.
Patrick made his television debut as a baseball player in an episode of the Screen Director's Playhouse, a 1/2 hour baseball drama called Rookie of the Year (1955). Rookie of the Year was directed by John Ford and starring John Wayne, Vera Miles, Ward Bond. These same actors, including Patrick Wayne (as Lt. Greenhill), would all be in John Ford's classic big-screen western movie the next year, The Searchers (1956). That same year, Patrick had another, un-credited role in The Conqueror (1956), also starring John Wayne.
Patrick Wayne appeared as teenage neighbour Walter on the TV sitcom Mr. Adams and Eve (1957-1958), starring Ida Lupino and Howard Duff.
While attending Loyola Marymount University, Patrick Wayne co-starred with Dennis Hopper in the western The Young Land (1959) in his first leading role. Upon graduation in 1961, Wayne enlisted in the U.S. Coast Guard.
In addition to the earlier Rio Grande and The Quiet Man, Patrick Wayne played Capt. James Butler Bonham in the western epic The Alamo (1960), which John Wayne also directed and produced. He was Texas Ranger Tobe in The Comancheros (1961), which  John Wayne again directed.
In John Ford's Donovan's Reef (1963), and McLintock! (1963) (also starring Maureen O'Hara and Stefanie Powers), Patrick Wayne had bigger roles. Both McClintock! and the Vietnam War movie The Green Berets (1968) were produced by Michael Wayne, John's oldest son and Patrick's older brother, and had John Wayne as a director.
Big Jake (1971) saw Patrick Wayne and Christopher Mitchum (actor Robert Mitchum's son) in co-starring roles in the last movie with Maureen O'Hara and John Wayne; this movie was also produced by Michael Wayne. Patrick's Brother Ethan Wayne played his son/John Wayne's grandson, and Christopher Mitchum (son of Robert Mitchum) played his brother. Patrick played a son at odds with his absentee father in Big Jake.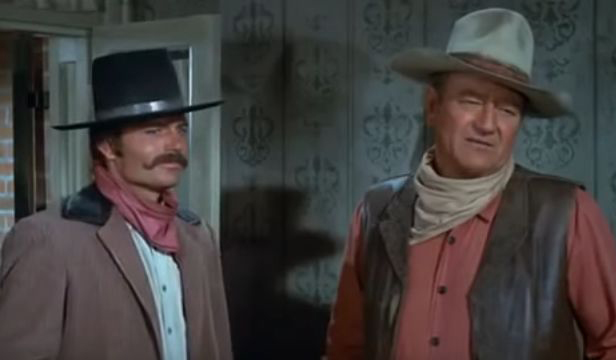 (Patrick Wayne & John Wayne 1971 Big Jake Screenshot)
Flashing Spikes (1962) had Patrick Wayne as a baseball player in an episode of the Alcoa Premiere anthology TV drama series. The Flashing Spikes  episode was directed by John Ford and in addition to starring Jimmy Stewart, saw John Wayne appear in a long cameo. This was Patrick Wayne's first time working with Jimmy Stewart, but he soon worked again with James Stewart in another John Ford directed and produced movie – Cheyenne Autumn (1964), which also starred Richard Widmark. The following year, Patrick played the son of James Stewart in the western classic Shenandoah (1965).
In the fall of 1964, two weeks before Patrick was set to marry fiancee Peggy Hunt, the wedding was called off. A little over a year later, 25-year-old Patrick Wayne married 23-year-old "socialite" Peggy Hunt in Hollywood on December 11 1965. 
Peggy and Patrick Wayne had three children during their 13 year marriage – sons Michael and Anthony Wayne, and daughter Melanie Wayne. They divorced in 1978.
During the 1960's, Patrick Wayne's roles gradually became larger. He had a co-starring role with actor Robert Lansing in the western movie An Eye for an Eye (1966). In the western sitcom The Rounders (1966), a spin-off from the big-screen movie of the same name the previous year, Patrick Wayne had a co-starring role, along with veteran actor Chill Wills.
The 1970's and 1980's saw Patrick appearing in episodes of popular baby boomer television series such as Love, American Style; McCloud, Marcus Welby, M.D., Police Woman, Fantasy Island, Charlie's Angels, and 7 episodes of The Love Boat between 1979-1986.
As the 70's came to a close, Patrick Wayne and Shirley Jones co-starred in Jones' short-lived comedy-drama television series Shirley (1979); Wayne was her love interest. At the beginning of the 1980's, Patrick Wayne hosted The Monte Carlo Show variety television series, which filmed in Monte Carlo. At the beginning of the 1990's, he hosted 13 episodes of the revived television game show Tic-Tac-Dough before the series was cancelled.
After his father died of cancer, Patrick and his brothers and sisters founded what became the John Wayne Cancer Institute at UCLA in the 1980's. Below, Patrick Wayne and his brother Michael Wayne, with a model for a statue of John Wayne for the airport name in his honor.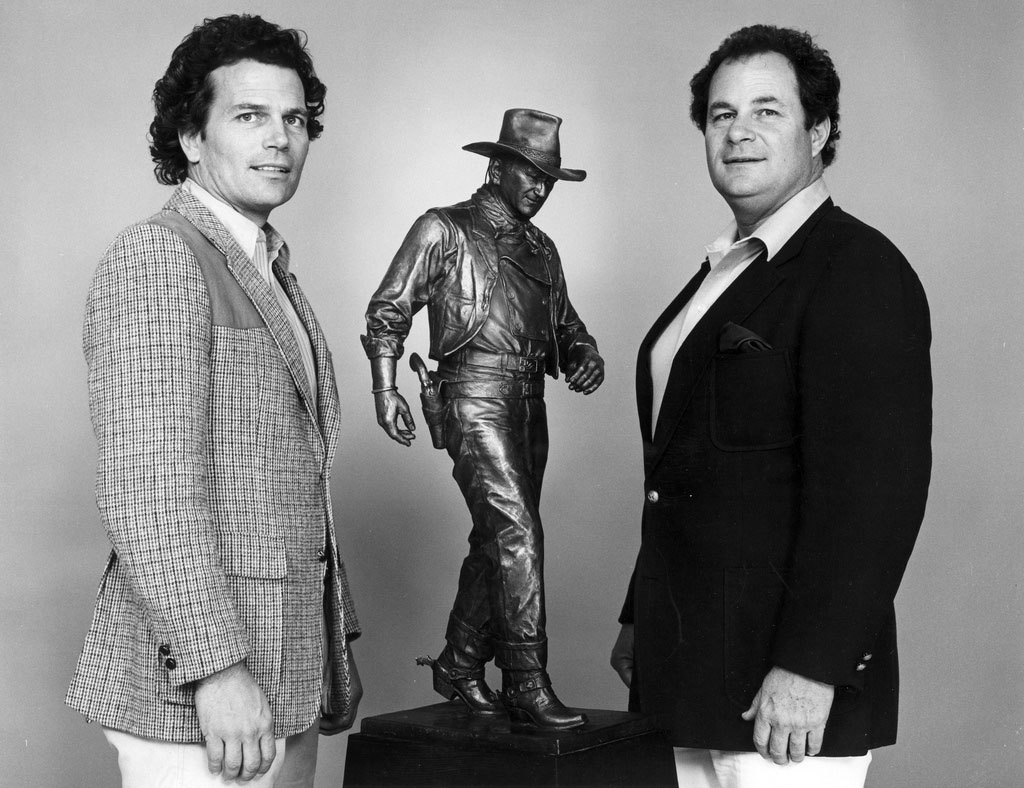 (Brothers Michael and Patrick Wayne 1981 Photo: Orange County Archives | Flickr Some rights reserved)
Patrick Wayne remained active in movies throughout the 1990's. He was a leading man in the movies Beyond Atlantis (1973) and the Walt Disney movie The Bears and I (1974); in Mustang Country (1976) he co-starred with veteran actor Joel McCrea.
Wayne's "biggest" movie starring role was in the fantasy Sinbad and the Eye of the Tiger (1977), co-starring Jane Seymour, left. Patrick's rugged good looks and chemistry with Seymour are highlights from the movie. Below Patrick Wayne as Sinbad and Jane Seymour as love interest Farah in the trailer for Sinbad and the Eye of the Tiger. 
In the westerns Rustler's Rhapsody (1985) starring Tom Berenger, Patrick Wayne co-starred with Andy Griffith and Marilu Henner; in Young Guns (1988) starring Kiefer Sutherland, he was legendary historical figure Pat Garrett. Theatre productions rounded out his time between movies and television.
As he turned the corner into his 50+ years, Patrick Wayne co-starred the Tom Selleck (Magnum, P.I.) mystery Her Alibi (1989). After an absence of 8 years from the big-screen, Wayne returned to film a part in his last movie to date, Deep Cover (1997). His last non-documentary television appearance was in an episode of Silk Stalkings in 1997.
Patrick Wayne had been single since his 1978 divorce from Peggy Hunt, until he met younger Misha Anderson (approximately 30 years his junior) at the wedding of a friend's daughter. The couple married in May 1999. 
Between 1984-2011, Patrick Wayne was involved in 7 documentaries about his famous father John Wayne, director John Ford, and their movies. Now a septuagenarian senior citizen, Patrick Wayne has been married to Misha for 17 years. 
Retired from acting since the early 2000's, in 2003, just before becoming a senior citizen Patrick took on the role of chairman of the John Wayne Cancer Institute.