Celebrating Seniors - Tim Curry is 70
Updated April 2017: New images, video, and written content.
British actor, singer, baby boomer and new septuagenarian senior citizen Tim Curry was born in Grappenhall, England on April 19, 1946. A boy soprano as a child, according to a Los Angeles Times interview from 1974, Tim Curry "Couldn't make up my mind whether to be a singer or an actor."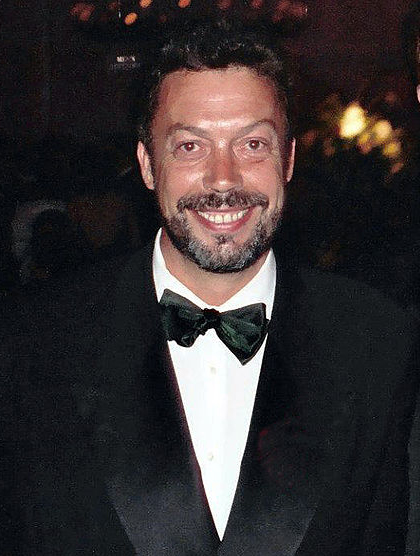 Tim Curry at the 1994 Emmy Awards. (Photo: Alan Light)
He ultimately decided on acting after graduating from the University of Birmingham in 1968 with a combined BA in English, and Drama & Theatre Studies. Soon after graduation, Curry joined joined the London, England cast of Hair (1968), and met actor and writer Richard O'Brien (Smith). 
More theatre roles and small parts on television in the U.K. followed. Curry told the LA Times in 1975 that his career evolved naturally:
"None of it was planned, really. I just knew I had to take risks. Life is like acting in that way. You've got to take risks. If you take big risks, it's then up to you whether or not you pull it off."
In 1973 Curry heard from his old friend Richard O'Brien that he'd written a new musical play; he read the script, and was hooked on the possibilities of the role of Dr. Frank N Furter in The Rocky Horror Show. The Rocky Horror Show musical premiered in June 1973 in London, England and was in production at various London locations until June 1980 (almost 3,000 performances). Curry and O'Brien went to the US in 1974 to star in the Los Angeles production of the musical there, which was also well received and lasted for 9 months. Although The Rocky Horror Show musical was not a success when it got to Broadway in 1975, a deal had already been made to make it into a movie. 
Tim Curry reprised his iconic role as Dr. Frank-N-Furter in the cult classic musical-comedy-horror movie, The Rocky Horror Picture Show (1975). The feature film was a resounding success an on an estimated budget of just over $1M in 1975,  as of 2017 has made over $137M. The cast of The Rocky Horror Picture Show included Susan Sarandon as heroine Janet Weiss, Barry Bostwick as hero Brad Majors, singer Meat Loaf as ex-delivery boy Eddie, and Charles Gray as The Criminologist. The original play's creator/writer , actor Richard O'Brien appears in The Rocky Horror Picture Show as handyman Riff Raff, Below, Tim Curry and the cast of The Rocky Horror Picture Show in the official movie trailer from 20th Century Fox:
After The Rocky Horror Show Broadway musical closed, Tim Curry went on to star in other Broadway and London plays and musicals. He was nominated for a Best Performance by a Leading Actor Tony Award for his role as Mozart in the Broadway play Amadeus in 1981; Curry's second Tony nomination was in My Favourite Year (1993), and his third came during his 50+ years, in 2005 for Spamalot. In May 2011 after becoming a senior citizen, Curry had to withdraw from a theater production for health reasons. The following April, he appeared in What About Dick in Los Angeles, just before suffering a stroke in July 2012.
Although Tim Curry's career has been mainly in live theatre, he has appeared in numerous films and television movies series since the 1970's. The musical comedy Annie (1982), dark fantasy film Legend (1985), and the comedy mystery Clue (1985), were followed by more comedy roles including Home Alone 2: Lost in New York (1992), and thrillers. Clue re-united Tim Curry onscreen with his The Rocky Horror Picture Show co-star Susan Sarandon; also in the cast of Clue were Eileen Brennan, Madeline Kahn, Christopher Lloyd, Michael McKean, Martin Mull, Lesley Ann Warren, and Howard Hesseman. Below, the official Paramount Movies movie trailer for Clue features Tim Curry, Susan Sarandon and others.
Tim Curry was in the television mini-series Napoleon and Love (1974), Will Shakespeare (1978), Stephen King's It (1990), and Alice (2009). He also made numerous guest appearances and recurring roles on popular baby boomer television shows such as Wiseguy (1989).
Throughout the 1990's, Tim Curry's distinctive voice could be heard in numerous animated television series and movies. Curry voiced the animated character of Nigel Thornberry frequently on television and in the movies during his 50's and early 60's. Among his many credits, Curry was the voice of Nigel Thornberry and other characters in The Wild Thornberrys television series from 1998-2004; in the animated feature film The Wild Thornberrys Movie (2002); again in Rugrats Go Wild (2003), and in the video game Rugrats Go Wild! (2003).
After voicing Professor Finbarr Calamitous on the animated television series The Adventures of Jimmy Neutron: Boy Genius from 2003-2005, Curry reprised the character in the made-for-TV movie The Jimmy Timmy Power Hour 2: When Nerds Collide (2006).
The animated movie Valiant (2005), inspired by true stories of heroic WWII homing pigeons that served in different military units, Curry voices the war pigeon Von Talon. Actors Ewan McGregor, Ricky Gervais, John Cleese, John Hurt, Jim Broadbent, and Hugh Laurie, are among the other voice over actors in the cast of Valiant.
Live acting appearances on television for Tim Curry included being a regular cast member in the television series re-boot of an old baby boomer favorite TV show from the 1960's, Family Affair. Curry appeared in the new Family Affair series from 2002-2003 as Mr. French. He could also be seen guest-starring in scene-stealing roles on Monk (2004) as Dale 'The Whale' Biederbeck ; in Will & Grace (2004); Psych (2007), and Criminal Minds (2010), among others.
Since first becoming a senior citizen in 2011 and during recovery from his 2012 stroke at his Hollywood Hills home, Curry has undergone months of physical therapy. Despite being in a wheelchair and reports that he had difficulty speaking after the stroke, he has continued to accumulate credits for performing voice acting in animated television and feature films.  
In 2016, now a septuagenarian senior citizen, Tim Curry is currently filming a made-for-TV movie musical production titled The Rocky Horror Picture Show: Let's Do the Time Warp Again. Instead of his signature role as Frank N Furter, the role he originated, this time Curry will serve as the narrator.
Below, Tim Curry and the cast of The Rocky Horror Picture Show: Let's Do the Time Warp Again TV movie, told People about his return to Rocky Horror. 
*Images are public domain or Creative Commons licensed & sourced via Wikimedia Commons, Vimeo, or Flickr, unless otherwise noted*