Shakespeare's Fair Verona
The ancient city of Verona dates back to the 1st century BC and is a UNESCO World Heritage site. This historic city inspired William Shakespeare to set Romeo and Juliet on it's pink and white marble streets, and is home to the 2000-year-old Verona Arena.
Piazza Bra
Verona Arena & Opera Props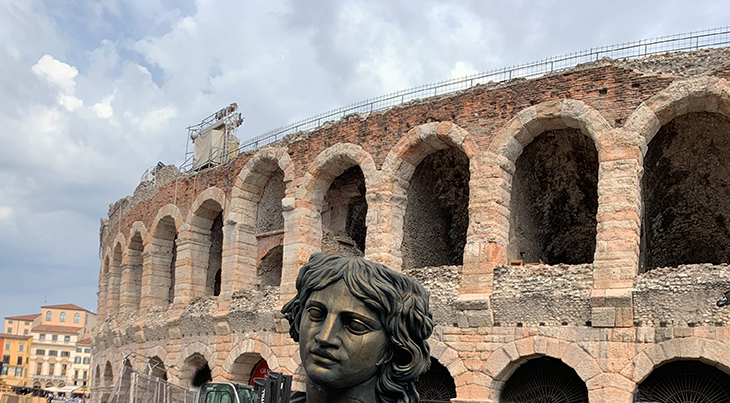 (Verona Arena & Tosca Opera Prop, Verona, Italy Photo: Anita Hamilton / 50+ World)
The beautiful and functional Verona Arena (c. 30 AD) could seat 25,000-30,000 spectators on it's marble seats back in the days when people came from far and wide to watch gladiators and other spectacles of their times.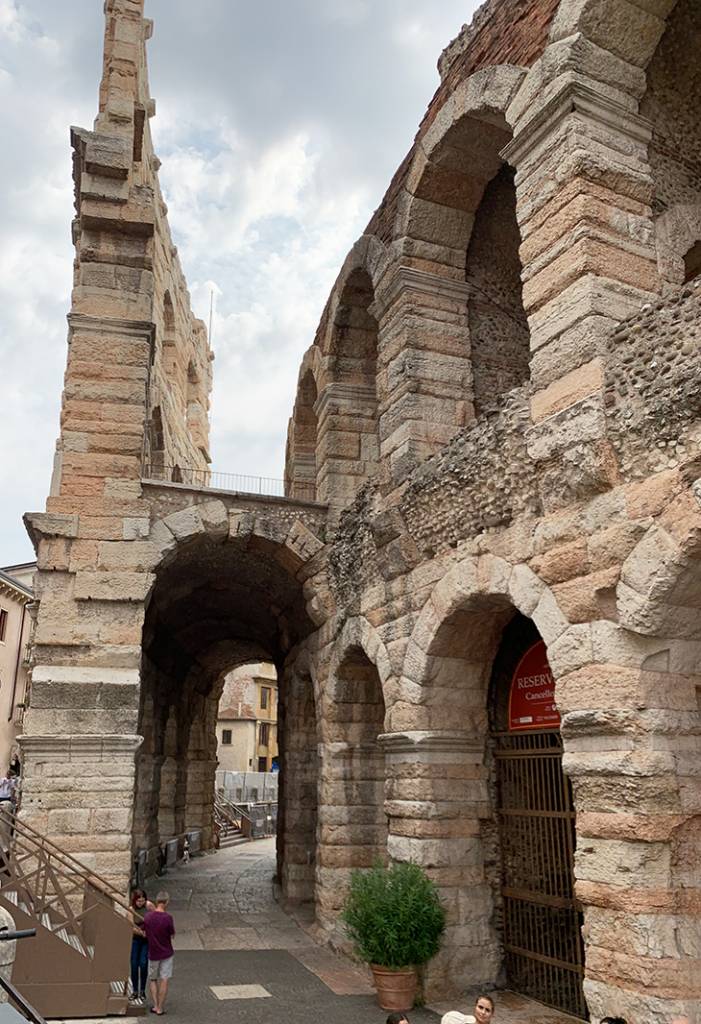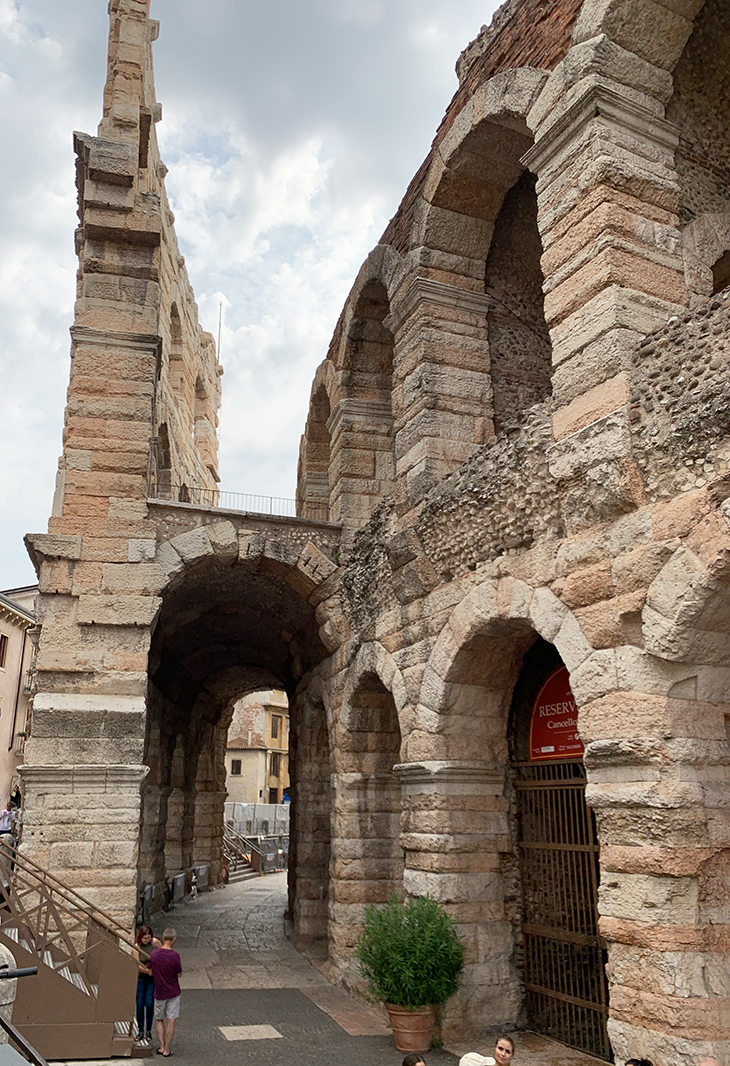 (Verona Arena Outer and Inner Walls, Verona, Italy Photo: Anita Hamilton / 50+ World)
Only one small section of the outer arena wall is still standing.
Our tour guide advised that it's likely thanks to that exterior wall, that the inner arena and walls are still intact.
Compared to the Colosseum in Rome, which has nothing left inside, the inside of the Verona Arena is very well preserved.
It's actively used for both opera and modern pop or rock concerts and other performances / events today.
On any given week there might be 3 different operas or concerts at the arena.
No tour of Northern Italy would be complete without seeing the Verona Arena. You can tour the inside during the day for a fee, or better yet, plan in advance to attend an opera at night for the full experience.
Outside the arena are props from past and current operas being performed, and huge cranes that are used to move the props on/off the stage.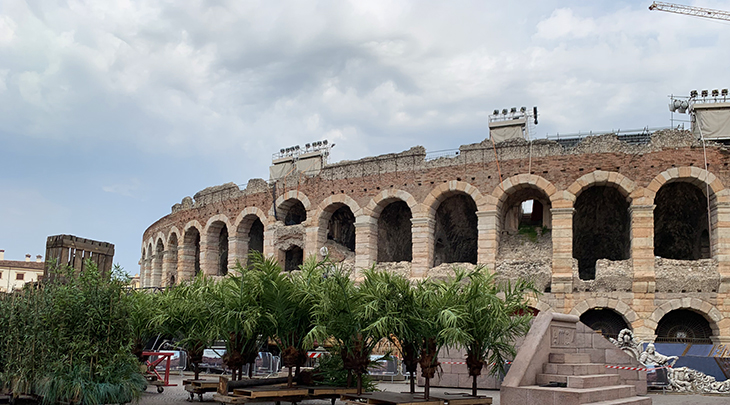 (Verona Arena, Opera Props and Cranes, Verona, Italy Photo: Anita Hamilton / 50+ World)
Special events such as ballet and modern concerts are also held at the Verona Arena. The classic operas performed here in 2019 included Carmen, Aida (ancient Egypt), Tosca (set in Rome in June 1800 during the Napoleonic Wars), and Il Trovatore (set in the Middle East).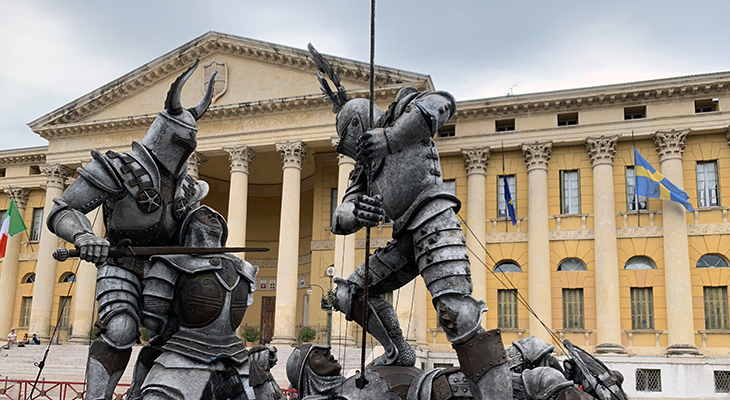 (Verona Arena & Il Trovatore Opera Prop, Verona, Italy Photo: Anita Hamilton / 50+ World)
In 2020 the operas scheduled to be performed at the Verona Arena thus far are Aida, Turandot, Nabucco, La Traviata, and Cavalleria Rusticana / Pugliacci.
Around the other sides of this busy city centre plaza are vendors, restaurants, and other historical buildings.
Palazzo Barbieri / Verona City Hall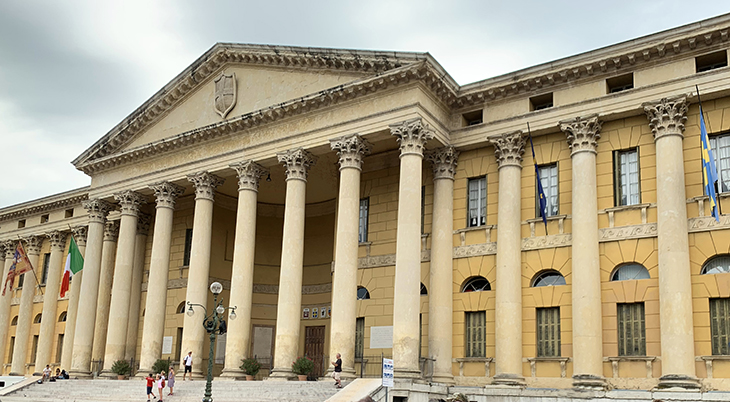 (Palazzo Barbieri / Verona City Hall, Verona, Italy Photo: Anita Hamilton / 50+ World)
Designed by Giuseppe Barbieri, construction on the neoclassical Palazzo Barbieri was completed in 1848; today it's Verona's city hall.
Palazzo della Gran Guardia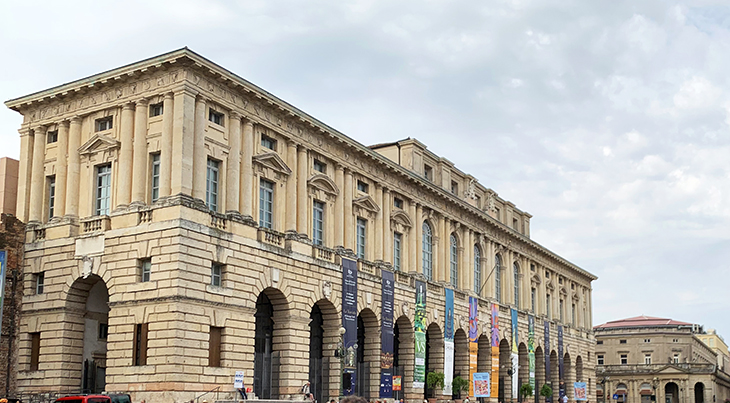 (Palazzo della Gran Guardia, Piazza Bra, Verona, Italy Photo: Anita Hamilton / 50+ World)
In 1610 construction began on the Gran Guardia, envisaged as a military building with a high porch. A couple of centuries later when the Austrians were ruling Verona, Palazzo della Gran Guardia was completed in the mid-1800s. Today it's a conference and exhibition venue.
As we walk further into the historic city center of Verona, I marvel at the 2000 year-old the pink and white marble streets along Via Mazzini, lined with shops on either side.
Piazza delle Erbe Buildings and Statues
The Piazza delle Erbe (Square of Herbs) market square is filled with stands of food, clothing, leather goods, and all kinds of souvenirs. This area of Verona was part of the Roman Court and in Roman times would have been called the Forum.
The Mazzanti Houses 
The buildings on the north side of the plaza date back to the 1300s and were at that time owned by the della Scala family. Verona City Guide states that they were sold to the Mazzanti merchant family when the Scaligeri moved to their new palace in the Piazza dei Signori.
(Mazzanti Houses Verona, Italy Photo: Anita Hamilton / 50+ World)
In the 1500s the Mazzanti family commissioned artist Alberto Cavalli to paint the frescoes that still adorn the exterior of the buildings named after their family centuries later. 
Madonna Verona Fountain
At the far north end of the Piazza del Erbe are the Maffei Palazzo, the Torre Del Gardello bell tower (dating back to the 1100s and renovated in 1370), the Venetian Lion of St. Mark, and the Madonna Verona statue and fountain.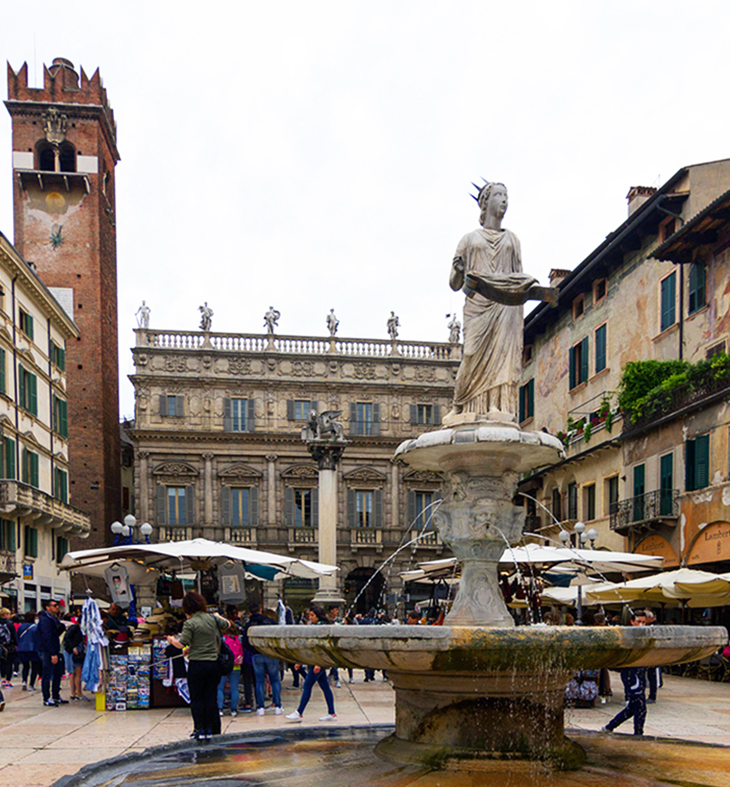 (Madonna Verona Fountain & Statue, Verona, Italy Photo: Maksym Kozlenko)
Intended to personify a queen of Verona (Madonna was a title of respect for noblewomen), the Madonna Verona statue and fountain dates back to Roman times; parts were lost during the dark ages after the Roman Empire collapsed (approx 400 AD). The fountain was restored around 1368, and an epigraph on the side of the statue indicates it was moved to the Court approx 1380. 
Palazzo Maffei
In Roman times a temple (the Capitolium, dedicated to the Roman gods Minerva, Jupiter, and Juno) stood on the site where the Palazzo Maffei is today in Piazza delle Erbe.
Another building stood in it's place by the time Veronese nobleman Marcantonio Maffei decided to add on a third floor onto it in the mid-1400s. Renovations and construction on the Palace were completed in 1668, over 200 years later. Unfortunately when we visited Verona in 2019 the Palazzo Maffei was under renovation again, and nothing was visible from the outside.
The Maffei family had ties to Rome and it's speculated that they commissioned a Roman architect for the ornate Baroque style of the additional third floor. Whether the Maffei family knew of the previous Roman temple on site or not, as it happens the six marble statues on the top front of the facade are those of Greco-Roman gods.
Below from left, Hercules, Jupiter, Venus, Mercury, Apollo, and Minerva atop the Palazzo Maffei.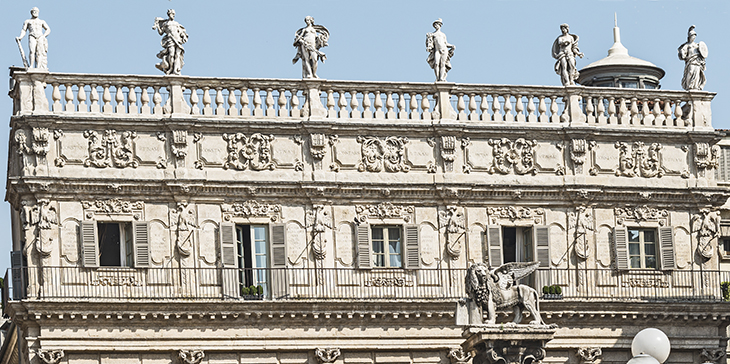 (Palazzo Maffei Third Floor and Lion of St. Mark 2015 Photo: Didier Descouens)
In front of the palace on a stand-alone column that rises a few stories tall is the Lion of St. Mark statue, the symbol of the Venetian Republic.
Historical Footnote: A Roman territory circa 300 BC, Verona was classified as a Roman town in 49 BC. From around 500 AD until the 1200s when the della Scala family rose to power, various Germanic factions controlled Verona. Verona fell under Venetian power in 1406, and other than a short time when it was under the control of Roman Emperor Maximilian I (1508-1517), it stayed that way until the French General Napoleon Bonaparte occupied the city in 1797. Bonaparte ended the Venetian Republic and after his defeat in 1814, Verona was under Austrian control. Verona became part of Italy after the 1866 Italian War of Independence, and today it's part of the Veneto region of Italy.
Lamberti Tower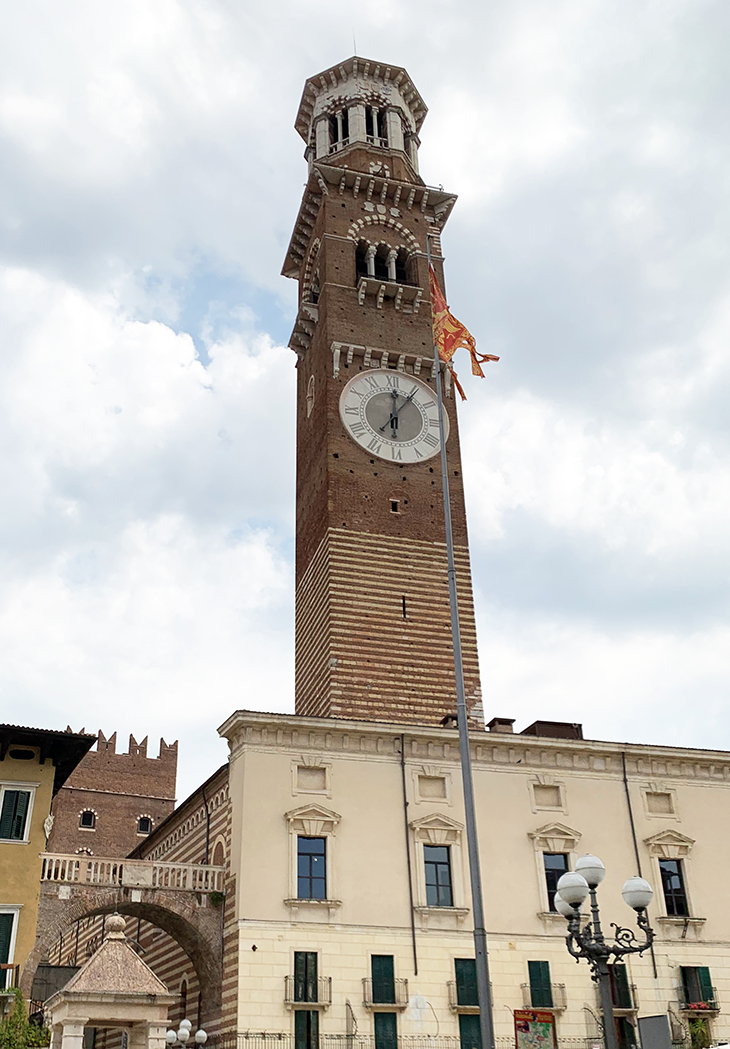 (Lamberti Tower, Piazza delle Erbe, Verona, Italy Photo: Anita Hamilton / 50+ World)
The Lamberti family began building the Tower in 1172 AD, and it was completed in 1463.
The Lamberti Tower may have served as their home as well as a watchtower.
In the 1500s the height of the tower was raised, and the clock was added in 1779. 
At 84 meters tall, it's the tallest building in Verona.
Although we didn't do this, according to Venice Events you can take an elevator (or climb 368 stairs) to enjoy a panoramic view of the city from the top of the tower.
The Lamberti Tower backs onto Piazza dei Signori and is easily visible from most places in the city of Verona. 
Casa dei Mercanti / Domus Mercatorum 
On one corner of the plaza is the Casa dei Mercanti (Merchant's House) or Domus Mercatorum, a medieval red and white brick & stone building dating back to 1301. It was initially built of wood in 1210 by the ruling della Scala family, to house the Verona merchants association and to serve as a trading centre. It was restored in the late 1800s and housed the Verona Chamber of Commerce for many years.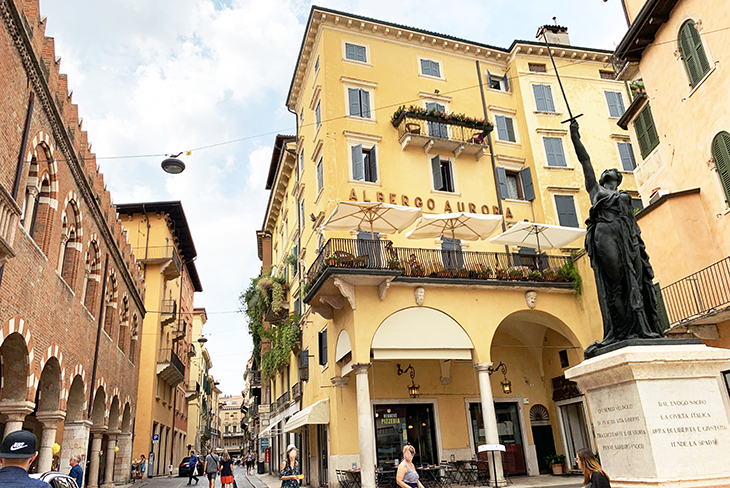 (Left, Domus Mercatorum; right, Sword of Freedom Statue Photo: Anita Hamilton / 50+ World)
In the plaza at the back of the Domus Mercatorum is the bronze Sword of Freedom of statue erected in 1920 as a memorial to victims of the WWI 1915 Austrian attack on Verona. 
Piazza dei Signori Piazza Danta
Arco della Costa
On one side of the Piazza dei Signori is the medieval red brick and tuff rock Palazzo della Ragione, which also backs onto the Piazza delle Erbe. The Palazzo was built in the late 1100s and in the centuries since then has served as various municipal offices.
Below, the walkway from the PIazza delle Erbe to the Piazza dei Signori takes you by the Palazza della Ragione (on the right) and under a series of arches.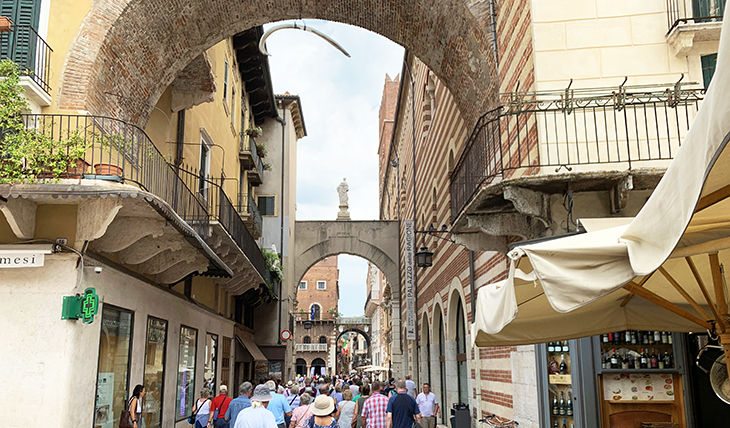 (Arco della Costa, Verona, Italy Photo: Anita Hamilton / 50+ World)
One of the arches has an unusual curved object hanging from it that I presumed must be an elephant tusk or some such. I later learned this particular arch is the Arco della Costa (the whale rib arch).
There are various theories as to what exactly it is (an actual whale rib? a fossil from a monster or aquatic dinosaur?), how it got there/why (brought back from the holy land by crusaders? an advertisement for an apocethary?), and how long it's been there (there are paintings from the 1700s that show the rib in it's current place). 
Statue of Dante Alighieri and Scala Family Palace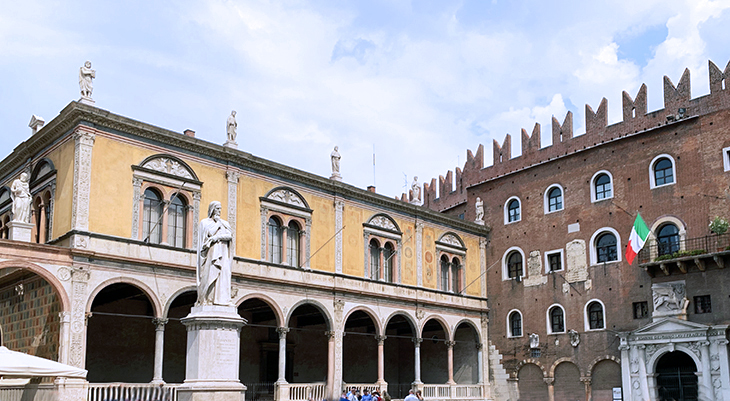 (Dante Alighieri Statue and Castle, Verona, Italy Photo: Anita Hamilton / 50+ World)
While exiled from his native Florence, the Italian Divine Comedy (1320) poet Dante Alighieri stayed with the della Scala in family in Verona at their palace in the Piazza dei Signori (sometime around 1302-1306). A rough translation of the inscription on the statue base references "his first refuge", the shelter his Venetian hosts provided.
Scala Family Tombs
Since the ruling della Scala family palace was in the Piazza dei Signori, the nearby Santa Maria Antica was their private church, and the church courtyard their private cemetary.
Below, the gothic Arche Scaligere (Scala family arks) with the tombs of Mastino II (1308-1351) on the left, Cansignorio della Scala (1334-1375) in the middle, and Cangrande della Scala (1291-1329) on the far right.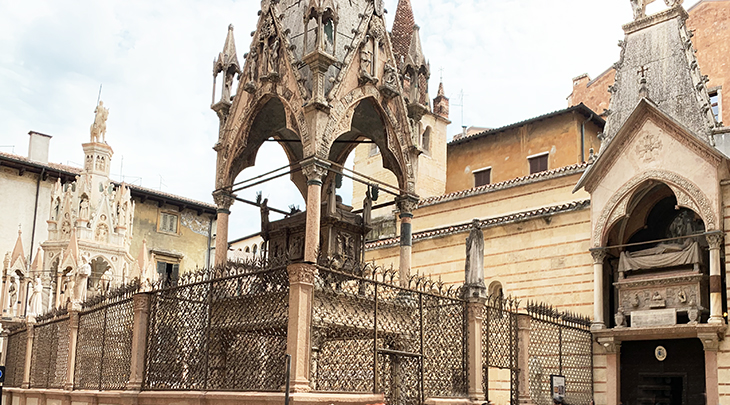 (Scala Family Tombs & Santa Maria Antica Church, Verona, Italy Photo: Anita Hamilton / 50+ World)
As our tour guide explained, Cangrande derives from the word dog, literally "Big Dog" or "Top Dog". The tallest of these arks, Cangrande's tomb is affixed to the Church of Santa Maria Antica above the entrance. Four dogs at each corner hold the the Scala family coat of arms, which is a shield with a ladder (Scala).
The Della Scaly family also established several medieval castles around nearby Lake Garda.
Romeo and Juliet in Fair Verona
William Shakespeare wrote two plays set in Verona, Italy in the 1590s. The comedy Two Gentlemen of Verona (c. 1589-1593) may have been his first play, while the tragedy Romeo and Juliet is possibly his greatest.
Today it's considered a historical tale, but when Shakespeare wrote Romeo and Juliet, he was setting it in his own "modern" times of the 1590s. The Capulets and Montagues were real families of Verona, although the spelling of names changed over the years and was different in English when Shakespeare wrote Romeo and Juliet in 1597.
(Street with Romeo's House Photo: Verona, Italy Photo: Anita Hamilton / 50+ World)
The Capulet and Montague historical family homes are still standing today, and the streets bear variations of the family names. The Montagues were of German origin, and their family building (about mid-way down the street pictured above, on the right) is privately owned today.
Shakespeare borrowed major plot points and characters from works written in previous centuries, and built on them for his tale of Romeo and Juliet.
The Veronese family names Montecchi (Montagues) and Cappelletti (Capulets) were mentioned in Dante's Divine Comedy (1320).
Masuccio Salernitano's Il Novellino (1476) references Mariotto and Gianozza (but is set in Siena).
Luigi da Porto includes the story of Giulietta e Romeo in his Historia novellamente ritrovata di du Nobili Amanti (1531), about young lovers Giuletta Capuleti and Romeo Montecchi.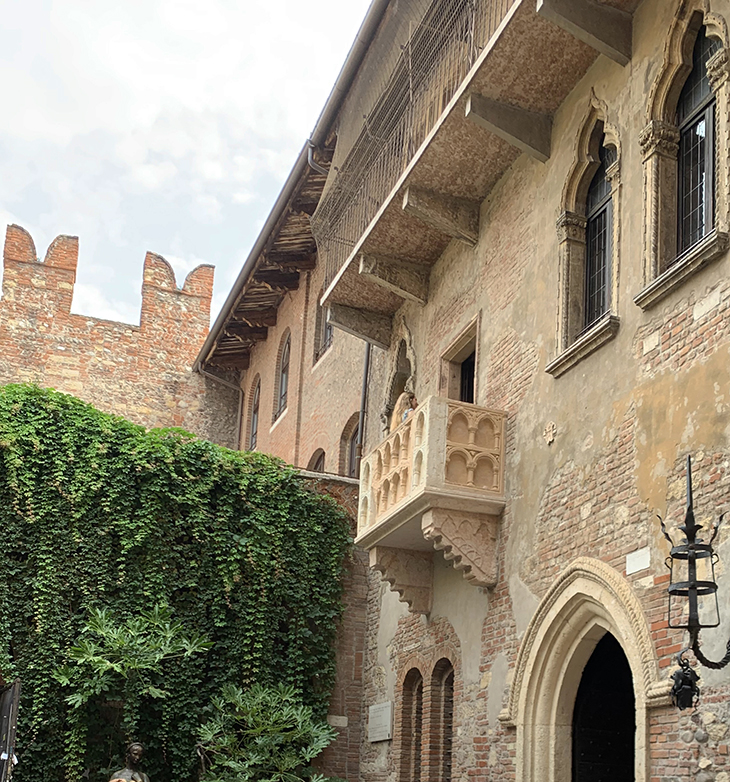 (Juliet's Balcony and Statue Photo: Verona, Italy Photo: Anita Hamilton / 50+ World)
Located on Via Capello (Capulet), the Capulet family home of Juliet was purchased by the city of Verona so people can view it. It still has Juliet's balcony that you can go up to and get your picture taken. At one end of the courtyard below the balcony is a statue of Juliet, said to bring luck if you touch her breast. 
Along the street leading up to the entrance of the Capulet courtyard and along the courtyard passageway, the romantically-minded have written on the walls and stuck on pictures etc. using chewing gum. Quite disgusting as our local expert says, however he adds that the city has put plaster-board over the real walls, so every so often they just tear down the plasterboard and put up new. 
The "Shakespeare in Italy" Mystery
All told, William Shakespeare set 13 of his plays in whole or in part, in Italy. His characters are from Milan, Naples, Florence, Rome, Venice, Verona, and other Italian locations. The Merchant of Venice and Othello are both set in Venice. Othello may have been inspired by stories about a couple of members of the Contarini family, that may have been nicknamed "The Moor". The Palazzo Contarini Fasan's nickname Casa di Desdemona belongs among the Venetian palazzos in movies and plays.
It's interesting to note that although there is some folklore that Shakespeare visited Italy and Verona, there are no historical references to him traveling outside of England, as Shakepeare's Italy author Francesco da Mosto summarizes.
However, there are also no records of Shakespeare's whereabouts between 1585-1592. After all, it's not like he had bloggers of the day capturing his every movement on the internet and/or in video. He could well have traveled to Italy during that 'lost" time; it would certainly have made writing about it easier.
A mystery that has lasted centuries and may never be solved!
Pop Culture Trivia: Verona in Films
Numerous popular movies have been filmed (in part) in Verona, Italy, most recently the James Bond film Quantum of Solace (2008) starring Daniel Craig and Judi Dench. Other films you may recognize:
Romeo and Juliet (2013) with Hailee Steinfeld, Douglas Booth, and Damian Lewis. Sadly, although the most famous Romeo and Juliet (1968) movie by Franco Zeffirelli was set in Verona, it was not filmed there at all; numerous other Italian locations in Tuscany, Lazio, and Umbria stood in for the city. Perhaps even worse – the 1936 Romeo and Juliet film starring Norma Shearer, Leslie Howard, John Barrymore, and Basil Rathbone, was filmed entirely on set at the MGM studios in California.
Letters to Juliet (2010) starring Amandy Seyfriend, with Gael Garcia Bernal and Vanessa Redgrave, was filmed in New York as well as Verona, and other Italian locations in Tuscany..
A Little Romance (1979) with Laurence Olivier, Diane Lane, Sally Kellerman, Arthur Hill, Broderick Crawford, and David Dukes, was filmed in Paris (France), as well as Venice and Verona in Italy.
Senso (1954) starring Farley Granger and Alida Valli. Filmed in several locations in Roma and Venice, Italy.
Rome Adventure (1962) with Suzanne Pleshette, Troy Donahue, Rossano Brazzi, Angie Dickinson, Constance Ford, and Chad Everett. Rome Adventure filmed of course in Italy – Rome, the Dolomites, as well as Lake Maggiore's Isola Bella, and Pisa.
Hemingway's Adventures of a Young Man (1962) starring Richard Beymer, Diane Baker, Dan Dailey, Arthur Kennedy, Ricardo Montalban, Paul Newman, Jessica Tandy, Eli Wallach, and others.
Sightseeing in Verona was a highlight of our tour of Northern Italy, which was truly a a dream vacation to Italy! That's saying a lot, because we also saw the islands of the Venetian Lagoon, Cinque Terre National Park and Monterosso al Mare, Trento, and Lake Como, among other places. Verona is a timeless city that I would love to go back to and spend days instead of hours.
Our Insight Vacations bus tour began in magnificent Milan, and would take us next to Bolzano, the beautiful village of Cortina d'Ampezzo, and a Prosecco Wine Tasting at La Vigna di Sarah.
Resources: 
Local Expert / Historian Walking Tour
**This article is for general informational purposes only.**
***Photographs & text in this article are either © 2019 Anita Hamilton, or Creative Commons licensed. All rights reserved. Do not download or reproduce without written permission.***