Mary Scott's Murder at Lake Como
The picture of a beautiful woman in an Edwardian ball gown caught my eye. As I discovered more about Mary Crittenden Scott's life and early death, I was struck by the four things: The devastation that mental illness / alcohol abuse / drug addictions can wreak on people and their families; the protective love of a brother and father; and the tendency for some people/press to blame the victim.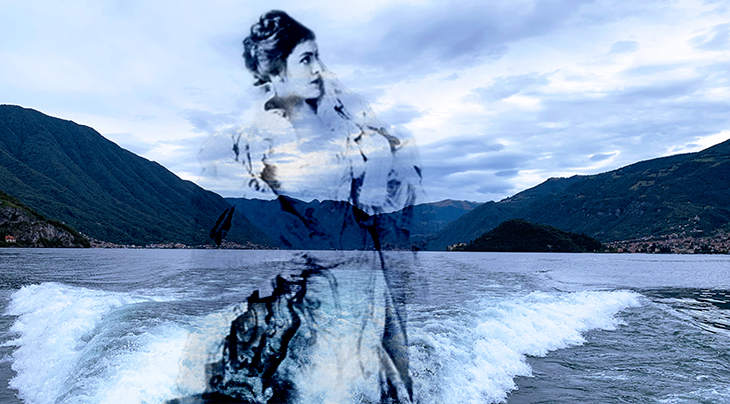 (Mary Scott 1900 / Lake Como © 2021 Anita Hamilton)
Continued from Mary Scott's Affair With D.W. Griffith...
The story of pretty socialite turned stage actress Mary Crittenden Scott began at the turn of the 20th century and traveled from San Francisco, to New York City, and Washington. Her affair with famous movie director D. W. Griffith wasn't newsworthy at the time, but a mysterious disappearance in 1901, and a shooting at the Waldorf-Astoria Hotel in 1909 had made headlines in the USA.
Mary Scott Marries Porter Charlton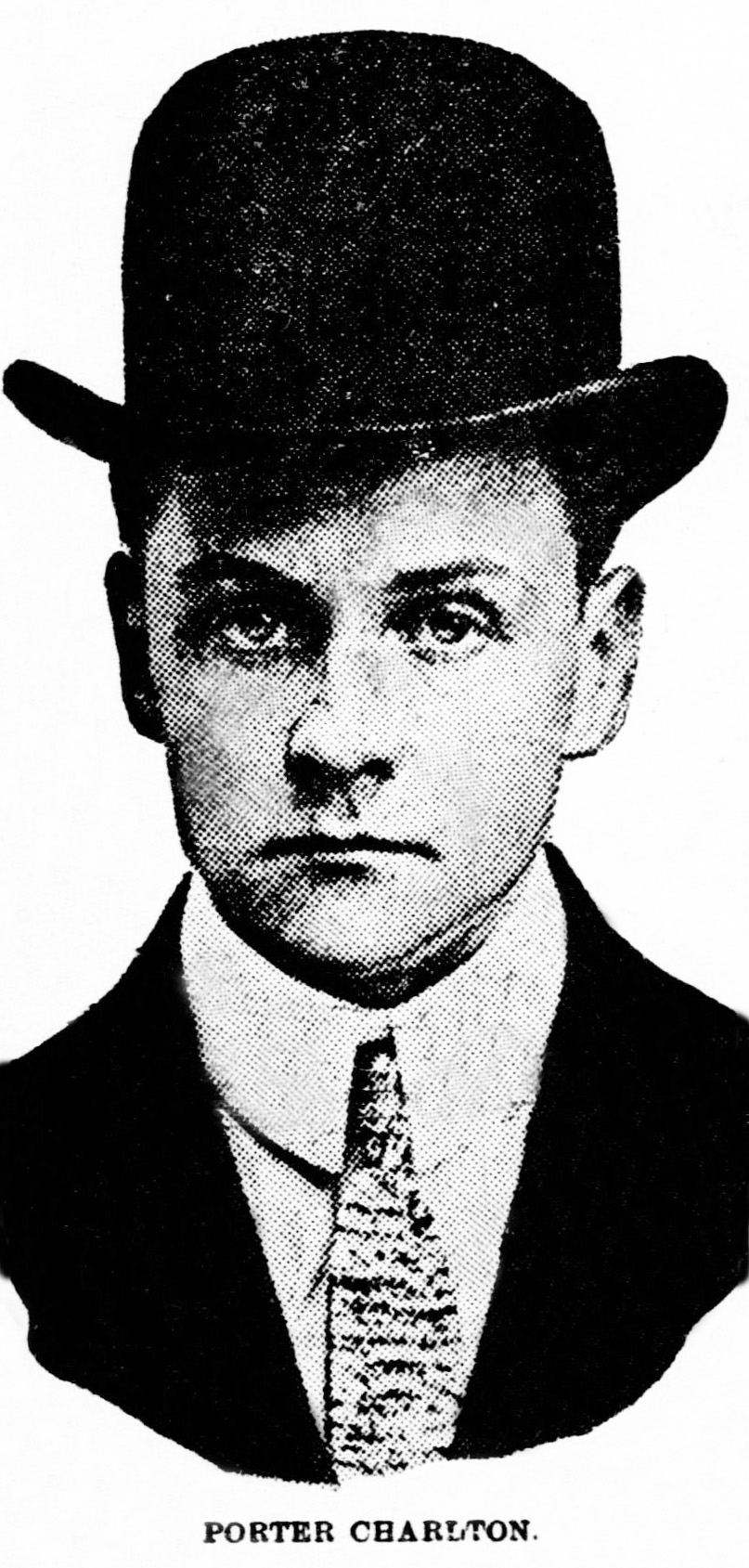 (Porter Charlton 1913 Photo: The Kennewick Courier)
Porter Charlton, the cherished 21-year-old oldest son of well-off Judge Paul Charlton, was working at a bank when he met 37-year-old former San Francisco socialite and actress Mary Scott at a Washington party in February 1910.
Lawyer Paul Charlton and his first wife had lived with their older son Porter and younger sons Robert and Denison in Omaha, Nebraska until Porter was 16 years old.
The Newark Evening Star quoted people who knew Porter from Omaha, as a "wild, reckless youth".
In contrast, his friends and father sang his praises, variously describing him as popular, careful, deliberate, studious, and romantic, loving poetry and beauty.
In 1907 Paul Charlton was appointed to the Bureau of Insular Affairs, and the family moved to Washington.
When Paul Charlton married his second wife Helen Wanstall in January of 1908, Porter was his father's best man.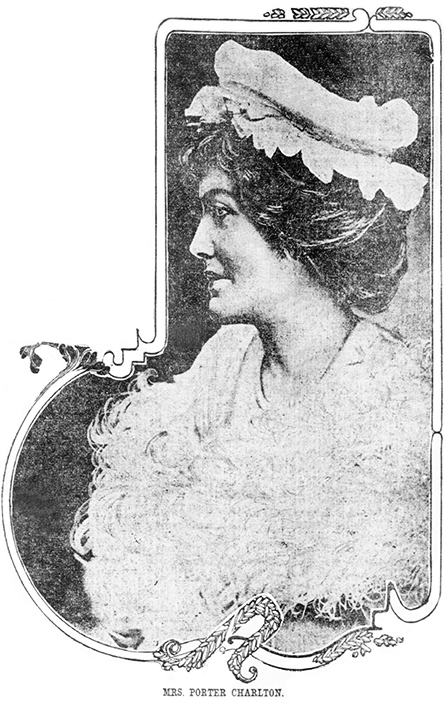 (Mary Scott Castle Charlton Photo: The Washington Herald, 1910)
Although the glory of Mary Scott Castle's brief stage career in the early 1900s was a very distant memory by 1910, she was still a beautiful woman when she met young Charlton. Despite Mary telling Porter of her past – including shooting lawyer William Craig the previous year at the Waldorf-Astoria, he was infatuated with her.
Her divorce from Neville Castle finalized, Mary Scott was also flush with a lump sum alimony payment of several thousand dollars that February.
Within a month of meeting each other, Mary Scott and Porter Charlton were married in Wilmington, Delaware on March 12, 1910.
"Dr. Thomas J. Carney, of the Hotel Woodward, where Charlton and his wife lived when they were first married, was Mrs. Charlton's physician for some time before she married Charlton. 'Mrs. Charlton was a nervous, high-strung woman,' he said yesterday. 'She was very self-willed and inclined to be hysterical. I tried to dissuade her from marrying Charlton, not because of anything I knew about him or her, but chiefly because of the disparity in their ages." New York Daily Tribune, Saturday June 25 1910
Neither Mary nor Porter told their family in advance, to forestall any attempts to talk them out of it. They both gave false information on the marriage certificate in an attempt to avoid publicity, due to Mary's notoriety.
"According to the marriage certificate…the names of the contracting parties were given as Porter Charlton, aged 25 years old, and Mary Castle, 26 years old, and both gave New York City as their residence. The bride said she was born in Nevada and Charlton gave Nebraska as his birthplace. Charlton declared himself a bachelor and Miss Castle a spinster. Charlton gave his parents as Paul Charlton and Elizabeth Patten Denniston Charlton and Mrs. Charlton gave her parents as Henry Harrison Scott and Annie Wyatt Robin Scott." St. Louis Post-Dispatch June 11, 1910
A Trip to Northern Italy
Porter Charlton's parents were unhappy about the elopement and concerned, likely on several fronts. Porter, described as slight and frail of build, had developed a cough which was variously described as consumption or tuberculosis.
"Judge Charlton met his son's wife in a New York hotel immediately [it was a week or so] after they were married. He called on them at Porter's invitation and questioned Mrs. Charlton regarding stories he had heard about her past. The result was a quarrel between father and son." – Alexandria Gazette, June 24, 1910
"Porter married against the wishes of his father and we were deeply grieved to hear of it. He had only known Mrs. Castle for about a month and it was a case of love at first sight. He married without telling us anything about it and left for Europe to accept a position with the Spier Bank at Hamburg. He intended to go there in September and was slowly journeying through Italy and Switzerland on his honeymoon…..We only got a letter from them last week at Atlantic City. It was full of beautiful description, not of the scenery, but of his wife, with whom he is deeply infatuated…Porter was only a boy of twenty-one years, and his wife was considerably older. We have never seen her, but Porter's descriptions were such as to lead us to believe that she was a very charming woman….The unpleasantness which she had with Mr. Craig, the lawyer, was, I think, due to a temporary derangement of her mind, and after the fray, which was a harmless affair, she was temporarily placed in an asylum. Our objection to the marriage came from this fact." – Porter Charlton's step-mother, New-York Tribune, June 11, 1910
Porter's father Paul later said he had given them money to go to Italy for Porter's health, while Mary's brother Captain Henry Harrison Scott stated they used her alimony windfall. Likely both were correct. In any case, the newlyweds sailed from New York to Italy for their honeymoon soon after their wedding. 
Mary and Porter Charlton arrived in Genoa in mid-April, and from there traveled to Venice; whether because they thought they might be hounded by American reporters in Northern Italy, or envisioned some other bogeyman after them, they registered as Charlton Porter and "sister". 
In Venice, they slept all day and walked the city at night, arguing frequently and drinking.
Eviction From Como's Hotel Suisse on Lake Como
From Venice they made their way to Lake Como, between the Italian city of Milan and the border of Switzerland.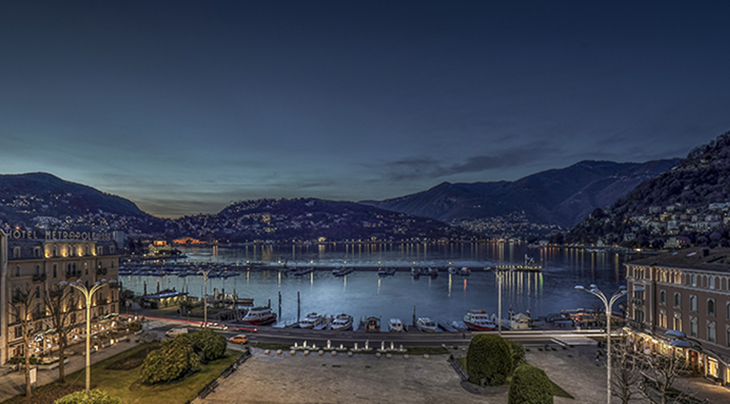 (Hotel Metropole Suisse [left], Lake Como, Italy 2019 Photo: Maurizio Moro5153)
In Como, the honeymooners stayed at the Hotel Suisse, located on the shores of that lake.
Note: The Hotel Suisse at Lake Como still exists, and has been managed by four generations of the Cassani family since 1892
At the Hotel Suisse, Mary could often be heard screaming and crying late at night. The only other person the newlyweds associated with was a Russian, Konstantine Ispolatoff, whom they also argued in front of.
When Porter returned to the Hotel Suisse one night at 1 A.M. and couldn't find Mary in their room, he raged through the hotel looking for her. Finding her hiding in a standing wardrobe, he threw it down and dragged her screaming out into the street.
They were evicted from the hotel on the spot, and had to hire a rowboat at 2 A.M. to get across the lake to a villa that Ispolatoff had offered if they should need it. 
Murder at Moltrasio on Lake Como
The couple then rented Villa Legnazzi in the village of Moltrasio on the western shores of Lake Como. By all accounts later, they spent days in bed eating and drinking heavily.  
On June 9, 1910, some fishermen dragged up a trunk from Lake Como. It was secured with three locks and tied around a couple of times with rope.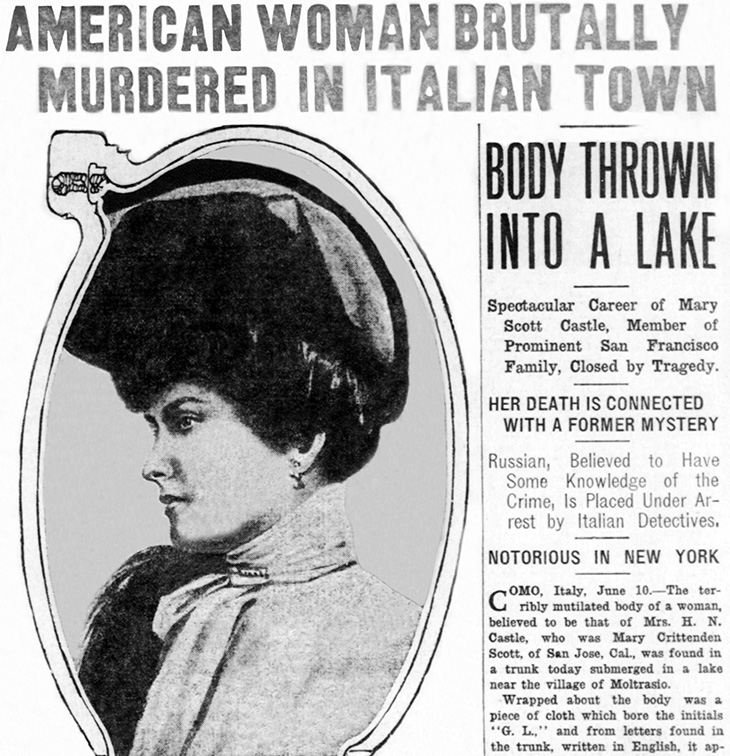 (Mary Scott Brutally Murdered Headline: Salt Lake Herald-Republican, June 11, 1910)
Inside the trunk was found the doubled-up body of Mary Crittenden Scott Castle Porter, wrapped in a white sheet, with a heavy stone. Also in the trunk with her was a bundle of letters to Mary from her ex-husband Neville Castle, sent from Alaska and written between 1904-1907, along with some other items.
Based on the blunt instrument wounds on Mary's head, the Italian police believed she was murdered, but didn't immediately know her identity. No one had been reported missing. Locals recalled a young couple renting a villa who hadn't been seen for three days; the woman spoke English, and the man spoke French (badly). 
The villa was searched and amongst the wreckage inside the police found blood splashes and personal possessions of Mary and Porter (theatrical plays, photographs from her stage career and of his time at St. Luke's Academy near Philadelphia). Porter himself was nowhere to be found.
Konstantine Ispolatoff was taken into custody, suspected of having some level of knowledge and perhaps participation in the crime, but later released.
When contacted by the press with news of the gruesome discovery on June 10th, Porter's father worried that his son had also been murdered. He'd received a cheerful letter the previous week from his son referring lovingly to Mary. He speculated that one of Mary's former admirers may have followed them to Italy. 
A post-mortem examination of Mary's body discovered that she had been alive (but likely unconscious from her wounds) when she was stuffed in the trunk, and died later of asphyxiation.
Three days after her body was discovered, the American consul in Milan voiced his personal belief that Porter Charlton had also been murdered. Lake Como was dragged for several days in an effort to find his body.
Meanwhile, Mary's brother, Captain Henry Harrison Scott, had obtained a leave of absence from the army and was making arrangements to ship her body home for burial.
Porter Charlton is Arrested
As more days passed, the Italian police eventually indicated they thought Porter Charlton was alive, and had likely sailed from an Italian port back to America – a view that Henry Scott believed.
Captain Henry H. Scott waited at the Hoboken docks with the police on June 23, 1910 for a steamer from Italy to come in. There was no one resembling Porter on the Deutschland that day, but he was spotted disembarking from the steamship Princess Irene, which had sailed to New York via Genoa and Naples. Scott confirmed Porter Charlton's identity to police.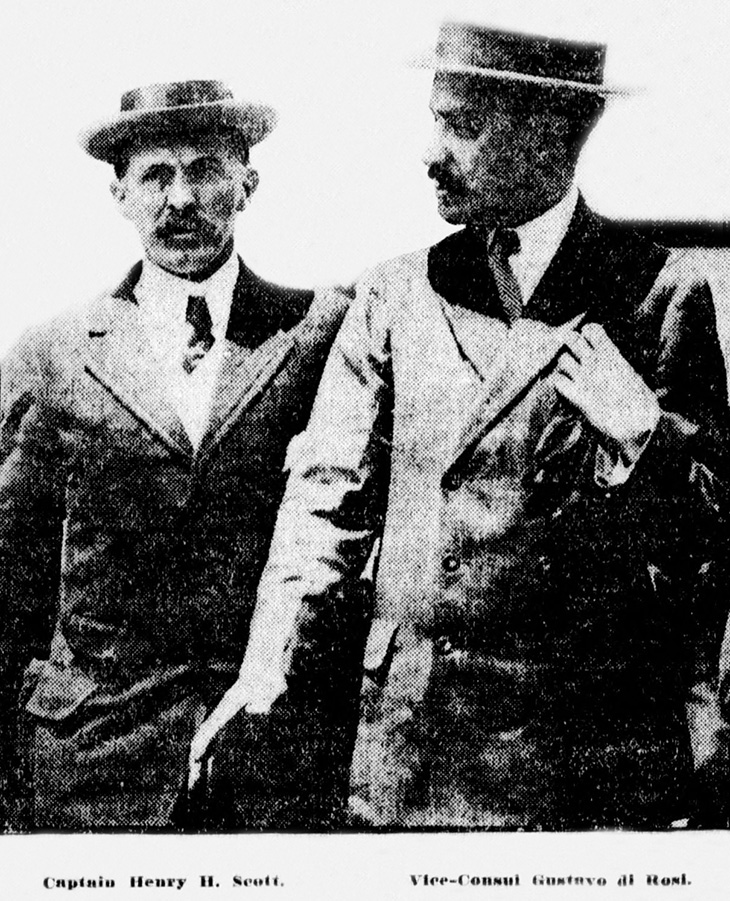 (Captain Henry H. Scott & Italian Vice-Consul Gustavo di Rosi June 24 1910 Photo: Newark Evening Star)
Porter Charlton was arrested, and after first denying it, admitted his identity and confessed to having killed his wife Mary Crittenden Scott Castle Charlton. Porter's written confession painted a picture of two unstable adults with terrible tempers. He said she had a habit of taunting him with his innocence, saying vitriolic and sarcastic things, and had led him into a life of debauchery.
They had fought again that night. Mary had called him "vile" names, and made a remark "of an intensely personal nature". He'd picked up a wooden mallet he'd been using to fix a couch, and hit her repeatedly about the head and face. After putting her body in the trunk, he'd dragged it down the bumpy cobblestones at night to the Moltrasio shore and thrown/pushed it into Lake Como.
Porter's father Judge Paul Charlton spoke to his son and quickly arranged counsel for him. He stated that Porter was insane and that he thought he had been since before his son married Mary Scott Castle. Four "Alienists" were quickly hired to examine Porter, and stated he was of unsound mind and thus not responsible for killing his wife. He was held in jail awaiting a determination by the courts as to whether he would be extradited back to Italy to stand trial.
Extradition to Italy and Murder Trial
Captain Henry Harrison Scott was adamant that he wanted justice done for his sister Mary Scott, and pushed for Porter Charlton's extradition to Italy.
Judge Paul Charlton fought to keep his son Porter in the U.S.. He told the press that Porter wouldn't survive time in an Italian jail, and used his connections with U.S. President Taft, a former classmate of his at Yale University, and with his friend William Jennings Bryan, Secretary of State, to further Porter's best interests.
Porter Charlton was held in jail in Hudson County Jail in New York for the next three years, thanks to postponements. Every six weeks or so Porter would have a fit of depression; he'd become abusive, castigate friends, and be "obnoxious". The rest of the time he was charming, considered exceptionally bright, and was a favorite of prison authorities.
"As a United States prisoner he was accorded privileges not given the county and state wards and was permitted to do about as he pleased, particularly while in the prison hospital recovering from incipient tuberculosis. Charlton had not been in the hospital long before he became so proficient in nursing that he was allowed to assist the internes, keep records of cases and attend to giving the patients their medicine. In six months he came to be known as the most proficient pharmacist in the institution. The prisoner was called upon to dress wounds, take the temperature of the patients and to report on their condition after the manner of nurses." – San Francisco Call, July 13, 1913
Finally in the fall of 1913 the Supreme Court determined Porter would be sent back to Italy.
Charlton spent another two years in an Italian jail awaiting trial, during which time the outbreak of World War I caused more delays. During this time a commission appointed to investigate his sanity found he was sane.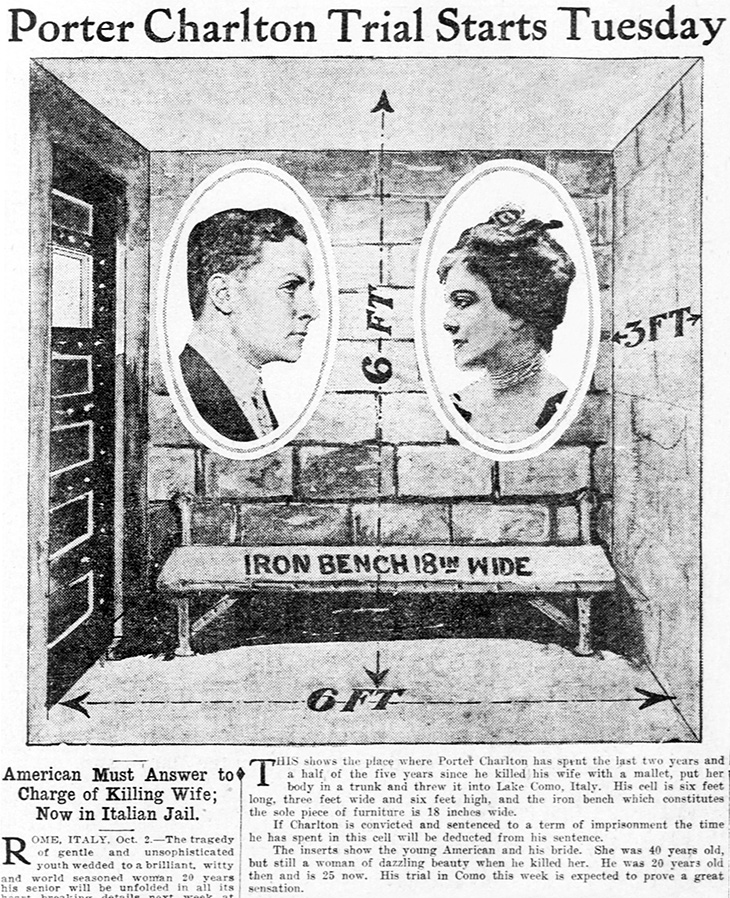 (Porter Charlton Trial Start 1915 Oct. 2 Photo: El Paso Herald)
Finally in October 1915 Porter Charlton's trial for the murder of Mary Scott Castle Charlton began.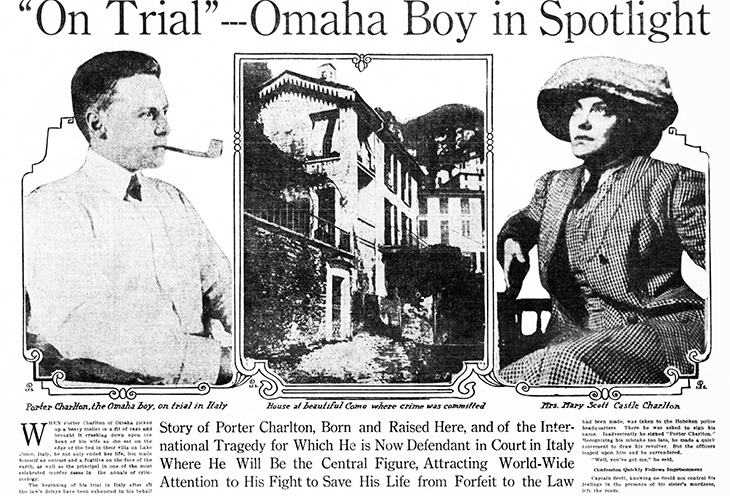 (Porter Charlton Trial Start 1915 Oct. 2 Photo: El Paso Herald)
After a scant 8 day trial Porter Charlton was found guilty by a jury, who determined he was only partially responsible and that there were extenuating circumstances. He was sentenced to 6 years and 8 months in prison.
Because he'd already spent more than 5 years in prison, and the King of Italy had taken a year off his sentence as part of a WWI amnesty program, Charlton only served another 29 days in jail after he was convicted. He was released and returned to the United States; his stepmother and father Judge Paul Charlton had moved to Puerto Rico, and Porter joined them there. 
Whether because of Judge Charlton's influence or simply the attitudes of the time to blame the female victim, many of the press reports painted Charlton as an almost saintly young man, and Mary as an older woman who corrupted him.
"From the moment they were introduced Mrs. Castle fascinated young Charlton. He found it impossible to refuse to do everything she wished. She dominated him entirely….By what means Charlton was brought to propose marriage to her or whether he proposed it at all is now known only to Charlton. It is certain he was very much in love with her." – The Washington Times, June 24, 1910.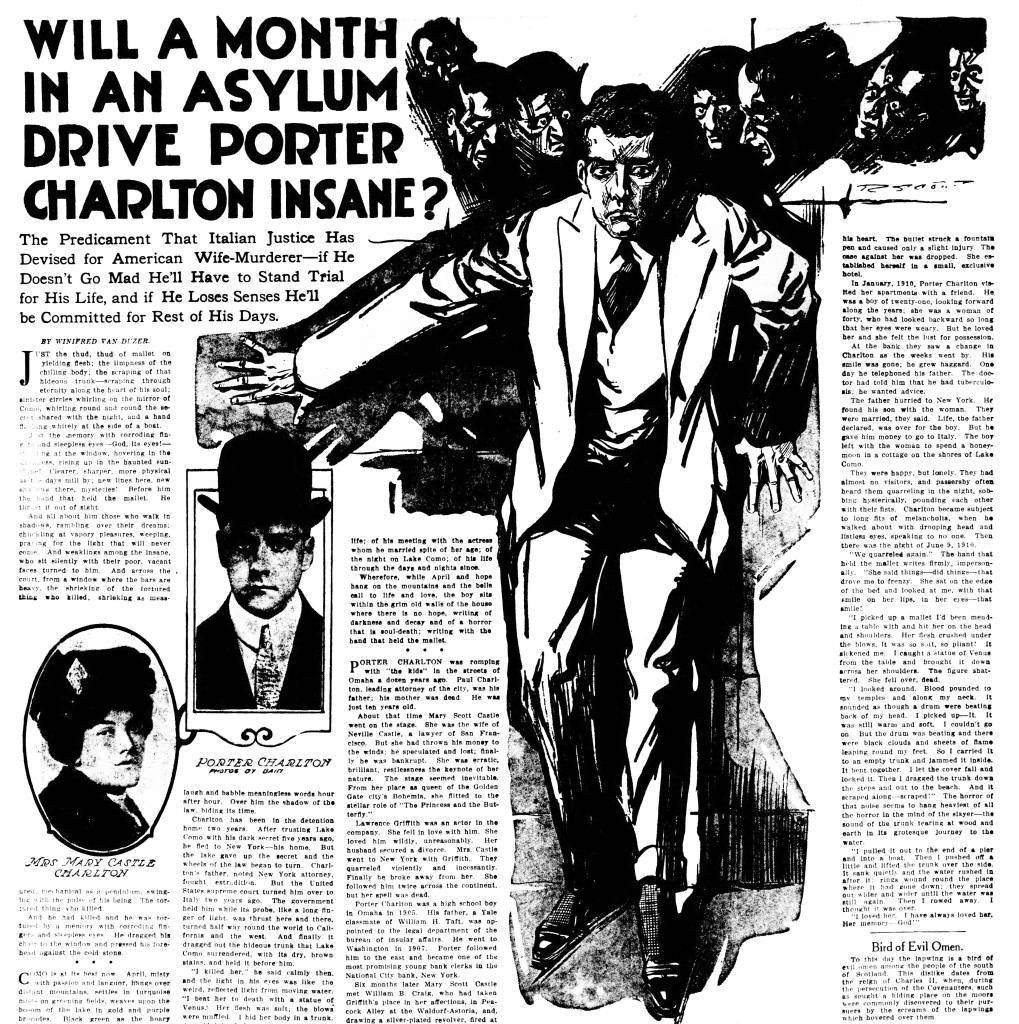 (Porter Charlton, The Washington Herald, May 9, 1915)
While Mary may have been verbally abusive, Porter Charlton – despite his "frail" physique – physically abused her publicly on at least one other occasion before he killed her. Over one hundred years later, it's likely that today they each would be diagnosed with some form of significant mental illness such as schizophrenia or bipolar disorder, exacerbated by alcohol abuse. 
Judge Paul Charlton died after an operation in Puerto Rico in June 1917, less than than two years after his son was released from prison. Porter Charlton died in Puerto Rico in 1933 at the age of 45. 
Captain Henry Harrison Scott retired from the army in 1912, and went on to organize the Army and Navy Co-operative Stores. His first wife Olive Sampson Scott died in July 1934 at the age of 57. Henry remarried in 1936 to Elsie Gebbart Scott, and was 63 when he died in 1939. He was survived by his widow Elsie, and his two sons from his marriage to Olive – Sampson Scott and Henry Harrison Scott Jr. 
And so ends the sad story of Mary Crittenden Scott Castle Charlton.
These related articles about Mary Scott, the Edwardian Era, and mental illness may also interest you:
Mary Scott's Affair With D.W. Griffith
The Troubled Life and Loves of Virginia Woolf
Hiding the Pain – 8 Reasons Why
Other Resources
The Day Book (1913)
The American Actress Killed and Dumped in Lake Como (2021), by Giulia Montanari
Lake Como's Moltrasio Trunk Murder (2019), by ComoCompanion
Brooklyn Daily Eagle, December 22, 1939
*Images are believed to be in the public domain or Creative Commons licensed & sourced via Wikimedia Commons, unless otherwise noted*