A Taste of Tobermory, Ontario
Known as Canada's diving capital, the small village of Tobermory, Ontario sits at the tip-top of the Bruce Peninsula (a Unesco Biosphere Reserve) – a meeting point for the mighty (cold) Lake Huron on the west and Georgian Bay on the east.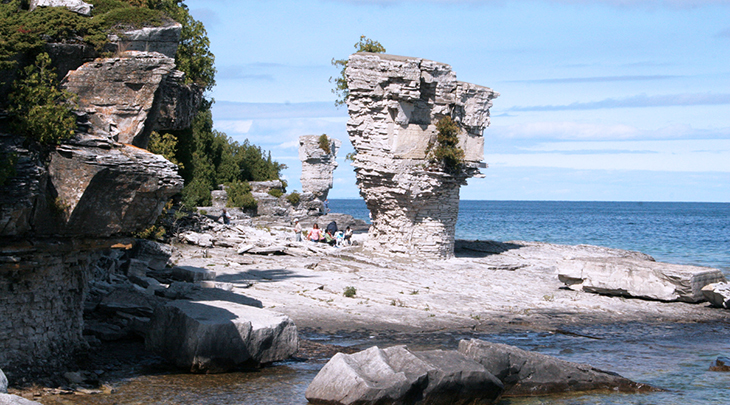 (Flowerpot Island, Fathom Five Marine National Park Photo: Pyzote)
Tobermory
We arrive in Tobermory just in time to check into Big Tub Harbour Resort before heading into town for supper. The Crowsnest Pub & Restaurant on the Tobermory harbourfront delivers "the best pub food in town" according to the knowledgeable and helpful hotel manager Jennifer. I thoroughly enjoy a huge plate of loaded nachos; my companions help me with it after eating their burgers & fries and a sampler deep fried appetizer platter.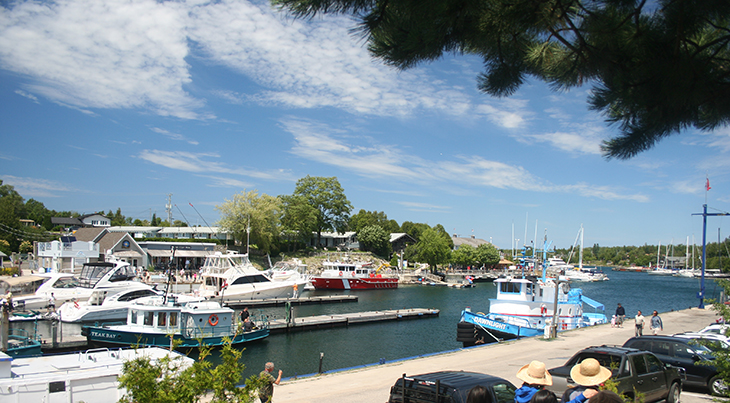 (Tobermory, Ontario Photo: Robert Taylor)
It's Friday night very early in the season, and quite a few of the Tobermory harbourfront shops are closed at 6pm. We wander around the ones that are still open and discover they offer a good range of clothing, souvenirs and unique gift items to suit almost every taste and pocketbook.
After supper we relax on the comfortable queen size beds at the motel and channel-surf; there's not a lot of channels up here to surf, so it doesn't take long. Bring some books and a deck of cards or board games in case the weather doesn't cooperate.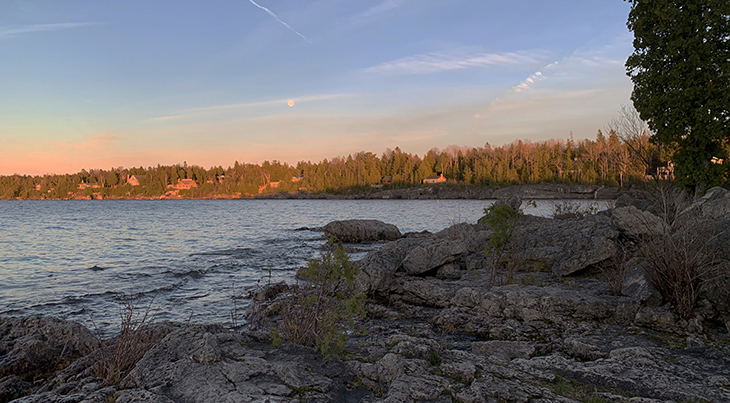 (Big Tub Harbour Full Moon & Sunset Photo: A Hamilton / 50+ World)
We walk around to the waterfront side of the hotel and catch the sunset glinting off the houses on the other side of the inlet (above), before walking down to the Big Tub Lighthouse (built in 1885).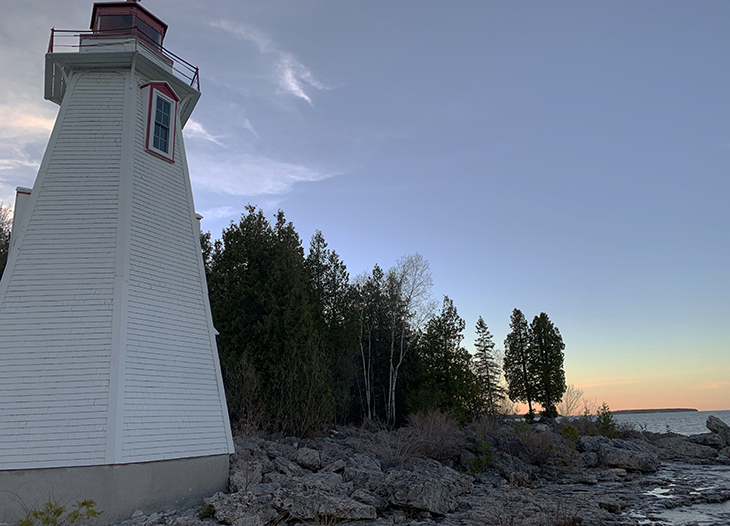 (Big Tub Lighthouse Sunset Photo:  A Hamilton / 50+ World)
Jennifer had recommended this as a great spot to view the sunset on the horizon of the water, and it is. The lighthouse can only be viewed from outside at this time of year, and the rocks around it are evidence of why it was a necessity for sailors.
The next morning is overcast, but the rain holds off all day for us. We have a tasty breakfast at the Leeside restaurant and watch the Manitoulin Island Ferry load while we eat. Real maple syrup and fluffy pancakes or french toast, or a custom 3-egg omelet with your choice of 3 ingredients, will satisfy most appetites.
Singing Sands
It's a ten minute drive down Highway 6 to the Singing Sands conservation area on the shores of Dorcas Bay, which sits on the Lake Huron side of Bruce Peninsula. It's very quiet there on this cool morning, and we have the boardwalk through the sand dunes around the beach almost to ourselves. Birds call out and the waves break gently on the shoreline. Large posters explain the flora we're seeing off the sides of the boardwalk.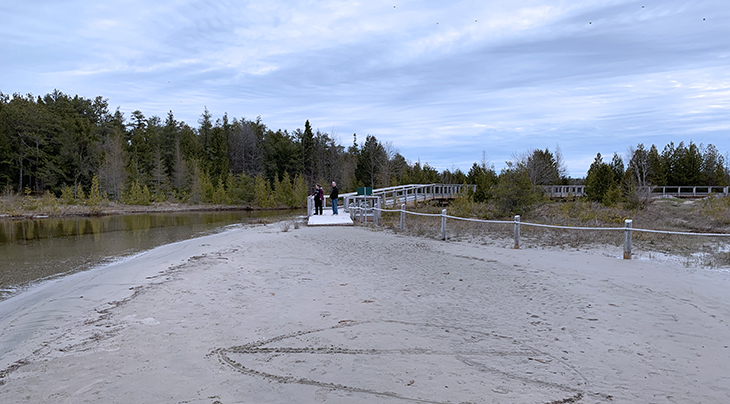 (Singing Sands Boardwalk, Bruce Peninsula Photo:  A Hamilton / 50+ World)
On a sunnier day it would be nice to wade in to the clear waters, but today it's only 8° Celsius (that's 48° Fahrenheit), a bit too chilly for me to take my shoes off – although we know we're in Canada because a few brave souls are wearing shorts and sandals. It is a lovely beach, which is in marked contrast to the rocky coast on the Georgian Bay side of the peninsula here.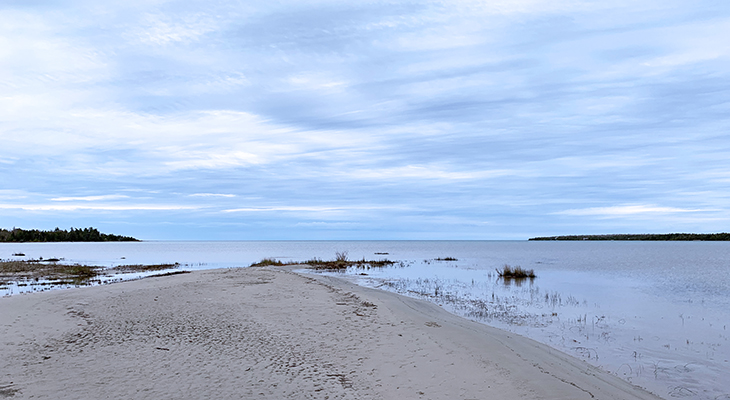 (Singing Sands Beach, Bruce Peninsula Photo: A Hamilton / 50+ World )
Although there are reportedly 41 species of orchids that bloom in the Bruce Peninsula and some are unique to Singing Sands, we don't see any on this visit on the May long weekend. Most of the vegetation is just starting to peek up and nothing is blooming yet, because it's been a very cold spring this year. The Bruce Peninsula Orchid Festival is slated to run from May 31st-June 2nd (2019), and hopefully things will warm up before then. 
On the way back to our hotel for a rest, we stop at the Little Tub Bakery for a coffee/tea break. To our delight we discover they make sandwiches on fresh baked bread, and we get some to go for our planned afternoon hike/lunch.
The Grotto & Bruce Peninsula National Park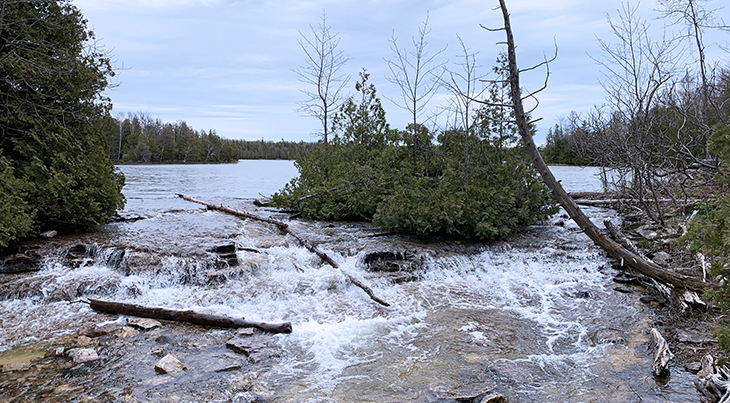 (Bruce Peninsula National Park, Georgian Bay Trail Rapids Photo:  A Hamilton / 50+ World)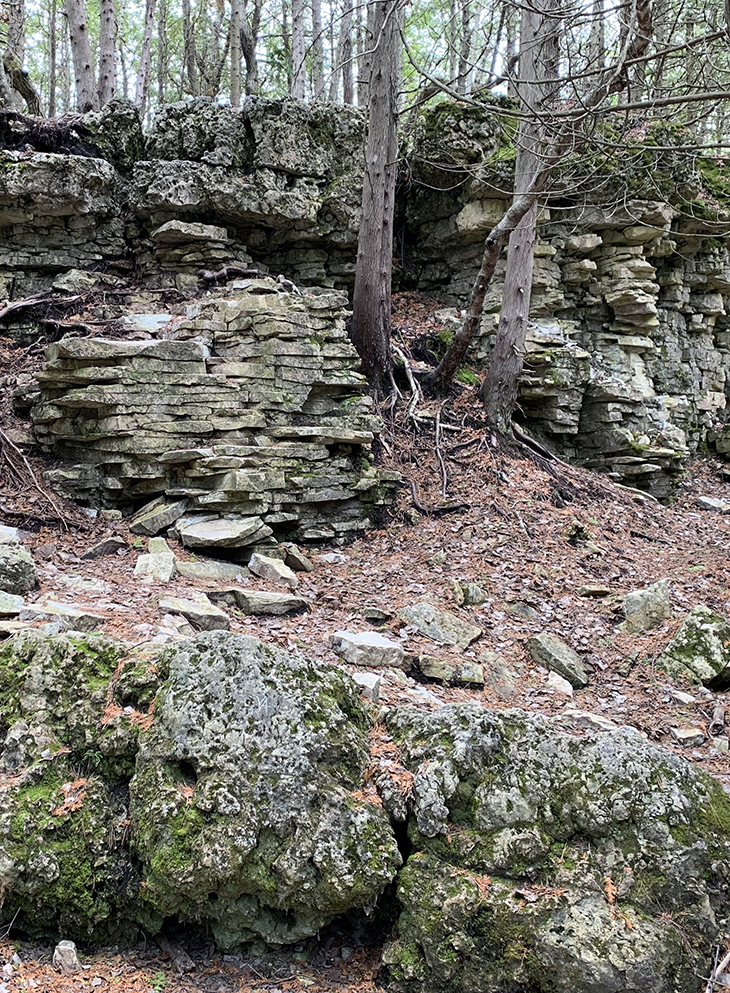 (Bruce Peninsula National Park, Georgian Bay Trail Photo:  A Hamilton / 50+ World)
We've made a 4-hour parking time reservation online in advance for access to The Grotto in Bruce Peninsula National Park – a necessity for this very popular natural attraction. 
We enjoy a scenic 25-minute hike along the Georgian Trail – an easy walk on a wide semi-gravel path that winds mostly through woods. There are plenty of other hikers, but we do have some moments when we have the path to ourselves in the deep forest. It's peacefully silent without human voices or other noises.
Despite the overcast skies and cold temperatures, our fleece jackets keep us warm. We catch glimpses of lake & marsh along the way.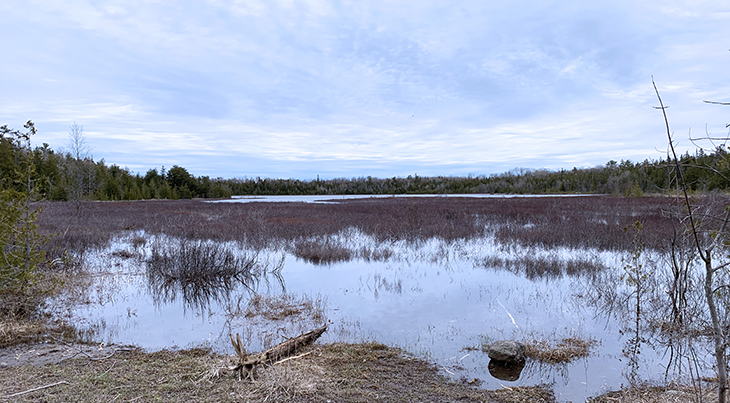 (Bruce Peninsula National Park, Georgian Bay Trail Marsh Photo:  A Hamilton / 50+ World)
The Georgian Bay Trail brings us to the rocky outcrop above The Grotto and cove below it. Getting up / down along this cove is a challenge due to the rocks/cliffs that surround it.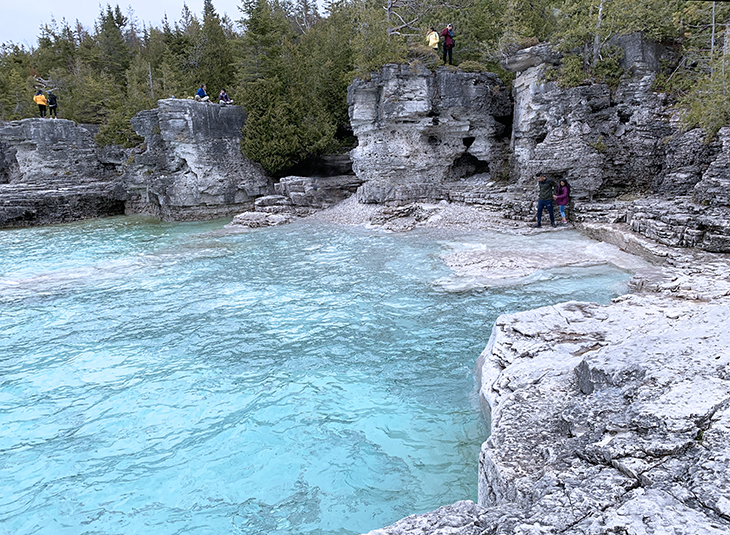 (The Grotto Harbour, Bruce Peninsula National Park Photo:  A Hamilton / 50+ World)
My knee's aren't trustworthy enough to bring me right into The Grotto cavern, but I'm able to snap a few pictures from above looking in, below.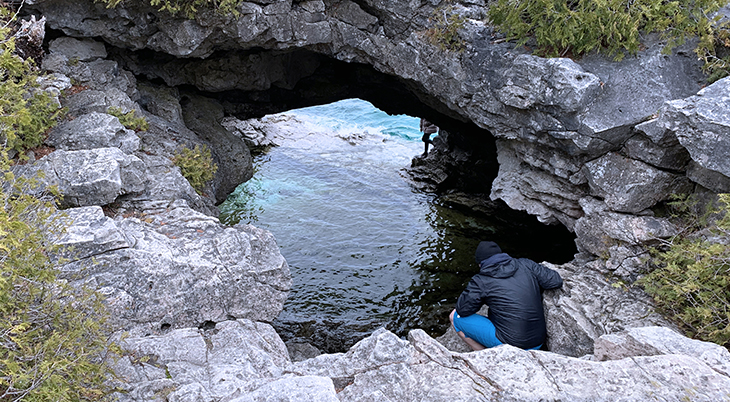 (The Grotto, Bruce Peninsula National Park Photo:  A Hamilton / 50+ World)
In the summertime / hot weather, access to The Grotto is possible by swimming right into it. This hardy soul below braved the Grotto's waters at a time when it looks almost deserted – so NOT likely in July or August when the water is warmer and the area is packed with hikers – and took a great video of the inside.
Thankfully there's enough natural beauty to see without having to clamber down to the shoreline; we sit and enjoy the view while eating our hearty sandwiches. Even at this time of year on a cold day, The Grotto and trails around it are busy with fellow hikers from young to old.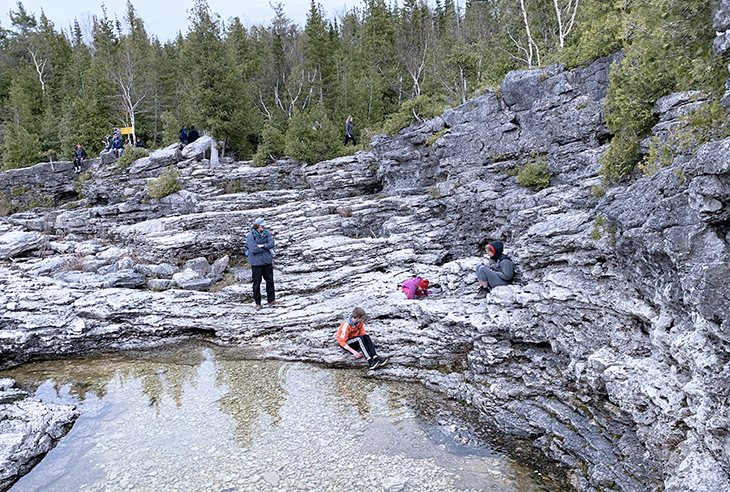 (The Grotto, Bruce Peninsula National Park Photo:  A Hamilton / 50+ World)
A ten minute drive further south on Highway 6 is the rocky beach of Halfway Log Dump harbour. You can also hike to it on trails leading from The Grotto in Bruce Peninsula National Park.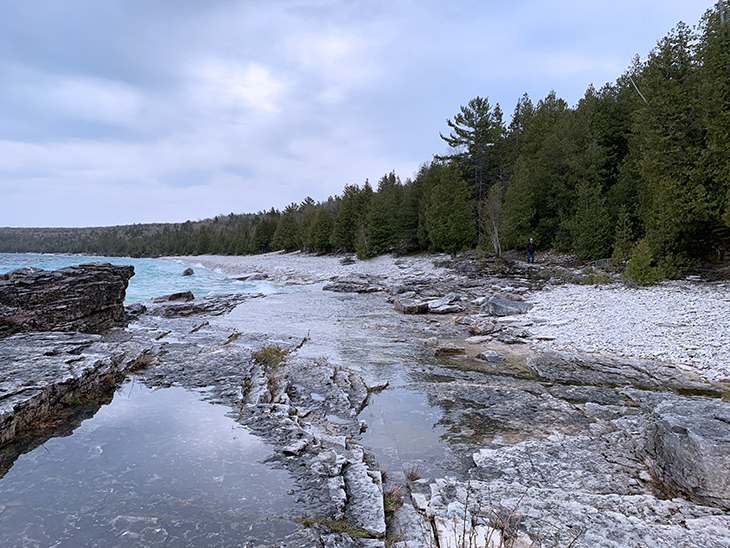 (Halfway Log Dump, Tobermory / Georgian Bay Photo: A. Hamilton / 50+ World)
Once again the hiking trail from the parking area to near the shoreline is a wide, gravel-lined path easy to walk on. The water-washed rocks on a wide expanse of shoreline is another story, but worth navigating to the end of the beach to take a closer look at the beautiful rock formations / rock pools.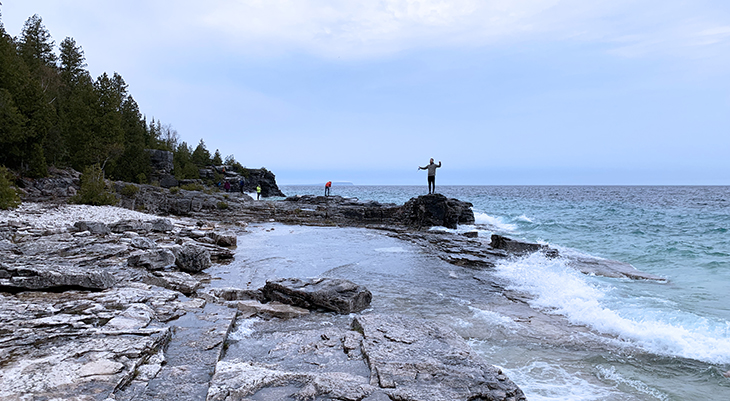 (Halfway Log Dump, Tobermory / Georgian Bay Photo: A. Hamilton / 50+ World)
Limestone cliffs are at either end of Halfway Log Dump harbour, and if you look straight out at the horizon you can see a slight curvature where the water meets the sky.
A delicious meal at the Tobermory Brewing Company and Mill is a great way to end the day. They brew their own ales, beers & stouts right in the building, and the stainless steel brewing equipment sits at one end of the restaurant. My husband enjoys the Bruce Trail Blonde Ale so much, he buys a 3-litre jug of it to bring home for sharing with a friend later in the week. I manage to finish a huge portion of tender, saucy baby back ribs, and Joe's rib-eye steak is cooked to perfection.
Flowerpot Island & Fathom Five National Marine Park
Fathom Five National Marine Park encompasses the village of Tobermory, along with several islands, 22 shipwrecks, and 4 lighthouses.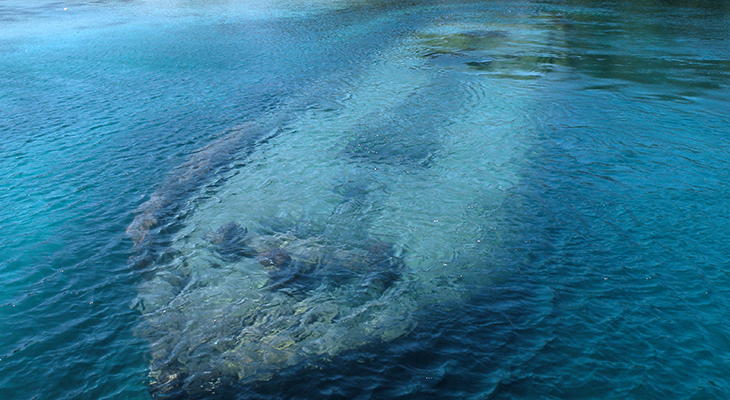 (Shipwreck in Big Tub Harbour, Tobermory – Fathom Five National Marine Park Photo: Dr. Wilson)
There are several options to get to Flowerpot Island, a top local attraction in the Tobermory area and the main draw of Fathom Five National Marine Park. There are several local cruise/tour operators that will take you out to Flowerpot Island from Tobermory. We booked a glass-bottom boat cruise that takes you out to the island, passing over several shipwrecks on the way, and drops you off at the island for a 3-hour window to hike the trails & see all there is to see.
Sadly, the weather doesn't co-operate. High winds, rain and threatening thunderstorms combine to scuttle the tour on two successive days, and we have to head home without visiting Flowerpot Island. At least we haven't become yet another shipwreck in Fathom Five National Marine Park. And, there are plenty of online pictures to view of the famous flowerpots. We'll have to wait for another visit to Tobermory to see them in person.
Tips For Visiting Tobermory
I recommend visiting Tobermory sometime between the very end of May and the end of September; we were told it's a ghost town the rest of the year. The long weekends from May through Labour Day are the busiest times of year for the hotels, motels, bed & breakfasts, and campgrounds.The absolute busiest time is the August Civic Holiday long weekend; the motel we stayed at in mid-May was already fully booked for that weekend. 
Book your sleeping arrangements, cruise to Flowerpot Island, and parking time at the Grotto ahead as early as possible to ensure you'll get the space you want at the time you want…and be prepared for Mother Nature to upset your plans. 
There are less than 10 restaurants in Tobermory, and you won't need fancy clothes to get into any of them. There's a grocery store too, but it's not a huge supermarket, so plan your supplies accordingly if you're camping or want some special extra treats or beverages for your hotel room.
Monday through Sunday between 9am-6pm, you'll pay to park ($3/hour) in Tobermory itself, as well as on most of the roads near the town. If you want to spend any significant amount of time in town, you may want to book sleeping arrangements at a hotel or B&B where you can leave your car parked and walk to the shops and restaurants. 
If you're going to be staying a little longer in Tobermory than a couple of days, you may want to extend your road trip and visit Manitoulin Island. The ferry from Tobermory to Manitoulin Island is a 2-3 hour trip one way, so it will take at least a full day or more to visit and check out the island's attractions. It's quite a large island with several hiking trails & nature preserves, restaurants, camping and other accommodations to choose from.
**This article is for general informational purposes only. 50+ World does endorse these providers, nor does it receive remuneration from them. Photographs & text in this article are either © 2019 Anita Hamilton, or Creative Commons licensed (Flickr or Wikimedia). All rights reserved. Do not download or reproduce without written permission.**