The Writing on the Wall of Adam Wade
TV's first black game show host, actor and Top Ten Hits singer Adam Wade reflects on his early beginnings and career highlights in this interview from 2017.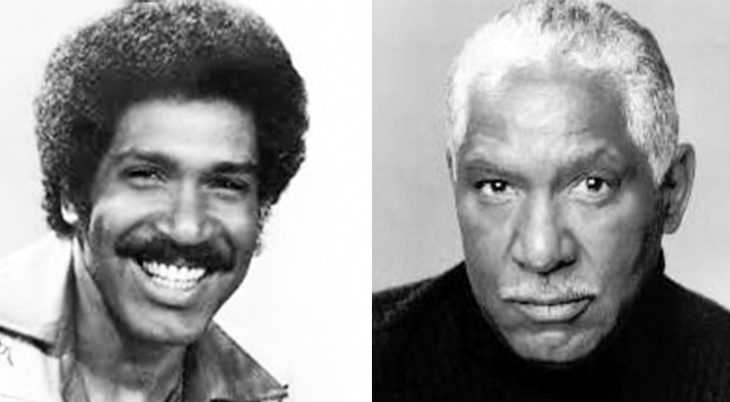 (Adam Wade Photos From Left: 1975 Musical Chairs / CBS, TheAdamWade.com)
Born Patrick Henry Wade on March 17, 1935 in Pittsburgh, Pennsylvania, young Patrick Wade lived with his paternal grandparents and grew up in the city. 
He recalls playing basketball on his high school varsity team, and worked on building sewage tunnels under the river. When their part of the work on the tunnels was complete, a fellow basketball player told him there was a job opening at Salk Hall. Wade worked as a lab assistant (testing blood) for two years with the famed Dr. Jonas Salk (polio vaccine inventor). 
At the same time, he was singing in the choir with piano playing pal and writer Richard Baugh. Together they pored through a songbook he says was called "The Facebook" at every opportunity to build up a repertoire.
An early marriage to Kay Wade in 1956 produced 3 children – oldest son Sheldon (Ramel) Wade came first in 1956, followed by daughter Patrice (b. 1957) Wade Johnson, and their youngest, son Michael (Jamel) Wade in 1960. 
1960s Coed Records and Top Ten Hit Songs
Singing was Wade's gift and lifelong passion, and he was signed to Coed Records in 1959 by owners Marvin Cane and George Paxton. 
Coed Records was located on 1619 Broadway in New York City's legendary Brill Building, home and incubator for music publishers, recording studios, and promoters. Perhaps the building's biggest claim to fame was the many songwriters and songwriting duos that worked in the building – Neil Diamond, Gerry Goffin & Carole King, Burt Bacharach & Hal David, Marvin Hamlisch, Ellie Greenwich & Jeff Barry, Jerry Leiber and Mike Stoller, Barry Mann and Cynthia Weil – and others.
Patrick Wade was toured around the Brill Building by Coed to meet with publishers and songwriters, and it was founder Marvin Cane's wife Georgia who suggested a name change. She leafed through a telephone book and suggested he change his name to Adam Wade, because it was earlier in the alphabet. 
Soon after signing with Coed, Adam Wade saw success on the music charts. His first Top 100 hit was 1960's Ruby, a cover of the theme song from the 1953 film Ruby Gentry. Some of his favorite early recordings are A Whisper Away From You (his favourite), Tell Her For Me, and Take Good Care of Her (1961), a #7 chart hit. 
Before 1961 was over, he'd landed another two songs in the Top Ten – The Writing on the Wall at #5, and As If I Didn't Know at #10. He appeared on American Bandstand six times between 1960-1962 as a singing guest.
His chart success translated into other 1960s television singing appearances on talk shows and musical series:
The Dick Clark Show
The Tonight Show
The Mike Douglas Show
Shindig!
The Merv Griffin Show
The Sammy Davis, Jr. Show
The Joey Bishop Show 
Breaking Into Acting
Adam recalls that when big bands came into New York, they needed band boys to lug equipment, electronics, luggage, etc.. He'd formed a casual acquaintance with just such a band boy, and heeded his advice when the lad called him over one day from the other side of the street: 
"You should get into commercials because you have a nice voice, you're a good looking guy."
Wade had already signed with the William Morris Agency as a night club act, however his agent didn't think he was suitable for commercials. Wade disagreed, and was very successful in finding commercial and acting work on his own. He appeared as a sergeant in a 1966 episode of Tarzan with Ron Ely and George Murdock, and in a 1969 episode of The F.B.I. with regulars Efrem Zimbalist Jr., Philip Abbott, and featured guest stars Billy Dee Williams and Lola Falana.
In 1970 Adam Wade landed the role of John Burroughs on the long-running daytime television soap opera Search for Tomorrow. He fondly recalls scenes with the series leading lady, actress Mary Stuart (Joanne Tourneur). In the show's storyline, Joanne was in charge of the youth centre and would bring his character of John Burroughs in to sing songs.
Wade worked on Search for Tomorrow for about a year and says he received a good grounding in acting, learning tricks to memorize dialogue. He remembers actors losing their jobs because they couldn't remember their lines. On the set, the mantra was "You do not make them stop the machine." 
Wade says he left Search for Tomorrow because at that time, 
"CBS wouldn't give contracts to black actors….we had to come in every day and see if our name was still up on the board." 
1970s Television and Feature Films
Throughout the remainder of the 1970s Adam Wade found frequent work acting in movies and on television. In the early part of the 1970s he appeared in small roles in several films with some big names:
Shaft  (1971) starring Richard Roundtree & Moses Gunn.
Across 110th Street (1972) with Anthony Quinn, Yaphet Kotto, Anthony Franciosa, Tim O'Connor, and Burt Young. Wade played a patrolman.  
Crazy Joe (1974) starred Peter Boyle, Paula Prentiss, Fred Williamson, Rip Torn, Charles Cioffi, Henry Winkler, Herve Villechaize, and Eli Wallach.
Nicky's World (1974) TV movie starred Charles Cioffi, with Olympia Dukakis, Mark Shera, and James Broderick.
Phantom of the Paradise (1974) with Paul Williams; Wade played a reporter.
Claudine (1974) starred Diahann Carroll, James Earl Jones, and Lawrence Hilton-Jacobs.
The 1973 action film Gordon's War starred Paul Winfield, and was directed by Ossie Davis. Wade remembers playing a criminal/hustler in the movie, having a few scenes with star Paul Winfield. His most vivid memory of filming the movie was having to lie down on the ground at night during pouring rain, after his character was shot.
"It was cold, cold, cold…but also very much fun".
In addition to being a regular on Tony Orlando and Dawn in 1976 in a "Wiz of the Biz" segment, Adam Wade's guest-starring gigs on episodes of popular 1970s TV series included: 
Adam-12, working with Martin Milner and Kent McCord.
Sanford and Son, with regulars Redd Foxx & Demond Wilson, and George Foreman in a cameo appearance.
Police Woman, featuring star Angie Dickinson, as well as Earl Holliman, Charles Dierkop, Carol Lynley, Edward Binns, and Pat Crowley.
Kojak, with Telly Savalas, Kevin Dobson, George Savalas, and David Ladd.
Good Times, starring Ja'net DuBois as Willona Woods, Jimmy Walker as J.J. Evans, and Janet Jackson as Penny Woods. Wade played Willona's ex-boyfriend Frank Mason in 2 episodes.
The Jeffersons, with Isabel Sanford, Sherman Hemsley, and Marla Gibbs.
The Dukes of Hazzard  with stars Tom Wopat, John Schneider, Catherine Bach, Denver Pyle, and James Best. Wade played traveling dentist Dr. Homer Willis, chasing bad guys.
B.J. and the Bear & The Misadventures of Sheriff Lobo, in 2 star-studded crossover episodes alongside Brian Kerwin, Claude Akins, Slim Pickens, Ed Lauter, Conchata Ferrell, Richard Moll, Richard Deacon, J. D. Cannon, Paul Williams, Deborah Shelton, James Olson, and Greg Evigan.
Wade commented that there were barriers for black actors in finding regular or starring roles on television series in that era, due in part to writer's not creating well-developed black characters. 
Musical Chairs and Long-Lasting Love
Kay and Adam Wade divorced in 1973. 
A couple of years later, Adam was tapped to host the TV game show Musical Chairs (1975), becoming the first African-American game show host. Musical Chairs required participants to guess the next line of a song. Some of Wade's more notable guests on Musical Chairs were Bobby Rydell, Irene Cara, Mary Stuart (his Search for Tomorrow co-star), The New Christy Minstrels, Michael Nouri, and Lou Rawls.
The Spinners appeared on several episodes of Musical Chairs in September of 1975, and on the their second episode they brought with them a singer named Jeree Palmer.
"She was managed by the same people that managed the Spinners, her agent got her on the show with them. I saw her, but I had a thing, I didn't want to hit on the guests."
Some time later when Adam was performing at the Golden Nuggett in Atlantic City, he received a call to fill in when jazz singer Billy Eckstein fell ill. At the Sweetwater's opening night, Jeree Palmer was sitting in the front row of the audience, flirting with him (his words). He invited her to go for a drink, she took him home, and they've been together ever since, marrying in 1989. 
Voice over acting (The Super Globetrotters) and commercial work were Adam Wade's bread and butter during the 1980s. He did a milk commercial that lasted for four years, and appeared on an episode of Hill Street Blues as an Internal Affairs Officer in a scene with Dan Hedaya and Daniel J. Travanti. 
Adam Wade played a highway patrolman in Texas Lighting, a 1981 movie starring father and son actors Cameron Mitchell and Cameron Mitchell Jr., along with Charles Dierkop, Peter Jason, and Maureen McCormick. A small part in the big-screen hit movie Kiss Me Goodbye (1982) starring Sally Field, James Caan, & Jeff Bridges, would be his last feature film for 20+ years.
Expanding Interests In The Golden Years
In the interim, during his 50+ years Adam continued acting and singing on stage (sometimes performing with wife Jeree), touring and at home in plays and musicals.  
Adam Wade has appeared in and directed several plays. For a production of the stage musical Guys and Dolls at a Philadelphia dinner theater, he delighted in going outside the box, turning the whole theater into part of the sewer.
Wade's most recent on-screen appearances were an episode of Law & Order, a bartender in the film Brother to Brother (2004), and a preacher in the short Drugs 101 (2010). 
An interest in writing has produced a sci-fi novel El Sim (not yet published), and a novella he's been working on for several years now titled Once Upon a Time in Pittsburgh is based on incidents from his life.
Recently, a letter from an Adam Wade fan asking him to make another record has sparked his imagination as well.
"I had my first fifteen minutes..I might get another fifteen. All in all, it's been a wonderful life."
Now in his golden years (age 82 at the time of this interview in 2017), Adam Wade says he feels good and can take care of himself, but his basketball playing days are over. If an opportunity to act or sing comes along he's interested, but he reached the point where he couldn't deal with some dementia overtaking him, as it wasn't fair to the other actors. This last was a surprise to me; although there were occasional pauses while we chatted and he searched back in time for a specific detail, I was struck by how good his memory was, given he had 50+ years of history to sift through!
After a stint in California in the 1990s, Jeree and Adam Wade moved back north. He lives in New Jersey with Jeree now, and they have family close by.
Wade attributed his longevity to being a positive person, and having his own personal relationship with God; he studied with his spiritual mentor Al Fan in a church basement for five years.
Career and life words of wisdom from Adam Wade:
Wade recalled Grammy-winning jazz singer Billy Eckstein telling him many years ago,
 "You can do your show, lay down, wake up, and next morning you're old fashioned."
The best thing about being in your senior years?
"You get closer to the end of the road, if you get tired, you can just stop and lay down." 
Advice to your younger self?
"Listen, carefully…There are people that mean you harm, that mean you no good – like the O'Jays sing "Smile in your face…the back stabbers." If you work hard, give yourself a break." 
Adam Wade died of Parkinson's disease complications on July 7, 2022, at the age of 87. He was survived by his widow Jeree Wade & their son Jamel, as well as Sheldon, Patrice Johnson, & Michael Wade, his children from his first marriage to Kay Wade, and many grandchildren and great-grandchildren.