Celebrating Seniors - Neil Diamond Turns 75 1of2
Neil Diamond, Part 1 of 2: 1941-1973
Vintage Neil Diamond music videos to celebrate his 75th birthday – Cherry, Cherry, Brother Love's Traveling Salvation Show, Sweet Caroline, Holly Holy, Cracklin' Rosie, I am…I Said, Song Sung Blue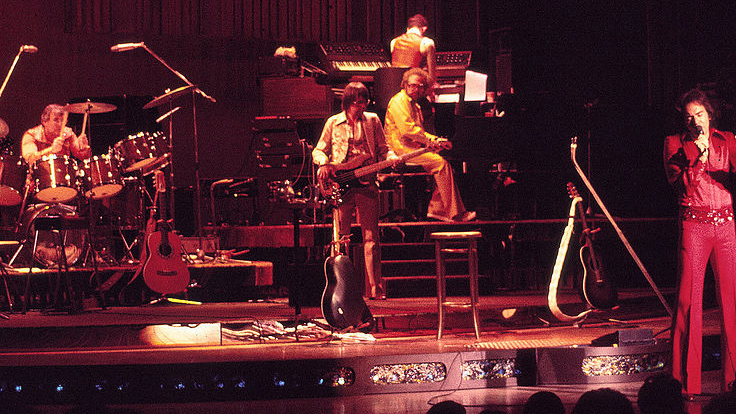 (Neil Diamond 1976 Photo: Jessie Eastland | Wikimedia CC 3.0)
Septuagenarian senior citizen, musician and singer-songwriter Neil Diamond was born on January 24, 1941 in Brooklyn, New York. Although he was not chums with classmate Barbra Streisand at Erasmus Hall High School, he was a member of the Freshman Chorus and Choral Club. He switched to Abraham Lincoln High School when his family moved, and had success on his high school fencing team. While attending summer camp, then 16-year-old Diamond was inspired after a concert by Pete Seeger, the legendary folk singer, to write songs. Guitar lessons and songwriting efforts upon return from camp were almost eclipsed by poetry he wrote to attract girls, and the success he enjoyed on his high school fencing team at Abraham Lincoln High School.
Neil Diamond told the Daily Mail in 2011 that he wrote a song for Jaye Posner, a fellow high school student; they began dating before he started pre-med studies at New York University in the fall of 1958.  Diamond was at NYI courtesy of a fencing scholarship, and made the NCAA men's championship fencing team in 1960. He dropped out of university in the spring of his senior year (1962), when the lure of music and songwriting proved too strong and he was offered a 4-month contract by Sunbeam Music Publishing to write songs.
He got a recording contract in early 1963 for Columbia Records and that spring at the age of 22, got married to girlfriend Jaye Posner, who was now a schoolteacher. His 2005 biography Neil Diamond: His Life, His Music, His Passion by Laura Jackson, details his struggle to achieve success in the music business.
In 1965 his songs were starting to be recorded by other artists, and Jaye and Neil Diamond's daughter Marjorie was born that September. By the end of that year Neil had written 3 songs that would become big hits for him – Cherry, Cherry; Solitary Man, and I Got The Feeling (Oh No No).
He signed to Bang Records in 1966 and his first big hit single that year was Cherry, Cherry (1966), which made it to #6 (and in 1971, again charted at #31) on the Billboard Hot 100. 
Baby boomers caught on to Neil Diamond's music and more Top 40 hits followed, including Girl, You'll Be a Woman Soon (1967), Thank The Lord for the Night Time (1967), Kentucky Woman (1967), and the semi-autobiographical Shilo (1968), and others. Ironically, his first #1 hit was a song he wrote for The Monkees – I'm a Believer (1966). Despite his shyness and lack of confidence in his stage presence, Diamond began touring and performing extensively. Diamond has said that the lengthy absences from his home and his family in New York caused his marriage to disintegrate (although not before he and Jaye had a second daughter, Elyn).
By mid-1968, Neil Diamond was undergoing a bitter break-up with Bang Records and was separated from Jaye. He'd also met TV production assistant Marcia Murphey that year, and decided to move to California to make a fresh start with a new personal relationship and new record company in Uni Records. His music career began to soar, with 3 Top 30 songs alone in 1969 – Brother Love's Traveling Salvation Show, Sweet Caroline, and Holly Holy.
Below, Neil Diamond sings an acoustic version of Brother Love's Traveling Salvation Show (1969), in 1971. Brother Love's Traveling Salvation Show made it to #22 on the Billboard Hot 100 chart.
Neil Diamond told the Daily Mail in 2014 that his influences for Sweet Caroline (1969) were his desire to write a love song for Marcia Murphey and his inability to get lyrics to rhyme with her name; and, a "sweet" photo he'd seen many years previously, of 11-year-old Caroline Kennedy (JFK's daughter). He wrote the lyrics to Sweet Caroline in less than an hour.
Neil Diamond singing Sweet Caroline live in the 1970s.

Holly Holy (1969) eventually made it to #6 on the Billboard charts; below, Neil Diamond singing Holly Holy live on the BBC in 1971.
After Neil's divorce from Jaye was finalized in late November 1969, he and Marcia (already pregnant with their first son) married 9 days later at his L. A. home.
Son Jesse Michael Diamond was born in April, 1970, the same year that Neil achieved his first #1 hit single, with Cracklin' Rosie. 
After his move to the west coast, Diamond started undergoing therapy, both of which influenced his 1971 song I Am…I Said (1971), which became a Top #5 Billboard hit. Below, Neil Diamond performing I Am…I Said in an early music video, which expresses his feelings about being "New York City born and raised, but nowadays I'm lost between two shores."

In 1972 Neil Diamond achieved 3 Top 20 hits, including Play Me (1972) which made it to #11, and his second #1 Billboard hit single, Song Sung Blue (1972). Below, Neil Diamond singing an acoustic version  of Song Sung Blue live in 1972, with a country twang:
His August 24, 1972 concert at L.A.'s Greek Theatre produced the classic Neil Diamond live double album Hot August Night (1972), taking the opening lyrics from Brother Love's Traveling Salvation Show for the the album name. Diamond took several years off from touring in order to stay home with his family, trying to avoid the issues that ended his first marriage; and he switched music labels to Columbia Records in 1973. Neil Diamond wrote the score for the movie Jonathan Livingston Seagull (1973), and although the movie flopped, the soundtrack album won a Grammy Award for it's score.