Celebrating Seniors - Neil Diamond Turns 75 2of2
Neil Diamond, Part 2 of 2: 1973-2016
Vintage Neil Diamond music videos to celebrate his 75th birthday – Longfellow Serenade, Desiree, You Don't Bring Me Flowers, Love on the Rocks, Heartlight, Delirious, Cherry Cherry Christmas.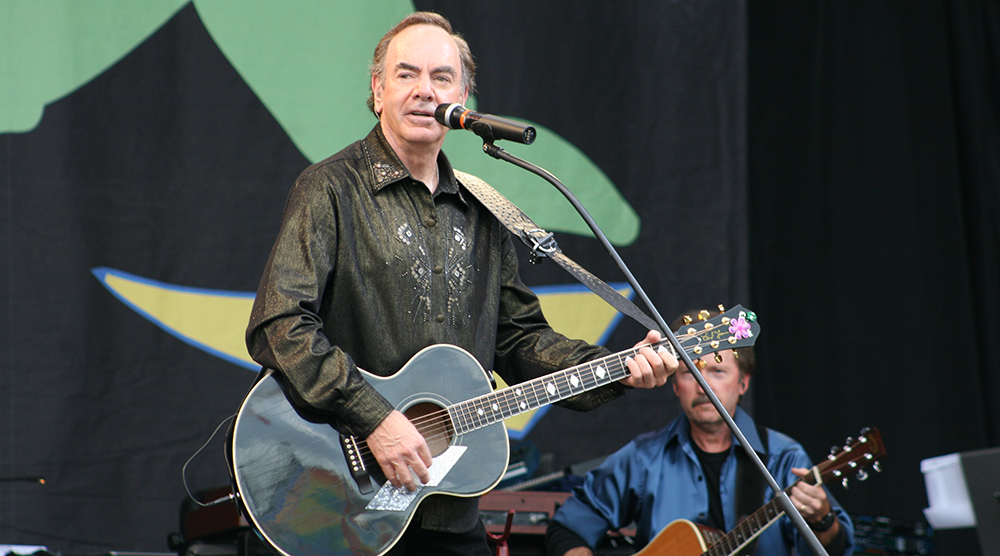 (Neil Diamond 2008 Photo: neal whitehouse piper | Flickr Some rights reserved)
Neil Diamond continued to rack up Top 20 hits during the remainder of the 1970's. He wrote the song Longfellow Serenade (1974), supposedly inspired by an incident from his teens where he (a poetry lover) used a poem by Longfellow to woo a lady. Longfellow Serenade made it #5 on the Hot 100 charts and #1 on the Easy Listening charts. 
Neil Diamond's next big hit was the song Desiree (1977), which made it to #16 on the Hot 100 charts. The following year, Marcia and Neil welcomed their second son Micah Diamond in February 1978.
The song You Don't Bring Me Flowers was originally written by Neil Diamond as the theme song for TV show, but when that fell through he modified the lyrics with input from Alan and Marilyn Berman, and released the song in 1977 as a solo on his I'm Glad You're Here With Me Tonight (1977) album. After his fellow New York high school peer Barbra Streisand recorded her solo version of the song in early 1978, the two collaborated to sing and record the song as a duet in late 1978. Their duet version made it to #1 on the Hot 100 charts.
Neil Diamond singing You Don't Bring Me Flowers.
For years, Diamond had been away of some numbness in his right leg, but ignored it. Neil Diamond's career could have ended when he lost the strength in both his legs and fell during a 1979 concert; he had 14 hours of back surgery to remove a non-cancerous tumor near his spine. Diamond told People Magazine in 1981 that he had to learn to walk again; he still suffers from back pain. He also confessed to taking up drawing as therapy in the 1990's when he quit a two-pack a day smoking habit.
By 1980 he was recovered sufficiently to begin filming on the big-screen movie The Jazz Singer (1980), which ended up bombing at the box office. Despite the movie's lack of success, Neil Diamond saw 3 Top 10 singles come from the The Jazz Singer movie.
Below, Neil Diamond singing Love on the Rocks (1980) in a scene from The Jazz Singer; Love on the Rocks made it to #2 on the charts.
Hello Again (1981) and America (1981) were the other two hits from The Jazz Singer album. America is about immigration to America, and Diamond has said the song is about his Jewish immigrant grandparents. Below, Neil Diamond singing America in a scene from The Jazz Singer.
One of Neil Diamond's last hit singles on the Billboard Hot 100 charts was Heartlight (1982), which made it to #5. The song was inspired by the movie E.T. The Extra-Terrestrial.
Neil Diamond sings Heartlight live in 1988.
Although he was inducted into the Songwriter's Hall of Fame in 1984, Neil Diamond's career began to slump in the later 1980's – which mostly continued throughout the 1990's and his 50+ years, although he did make some appearances on the Adult Contemporary charts. His marriage to Marcia Murphey ended in divorce in 1995 after 25 years together. Diamond has said that once again, touring and performing had taken a toll on their relationship, and that Murphey got their 3 houses and half of his multi-million dollar fortune in the amicable divorce settlement. A bright spot that same year was becoming a grandfather to his daughter Marjorie's first child. He told People Magazine in 1996 that
"I love being a granddad…It's one of those perks where you don't have to do anything but let your chest swell."
A long romantic relationship with 31-years-younger Australian girlfriend Rae (Rachel) Farley which had begun after a 1996 concert, ended in 2008. Farley had been struggling with severe back problems after surgery and according to Neil, wanted to deal with it herself.
In his 60's, in 2001 Neil Diamond surfaced on the Adult Contemporary charts with the single Delirious Love, with backing vocals by Brian Wilson (The Beach Boys). Below, Neil Diamond (and Brian Wilson) singing Delirious Love on The Jay Leno Show.
And again in 2009, a now senior-citizen Neil Diamond made it to #4 on the Adult Contemporary chart with the song Cherry Cherry Christmas (2009), which has bits of lyrics from some of his greatest songs.
About retiring and retirement, Diamond told the Daily Mail in 2011 that despite being a septuagenarian senior citizen,
"'I don't see retirement in my future, although maybe I'll pull the gear back a notch and not be as busy as I have been. I don't think I'll ever give up music though because, purely from a selfish perspective, it makes me happy. I don't quite understand it, but I think it's what I'm supposed to do on this Earth."
He was inducted into the Rock & Roll Hall of Fame in 2011.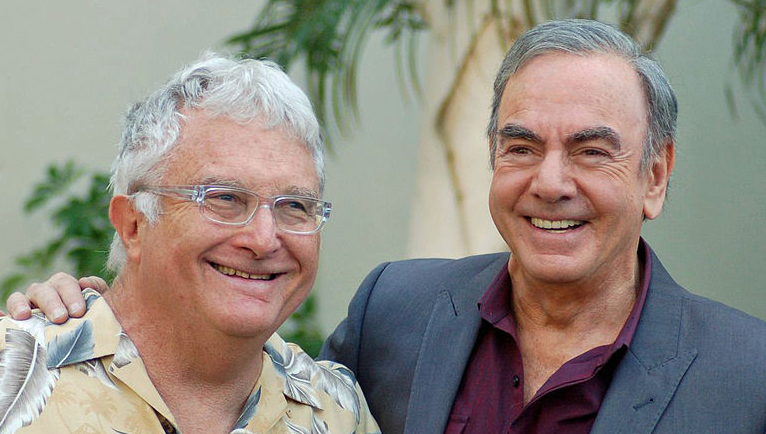 (Neil Diamond & Randy Newman 2012 Photo: Angela George | Wikimedia CC 3.0)
Since April 2012, Neil Diamond has been married to Katie McNeil, his business manager and 30 years his junior. He told Parade Magazine
"I'm throwing myself back in because I like being married. I don't want to end this whole fabulous journey alone."
Below, Diamond talked about the inspiration that come from being in love in 2014 and sings snippets of a newer song. 
Throughout his long and successful career, Neil Diamond has accumulated 11 #1 Billboard hit singles (Pop & Adult Contemporary), a fraction of his 37 Top 40 hits. His anthem Sweet Caroline is still often played at Boston Red Sox. He toured extensively as recently as 2015 and below, and older, septuagenarian Neil Diamond singing his trademark Sweet Caroline live in 2014 in his old high school.
Previously: Neil Diamond, Part 1 of 2: 1941-1973