Attract Hummingbirds in Summer: Top 5 Plants
Are you as taken off your feet as we are by the little and and incredibly daring and beautiful hummingbirds? Are you interested in ways you may be able to attract them to your yard?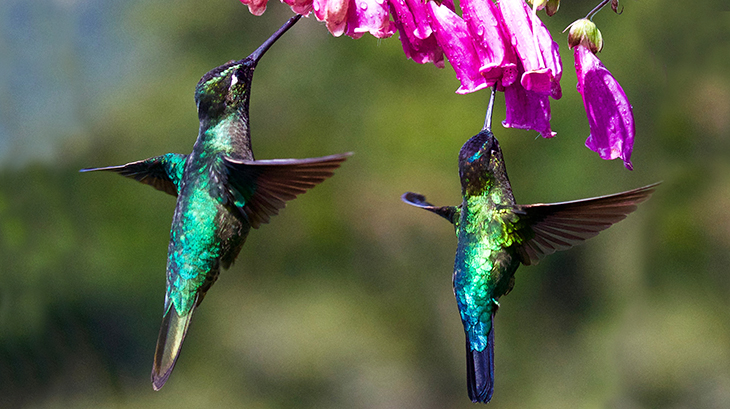 (Hummingbirds Photo: James Wainscoat on Unsplash)
We look at 5 great flowering plants that hummingbirds love:
Columbine (Aquilegia Canadensis)
Rather than just one flower, Columbine can refer to any of the various species that make up the Aquilegia genus. For our purposes, we will be focusing in on the Red Columbine that's also referred to as both the Wild Columbine and the Canadian Columbine. Found as a native plant in the east of North America, you are most likely to see it on rocky slopes and spread throughout woodlands. They are not hard to miss as they can grow to impressive heights of around 35 inches tall.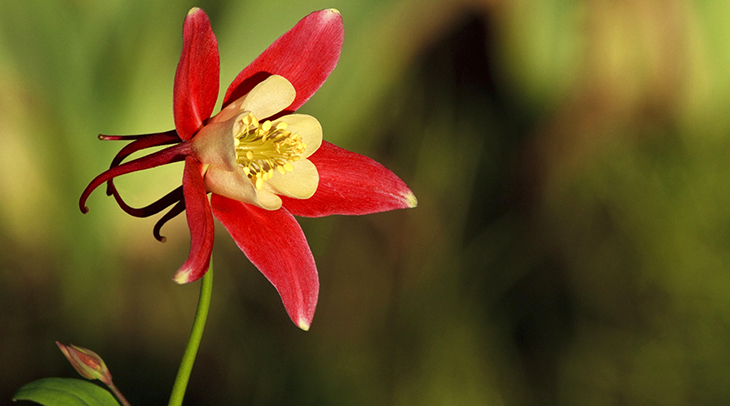 (Red Columbine Photo: Ian Sane)
This species of Columbine have very vibrant red and yellow colors and a truly unique shape. As they bloom early in the year, you can expect them to pop up around late May. This is rather good timing with regards to humble hummingbirds, as they are usually heading northwards from where they set up home during winter.
Every individual flower can reach heights of 3 inches long and has round ends full of nectar. This makes it hard for insects to get to that juicy treat, whereas the hummingbirds find it relatively light work.
Flowering Tobacco (Nicotiana Alata)
Nicotiana Alata is a specific species from the tobacco family and is often known by other names including Persian Tobacco, Winged Tobacco, Sweet Tobacco, and Jasmine Tobacco. It's generally found as a native plant in the north east of Argentina and south Brazil.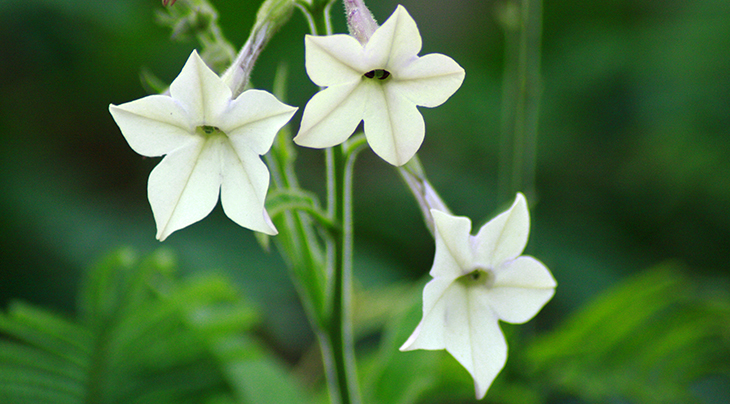 (Nicotiana Alata / Flowering Tobacco Photo: Swaminathan)
It has one truly delightful scent and a classy aesthetic appeal, which is why many people grow it as an ornamental plant. This particular tobacco plant can reach heights of more than 25 inches and carry branched flower stalks that produce flowers that will only open after sundown.
The flowers come in a huge variety of different amazing colors such as crimson, yellow, lime green, pink, and white. These are not quite as early bloomers as the Columbine and start in the early stages of summer, but continue through to fall.
Foxglove (Digitalis Purpurea)
To say Foxglove was a popular plant would be an understatement at the very least. Many consider it to be one of the most beautiful of all plants in the world. Foxglove also is one of the best for attracting those pretty little hummingbirds, thanks mainly to it's extremely bright and lively colored tubular-shaped flowers.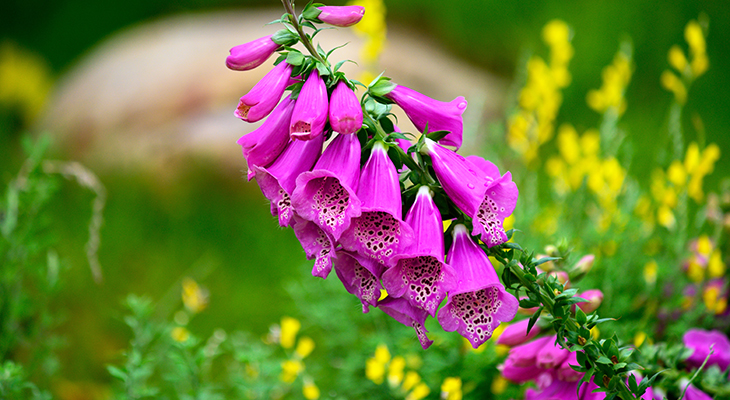 (Foxglove Photo: IAI mAN nUNG via Unsplash)
Another late bloomer, expect Foxglove to show up mid-summertime, and it can come in various colors including purple, white, yellow, pink, and red, depending on the specific variety you buy. It's flowers sit on long and leafy stems that can grow to heights of 6 feet tall. However, the actual flowers themselves are often no bigger than a fingertip.
These flowers are found as native plants in southwest and western Europe, northwest Africa, and central Asia, and are often located in diverse habitats, including rock slopes, open woodland areas, and even sea cliffs.
Please remember that they are also very invasive, and every part of the flower and plant is extremely poisonous to pets, livestock, and people. So, always take the necessary care and precautions when handling it and where you plant it.
Bee Balm (Monarda Didyma)
Found as a native plant in the east of North America, Bee Balm grows to the relatively small size of just 4 feet wide by 3-4 feet tall. Although it's a lot smaller than some of the others on our list, it's still an attractive option to encourage hummingbirds to visit your yard.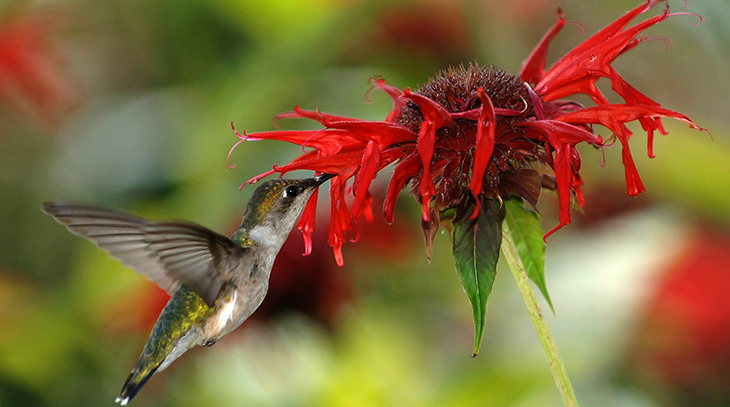 (Ruby-Throated Hummingbird at Scarlet Beebalm Photo: Joe Schneid)
Yet another late bloomer, Bee Balm appears with blossoms around the mid-to-late summertime and has the hardiness to continue blooming through to very early fall. It has delightful spiky petals and is available in splendid colors such as purple, red, pink, and white.
Bee Balm is sometimes called by alternatives names such as Bergamot, Oswego Tea, Scarlet Monarda, Scarlet Beebalm, and Crimson Beebalm. It enjoys being exposed to the sun and needs soil that has a moist to wet consistency, in order to grow.
Trumpet Honeysuckle (Lonicera Sempervirens)
Trumpet Honeysuckle is found as a native plant in the east of North America and is often called Scarlet Honeysuckle and Coral Honeysuckle. People often mistake it for being Trumpet Vine; although they have similar properties, the Trumpet Honeysuckle tends to be less vigorous.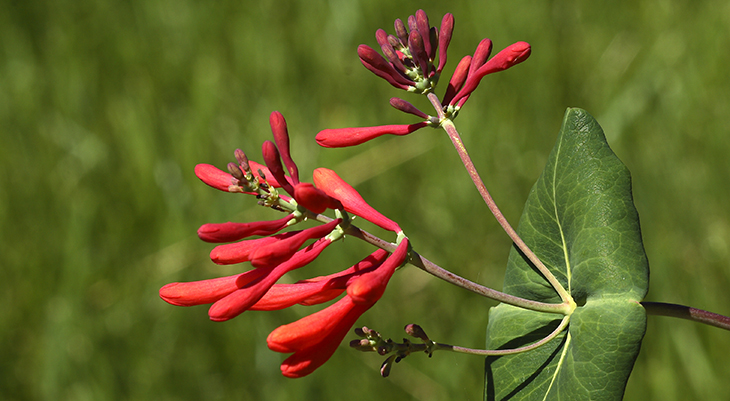 (Trumpet Honeysuckle Photo: Sanjay Acharya)
It is smaller than other vines at just 20 feet tall, and has colors of bright red clusters that attract hummingbirds.
If you'd like to know some other ways to attract birds in general, check out this article here.
*This article by Birdwatching Buzz is for general informational purposes only.* 
**Images are public domain or Creative Commons licensed & sourced via Wikimedia Commons, Vimeo, YouTube, or Flickr, unless otherwise noted** 
About This Author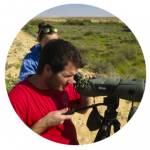 James and Torrie are passionate birding enthusiasts and the owners over at BirdwatchingBuzz.com, a website dedicated to educating fledgling birdwatchers.
If you'd like to learn more about other types of plants that attract hummingbirds, James & Torrie have a great article on this subject on their blog Birdwatching Buzz – you can check out the article here.