Fool-Proof Yorkshire Puddings
With cooler temperatures arriving in the northern hemisphere, our thoughts turn to hot comfort foods. Retired homemaker Jean Ross shares her fool-proof recipe and time-honored process perfected by her family over the years for light-as-air Yorkshire Pudding.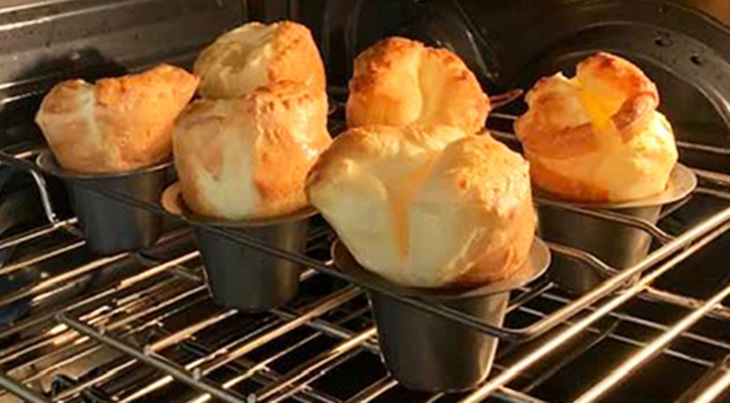 Yorkshire Pudding
Pastry Ingredients
1/3 cup of flour
1/3 cup of milk
3 eggs
Preparation
Preheat your oven to 425°F.
Lightly oil 12 cupcake tin tray or 6 popover tin tray. Shortening or margarine is an acceptable substitution for vegetable oil. You don't want an oil that burns or smokes easily, as the oven is very hot at 425°F; I used virgin olive oil and it worked well.
Put oiled tins in the preheated oven and let them get oiled tins get very hot before removing them from the oven.
Beat the above Yorkshire Pudding pastry ingredients with a fork to incorporate air.
Pour the batter evenly into the cupcake or popover tin tray (shown in photo above). Note that if you use a cupcake tin tray that holds 12, the Yorkshire Puddings will be just as tasty but half the size.
Bake until golden – approximately 10-15 minutes; time will vary depending on size of the tin used – and then turn off the oven while you prepare to serve your meal, leaving the Yorkshire Puddings inside – .keeping an eye on them to make sure they don't burn. These extra 5-10 minutes will ensure they don't collapse. 
Dish up your meal with the Yorkshire Puddings, and your preferred gravy or sauce. 
Yorkshire Puddings can also be served/eaten as a starter, with a meal (pastry only as per above recipe), stuffed (ie. bangers & mash), or as a dessert. The topping – depending on preference for each of these courses – is usually a brown gravy, white sauce, or drizzled fruit glaze. 
Note: Yorkshire Puddings originated in Ye Merry Olde England and were originally called Dripping Puddings. Mark this on your calendar – the First Sunday in February is National Yorkshire Pudding Day in Great Britain! Any group meal is a great excuse to try making this tasty side dish, and in North America there's no better time to serve it up to family and /or friends, than at Thanksgiving.
*All photographs & text in this article are © 2020 Jean Ross. All rights reserved. Do not download or reproduce without written permission.*