Downsizing Tips From A Decorator
Moving and downsizing your home does not mean downsizing your quality of life. We just have less square footage and fewer items in our space (hopefully).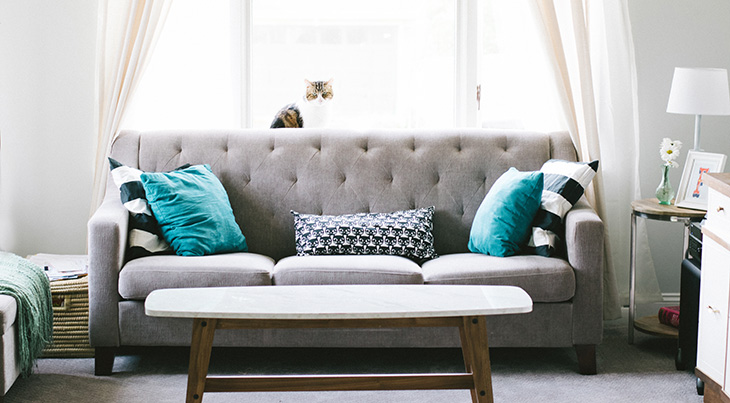 (Photo: Nathan Fertig via Unsplash)
Lets just say you have taken the first step and sold your large home. Secondly, you have acquired a new address sized for one or two people. Third, you have assessed your new space and are now going through your belongings, deciding what to keep and what to part with, or you may have already done this and are moved into your new retirement dream home.
If you have moved in you may be realizing that you are not quite satisfied with having to give up the space you had. So, is this just the way it is? Do I have to get used to this? No. Not at all.
Lets just look at why you may be nostalgic for your old home. First, some of your old pieces may not be fitting in your new digs properly. They may be a little too large scale. Second, you may feel that you are too crowded in the smaller home, or third, you miss some of the items you had to part with. Your home doesn't have to feel like a pair of shoes one size too small.
What you may need is someone to rethink your layout, and assess how you are using each furniture item.
Just because a chest of drawers was used as a dresser before does not mean it can't double as a night stand. A credenza can also be use in a dining room to house many things besides just dishes.
Tips to help make your new home into a space that functions properly and fits just right:
Do I feel crowded or are some things in my way? Consider traffic patterns. Make sure there is enough space to move comfortably from one zone to another. You may need a new furniture layout, or you may need to do further editing.
Am I able to do the activities I like? Consider the things you like to do in your home and make a list of the items you need to accomplish these things. You may be able to re-purpose a piece of furniture or obtain a new piece that does double duty. New lighting may also be needed to do those things, like reading, crafting or puzzling etc.
Does my furniture look right in here? Assess the furniture you have. Is it too big? Maybe instead of a second bed, a pullout sofa bed would be a better option, freeing up space and doing double duty as an extra seating area.
Does your new home reflect your personality and is it a space that you are happy to be in? We all need to express ourselves, and what better way than colour and design? A beautiful colour on the walls, some fabrics or wallpaper can add so much character and style to your new home. It can make separate pieces into a cohesive design, and change a shell of walls into a lovely sanctuary.
Lastly, could I use some professional help? A decorator can look objectively at your home and help to transform it to fit your needs and lifestyle, as well as help to create a design that welcomes and inspires.
Creative planning can make a small home beautiful and comfortable, and a space anyone would be proud to invite friends and family. Best wishes to all who are downsizing. I hope this period of your life offers fresh opportunities and enrichment for you.
Downsizing Tips From A Decorator courtesy of Cann Enhance Your Home

Certified Decorator Colleen Cann of Cann Enhance Your Home, is based in Grimsby, Ontario.
Reach Colleen by phone at 905-563-7575, by email at colleen@cannenhance.ca, or visit her website at CannEnhance.ca for more home decorating ideas and information.