Play What's On Your Phone, On Your TV
Got a Youtube video or streaming video app that you'd rather watch on your TV than your mobile device? Step-by-step instructions on how to mirror (or cast) your phone to your TV – without cables or apps.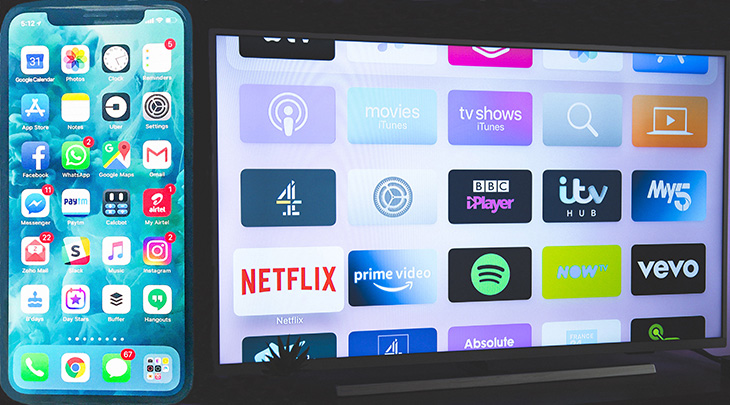 (Smartphone: Rahul Chakrabort | Smart TV: Nicolas J. LeClercq via Unsplash)
Maybe your daughter-in-law just sent you the latest photos of your grandkids. Maybe you have a movie app on your phone, but you can't bear watching it on such a small screen. 
Now you can watch whatever's on your tablet (or phone) on your big-screen smart TV – like the Handmaid's Tale or Ted Lasso. You can even watch movies for free.
There are any number of reasons why you might want to mirror your phone to your television. And, fortunately, it isn't difficult.
Why Mirror Your Mobile Device to Your TV?
As we just suggested, there are many reasons to mirror your smartphone to your TV. Here are just some of them:
Using Facebook, Twitter and other social media
Viewing pictures and videos stored on your phone
Watching cooking and exercise videos and TedTalks
Facetiming with your niece studying abroad or attending a family Zoom call
Streaming shows and movies from apps like Netflix, Tubi and FuboTV
Playing music from a music app
Sharing mobile devices
Will My TV Work?
Not all TVs support mirroring. To mirror an iPhone, you need a smart TV that has built-in Apple AirPlay 2 technology. To mirror an Android phone, you need a smart TV that has built-in Chromecast technology.
These include all Smart TVs made by: 
LG – Such as the LG HD Ready Smart LED TV
Samsung – Such as the Samsung Wondertainment Series Ultra HD LED Smart TV
Sony – Such as the Sony A8H, Sony X900H or Sony Bravia Full HD Smart LED TV
They also include certain models of Smart TVs from other makers, like
Onida Fire TV Edition Smart IPS LED TV
TCL 4K Ultra HD Smart Certified Android LED TV
Vizio V Series or Vizio OLED
If your TV doesn't support AirPlay2 or Chromecast, you can still mirror your phone to it as long as you connect it to a compatible streaming box, like a Roku.
Will My Device Work?
If your mobile device or its operating system is less than three years old, you can be fairly certain it's compatible with phone mirroring. Some older devices will work too, but you need to make sure they support the software listed below.
Any iPhone capable of running AirPlay is compatible with phone mirroring. This includes iPhone 7 or later running iOS 14 or later.
Any Android capable of running Chromecast, or any phone running Android 6.0 or later, is compatible with mirroring, including LG, Samsung Galaxy and Google Pixel phones.
Mirroring vs. Casting
There are two ways to view content from your phone on your TV: mirroring and casting. It's a subtle difference, but it is useful to understand.
Mirroring, aka screen mirroring, broadcasts everything you can see on your phone screen to your TV. You can view your home screen with all its app icons and web pages from your Safari or Chrome web browser.
Whatever you do on your device will be "mirrored" on your TV screen.
Casting, aka screencasting, is when you view a video, such as a YouTube video, or a TV show or movie from Netflix or other streaming app. Rather than broadcasting your small screen to your big screen, it's more like sending a "share" link from your phone's streaming app to your TV, so it can play the same content along with the device. 
While casting, you use the in-app controls on your device to play, stop, fast-forward and rewind whatever you're watching.
How to Mirror Your Device to a TV
Before we begin with the step-by-step instructions for mirroring an iOS or Android device, be sure your phone and TV are both connected to the same WiFi network.
Mirror Your Apple iOS Device
Turn on your AirPlay 2-capable TV or your non-compatible TV and attached AirPlay 2-capable streaming device.
On your iPhone, go to the Control Center.
Tap the Screen Mirroring button, which looks like two rectangles interlocking.
From the list of available AirPlay 2 devices that appear on your iPhone's screen, select the TV you just turned on.
At this point, screen mirroring has been activated, and you should be seeing your phone's screen duplicated on your TV screen.
To shut off screen mirroring, simply open your iPhone's Control Center and tap the Screen Mirroring button again. You should no longer see your iPhone screen duplicated on your TV screen.
Mirror Your Android Device
Turn on your TV.
On your Android phone, open Settings.
Tap the Screen Cast button, which looks like a rectangle with a WiFi symbol in the lower left corner.
From the list that appears on your phone's screen, tap the TV you just turned on.
In the dialogue panel that appears next, select Start Now.
You should see your Android phone's screen duplicated on your TV screen.
To stop mirroring your phone to your TV, repeat steps two and three, and then tap Disconnect. You should no longer see your Android's screen on your TV.
Summary
Now that you know how to mirror your phone to your TV, give it a try and explore the possibilities.
Get a subscription to Hulu on your phone and finally get to see The United States Vs. Billie Holiday.
Download and install Instagram onto your phone so you can follow your favorite fellow foodies and view all their latest culinary creations on your HDTV.
Facetime long-distance with your granddaughter on her birthday.
Take advantage of the simple gifts of modern technology to help keep you entertained and connected to all of life.
*This article is for general informational purposes only. 50+ World does not endorse any product or service providers, nor does it receive remuneration from them. 50+ World bears no responsibility for the content or use of an external site or links to an external website*