Celebrate a Big 60 Milestone Birthday
The big sixty birthday may be approaching, but do not be intimidated. Embrace the milestone and celebrate your years. You may be close to retirement too, which gives you another reason to celebrate. Here are some great ways to mark the special occasion that you can enjoy with friends, family, or on your own.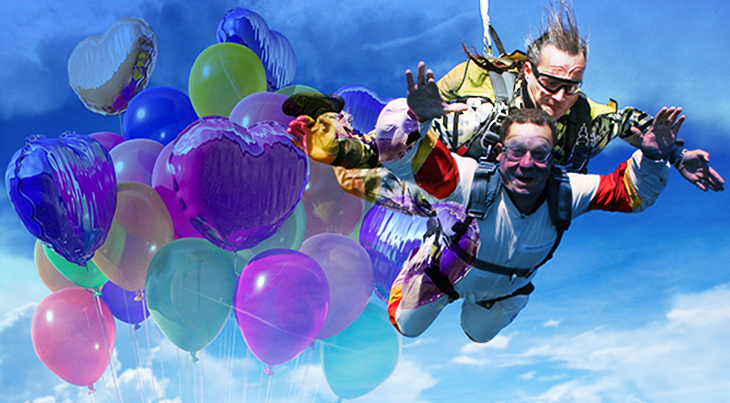 (Pixabay Source Photos: Balloons, Arturi Mantysaari & Skydiving, Antoine Carrion | Blend:  50+World)
Have A Party
The simplest solutions are often the best. If you want to mark this milestone with your friends and family, having a sixtieth birthday party is the only way to do it. You can have something big and bold if you want to, but for a smaller and more subtler celebration, you can enjoy a simple meal with your closest and dearest. If you want to keep the celebration under control it is best to plan it yourself.
Greenvelope has this perfect guide to planning a sixtieth birthday party, and they can help you send invites out too. Their digital party invites can be custom designed to suit your style, and their system helps you keep track of RSVPs so you know the numbers. This makes planning a party a lot easier and gives you one less thing to worry about as you approach the big six-oh.
Go On A Vacation
When you hit the big 6-0 you can be forgiven for wanting to get away from it all. If you have reached this "grand old age" you deserve a vacation. Sixty years of life can add up to a lot of stress, and you've earned a relaxing reward for reaching this milestone birthday. Hitting this age is also the perfect excuse to have the trip of a lifetime and tick off some destinations from your vacation bucket list.
If you want some time away in paradise, look for an all-inclusive vacation resort deal in Mexico or the Caribbean. These take all the hassle out of a vacation, as everything is already paid for. Eat and drink as much as you want and relax on the beach or beside the pool. For something extra special go on a tour and take in a bunch of different sites and experiences. Reaching sixty is the perfect excuse for a great road trip. 
Get A Tattoo
This is a hugely popular way to celebrate a big birthday milestone with the over 50s. When you are younger you can be forgiven for thinking twice before getting a permanent piece of body art, but now you have reached your later years, who cares? You can get a tattoo of something to commemorate your special day, or get a special design that takes your fancy – something you'll love for another 30-40+ years.
The trick to this treat is a little bit of careful research. The difference between a good tattoo and a bad one is the artist who draws it. Look for lots of positive reviews and many years of experience. If an artist does not have lots of picture of their work, find someone else to do it. Many tattoo artists show off their designs on Instagram, so if you're not on there yourself already, maybe get a younger family member who is, to help you find the right tattoo parlor. 
Don't attempt the following high-risk activities without first gaining your doctor's thumbs-up, followed by expert instruction. 
Jump Out Of A Plane
No, seriously – and with your doctor's OK first, of course! Many people choose to do something a little extreme to celebrate a big birthday like this. Taking a tandem parachute dive with a qualified instructor is a great way to push you out of your comfort zone and celebrate in style. This experience will last you for your lifetime. Why not see the world from a whole new perspective for your sixtieth birthday?
Wherever you are, there is probably a parachute center near you. Make a day or two of it and combine your jump with a night or two in a luxury hotel. Get a film of your jump too, so that you can show it to friends and family and brag about your escapade a little. Tandem parachute jumps are much easier to do and let you enjoy the experience. You are attached to your instructor who has control over the chute. You get to experience the sensation of falling and then flying while they do the hard work.
Have A Track Day
Driving a car really fast is exhilarating and challenging. On a track day, you can get instruction from an experienced racing driver and get behind the wheel of some amazing exotic cars. The best part is the track itself. The straight roads and simple corners you are used to on a commute are nothing compared to the chicanes and hairpins of a racetrack.
With a little bit of professional training and a few laps of the track, you can become a racing driver too. The speed of acceleration, and braking, give you a driving experience you cannot find on the roads. Turning a corner at a high speed is also exhilarating, and lets you experience some g-forces while you take a right turn on its apex and hit the gas pedal.
Do not let hitting sixty get you down. This is a major milestone worth celebrating and enjoying. Boost your happiness and self-esteem and do a few of the things on this list, not just one. Why not combine some of them into a week or weekend of celebrating? You can skydive from a plane in the morning and hit the racetrack in the afternoon. What a way to celebrate sixty.
*This article is for informational purposes only. Always seek the advice of appropriate experts before undertaking a new activity. This website does not recommend or endorse any specific service providers, products, procedures, opinions, or other information that may be mentioned on the Site or on other websites it links to. Reliance on any information provided by this website or other websites it links to, is solely at your own risk.*