Unique & Vintage Halloween Wishes
Say Happy Hallowe'en to friends and family with one of these retro and / or unique new Halloween greetings: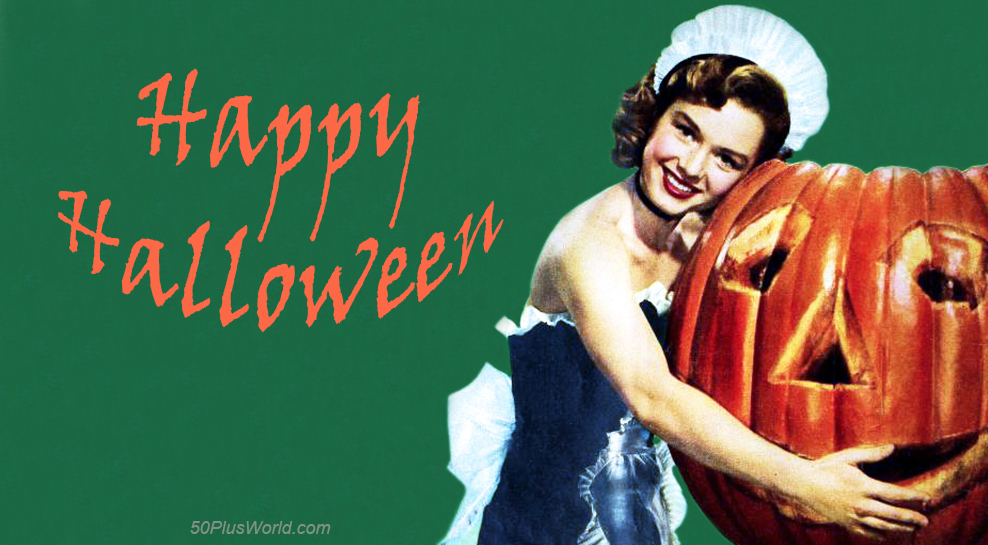 (Debbie Reynolds c. 1952 Happy Halloween Greetings)
Actress and classic movie star Debbie Reynolds is at her perky best in this vintage Hallowe'en pose with a plump orange pumpkin.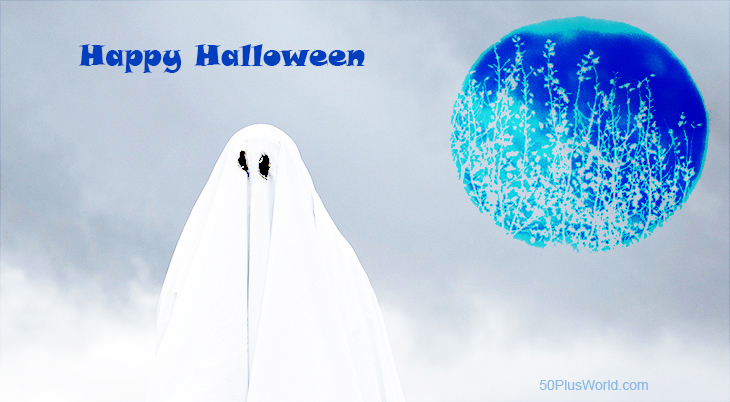 (Spooky Ghost & Blue Moon Happy Halloween: A. Hamilton / 50PlusWorld.com*)
A spooktacular blue moon Halloween can be had with greetings from this friendly white ghost.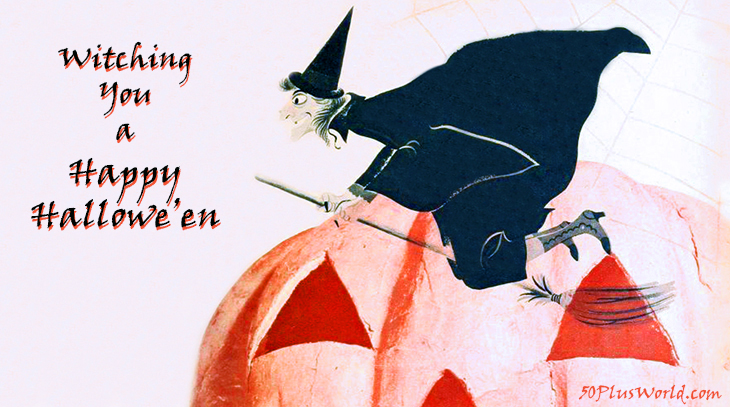 (Witching You a Happy Hallowe'en)
A retro cartoon witch rides her broomstick in front of a Halloween pumpkin in this updated c. 1946 illustration, and cackles her seasonal greetings.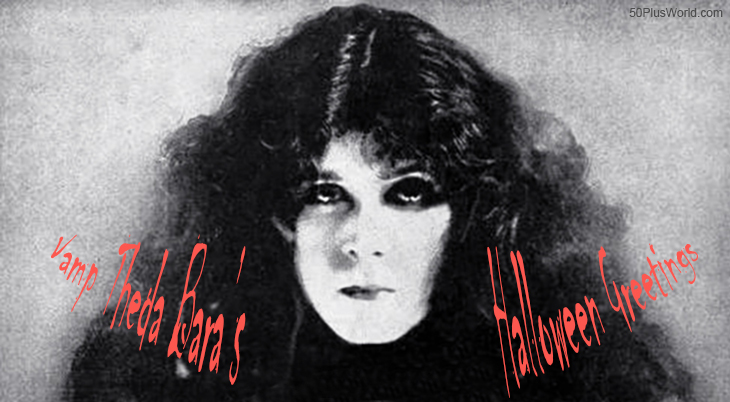 (Vamp Theda Bara 1919 | Halloween Greetings 50PlusWorld.com)
The original movie "Vamp", silent film star Theda Bara, sends her Halloween Greetings.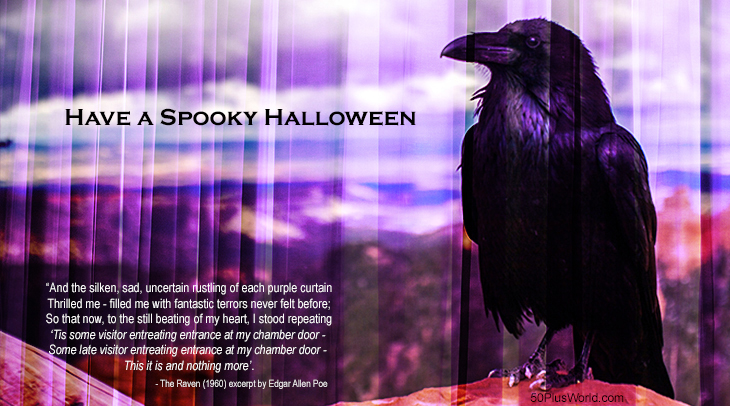 (Bryce Canyon Raven & Purple Curtains, with Edgar Allen Poe's The Raven Quote: 50PlusWorld.com)
Spooky Halloween wishes combine with an extract from Edgar Allen Poe's spine-tingling 1845 poem The Raven:
"And the silken, sad, uncertain rustling of each purple curtain
Thrilled me – filled me with fantastic terrors never felt before;
So that now, to still the beating of my heart, I stood repeating
'Tis some visitor entreating entrance at my chamber door – 
Some late visitor entreating entrance at my chamber door; – 
This it is and nothing more.'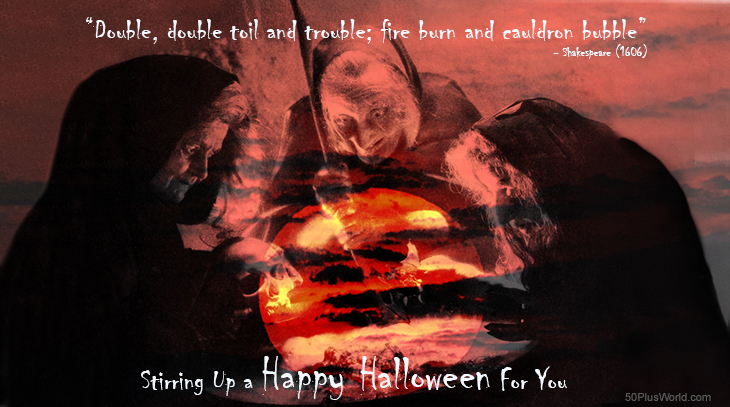 (3 Witches Stir the Macbeth Cauldron on Hallowe'en: A. Hamilton / 50PlusWorld.com*)
Shakespeare's immortal lines from Macbeth (1606) inspired this spectral Happy Halloween greeting, with three witches stirring up a spooky orange moon.
"Double, double toil and trouble;
fire burn and cauldron bubble"
1930s-1940s child star Shirley Temple sends her Happy Halloween wishes!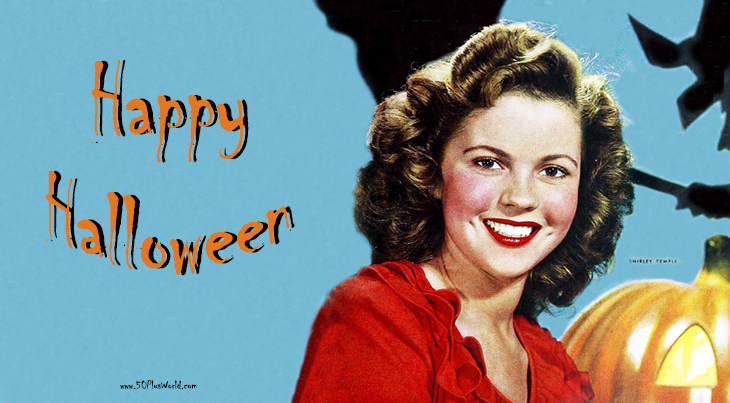 (Shirley Temple 1944 & Happy Halloween Wishes)
A witch on a broomstick and a pumpkin provide a fitting background.
More Halloween Fun:
Best Classic Scary Funny Ghost Films
*Source Images are believed to be in the public domain. Unsplash Photo Credits for Source Images Used in Blended Photos:
Blue Moon on Halloween: White Ghost – Tandem X Visuals + Moon – Neven Krmcaek
The Raven at Bryce Canyon National Park: Raven – Tyler Quiring + Curtains – Jocelyn Morales
Orange Moon – Abed Ismail