Fashion in Advertising..because
How do you run a highly successful advertising campaign for over 20 years, for an "unmentionable" product? If you're Johnson & Johnson, you successfully pussy-foot around it for decades and eventually come up with a "Modess… because…" high fashion ad campaign.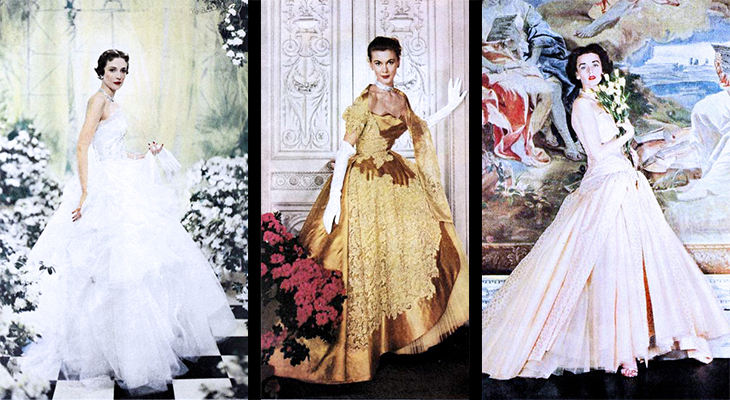 (Best of Modess…because Fashions in Advertising 1951-1954)
Yes, I'm talking about advertising women's feminine hygiene products. But don't worry, this article isn't about that..it's about how Fashion, with a capital F, can turn something that's "unmentionable" into something that's unforgettable.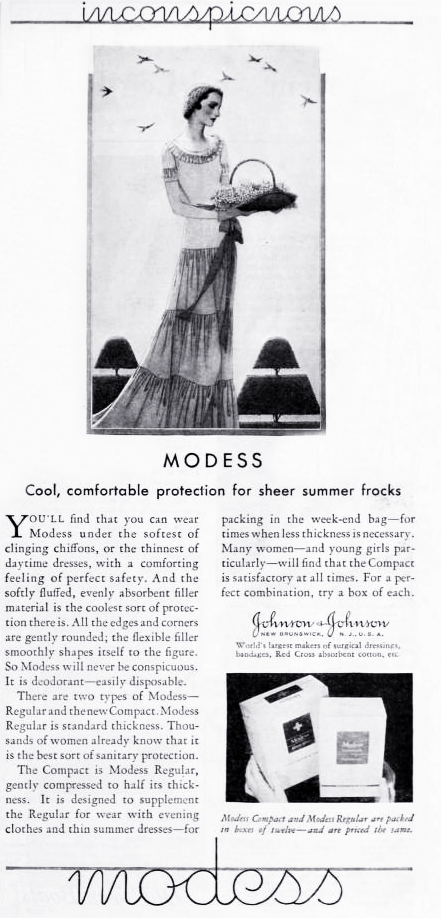 (Modess 1931 Ad)
Fashion – clothing, hats, hairstyles, make-up – is at the core of most advertising aimed at women. Sometimes it's by design, and sometimes it's unintentional.
How can it be unintentional, you ask?
Well, if you depict a woman wearing contemporary clothing vs being nude, than whether it's in 1917, 1927, 1957, 1997, or 2017  – you are going to also be depicting fashion from that era.
Legend has it that disposable sanitary napkins were invented by nurses who found another use for the type of bandages used on soldiers during World War I.
However, Johnson & Johnson's history timeline includes the information that as early as 1897 the company had begun mass-producing what was likely the first commercially produced, disposable sanitary products.
These were sold in the U.S. under the names of Sanitary Napkins for Ladies or Lister's Towels.
In 1927, Johnson & Johnson began marketing a new and improved brand of sanitary napkin called Modess.
Their primary product and advertising competitor in magazines such as Good Housekeeping, movie fan magazines, and other channels, was Kimberly-Clark (Kotex brand).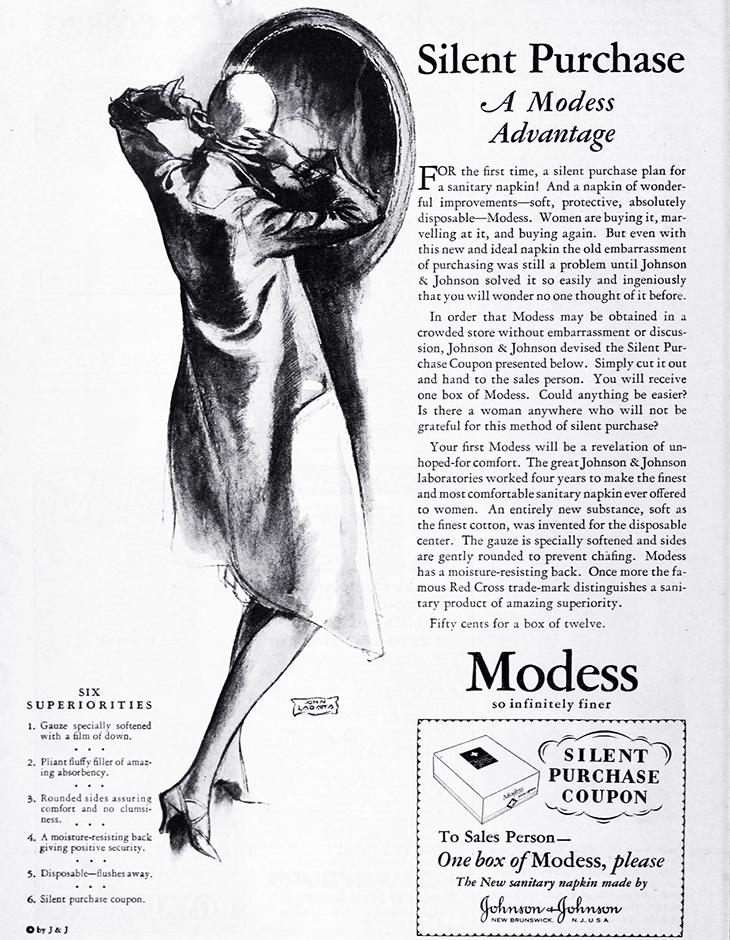 (Modess 1928 Ad)
Out of necessity, these early ads emphasized an education about a new product – very difficult to achieve when the culture of the era made it impossible to describe things in clinical terms.
From Johnson & Johnson's website:
"Because menstruation remained taboo, Modess Sanitary Napkins were notoriously difficult to advertise."
"(Silent purchase) coupons allowed women to simply hand the voucher to the sale associate and then buy the pads without uttering a single word."
Johnson & John's experimentation with advertising themes of fashion and lifestyle began to alternate with educational tactics.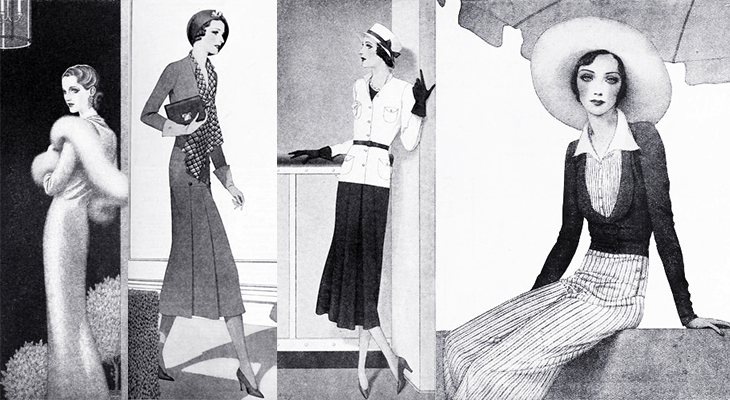 (1931 Women's Fashion as in Modess Ads)
'Fear appeal' advertising calculated to create or heighten anxiety over embarrassment due to an "accident" soon followed – to the point of making it a pseudo-psychiatric disorder!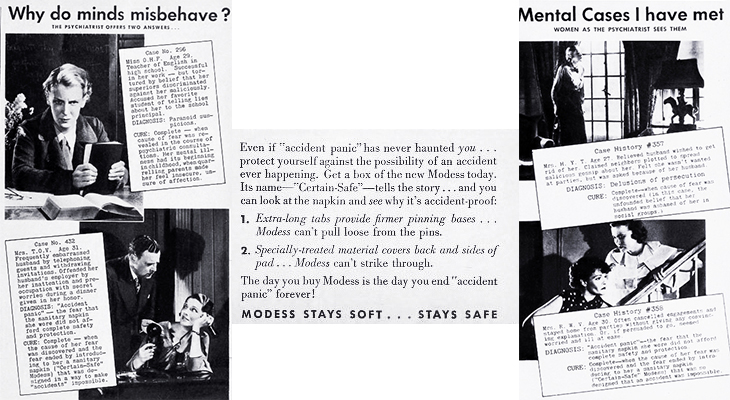 (1931 Women's Fear Appeal "Accident Panic" Modess Advertising)
Psychiatry – and sanitary napkins – have come a long way since the 1930s.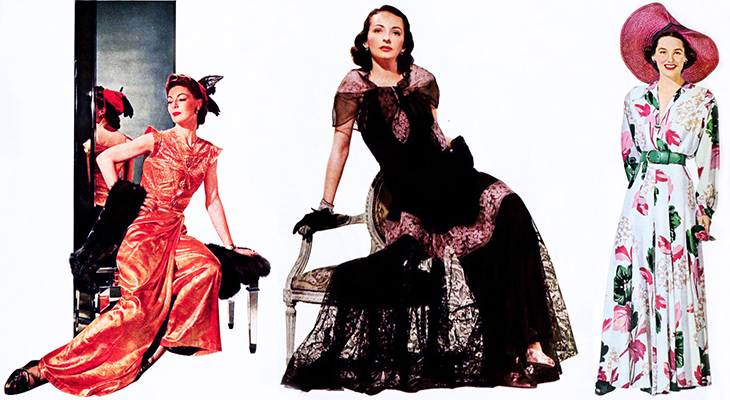 (1940-1941 Fashion Trends in Modess Advertising)
In the early part of the 1940s, full page, colour Modess ads began to focus on elegant women's designer evening gowns.
(1941 High Fashion Dresses in Modess Advertisements)
When the United States entered World War II in 1941, Modess advertising reflected the changing role of women and of course, everyday fashion.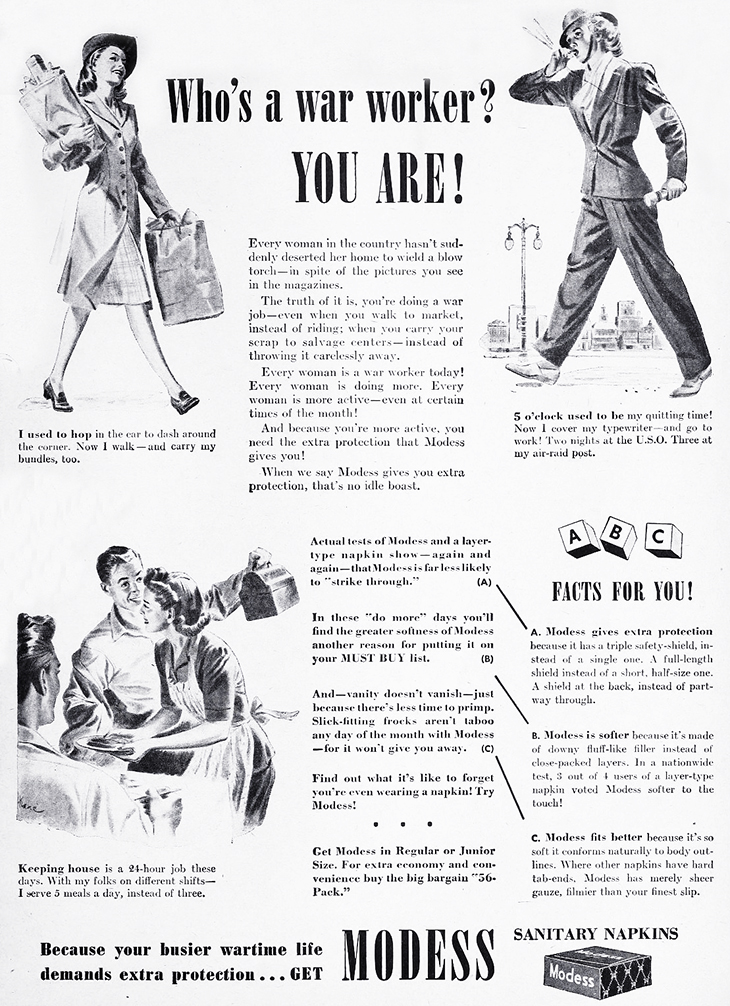 After World War II, Modess advertising reverted to the popular themes of lifestyle, education, fear of embarrassment, and of course, fashion.
In 1948, Business Screen Magazine, explained a recent significant change of direction to Johnson & Johnson's Personal Products Corporation advertising strategy, which until then had usually consisted of a significant amount of text with an accompanying image: 
"Twenty years ago, Personal Products Corporation's Modess was unknown. A competing product practically monopolized the market (Kotex). Today, Modess, with many millions of regular customers, sells a large percentage of all sanitary napkins in the U.S.
Morever, every woman knows what Modess is – and so thoroughly, that Young & Rubican, Personal Products' advertising agency, felt that product description and quality claims were actually redundant."
The new advertising approach required further education about the psychology behind it, for the Modess salesforce:
"Modess...because explains that a woman's reaction to a picture or a situation is frequently very different from a man's. A man will see a thing objectively as a fact; a woman will have, instead, an impression. For instance: 1) a picture of a beautiful table set for dinner: Man – "Food", Woman – "Beautiful"; 2) a picture of a man telling a joke: Man – "Ha ha!", Woman: "How vulgar!"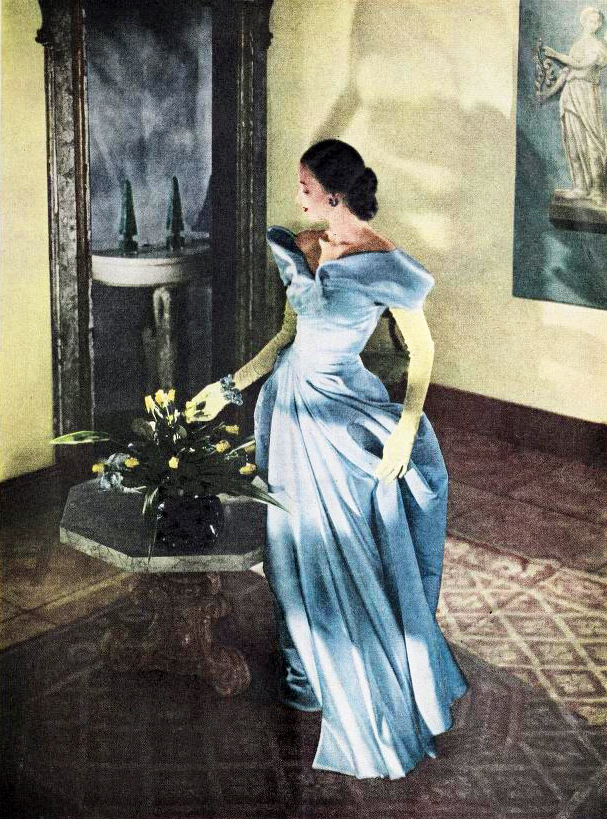 (Model wearing a Charles James Designer Gown 1947 Modess…because Ad)
"So, to reach women in advertising successfully, more than just facts are required, more than convincing copy. The main thing necessary is a good subjective impression.
What interests women? Many things, but one important subject that almost never fails is fashion, and not only fashion, but high fashion, as personified by the great designers such as Hattie Carnegie and Valentina, the most stylish models, and the most imaginative photographers and artists."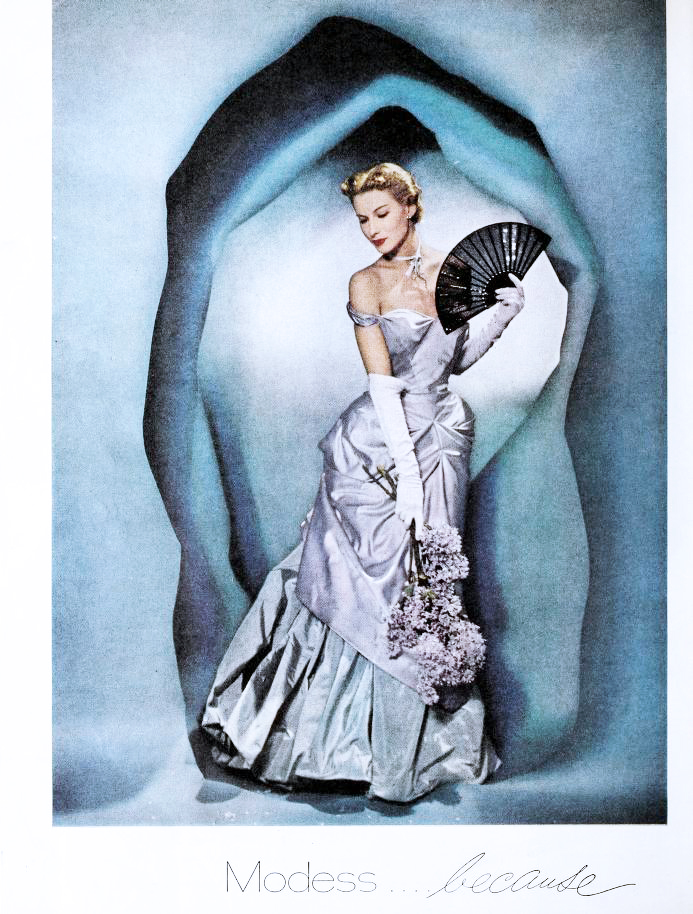 (Supermodel Lisa Fonssagrives, Gown Designer Charles James, 1949 Modess…because)
"On this premise, the current Modess campaign features the ultimate in high fashion and only two words of copy – "Modess…because". Women are coaxed by this to fill in their own reasons because. In addition to this, the new campaign opens up a most valuable plus – word of mouth advertising from woman to woman. She may enthusiastically speak of the beautiful new Modess advertisement, but very rarely and reticently would she speak of the fine quality features of her sanitary napkin."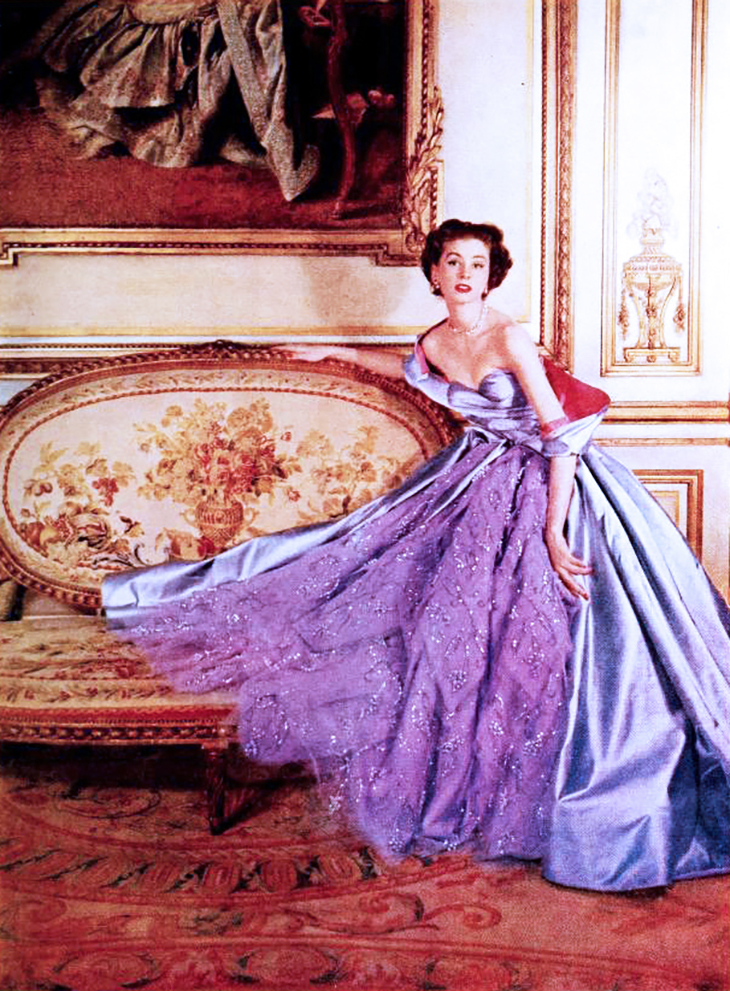 (Supermodel Suzy Parker in a Christian Dior Gown, 1953 Modess…because Ad)
Some of the designer's whose original works were featured in these new Modess…because ads, include Christian Dior, Balenciaga, and Charles James.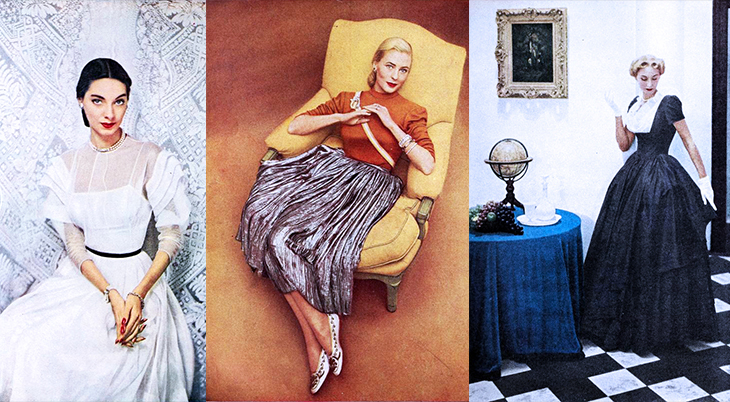 (High Fashion / Designer Gowns 1948 & 1949 Modess…because Ads)
Models included the likes of early "supermodels" – Dorian Leigh and her younger sister Suzy Parker, Dovima, and Lisa Fonssagrives, while among the photographers were Valentino Sarra, Ruzzie Green, and Cecil Beaton.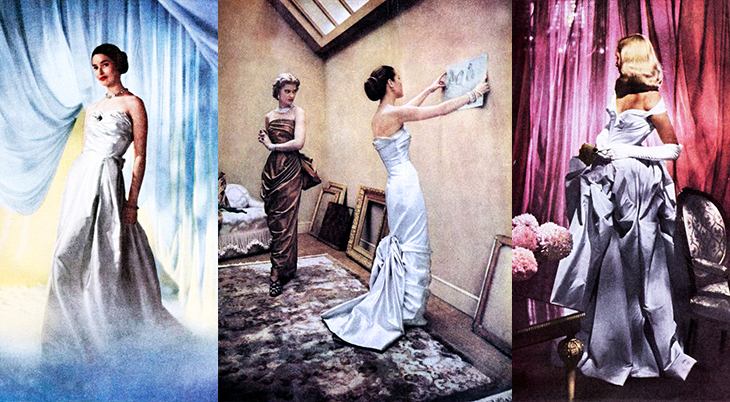 (High Fashion / Designer Gowns 1949 Modess…because Ads)
Location shoots took place in mansions, palaces and museums across New York and Europe.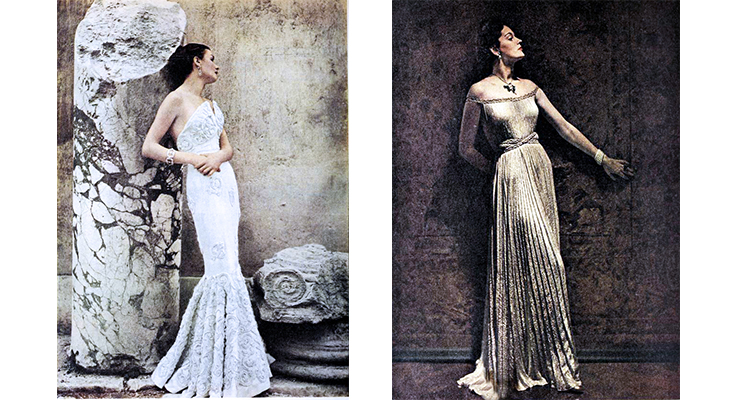 (High Fashion / Designer Gowns 1950 Modess…because Ads)
The yearly advertising budget was in the millions, but the ROI made it all worthwhile. By the mid-1950s, sales of Modess had tripled from the mid-1940s.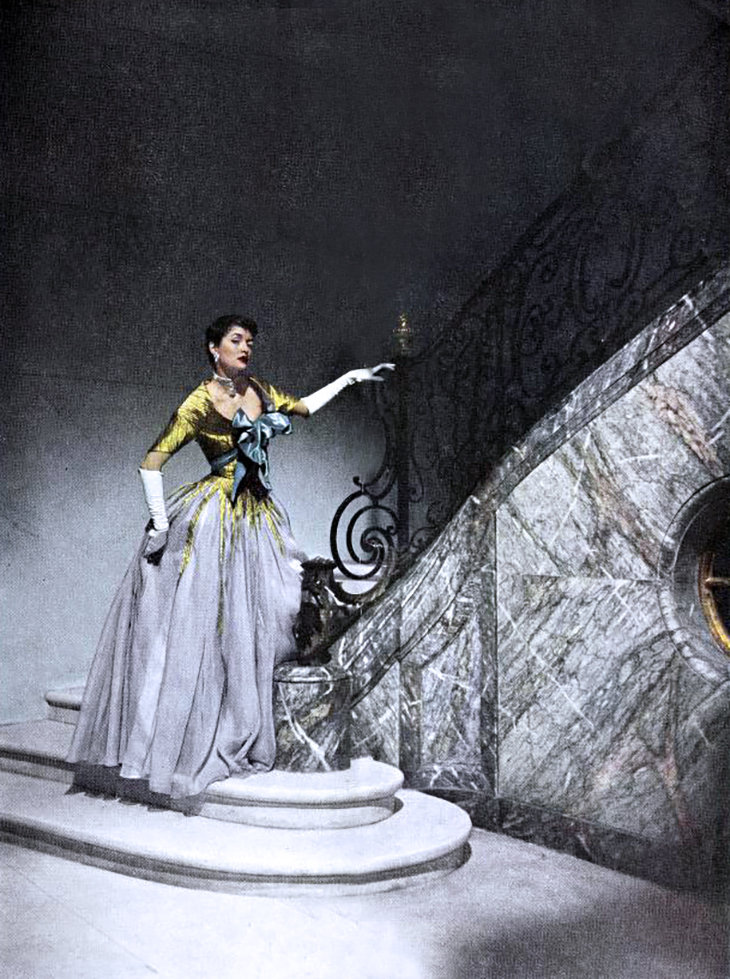 (High Fashion / Designer Gown 1950 Modess…because Ads)
Here's a quick skip through the years 1951-1963, with a look at some of the stunning designer gowns featured in Modess…because magazine advertisements.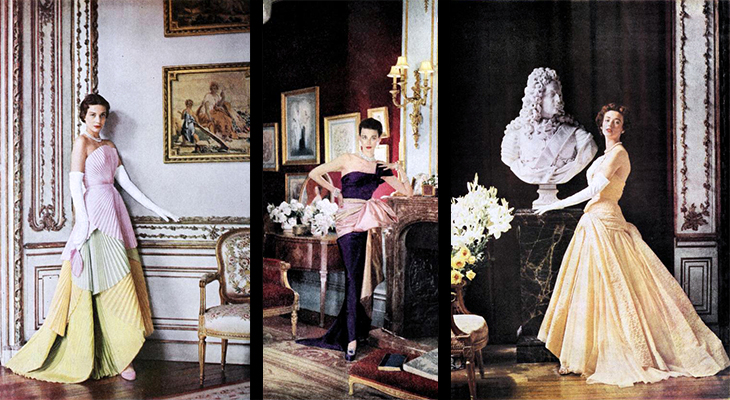 (High Fashion / Designer Gowns 1951 Modess…because Ads)
Always ahead of the curve, although hats were still considered a "must" for women to wear throughout the 1940s and 1950s, most of these high-fashion ads featured women with bare heads.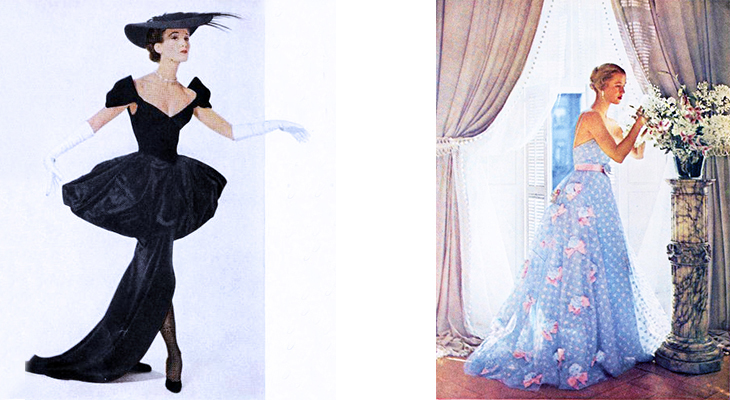 (High Fashion / Designer Gowns 1952 Modess Ads)
One of the rare exceptions to this was the very high fashion black gown and hat worn by the model above – an ensemble likely only ever worn on a catwalk or in these photo shoots.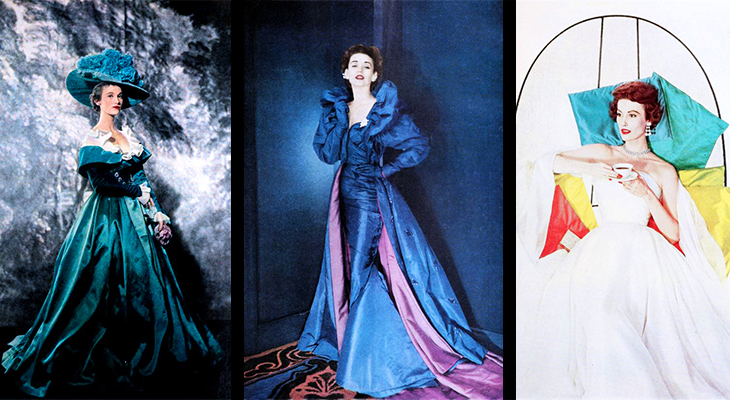 (High Fashion / Designer Gowns 1952, 1953 & 1954 Modess…because Ads)
Although most of the designer gowns featured in the ads were contemporary, sometimes a nod to an earlier era was featured – as in the green dress and hat above c. 1800s fashions.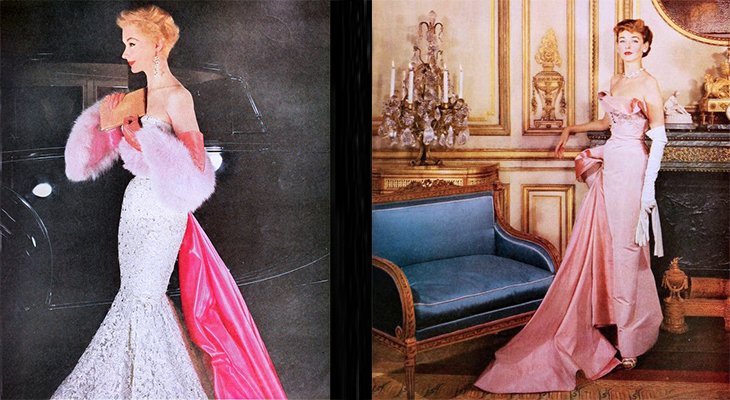 (High Fashion / Designer Gowns 1954 Modess…because Ads)
Yellow seems to have been the most predominant colour for the designer gowns featured in Modess…because ads, however pink was also used to great effect as well.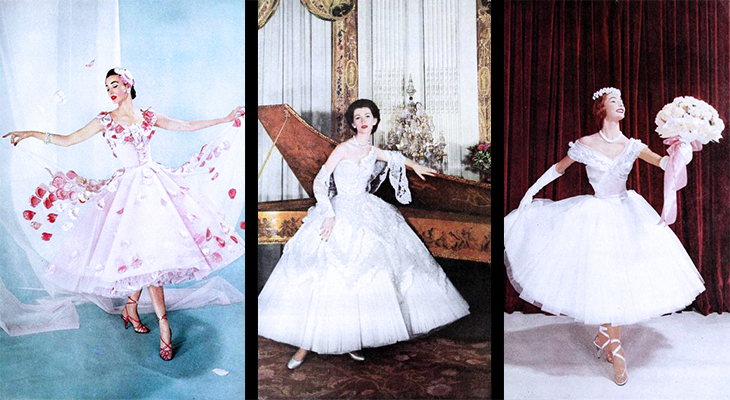 (High Fashion / Designer Gowns 1955 Modess…because Ads)
You can certainly tell by the pouffy full-skirt designs above and below, that it's the 1950s.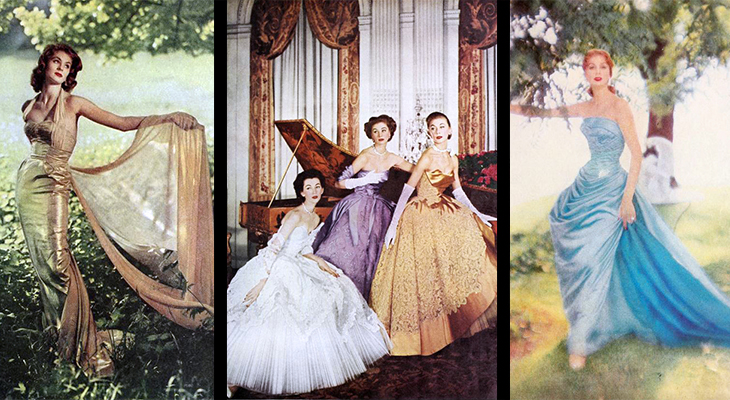 (High Fashion / Designer Gowns 1956 Modess…because Ads)
Dress silhouettes gradually began to soften from the stiff full skirt designs, as the 1950s rolled on closer to the 1960s.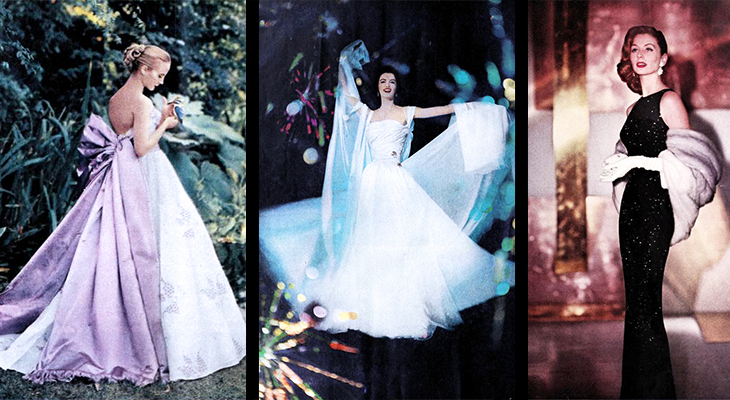 (High Fashion / Designer Gowns 1957 Modess…because Ads)
Occasionally the same gown would be worn by different models, or with different accessories, for advertisements in different magazines.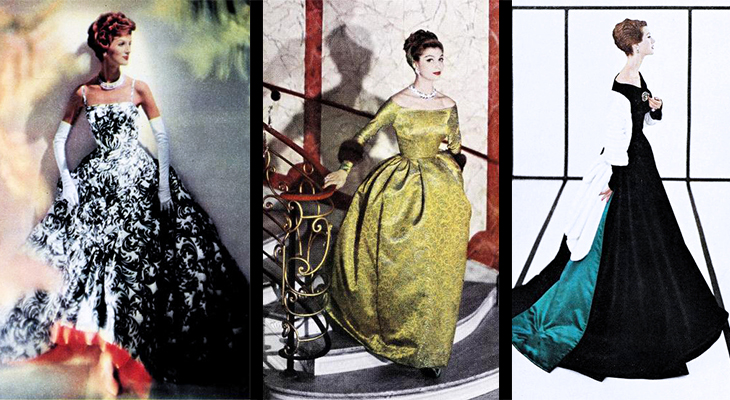 (High Fashion / Designer Gowns 1958 Modess…because Ads)
For example, the same dress worn by a white model for an ad in a movie fan magazine, was worn by a black model for an ad in Jet or Ebony. Alternatively, the same model / dress, might show up with / without a wrap, or set against a different backdrop, as in the ad below with the same yellow evening gown from 1963.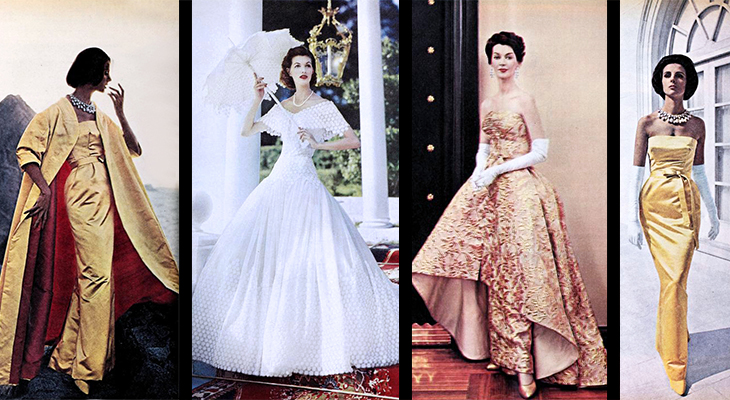 (High Fashion / Designer Gowns – Modess…because 1961 ads between 1963 ads)
Johnson & Johnson's Personal Products Corp. made the U.S. Radio news when it bought advertising for Modess on 33 "Negro" radio stations in 1960.
In 1962, Modess began marketing the new "Vee-Form by Modess" with the tagline "anatomically shaped…because".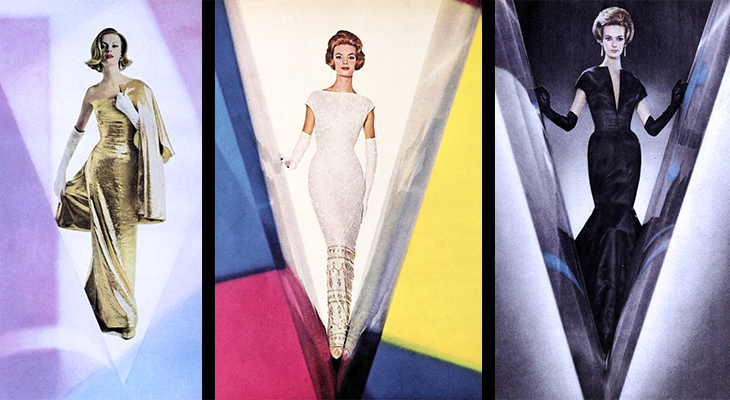 (High Fashion / Designer Gowns 1962 Vee-Form by Modess…because Ads)
Although the designer gowns and high-fashion look of the regular Modess…because ads remained, notice the not-so-subtle variation in the background of the Vee-Form ads above.
By the mid-1950s, sales of Modess had tripled from the mid-1940s numbers. The Modess…because advertising campaign continued through the 1960s and well into the 1970s before it was scrapped.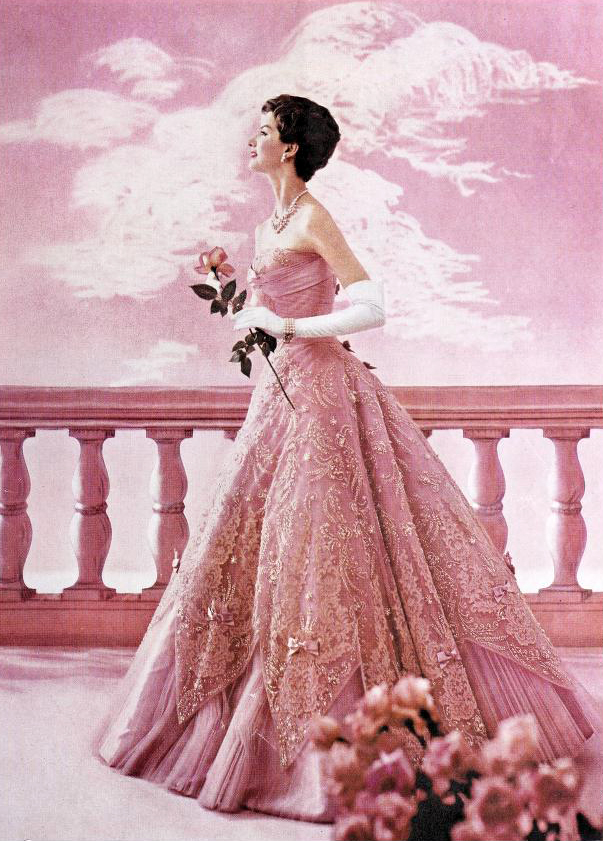 (1959 Modess…because Designer Gown in Pink)
Today, prints of Modess…because ads are sold as art. And that, folks, is how you turn something that people don't want to talk about, into something they want to hang on their walls.
For a look at some more of the stunning designer gowns worn in Modess...because ads:
*Images are believed to be in the public domain or Creative Commons licensed & sourced via Wikimedia Commons, Vimeo, YouTube, or Flickr, unless otherwise noted*