Ovarian Cancer: Symptoms and Risk Factors
Ovarian cancer primarily occurs in mature and senior women age 50-79 (women age 63+ and older at the highest risk).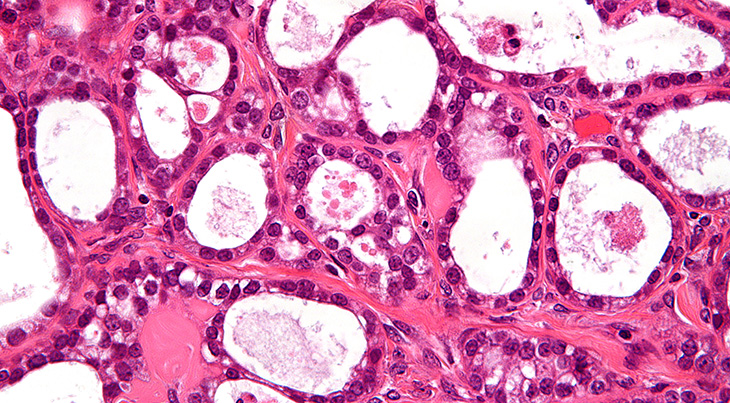 (Ovarian Cancer / Clear Cell Carcinoma Photo: Nephron)
Both Ovarian Cancer Canada and The American Cancer Society estimate that ovarian cancer is the 5th highest cause of cancer deaths for women.
Ovarian Cancer Symptoms
Ovarian cancer symptoms may be present even in the early stages of the disease. Fatigue, upset stomach, back pain, pain during intercourse, constipation, menstrual changes, and abdominal swelling with weight loss, can be present with ovarian cancer as well as a host of other conditions. Consult your doctor if you find you are having persistent and new or unusually frequent or more severe (for you):
Bloating
Pain – pelvic or abdominal pain
Trouble eating or feeling full quickly
Urinary problems – frequency and urgency (always feeling like you have to urinate).
There is no reliable screening test as yet for ovarian cancer; a biopsy is the only sure way to confirm ovarian cancer. Doctors may perform a complete pelvic examination, transvaginal or pelvic ultrasound. A CA-125 blood test in combination with a pelvic exam and ultrasound for post-menopausal women has been helpful but is not definitive (only detecting ovarian cancer in 20% of advanced cases and 50% of early stage cases).
Ovarian Cancer Risk Factors
The lifetime ovarian cancer risk for women in general is less than 2%. Some of the more significant genetic and lifestyle factors which have been found to increase the risk factors for developing ovarian cancer include:
Older Age – The most significant risk factor for ovarian cancer is aging. Ovarian cancer is rarely found in women under the age of 40, and usually occurs in women who are in menopause. Over 50% of ovarian cancers are diagnosed in women age 63+.
Genetics/Family History of Cancers – Having a mother, sister, or daughter with ovarian cancer increases your risk; the more relatives with ovarian cancer (on either the mother's or father's side of the family), the higher the risk. Inherited gene mutations in BRCA1 and BRCA2 increase the risk factor of ovarian cancer from between 10-70% by age 70. These gene mutations are 10 times more common for women who are of Eastern European/Ashkenazi Jewish descent; as well, French Canadian women and women of Icelandic and Dutch descent may also have an increased risk.
Reproductive Factors
No Full-Term Pregnancies/Lack of Fertility – Women who have not had a full-term pregnancy before the age of 35 are at a higher risk. The risk of ovarian cancer decreases with each full-term pregnancy, and breastfeeding may lower that even further. Studies have shown that women using fertility drugs are at higher risk of developing ovarian cancer; however this may be because infertile women are at a greater risk anyway.
Not Using Birth Control Pills/Using Hormone Replacement – Women who have not used oral contraceptives ("the pill") for more than 3-6 months. The longer birth control pills are used, the lower the risk of developing ovarian cancer; this lower risk has been shown to continue for many years after use of birth control pills has stopped. Similar results have been found for the injectable hormonal contraceptive DMPA or Depo-Provera CI®. Using Estrogen alone without Progesterone for 5+ years, has been shown to increase risk for ovarian cancers.
Not Having Tubal Ligation or Hysterectomy – Some studies have shown that having a tubal ligation reduces the risk of having ovarian cancer by up to 66%, and a hysterectomy by 33%.
Other Risk Factors – Obesity/overweight women with a BMI (body mass index) of 30+may be more at risk, as may women who have had a history of endometriosis.
Note: This article was first published in 2016.
*Scheduled Walk of Hope in 2020 is subject to change due to COVID-19.
**This article is for informational purposes only and is not intended as medical or mental health advice, nor is it a substitute for professional medical or mental health advice, diagnosis, or treatment. Always seek the advice of a qualified physician or mental health provider with any questions you may have regarding a medical or mental health condition. In the event of a medical emergency, call a doctor or 911 immediately. This website does not recommend or endorse any specific tests, physicians, products, procedures, opinions, or other information that may be mentioned on the Site or on other websites it links to. Reliance on any information provided by this website or other websites it links to, is solely at your own risk.**