John Fogerty is a Fortunate Son
Fortunately for fans of John Fogerty and the original Creedence Clearwater Revival (CCR), Fogerty continues to tour and perform his classic hits. Enjoy some of his best songs with vintage live performances of Green River, Bad Moon Rising, Run Through the Jungle, Centerfield, and Fortunate Son.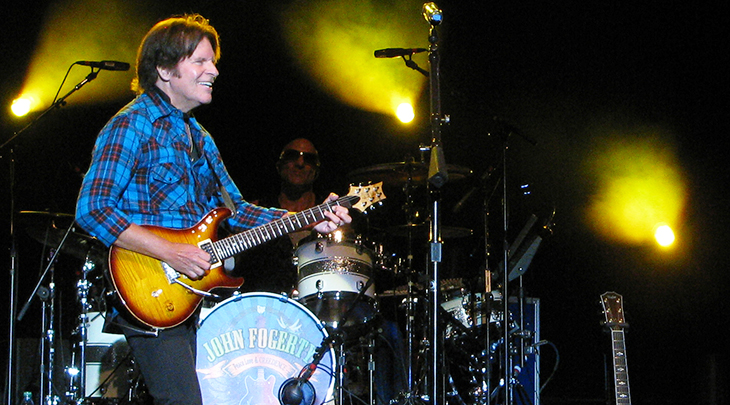 (John Fogerty 2011 Photo: ceedub13)
Born May 28, 1945 in Berkeley, California, John Fogerty was the middle of 5 brothers, raised by primarily by their mom Lucille Fogerty after she and her husband divorced. According to John in This Is My Story, he and his older brother Tom Fogerty paid $5/month to rent their first guitar when John was 12.
John Fogerty met Doug Clifford and Stu Cook while attending junior high school in El Cerrito, California (they were all born in 1945), and the 3 boys formed a band under the name The Blue Velvets. Post high-school, the trio backed John's older brother and lead singer Tom, and the band was signed to Fantasy Records in 1964. The label changed the band name to The Golliwogs, the 3 singles they released went nowhere, and Fantasy dropped them.
John Fogerty married Martha Piaz in 1965; they had two sons, Josh and Sean, and daughter Laurie, before divorcing in the mid 80's. Fogerty enlisted in the Army Reserve at the end of 1966 and served on active duty at Fort Bragg for 6 months; it was while marching around in the heat that John first started composing songs in his head.
Saul Zaentz had worked in sales at Fantasy when the Golliwogs were releasing their singles there, so he was familiar to both Tom and John Fogerty; when Saul purchased the Fantasy label and approached the band about re-signing to Fantasy in 1967, they were receptive. After fixing on a new name for the group, Creedence Clearwater Revival (CCR), they released their first hit single in 1968 – a cover of Suzie Q, with John singing lead. From that point on John became lead singer and guitarist, with Tom playing bass guitar for the band; and a key shift was for the band to record original songs written by John Fogerty.
In 1969 Creedence Clearwater Revival scored with several hits from their 2nd and 3rd albums in 1969 (Bayou Country and Green River).
Among the hit songs from these albums were the classics Proud Mary, Bad Moon Rising, Lodi, Green River, and more.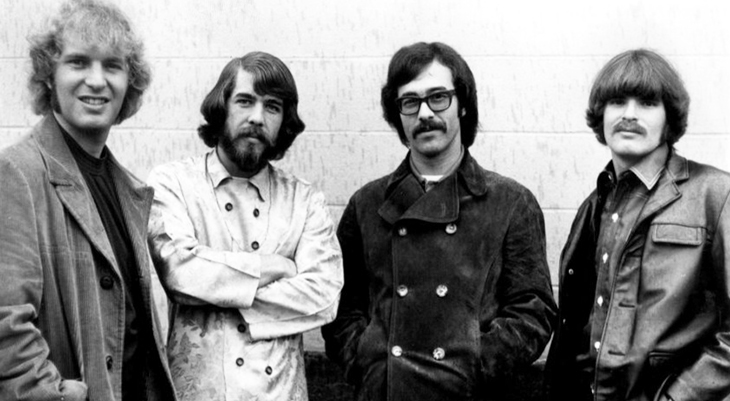 (Tom Fogerty, Doug Clifford, Stu Cook & John Fogerty 1968 CCR Photo: Fantasy Records) 
John Fogerty and Creedence Clearwater Revival perform Green River live on The Andy Williams Show in 1969, below.
That same year, John Fogerty & Creedence Clearwater Revival performed their hit single Bad Moon Rising, live on The Johnny Cash Show.
More hits and touring followed for Creedence Clearwater Revival, but tensions between the band members, including brother Tom, grew over John Fogerty's desire for more control. Tom Fogerty left CCR in 1971, and the band broke up for good in 1972.
Creedence Clearwater Revival reunited briefly in 1980 to perform at Tom's wedding reception to second wife Tricia Clapper, and again at a school reunion in 1983. Sadly, Tom and John Fogerty's relationship was strained for the rest of Tom Fogerty's life (he died in 1990).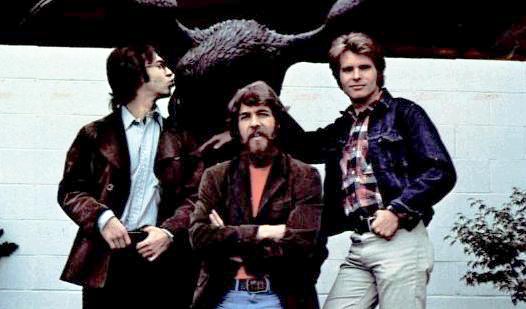 (Stu Cook, Doug Clifford, and John Fogerty CCR 1971 Photo: Fantasy Records / Billboard)
Over the many years since CCR broke up, John Fogerty's songs written during his Creedence Clearwater Revival days have been featured in numerous movies and commercials.
Post-Creedence Clearwater Revival break-up, John Fogerty began performing and recording country music along with rock & roll as a solo artist, on his first solo album for Fantasy. He owed 8 more albums to Fantasy as part of the CCR contract, but was unhappy and wanted out of his contract. David Geffen and Asylum Records finally intervened and forged a $1 million deal for John Fogerty to record albums for Asylum, with Fantasy having overseas distribution rights. Fogerty's first album for Asylum was rejected in 1976 and it would be 9 years before another album was released.
John Fogerty's long-running legal battles affected his ability to pursue his musical career with any focus, and continued for years with suits and countersuits flying between John, his former CCR band members, Saul Zaentz and the Fantasy label. His brother Tom Fogerty sided with Saul and Fantasy against John and the brothers remained estranged.
In 1980 John Fogerty traded his rights to the CCR catalogue in order to dissolve his old CCR contract, but even that didn't end the legal wrangling.
For many years during all the legal wrangling, John had refused to perform Creedence Clearwater Revival songs during live performances. Finally in 1987 he broke his self-imposed restriction and once again began performing his hit CCR songs onstage. 
When Fogerty's first hit solo album, Centerfield was released in 1985 for Warner Brothers Records (now a co-owner of his Asylum contract), it spawned another lawsuit with Zaentz, alleging that the song The Old Man Down the Road was too similar to the 1970 hit Run Through the Jungle; ironic, given that both songs were written and performed by John Fogerty.
While touring in 1986 to support the Centerfield album and now single again, John met Julie Kramer and fell in love. They moved in together in 1987 along with her daughter Lyndsay from a previous marriage. John Fogerty married Julie Kramer and they had their first son (Shane) in 1991; second son Tyler in 1992, and daughter Kelsy was born in 2001. While his children from his second marriage were young, John toured and recorded new material less frequently.
Shane and Tyler Fogerty are now musicians themselves and have toured and recorded with their father John. He has credited his marriage to Julie with revitalizing his career and life after all the bad feelings, resentment and hurt engendered by the years of legal wrangling, telling theguardian.com in a 2013 interview
"I (had) looked at life like a cat that's been tasered. I was angry and hurt. I couldn't deal with it. Julie truly transformed my life. It didn't happen overnight but eventually all that good feeling forced out all the bitterness."
In 1993 Creedence Clearwater Revival was inducted into the Rock and Roll Hall of Fame. When John refused to perform alongside former CCR bandmates Stu Cook and Doug Clifford, he took the stage with Bruce Springsteen, Robbie Robertson and session musicians instead. 
Stu and Doug formed a new group, Creedence Clearwater Revisted in 1995, and were unsuccessfully sued by John in 1997.  In 2004, the royalty rights to the CCR songs were restored to John Fogerty when Fantasy Records was sold to Concord records; the next year, John returned to Fantasy Records and released a new album.
John Fogerty was inducted into the Songwriters Hall of Fame in 2005. He's continued to write songs and perform on tour (CCR tunes as well as new material) since turning 50+. After becoming a senior citizen in 2010, he released his 2011 album Wrote A Song for Everyone, which includes duets of his favorite songs with other artists. Below, John Fogerty performs Fortunate Son with Bruce Springsteen in 2009. 
His autobiography Fortunate Son: My Life, My Music was released in 2015, and chronicles his life story from the Army Reserve up to present day. He's still writing songs and practicing his guitar licks.
In a 2013 interview with npr.org, Brad Paisley had this to say about John Fogerty:
"He's a huge influence on me and, I think, the voice of a generation.…Shouldn't he be sitting back, coasting at this point? But he's not. He is more interested in learning than anyone I know that's my age or younger."
John Fogerty is indeed a fortunate son to still love his chosen profession and be able to follow his calling.
Note: This article was originally published in 2015 under the title Celebrating Seniors – John Fogerty Turns 70. It has been updated with new and additional content.
*Images are public domain or Creative Commons licensed & sourced via Wikimedia Commons, Vimeo, or Flickr, unless otherwise noted*