Noir Star John Dall
Stage and film actor John Dall's star shone brightly but briefly in movies such as Alfred Hitchcock's Rope (1948) and the crime drama Gun Crazy (1950). Dall made only 8 feature films during his short film career, many of which were acclaimed in movies and/or performances.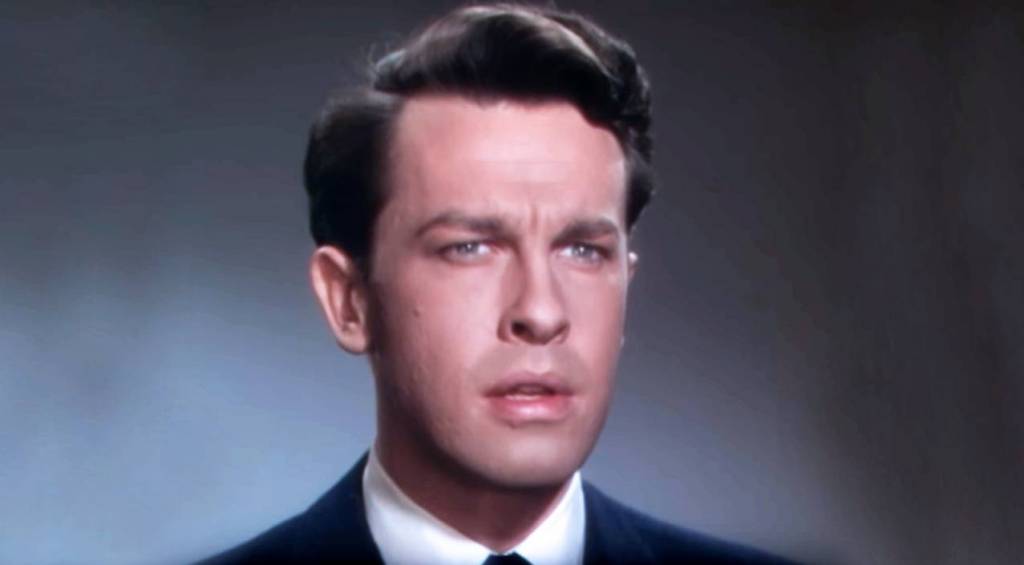 (John Dall 1948 Rope Trailer)
Nee John Dall Thompson on May 26, 1920 in New York City, John opted to use his middle name Dall as his last name for professional purposes. The Thompson's moved to Panama for his father Charles Thompson's work during the 1920s. His father Charles died by suicide in 1929, and John and his mother returned to New York in 1930. 
John Dall began his professional acting career on stage, making it to Broadway in the early 1940s. Warner Bros. movie mogul Jack Warner's wife saw him on stage and a film career ensued.
The Corn is Green
Warner Bros. 1895 period drama The Corn is Green (1945) is set in Wales and stars Bette Davis as idealistic school teacher Miss Lilly Moffatt. John Dall is her student Morgan Evans, whom Miss Moffatt thinks can go far. Actress Joan Lorring plays Bessie, a local girl whose drunken night with Morgan threatens to derail his future.
Bette Davis and John Dall are featured in this preview clip of The Corn is Green.
Character actors Nigel Bruce (a familiar face as Dr. Watson in many Sherlock Holmes films of the 1940s) plays the local Squire, while Rhys Williams, Rosalind Ivan, Mildred Dunnock, and Arthur Shields, fill supporting roles. John Dall was nominated for a Best Supporting Actor Academy Award, and Joan Lorring for Best Supporting Actress, for their performances in The Corn is Green. 
Something in the Wind
The musical comedy Something in the Wind (1947) is about a case of mistaken identity, and was a vehicle for leading lady and songstress Deanna Durbin. Durbin stars opposite Donald O'Connor and John Dall (as her love interest), while Charles Winninger plays the boy's Uncle Charlie.
This movie trailer for Something in the Wind features an introduction by Donald O'Connor, Deanna Durbin warbling some songs, and John Dall looking a bit confused. 
The true stars of the Something in the Wind are Deanna Durbin's voice and her wardrobe. This was only the second film for John Dall and didn't garner the same favorable attention for his performance as The Corn is Green had, possibly because the light-hearted nature of the film wasn't a good fit for his more intense acting style.
Another Part of the Forest
In May of 1948 John Dall's third movie was released, to slightly more critical acclaim than his previous outing. The intense family drama Another Part of the Forest (1948), adapted from Lillian Helman's 1946 play of the same name, is a prequel to The Little Foxes.
Set in an Alabama town in the 1880s post-Civil War era, Fredric March plays hated war profiteer Marcus Hubbard. He's on the outs with his wife Lavinia (actress Florence Eldridge, Fredric March's wife in real life as well) and his sons – power-hungry Ben (Edmond O'Brien), and KKK sympathizer Oscar (Dan Duryea). His daughter Regina Hubbard (Ann Blyth) has Marcus twisted around her little finger, and her love interest is local gentleman John Bagtry (John Dall). Actress Betsy Blair (Gene Kelly's wife at the time) plays John's sister Birdie Bagtry; it would one of Blair's last films roles before she was blacklisted by HUAC. 
Rope
In September of that year, Alfred Hitchcock's first Technicolor movie – Rope – was released, to mixed reviews. Patrick Hamilton's original play Rope features three explicitly homosexual leading men – two younger thrill killers and their former teacher – and was inspired by the famous 1924 Leopold and Loeb kidnap-murder case of 14-year-old student Bobby Franks. According to Hitchcock's Stars (2014) author Lesley L. Coffin, actors Cary Grant and Montgomery Clift (both of whom were rumored to be gay or bisexual in their private lives), passed on these plum roles because they feared the association.
Instead, screenwriter Arthur Laurents was forced to remove the explicit homosexual content from the movie, and Hitchcock cast two other actors who were secretly gay or bisexual – John Dall and Farley Granger. They play a couple of arrogant pals who decide to murder another friend and former school chum, because they think they can get away with it. James Stewart plays their former professor, who eventually exposes their crime after an increasingly tense dinner party. Actor Dick Hogan is their unfortunate friend David,  Joan Chandler is David's fiancee Janet, David's friend and Janet's former flame Kenneth is played by Douglas Dick, and Cedric Hardwicke portrays his father. Edith Evanson is the housekeeper, and Constance Collier is another party guest.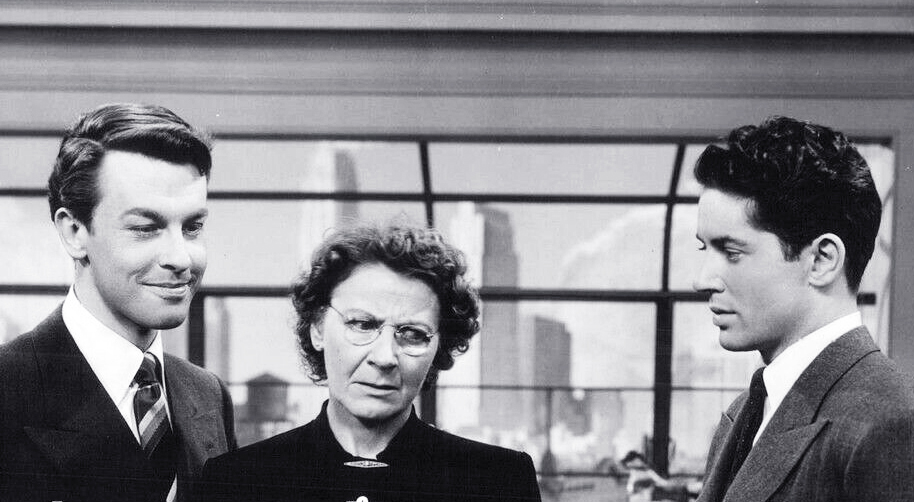 (John Dall, Edith Evanson, and Farley Granger – 1948 Rope by Warner Bros. Pict., Inc.)
New York Times reviewer Bosley Crowther described John Dall's performance when the movie premiered:
"In the role of the more cold-blooded killer, John Dall does a hard, aggressive job of making this unpleasant fellow supremely contemptible." 
Neither Farley Granger nor John Dall ever admitted publicly to being gay during their lifetimes. After John Dall died, Granger (who had been in a relationship with the movie's screenwriter Arthur Laurents at the time of filming Rope) said that the lack of on-screen chemistry between himself and John Dall was spurred by Dall's dislike of Granger's more open sexual attitude. 
The Man Who Cheated Himself & Gun Crazy
Lead actor John Dall had two movies premiere in 1950 – the highly acclaimed noir film Gun Crazy in which he co-starred with Peggy Cummins as a couple on a crime spree, and The Man Who Cheated Himself. 
Gun Crazy has been honored with inclusion on several of the American Film Institute's lists of top films. I realized when watching the film that Warren Beatty's later ode to gun-loving couple Bonnie and Clyde (1967), plays on many of the same elements of sexual tension, gunplay, and thrill-seeking violence that Gun Crazy had displayed almost 20 years earlier.
In this Gun Crazy clip, Peggy Cummins and John Dall discuss how they want to live their lives, and she tells him her ambitions.
John Dall's performance in Gun Crazy is arguably the best of his film career. 
In The Man Who Cheated Himself, Dall plays rookie police detective Andy Cullen, whose big brother Lt. Ed Cullen (Lee J. Cobb) is already an experienced detective on the police force. Unfortunately and unbeknownst to Andy, Ed is having an affair with Lois Frazer (Jane Wyatt), whose husband is getting suspicious. Lois calls Ed and when he arrives, she pulls a gun and murders her husband, who has returned unexpectedly. The rest of the film is a race between the brothers, one to solve the crime, and the other to misdirect and cover up. Andy's girlfriend Janet is played by actress Lisa Howard.
(Lee J. Cobb, John Dall, and Jane Wyatt 1950 The Man Who Cheated Himself)
Lee J. Cobb dominates most of their scenes, but John Dall is very convincing as a loyal brother and eager new detective slowly becoming suspicious of his idol.
In 1959 Frances Farmer featured The Man Who Cheated Himself on her vintage films showcase series, Frances Farmer Presents.
1950s Stage Plays & Television Guest-Star
During the remainder of the 1950s, John Dall appeared in several stage plays and had guest-starring appearances in popular television series such as General Electric Theater and Studio One in Hollywood (co-starring in an episode with June Lockhart). 
Some highlights of John Dall's television appearances include the following:
Two episodes of Broadway Television Theatre, co-starring in The Hasty Heart episode with Hurd Hatfield.
Two episodes of Suspense, co-starring in a 1952 episode with Jackie Cooper and Roy Roberts; and a 1954 episode with Patricia Barry and Margaret Hayes.
In the General Electric Theater 1958 episode The Coward of Fort Bennett, he co-starred with Herbert Anderson, Neville Brand, Ronald Reagaon, Jason Robards Sr., Arthur Space, and Robert F. Simon.
The Schlitz Playhouse 1959 episode And Practically Strangers co-starred Richard Carlson, Paula Raymond, Herbert Anderson, and John Eldredge.
1960s Movies and TV
Kirk Douglas' epic feature film Spartacus(1960) co-stars Laurence Olivier, Jean Simmons, Tony Curtis Charles Laughton, Peter Ustinov, John Gavin, and many other familiar faces. In Spartacus, John Dall plays the role of Marcus Publius Glabrus, a Roman garrison commander brought low before Spartacus. John Dall and Kirk Douglas are featured in this Spartacus clip, while actor John Ireland can be seen looking on in the background. 
John Dall's last feature film doesn't quite measure up to the status of his earlier movies. His co-stars in the MGM sci-fi adventure movie Atlantis: The Lost Continent (1961) are relative unknowns or at best, "B" movie actors such as William Smith, Edward Platt (better known as the Chief on TV's Get Smart), Jay Novello, and others. Recognizable footage, costumes, and props from other movies were used…overall, deserving of the poor reception the film had with critics and audiences.
Perhaps a better fit for Dall's noir film talents, were the four episodes of Perry Mason that he guest-starred in between 1962-1965. Along with Perry Mason regulars Raymond Burr, Barbara Hale, William Hopper, William Talman, Ray Collins, and Wesley Lau, John Dall can be seen in these episodes:
The Case of the Lonely Eloper (1962), with guest star Jack Ging and Joan Staley. 
The Case of the Weary Watchdog (1962) Mala Powers, Keye Luke, Wesley Addy, James Hong, Kenneth Tobey, and Philip Ahn.
The Case of the Reluctant Model (1963), guest-starring John Larkin, Robert Brown, and Joanna Moore.
The Case of the Laughing Lady (1965) with guest stars Dan Tobin, Constance Towers, Richard Anderson, John Abbott, Bernard Fox, Allison Hayes, and Shirley O'Hara. This was John Dall's last filmed television or movie role.
Before dying in 1971 at the early age of 50 from cardiac arrest, John Dall had made a lasting impression on movie and theatre goers. He never married, and his obituary in 1971 acknowledged only his brother Worthington Thompson as a surviving family member.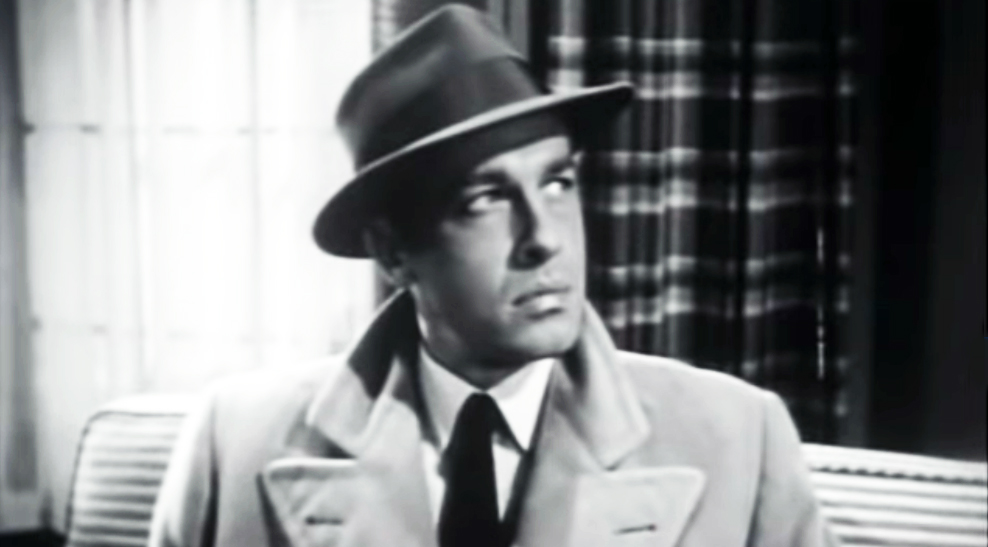 (John Dall 1950 The Man Who Cheated Himself)
*Images are believed to be in the public domain and/or Creative Commons licensed & sourced via Wikimedia Commons or Flickr, unless otherwise noted*