Celebrating Seniors - Roger Moore is 89, Part 2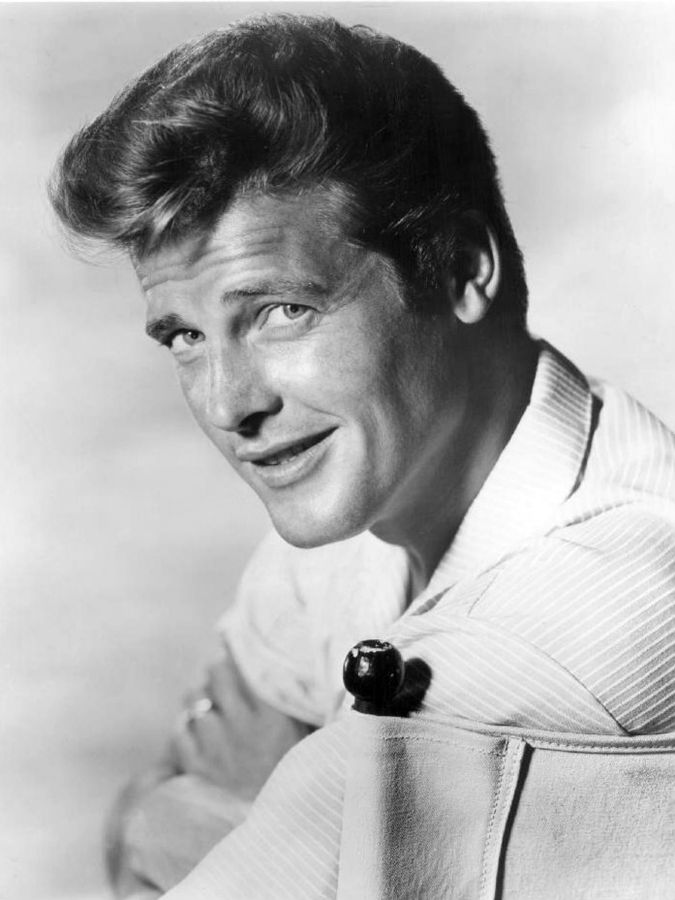 Roger Moore, Part 2: James Bond, Retirement and Philanthropy (1970-2016)
(Roger Moore 1960 Photo: ABC Television)
Although he was ready for a change from television by 1971 after appearing in several series during the 1960s, The Persuaders! (1971-1972) TV series did just that – persuaded Roger Moore to co-star along with Tony Curtis.
On The Persuaders!, Tony Curtis as Danny Wilde and Roger Moore as Lord Brett Sinclair portrayed millionaire playboys. Roger Moore was reportedly paid £1 million for a single year on the show, making him the world's highest paid TV star.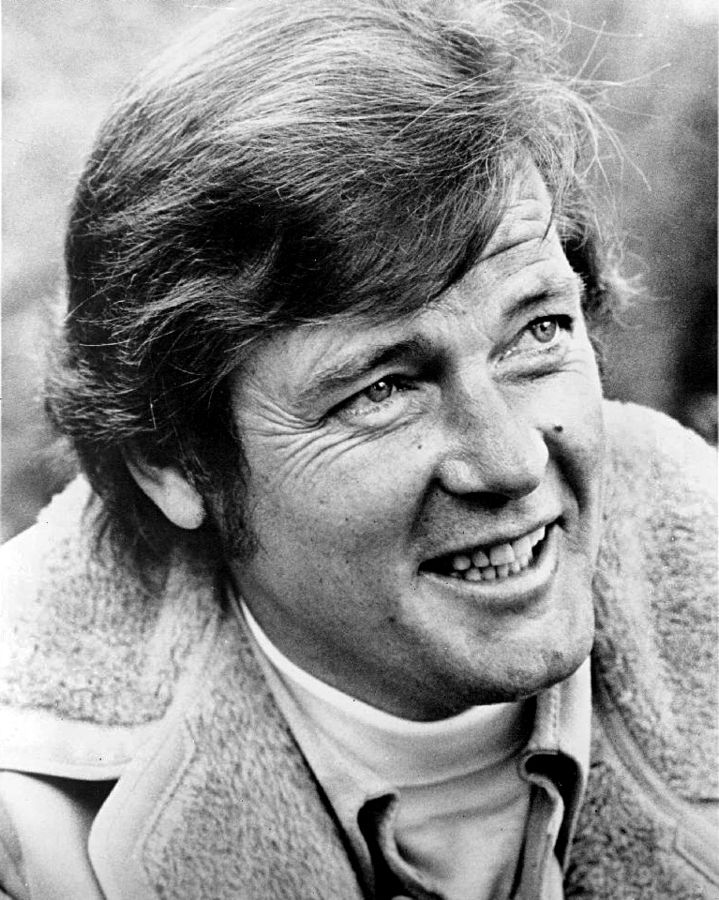 (Roger Moore 1971 Photo)
Tony Curtis was unenthusiastic about The Persuaders!, and although the series had success in Europe and Australia, U.S. baby boomers didn't like it. When The Persuaders! ended in 1972, Roger Moore was finally free to accept the role of James Bond in the movies. 
Moore's previous long-term television commitments had kept him out of the running for the popular role, which had been launched by Sean Connery in Dr. No (1962). By 1972, Moore's friend Connery had declared he would no longer play James Bond, and actor George Lazenby had proven unpopular with baby boomer audiences as 007 in On Her Majesty's Secret Service (1969).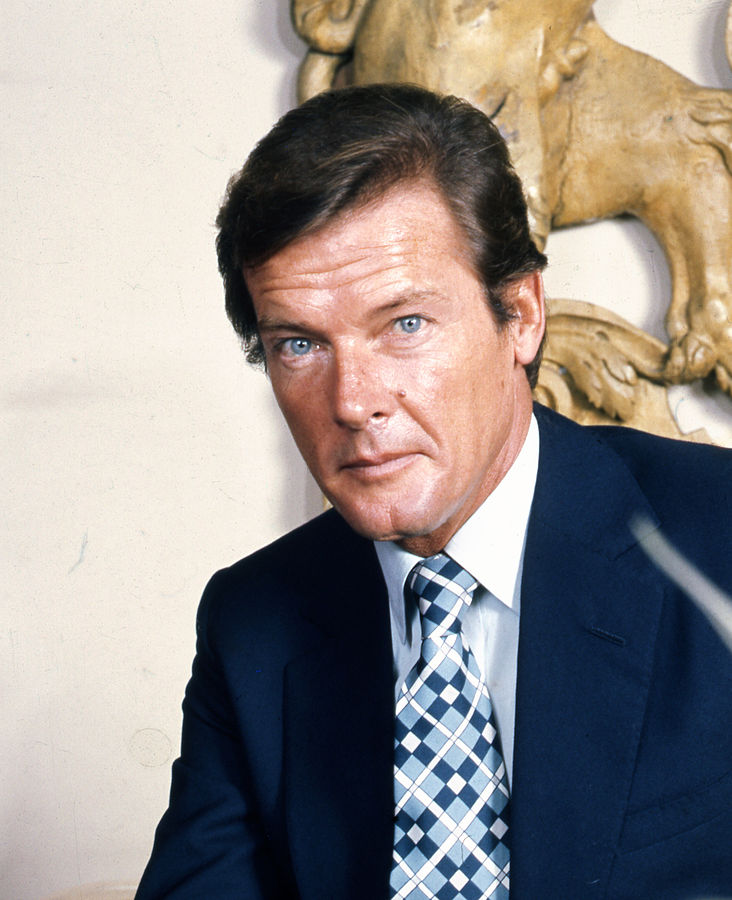 (Roger Moore 1973 Photo: Allan Warren)
In 1972, 45-year-old Roger Moore accepted the offer to play James Bond in the movie Live and Let Die (1973), agreeing to the proviso that he lose weight and cut his hair.
The book Roger Moore as James Bond: Roger Moore's Own Account of Filming Live and Let Die (1973) was written by Moore and chronicled his experience filming Live and Let Die . The book included the dedication "I would also like to thank Sean Connery – with whom it would not have been possible." Co-starring with Roger Moore as James Bond in Live and Let Die were Yaphet Kotto, Jane Seymour as Solitaire, Lois Maxwell as Miss Moneypenny, and Bernard Lee as M. 
Roger Moore was popular with baby boomers as James Bond, and he appeared in 6 more Bond movies, each of which co-starred his old RADA chum Lois Maxwell as Miss Moneypenny, and featured Desmond Llewelyn as Q. Actor Bernard Lee reprised his role as M in the next 3 Bond movies:
The Man with the Golden Gun (1974), co-starring with Christopher Lee, and Swedish Bond Girls Britt Ekland and Maud Adams. Actors Christopher Lee and Roger Moore remained friends until nonagenarion Lee died in 2015.
The Spy Who Loved Me (1977), co-stars included Barbara Bach, Curd (Curt) 

Jürgens, and Richard Kiel as Jaws.

Moonraker (1979), co-starring with Lois Chiles, Michael Lonsdale, and Richard Kiel back as Jaws. Moonraker was Bernard Lee's second-last movie; he died in 1981. 
For Roger Moore's last 3 outings as James Bond, the now 50+ Moore's co-stars included: 
For Your Eyes Only (1981), with Bond Girls Carole Bouquet and Lynn-Holly Johnson. For Your Eyes Only was filmed in glamorous Cortina d'Ampezzo and the Dolomites in Italy, as well as England, Greece, and the Bahamas.
Octopussy (1983), with Louis Jourdan, Moore's returning Bond Girl co-star Maud Adams as Octopussy, and debuting Robert Brown as the new M.   
A View to a Kill (1985), with Christopher Walken, Tanya Roberts, Grace Jones, Robert Brown returning as M, and Patrick Macnee. This was a reunion of sorts for Patrick Macnee and Roger Moore; almost 30 years before, they had both appeared in an episode of Matinee Theatre in 1957. 
By the time A View to a Kill (1985) debuted in theatres 12 years after his first Bond film Live and Let Die, 58-year-old Roger Moore was ready to retire from playing James Bond, and for a break from acting. Moore is still the oldest actor to have played James Bond, and the one to have played him for the longest period of time (12 years). He's been voted Best Bond twice, in and Academy Award polls in 2004 and a 2008 poll. Roger Moore has participated and hosted many James Bond specials and documentaries since retiring from the series. Roger Moore's book Bond On Bond (2012) coincided with the 50th anniversary of the James Bond movies and contains his anecdotes about James Bond.  
Non-Bond movies that during the Bond era for Roger Moore's included the movies Bacharach 74 (1974), a TV movie starring composer Burt Bacharach, with Sandy Duncan; and Sherlock Holmes in New York (1975), co-starring John Huston, Charlotte Rampling, Gig Young, Jackie Coogan (The Little Rascals/Our Gang), and Patrick Macnee in his third appearance with Roger Moore.
Roger Moore took flak for filming 3 South African adventure thrillers in that country during the apartheid 1970's. Gold (1974) included Ray Milland, Bradford Dillman, John Gielgud and Susanna York in her first movie with Roger Moore; 1975's comedy That Lucky Touch with Shelley Winters was Susanna York's second movie with Moore. Shout at the Devil (1976) with Lee Marvin was Moore's second movie filmed in South Africa, and The Wild Geese (1978) with Richard Burton, Richard Harris, and Stewart Granger was the third. Stewart Granger and Moore had no scenes together in The Wild Geese, but the film was a reunion of sorts, because it was almost 30 years after a young Roger Moore had appeared in the movie Caesar and Cleopatra (1945) with his idol Stewart Granger. 
Actor David Hedison appeared in two thrillers with 50+ Roger Moore in the late 1970's and early '80's – Ffolkes (North Sea Hijack) (1979) also co-starred James Mason, Anthony Perkins, and Michael Parks; and The Naked Face (1984) cast had Rod Steiger, Elliott Gould, Art Carney (The Honeymooners) and Anne Archer.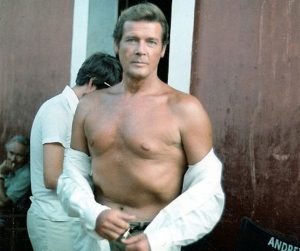 (Roger Moore on the set of 1980 action/thriller The Sea Wolves Photo: blairstirrett)
The star-studded action-comedy movie Cannonball Run (1981) saw Roger Moore playing Seymour, and a millionaire so obsessed with Roger Moore that he has plastic surgery to look like his hero. Accompanying Moore in Cannonball Run were baby boomer favorites, stars Burt Reynolds, Farrah Fawcett, Dom DeLuise, Dean Martin, Sammy Davis Jr., Peter Fonda, and Jackie Chan, Terry Bradshaw, and Jamie Farr. 
Roger Moore also appeared in three movies with actor and old friend David Niven. In Escape to Athena (1979), a WWII adventure-comedy, their co-stars also included Telly Savalas, Stefanie Powers, Claudia Cardinale, Sonny Bono, and Elliot Gould. The Sea Wolves (1980) was another WWII action movie with Gregory Peck and Patrick Macnee (his fourth time working with Roger Moore). Roger Moore had a cameo as Chief Inspector Clouseau in Curse of the Pink Panther (1983), which starred David Niven. It was David Niven's last movie; he was a 73-year-old septuagenarian senior citizen when he died from ALS in 1983.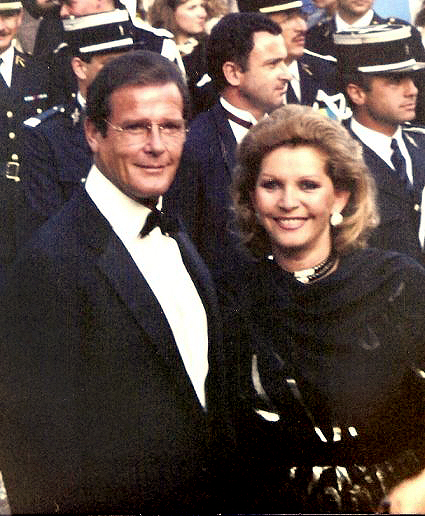 (Roger Moore and wife 1989 Photo: Georges Biard)
Since 1978 Roger Moore has been a "tax exile" living in Switzerland. He and third wife Luisa also bought a home on the French Riviera in Saint Paul de Vence, before moving to Monaco. While they lived in Saint Paul de Vence in the early 1980's, the couple was on friendly terms with their neighbour, married mother of two Kristina Tholstrup. 
After a five-year break from acting, 50+ Roger Moore returned to television and films, appearing the crime comedy Bullseye! (1990) with Michael Caine and Sally Kirkland. 
In 1991 Moore became a Goodwill Ambassador for UNICEF, influenced by his friend Audrey Hepburn. In 1999 he was created a Commander of the Order of the British Empire (CBE), and is still a UNICEF supporter. Roger Moore has also spoken out against the production of foie gras (duck and goose liver for pate), and participated in a PETA video protesting the treatment of ducks and geese in the making of foie gras.
An operation for prostate cancer sidelined 66-year-old senior citizen Roger Moore in 1993. He retreated to an estate near Saint Paul de Vence to recover and said in his autobiography My Word is My Bond (2008), that he began thinking of changing his life. 5o+ former neighbour Kristina Tholstrup, now widowed since 1990 when her second husband, Swedish businessman Ole Tholstrup died, reached out with a supportive message for Moore. The two began spending time together and he has called Kristina his soulmate. 
Roger Moore split with wife Luisa Mattioli in 1993, telling her the news in a phone call. Once again, Moore's wife refused at first to give him a divorce. Moore and Tholstrup lived together for almost 8 years before they could marry in 2002, after Luisa and Roger Moore eventually reached a settlement in the £10 million range. 
Among the few movies Roger Moore appeared in during the 1990's was the TV film The Man Who Wouldn't Die (1994), with Malcolm McDowell, and Eric McCormack (Will and Grace), and the action thriller The Quest (1996) starring Jean-Claude Van Damme.
In the early 2000's, Moore co-starred in the crime thriller The Enemy (2001) with Luke Perry and Olivia d'Abo, and played a homosexual in the 2002 comedy Boat Trip, starring Cuba Gooding Jr.
In addition to surviving prostate cancer, Moore has survived multiple skin cancers over the years, and has said that he wished he could have warned his younger self to beware of skin cancer and the dangers of suntanning.  
"Having too much sunshine. I've had so many skin cancers as a result. No one thought about sun screen or creams in my younger days. Even when they started to give warnings, I thought: 'Well, that won't happen to me.'" I would get sunburned so I did not have to wear make-up in front of the cameras. Every leading man was sunburned."
When 75-year-old septuagenarian senior citizen Roger Moore collapsed on a Broadway stage in May 2003, bradycardia (an abnormally slow heartbeat) was diagnosed.
The very next day he had a cardiac pacemaker inserted. Up until his collapse, Moore had not had any of the usual symptoms of bradycardia (dizziness, fatigue, shortness of breath). Moore told Mail Online in 2007 that he and Kristina had since adopted a healthy lifestyle at their Geneva, Switzerland winter home (they live in Monaco in the warmer months) and took up nordic pole walking to benefit his heart and circulation.
Since 2004, Roger Moore has primarily done voice acting and can be heard in animated films, shorts, and video games. He has spoofed his James Bond character in different films and parodies of Bond movies. Moore was awarded a star on the Hollywood Walk of Fame in 2007 on the cusp of becoming an octogenarian senior citizen.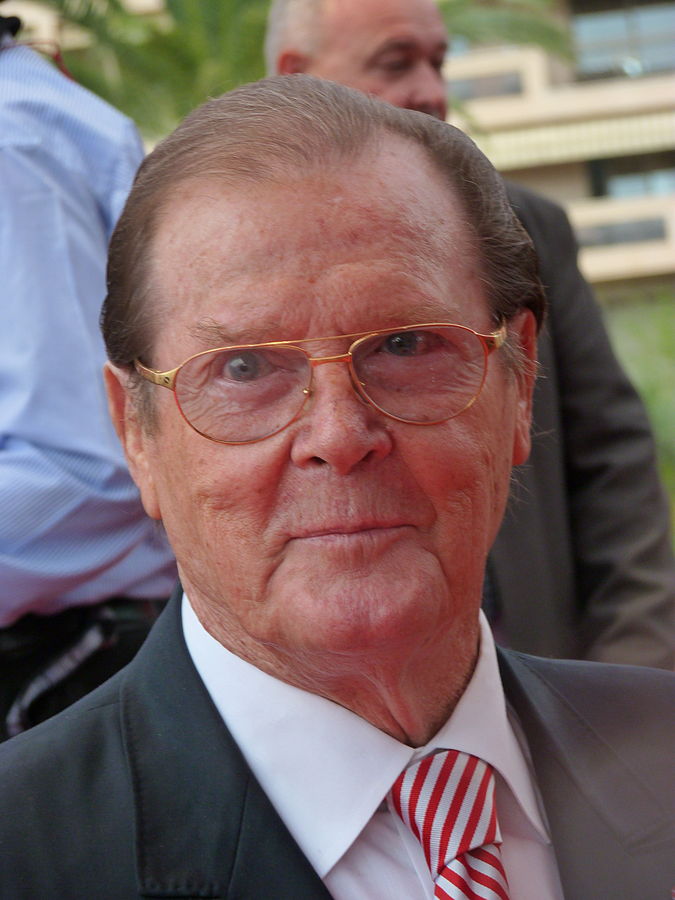 Left, Roger Moore in 2012 at the Monte-Carlo Television Festival. (Photo: Frantogian | Wikimedia CC 3.0)
Roger Moore was diagnosed with type 2 diabetes in 2013. By 2014, octogenarian senior citizen Roger Moore had published another memoir filled with Hollywood stories, called Last Man Standing (One Lucky Bastard in the U.S.) (2014), the title a nod to his own longevity. Having come through a bout of pneumonia and wearing a hearing aid to counter hearing loss, Moore ruminated on aging and death to Express in 2014:
"It's not that I wake up every morning and think I'm dying. At my age I know I am. The saddest thing about ageing is that most of my friends are now in the other room. I miss David Niven the most."
His step-daughter Christina Thalstrup (wife Kristina's daughter from her first marriage) died in July 2016, and Moore has said he and his family were heartbroken.
 (Roger Moore 2013 Photo: Paolocedolin)
*Images are public domain or Creative Commons licensed & sourced via Wikimedia Commons, Vimeo, YouTube, or Flickr, unless otherwise noted*