Done in April 1951
News, Headlines, History, Entertainment & Trivia From April 1951:  Fired General Douglas MacArthur's parade, Mickey Mantle debuts in MLB with the New York Yankees , and the Toronto Maple Leafs win the Stanley Cup with help from Bill Barilko (Fifty-Mission Cap)

General Douglas MacArthur & His Farewell Address
General Douglas MacArthur, his father and brother, were all lifelong military men. Born in 1880, Douglas MacArthur served in World War I and various other locations including as Superintendent of the U.S. Military Academy at West Point and in the Philippines, until retiring in 1937. MacArthur was recalled to active duty at the age of 61 in 1941 by President Roosevelt after World War II broke out, and was Commander of US. Army Forces in the Far East, then in The Southwest Pacific Area.
Douglas MacArthur was 72 when the Korean War broke out in 1950; he was named Commander-in-Chief of the United Nations Command by the U.N.  After leading the U.N. forces in recapturing Seoul, a miscalculation about the extent of Chinese Army forces building up in Korea (based on faulty information), then led to a series of retreats by the U.N. Army forces from North Korea. MacArthur's credibility was damaged and support for him from U.N. world leaders, particularly those in Europe, waned. General Ridgeway, who was now in charge of the Eighth Army, was able to recapture Seoul in March 1951.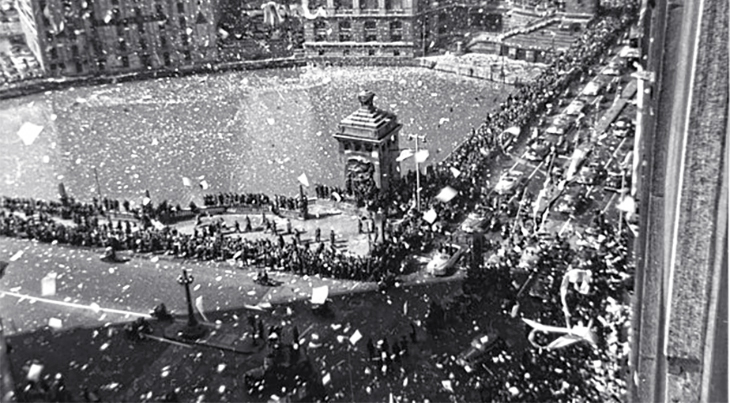 (General Douglas MacArthur April 1951 New York City Ticker-Tape Parade Photo: Aprad)
U.S. President Harry Truman wanted to offer a negotiated peace but MacArthur demanded that China admit defeat; Truman also discovered that MacArthur had told foreign embassies in Spain and Portugal that he would engage in an all-out war with the Chinese. The Joint Chiefs agreed with Truman that MacArthur should be relieved of his command, and he was effectively fired.
On April 10, 1951, President Truman appointed General Ridgeway to take MacArthur's place. MacArthur returned to the U.S. and on April 19 he made a farewell address to the U.S. Congress.
At the time, General MacArthur was widely supported by the public and there was talk of him running for President. President Harry Truman was not as popular, and his decision to remove MacArthur from his command (along with other issues), caused his public approval rating to drop; he did not run for re-election when his term ended.
Mickey Mantle & April 1951 Right Field Debut
Mickey Mantle was an baseball, basketball, and football star in high school. He was offered a football scholarship from the University of Oklahoma, but during a high school football practice in his sophomore year (Grade 10), he suffered a football injury that almost ended his athletic career. In 1948 when he was 17 and still in high school, Mantle began playing semi-pro baseball for the Baxter Springs Whiz Kids (in Kansas). He was scouted by the New York Yankees that year, and the following year was offered a minor league contract.
Mickey Mantle played in the minor leagues for the New York Yankees until he was invited to their training camp in early 1951, in what would be his teammate Joe DiMaggio's final season. Mantle debuted as a right fielder on April 17, 1951. Expectations were high; he was assigned #6 (Babe Ruth had been #3, Lou Gehrig #4 and Joe DiMaggio #5). Mantle batted 1 for 4, with a run scored and an RBI. After a few games and a slump he was sent back to the farm team, but  rejoined the New York Yankees that year (this time wearing #7), in time to help them win the 1951 World Series.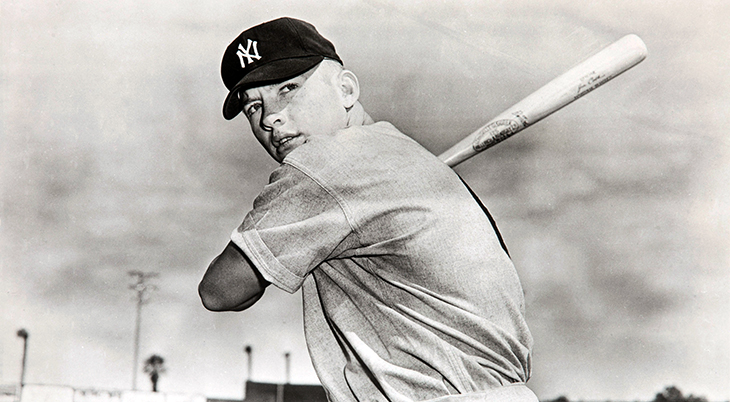 (Mickey Mantle 1951 Photo: New York Yankees)
Mantle had been kicked on his left leg during a high school football practice in the fall of 1946, and developed osteomyelitis (infection and inflammation of the bone and bone marrow) in his left ankle. Until a couple of years earlier, osteomyelitis had been incurable and the only solution was amputation. Mantle received emergency treatment with a new drug called penicillin that saved his leg from amputation. Penicillin had only begun to be mass-produced in the spring of 1944 for the armed forces, and only became available for civilian use in the U.S. in March 1945, just in time for the baby boomer generation. 
Bill Barilko & Toronto Maple Leafs Stanley Cup Win
On April 21, 1951, the Toronto Maple Leafs beat the Montreal Canadiens in overtime of game four of the Stanley Cup Finals, to win the hockey series 4 games to 1. The Maple Leafs were the home team and their captain was Ted Kennedy; Maple Leafs defenceman Bill Barilko scored the winning goal. Also on that 1951 Stanley Cup squad were #1 goalie Walter "Turk" Broda, and winger Howie Meeker. Conn Smythe was the President/Manager/Owner, and Hap Day was the assistant manager; rookie NHL coach Joe Primeau coached the team to victory.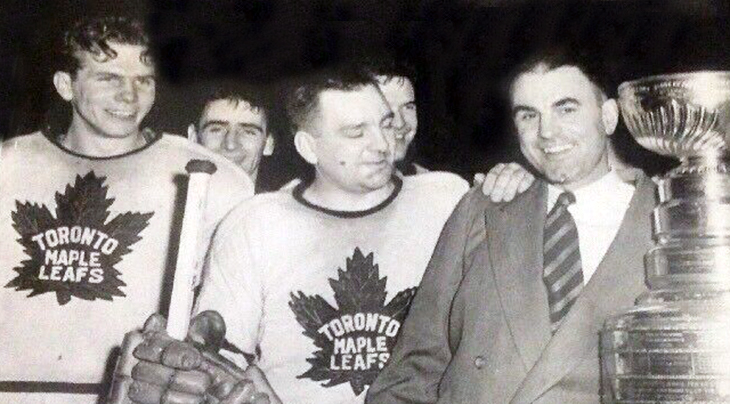 (Bill Barilko, Turk Broda, & Joe Primeau 1951 Stanley Cup 1951 Photo)
Defenceman Bill Barilko had been playing for the Maple Leafs since February 1947. During the five seasons Barilko played hockey for the Toronto Maple Leafs, the team won the Stanley Cup four times (1947, 1948, 1949, 1951). During the off-season after the 1951 Stanley Cup win, Barilko headed off on a flight for weekend fishing trip in August 1951; although the men were successfully delivered, they never returned. The small single-engine plane and passengers were missing for 11 years, until it's wreckage was discovered in June 1962. The song Fifty-Mission Cap (1992) by The Tragically Hip, chronicles the story – the Maple Leafs did not win a Stanley Cup during the 11 years Barilko was missing, but did win it the year his body was discovered. Bill Barilko is buried in Timmins, Ontario, where he was born.
Note: This article was first published in 2016. It has been updated with new / additional content.
*Images are assumed to be in the public domain and/or Creative Commons licensed & sourced via Wikimedia Commons, Vimeo, YouTube, or Flickr, unless otherwise noted*