Done in July 1951
News, Headlines, History, Entertainment & Trivia From July 1951:  Korean War Peace Talks begin; Citation is 1st race horse to win $1M; J.D. Salinger's Catcher in the Rye is published

1st $1 Million Winning Race Horse: Citation
On July 14, 1951, six-year-old Citation won the Hollywood Gold Cup and became the first race horse to win $1 million.

(Citation July 15, 1951 Photo, Headline, Article: The Evening Star)
As a three year old racehorse, American thoroughbred race horse Citation had won 19 of 20 races in 1948, including the Triple Crown, and was named 1948 Horse of the Year. An injury to his fetlock joint had prevented Citation from racing at all in 1949. He returned to horse racing at the age of five in 1950.
Calumet Farm owners Warren Wright Sr. (d. 1950) & his wife Lucille Parker Wright (d. 1982) wanted Citation to be the first horse to win $1 million in 1950. This achievement was delayed by a year because of competition from another horse called Noor.
The Irish-bred English racehorse Noor, who had been sold to American race horse owner Charles S. Howard (Ridgewood Ranch) in 1949, had begun tearing up the U.S. racetracks in 1950. Noor and Citation often set world records when they raced against each other in 1950, but Citation carried more weight than Noor in their first 3 races. Noor won four close races against Citation in 1950 and was retired from racing at the end of that year.
Armistice Talks to End the Korean War Begin
On July 10, 1951 the first armistice talks to end the Korean War began in Kaesong, North Korea, less than a month after UN armed forces had reached Pyongyang (North Korea).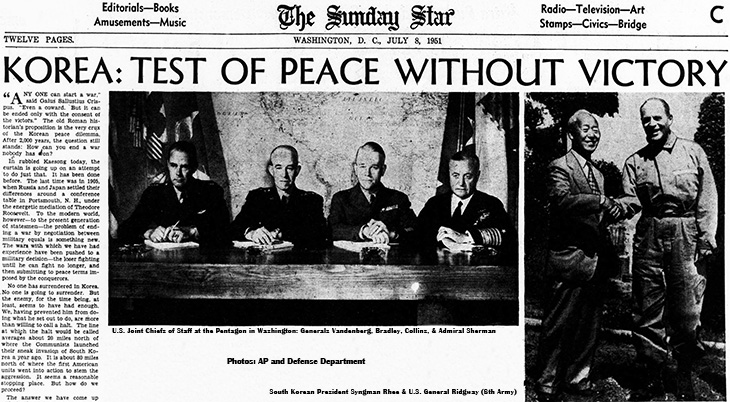 (U.S. Joint Chiefs | General Ridgway & South Korean President: 1951 July AP & Defense Dept. Photos)
A series of Chinese forces had captured Seoul, the capital of South Korea, in January 1951. This was swiftly followed by the Ganghwa massacre of Korean People's Army collaborators in South Korea, by combined South Korean military and police forces.
By the end of July, a 5-Point Korean truce agenda had been drafted with the assistance of U.S. General Matthew B. Ridgeway in Korea. This included agreement to discuss a buffer zone, prisoner exchange, cease-fire plans and recommendations to the governments of both countries. Meanwhile, during the peace talks, fighting continued in Korea.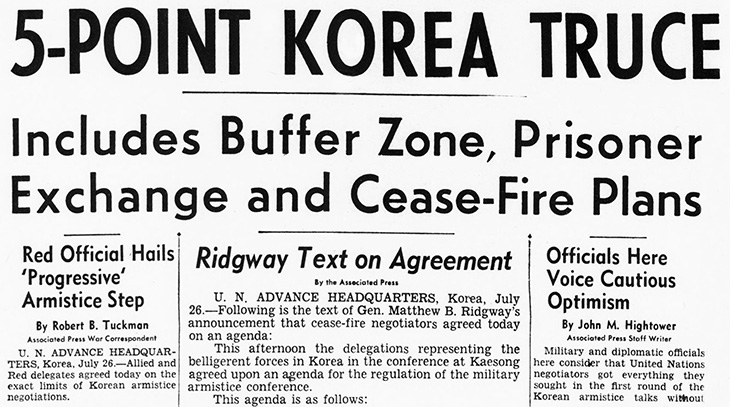 (5-Point Korea Truce Agenda Headline & Article: Evening Star, July 26, 1951)
The Korean War armistice talks were disrupted in August 1951, but resumed in October. A cease-fire and demarcation zone accord were signed in Panmunjon, North Korea in November 1951 – but it would be 2 years from the first armistice talks in July 1951 to the end of the Korean War in July 1953.
Novelist J. D. Salinger's Novel Catcher in the Rye is Published
Reclusive American best-selling novelist J. D. Salinger's first and only full-length published book Catcher in the Rye, was published on July 16, 1951.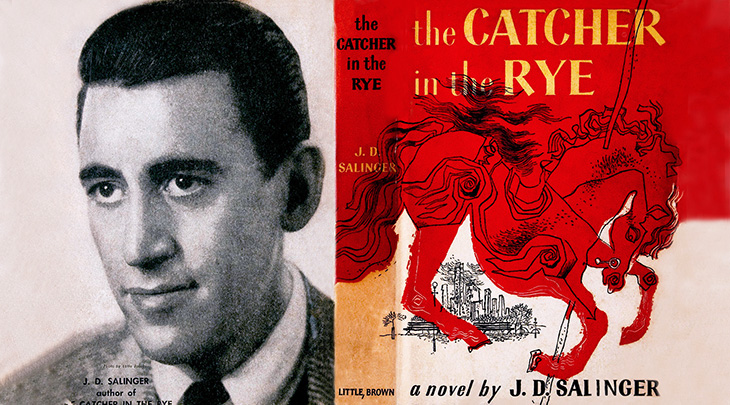 (Catcher in the Rye First Edition Dust Jacket: Michael Mitchell)
Salinger was 32 years old when his novel catapulted him into the limelight. He subsequently published only short stories and novellas over the next 14 years. His last published work, the novella Hapworth 16, 1924 was published in The New Yorker magazine in 1965.
Although he remained largely out of the public eye, in his private life J.D. Salinger (nee Jerome David Salinger when he was born on January 1, 1919) was married three times. His first marriage to Sylvia Welter lasted 2 years, from 1945 until their divorce in 1947.
His second marriage to university student Claire Douglas in February 1955 lasted until their divorce in October 1967. Salinger insisted Claire drop out of Radcliffe University before she graduated, and she followed his spiritual beliefs, which bounced from Kriya yoga to Dianetics, to Christian Science, etc. The couple had two children, daughter Margaret (b. December 1955) and son Matthew (b. February 1960).
J.D. Salinger married nurse Colleen O'Neill, 40 years younger than him, around 1988. J. D. Salinger died in January 2010 at the age of 91.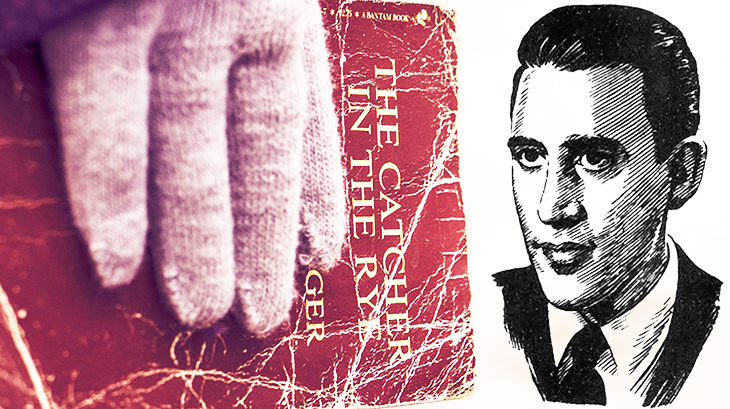 (The Catcher in the Rye: Gratisography | J.D. Salinger Illustration: The Evening Star)
The Catcher in the Rye is considered a modern classic novel. More than 70 years after it was first published, it is still required reading in many elementary, high school, and university classes.
Note: This article was first published in 2016. It has been updated with new / additional content.
*Images are assumed to be in the public domain and/or Creative Commons licensed & sourced via Wikimedia Commons, Vimeo, YouTube, or Flickr, unless otherwise noted*