Best Rock Songs for a Memorial Service
Is there a rock song for the rebel in you, or someone you love, that should be played at a funeral memorial service or celebration of life gathering? You can't go wrong with these classic rock songs by The Rolling Stones, Elton John, AC/DC, Bon Jovi, and (relative) newcomers like Rob Thomas, 3 Doors Down, Cage the Elephant, and Avril Lavigne.
The Rolling Stones – You Can't Always Get What You Want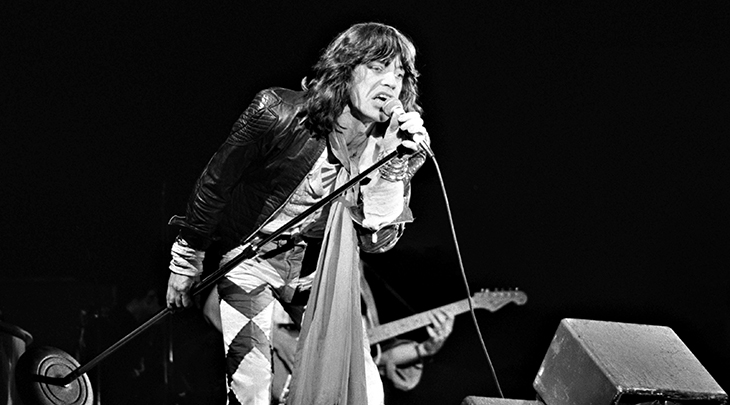 (Mick Jagger 1976 Pohto: Bert Verhoeff / CC BY_SA)
The Rolling Stones You Can't Always Get What You Want was played in the funeral scene from the 80's movie The Big Chill. They perform it live in 1990 this official music video.
Elton John – Candle in the Wind & Don't Let The Sun Go Down on Me
Baby boomer favourite Elton John's Candle in the Wind was originally about Marilyn Monroe, then later adapted for Princess Diana's funeral and memorial. His other hit tune often played at memorial services is Don't Let The Sun Go Down On Me, which has been covered by Roger Daltrey, Joe Cocker, and George Michael, among others.
Elton John and Lady Gaga perform Don't Let the Sun Go Down on Me in 2016, above.
Bon Jovi – Bed of Roses
When Bon Jovi singer-songwriter Jon Bon Jovi wrote the power ballad song Bed of Roses (1993), he was in a hotel room suffering from a hangover.
Baby boomer fans in the US pushed Bed of Roses to the Top Ten on the Billboard music charts.
Rob Thomas – Little Wonders
Rob Thomas (Matchbox 20's front man) and his smooth melodies are admired by baby boomers, seniors, and fans of all ages. Little Wonders (2007) was written and recorded by Rob Thomas for the Disney animated movie Meet the Robinsons (2007), and is included on the soundtrack album for the film.
When the Little Wonders single was released, it was a #58 hit on the Hot 100 charts, but fared better in Canada – #22, and on the Adult Contemporary chart – #11.
Cage the Elephant – Ain't No Rest For The Wicked
Cage The Elephant's Ain't No Rest For The Wicked has been used in a commercial, movie, television series, and in a video game.
3 Doors Down – When I'm Gone
3 Doors Down's When I'm Gone debuted in 2002 and was a Billboard US Top 40 Mainstream #1 Hit. 
This official video of When I'm Gone is dedicated to all military personnel fighting overseas and was filmed on the USS George Washington.
AC/DC – Hells Bells
 Rock & Roll of Fame favourite band AC/DC's version of the song Hells Bells is now 35+ years old
The 2000 lb bronze bell used in the Hells Bells song by AC/DC is a replica of the 4000lb Denison Bell in The Carillion war memorial tower in Leicestershire, England. 
Avril Lavigne – Keep Holding On
The power ballad Keep Holding On was written by Canadian singer-songwriter Avril Lavigne and Lukasz "Dr. Luke" Gottwald, as the theme song for the movie Eragon (2006). 
Keep Holding On is about love and loyalty, and made it to #17 on the Billboard Hot 100 Charts after it's November 27, 2006 release.