Celebrating Seniors - Glen Campbell Turns 80 2of2
Glen Campbell: Rhinestone Cowboy, Tarnished and Redeemed

Celebrating the life and songs of new octogenarian senior citizen, actor and singer Glen Campbell with vintage musical performances for Honey Come Back, It's Only Make Believe, Dream Baby (How Long Must I Dream), Rhinestone Cowboy, Country Boy (You Got Your Feet in L.A.), Southern Nights, and I'm Not Gonna Miss You. 
As the 1970's era began, so did Glen Campbell's struggles with alcohol and drug abuse – namely, a cocaine addiction. Campbell was riding high in the 1970's and early 1980's, and not just from his successes in the late 1960's – three #1 Country music hit singles (I Wanna Live, Wichita Lineman, Galveston), five Grammy Awards (for Gentle on My Mind and By the Time I Get to Phoenix), his own television series (The Glen Campbell Goodtime Hour), and a starring role in a hit movie, True Grit (1969).
In the early 1970's, some of the musical artists that appeared his The Glen Campbell Goodtime Hour show included Anne Murray, Jerry Reed, Dionne Warwick, Ray Charles, Neil Diamond, Roger Miller, Bill Medley, David Cassidy, and B. J. Thomas, among others. Glen Campell's album Try a Little Kindness (1969) yielded two #2 Country music hit singles – the title track, which  was released in 1969, and Honey Come Back, written by Jimmy Webb, and released in January of 1970. Honey Come Back as a #19 Hot 100 hit single as well. Below, Glen Campbell performs Honey Come Back.

In the summer of 1970 Glen Campbell released his cover of the song It's Only Make Believe, written by Jack Nance and Conway Twitty. Supposedly fellow country/rock musician Rompin' Ronnie Hawkins had told Twitty that Canada was the 'promised land' for music; Twitty is said to have written his part of the song while sitting on the fire escape outside his Hamilton, Ontario hotel room.
Although Conway Twitty's 1958 recording of It's Only Make Believe was a #1 Billboard Hot 100 hit that year, Glen Campbell's 1970 recording also did well – #3 on the Country music charts and #10 on the Hot 100 charts.
Below, an older Glen Campbell sings his 1970 hit single, It's Only Make Believe live in concert.
At the end of 1970, the motion picture Norwood was released. Norwood reunited stars Glen Campbell and Kim Darby, who had appeared in True Grit (1969) together; Norwood was also based on a story written by True Grit author Charles Portis. The True Grit magic did not rub off on Norwood, and the movie was a flop. Campbell had recorded some songs written by country singer-songwriter Mac Davis, including Everything a Man Could Ever Need (1970). Everything a Man Could Ever Need was on the soundtrack for the movie Norwood and became a Top 5 Country music hit single that year. 
Glen Campbell's 1971 cover of Dream Baby (How Long Must I Dream) written by Cindy Walker, was a #7 Country music chart hit single after it's March 1971 release. Campbell's version was also a #2 Adult Contemporary and #31 Hot 100 chart hit.
Campbell's musical variety television The Glen Campbell Goodtime Hour show ended in June 1972. Although Campbell continued performing and recording albums throughout 1972 and 1973, his most successful song during those two years was the #6 Country hit single, Manhattan, Kansas (1972).
While at the Grand Ole Opry in 1972, 13-year-old up and coming country music star Tanya Tucker, whose song Delta Dawn (1972) was a Top 10 hit that year, met Glen (then 36) and got his autograph. On the home front, by the end of 1974 Glen had completed a tour of Australia and achieved a #3 Country music hit single with Bonaparte's Retreat, but his marriage to Billie Jean Nunley was faltering.
In May 1975, Glen Campbell's recording of a song written by Larry Weiss, with backing by Campbell's former fellow Wrecking Crew musicians, was released. The single Rhinestone Cowboy (1975) from the Rhinestone Cowboy album that year, was a huge crossover hit single, making it to #1 on the Country, Hot 100, and Adult Contemporary music charts, and earning Campbell Grammy Award nominations for both Best Pop Vocal Performance, Male and Record of the Year.
Below, Glen Campbell singing Rhinestone Cowboy live.
The success of Rhinestone Cowboy was followed by another single from the same album, Country Boy (You Got Your Feet in L.A.) Released in October 1975, Country Boy (You Got Your Feet in L.A.) was another crossover success for Glen Campbell – #1 on the Adult Contemporary chart, #3 on the Country music charts, and #11 on the Hot 100.
Below, Glen Campbell performing Country Boy (You Got Your Feet in L.A.) written by Dennis Lambert and Brian Potter.
By the end of 1975, Billie Jean (Nunley) Campbell had asked Glen to move out and she filed for divorce in 1975. Their divorce was finalized in 1976 after 16 years of marriage; Billie Jean Campbell died in February, 1993.
Glen Campbell had become an avid golfer in his spare time in the late 1960's/early 1970's, and golfed frequently with pal Dean Martin and other celebrities like Bob Hope and fellow country singer Mac Davis. Beginning in the early 1970's, he was host of the Glen Campbell's Los Angeles Open Golf Tournament.
In his autobiography Rhinestone Cowboy  (1994), Campbell says that while he was separated from Billie Jean his cocaine use ramped up; co-incidentally, his occasional golf partner Mac Davis told him his wife Sarah Davis (nee Barg) had also left him. Glen and Sarah began living together in 1975, and the following year, after the Campbell's and the Davis' divorces were finalized, Glen Campbell and Sarah Davis were married on September 3, 1976.
In 1977 Glen Campbell released the Southern Nights album. On it were the singles Sunflower (1977). and Southern Nights (1977), which was a #1 hit single on the Hot 100, Country, and Adult Contemporary music charts that year.
Below, Glen Campbell performing Southern Nights live.
By the end of January 1980, Glen Campbell and Sarah Davis were separated (just three weeks after she had their son Dillon Ian Campbell). And his days of having Top 40 hits on the Hot 100 pop charts were over as well; his last tune to crack the Top 40 was Can You Fool in 1978.
Young country recording star Tanya Tucker was now a grown-up 21-year-old with a drinking problem of her own that had begun when she was a teenager on the road. When Tanya Tucker heard 43-year-old Campbell was newly separated, she told People magazine that she gave him a call; they began dating in February 1980.
By all accounts the Glen Campbell-Tanya Tucker romance was filled with passionate sex, fights, break-ups and make-ups. The couple performed live shows and recorded duets together; Campbell sang on Tucker's 1980 album and single by the same name, Dream Lover (a cover of a Bobby Darin song from the 1950's). Their duet of Dream Lover was nominated for a Best Country Vocal Performance by a Duo or Group Grammy Award (1980).
The Clint Eastwood movie Any Which Way You Can was released in December 1980 and included a cameo performance by Campbell and his recording of the title track for the movie. Any Which Way You Can (1980) recorded by Glen Campbell was a Top Ten country music hit that year.
A now-bearded Glen Campbell told talk show host Tom Snyder in September 1980 that he had asked Tanya Tucker's father if he could marry her, and they were engaged with plans to marry the next year. Glen's divorce from Sarah (Barg Davis Campbell) was finalized December 23, 1980.
In the spring of 1981, after yet another fight/break-up with Tanya Tucker, a friend of Glen's set him up on a blind date with dancer Kim Woollen. Although Tucker and Campbell reconciled again soon after (she joined his tour in London England), Campbell also continued to date Kim (according to a People magazine article in 1983 with the couple). The final break-up of Tanya Tucker and Glen Campbell came in September 1981 after a fight at a hotel (Tucker clocked him).
Kim and Glen Campbell got engaged at Christmas that year, and when they married the following year in October of 1982, Kim was already 3 months pregnant with their first child. 
The Glen Campbell Music Show television series had a pilot show broadcast in 1981, and was picked up for a regular series from September 1982 to February 1983. Some of the guest stars on The Glen Campbell Music Show were The Smothers Brothers, Roger Miller, Willie Nelson, B. J. Thomas, Johnny Mathis, Jerry Reed, Emmylou Harris, Jimmy Webb, and Andy Williams.
For most of their marriage Kim and Glen Campbell lived in Phoenix, Arizona but also maintained a home in Los Angeles. They have three children –  sons Cal Campbell (b. 1983) and Shannon (b. 1985), and his youngest child, daughter Ashley Campbell (b. December 8, 1986). Campbell's 1994 Rhinestone Cowboy autobiography unveiled his frequent habit of staying out all night drinking, doing cocaine and coming home angry during the first years of his marriage to Kim; he finally quit cocaine after she threatened to leave him, but still kept drinking. The couple have been born-again Christians since the 1980's.
During those early years of their marriage Glen Campbell continued to record and release albums and singles, although his hits were coming fewer and farther between. His only Top 10 Country chart singles between 1981-1986 were Faithless Love (#10 in 1984), A Lady Like You (#4 in 1984), and It's Just a Matter of Time (#7 in 1985).
In 1987 Campbell's career perked up again when he gave up drinking in his 50+ years. He had two Top 10 country chart hits that year – a duet with Steve Wariner The Hand That Rocks the Cradle (#6) and Still Within the Sound of My Voice (#5).  He was also once again nominated (twice) for the Grammy Award for Best Country & Western Vocal Performance – Duet – for his duet The Hand That Rocks the Cradle with Steve Wariner, and for his duet You Are with Emmylou Haris.
Glen's oldest daughter Debby Campbell began touring with him in 1987 and they performed duets in his concerts.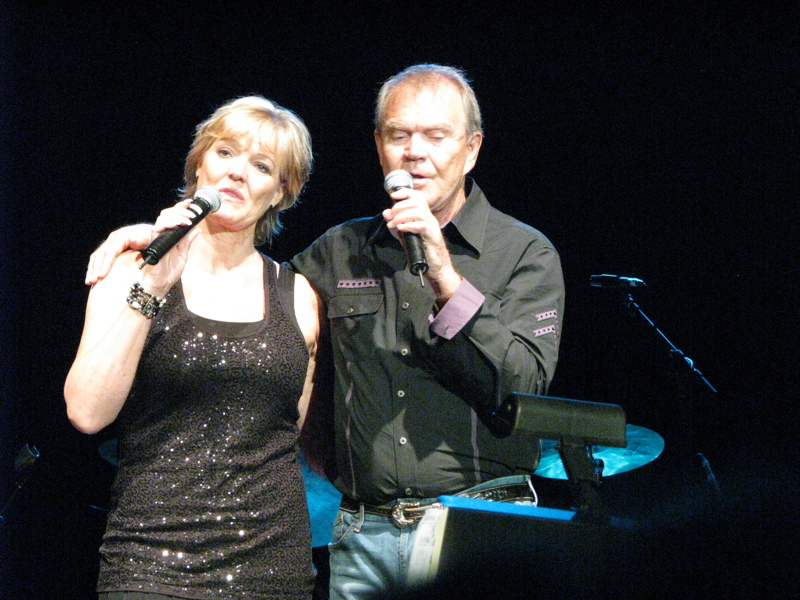 Glen Campbell in concert in 2009. (Photo: Jeaneeem | Flickr CC some rights reserved)
Glen Campbell's last Top 10 country music hit was She's Gone, Gone, Gone (1989), which made it to #6. During the 1990's, Glen Campbell's country music hit singles consisted of 4 songs, none of which ranked higher than #27 (Unconditional Love, in 1990). He did have some success on the US Christian music charts; his last song to chart there was Come Harvest Time at #13 in 1995.
Campbell voiced the character of head rooster Chanticleer in the animated movie Rock-A-Doodle (1991), sounding a lot like Elvis Presley. His autobiography Rhinestone Cowboy written with Tom Carter, was published in 1994.
Glen Campbell was still touring and performing in smaller venues with his daughter Debby when he became a senior citizen in 2001. A much-publicized relapse occurred in 2003 when he was arrested and told the police officer he wasn't drunk, he'd been over-served. In her 2014 memoir Burning Bridges: Life With My Father Glen Campbell (2014), by Debby Campbell & Mark Bego, Glen's daughter and duet partner Debby says that she began to notice her father being more forgetful than normal after this 2003 incident. In an October 2011 Toronto, Ontario interview with Energy Times, Kim Campbell said that after his arrest Campbell was treated for alcoholism at the Betty Ford Center and doctors there noticed cognitive lapses; a neurologist diagnosed a type of dementia known as MCI (mild cognitive impairment).
Glen's daughter Ashley Campbell (keyboards and banjo) began singing and performing with her septuagenarian senior citizen father in 2009; her band Instant People, which included older brothers Cal (drums) and Shannon (guitar), had joined Campbell on stage by the end of 2010.
By June 2011 Kim and Glen Campbell announced that Glen had been diagnosed with Alzheimer's Disease 6 months earlier, and that he was embarking on a farewell tour. His family members described symptoms becoming more and more evident in his senior years leading up to his Alzheimer's diagnosis. 
Campbell was accompanied on his Goodbye Tour in 2011 by his three youngest children and their band Instant People, but daughter Debby complained that after 24 years of singing and touring with her father, she was fired from the Goodbye Tour tour in September 2011. The tour ended in November 2012 as Campbell's condition had worsened and he would forget song lyrics.
In his final televised on-stage performance, Glen Campbell sang Rhinestone Cowboy at the 2012 Grammy Awards on Feb 12, 2012 and was given a Grammy Lifetime Achievement Award.
The documentary Glen Campbell: I'll Be Me (2014), showed how Alzheimer's Disease affected his life, his family and his final Goodbye Tour. Campbell's final single I'm Not Gonna Miss You in the soundtrack for the documentary made it to #21 on the country music charts in 2014, and earned Campbell and songwriter Julian Raymond an Academy Award nomination for Best Original Song.
Campbell's daughter Debby and son Travis Campbell have expressed dissatisfaction with their father's care since his diagnosis. By April 2014, Glen's wife Kim had moved him into an Alzheimer's Disease long-term care centre; in July 2015 Kim told the press that Campbell was now in the 6th of 7 stages of Alzheimer's, and was once again living at home with her as his primary caregiver.
Below, a video montage created by Glen's son Travis Campbell, of Glen's version of Both Sides Now (1970) written by Joni Mitchell. Images include pictures of Glen in both his professional and personal life, with family and celebrities over the years.
Previously: Glen Campbell Turns 80 1of2: Glen Campbell – From Picking Cotton to 1960's Success
*Images are public domain or Creative Commons licensed & sourced via Wikimedia Commons, Vimeo, YouTube, or Flickr, unless otherwise noted*