Celebrating Seniors - Dolly Parton Turns 70 pt 2of2
Dolly Parton Turns 70 Part 2: Crossover, Film & Business Success (1977-2015)
Vintage Dolly Parton music videos : Here You Come Again, 9 to 5, Islands in the Stream, Those Memories of You, Rockin' Years.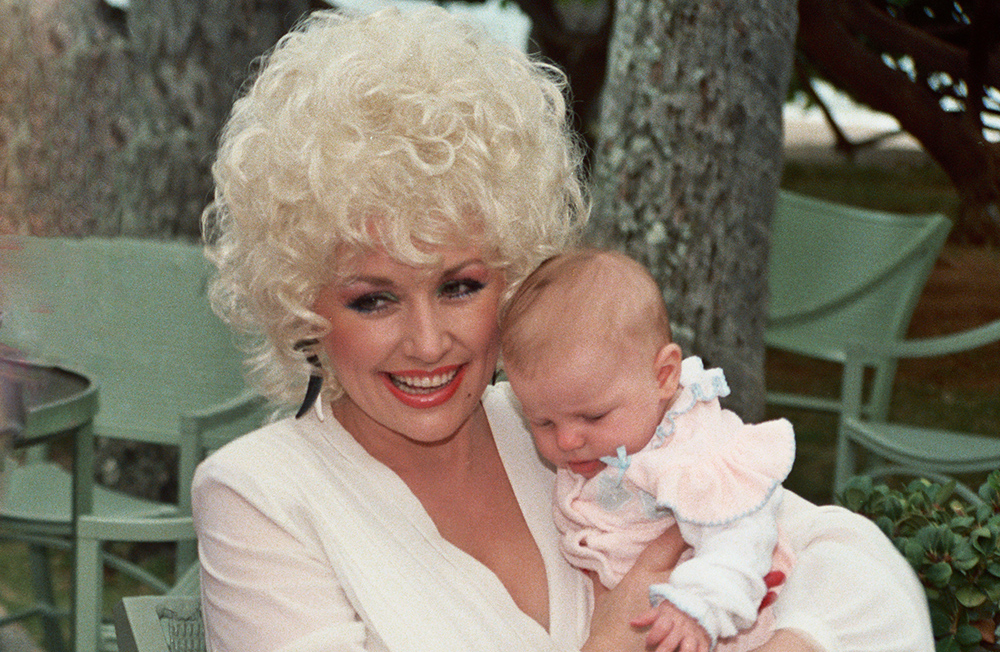 (Dolly Parton with a friend's baby, 1983 Photo: Alan Light | Flickr Some rights reserved)
Fresh off her cancelled Dolly variety show in 1977, Dolly Parton recorded the Barry Mann & Cynthia Weil song Here You Come Again (1977), which was her first big crossover hit single, resonating with baby boomers and reaching #1 on the Country charts for 5 weeks, and securing a #3 Billboard Hot 100 pop chart placement.
Below, Dolly Parton singing Here You Come Again live at the Ford Theatre in Washington:
In the late 1970's Dolly Parton shared television specials with Cher and Carol Burnett (Dolly and Carol in Nashville, 1978), and appeared on the cover of Playboy in the traditional Playboy bunny costume, to accompany her in-depth interview with the magazine.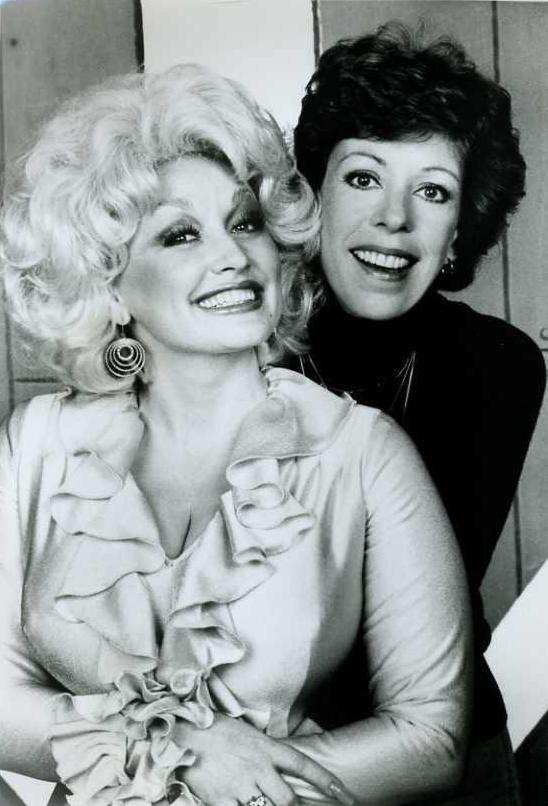 Right, Dolly Parton and friend Carol Burnett in 1980. (Photo: Wikimedia Commons / Public Domain)
Dolly Parton turned her sights to the big-screen for the first time with a co-starring role as a secretary in the hit comedy movie 9 to 5 (1980) with Jane Fonda and Lily Tomlin. In addition to starring in 9 to 5, singer-songwriter Dolly Parton wrote and sang the title song, and 9 to 5 became another crossover hit – #1 on both the Country, Pop, and Adult Contemporary billboard charts, and was nominated for Best Original Song in the Academy Awards. Parton was nominated twice for Best Actress Golden Globes (New Star of the Year and Motion Picture Musical or Comedy) for her performance in 9 to 5. The hit single song 9 to 5 won two Grammy Awards – Best Female Country Vocal Performance, and Best Country Song.
Below, the official music video for 9 to 5:
More hit country & pop chart singles followed the smash success of 9 to 5.
The Dolly Parton/Kenny Rogers duet of the Bee Gee's Islands in the Stream in 1982 climbed to #1 on the charts the following year. Kenny Rogers and Dolly Parton would reunited in 2013 to sing You Can't Make Old Friends, earning a Grammy nomination for Best Country Duo/Group Performance. Below, Dolly Parton & Kenny Rogers singing Islands in the Stream:
Also in 1982, Dolly Parton had her second starring role in a big-screen musical – The Best Little Whorehouse in Texas. The Best Little Whorehouse in Texas was a financial success and Parton was nominated for another Golden Globe Best Actress – Motion Picture Musical or Comedy. Parton re-recorded her hit song I Will Always Love You, for The Best Little Whorehouse in Texas.
In 1984 at age 36 Dolly had a hysterectomy; Parton told Marie Claire in 2014, that for the first time in her life she was so depressed she considered suicide, and gained weight. Her Rhinestone (1984) movie co-star Sylvester Stallone helped her recover by encouraging her to get into shape and clean up her junk-food diet; unfortunately Rhinestone tanked at the box office. 
Although Dolly Parton and husband Carl Dean never had children of their own, they helped to raise Dolly's younger brothers and sisters, and she is the godmother of friend and country-music singer Billy Ray Cyrus' daughter, Miley Cyrus.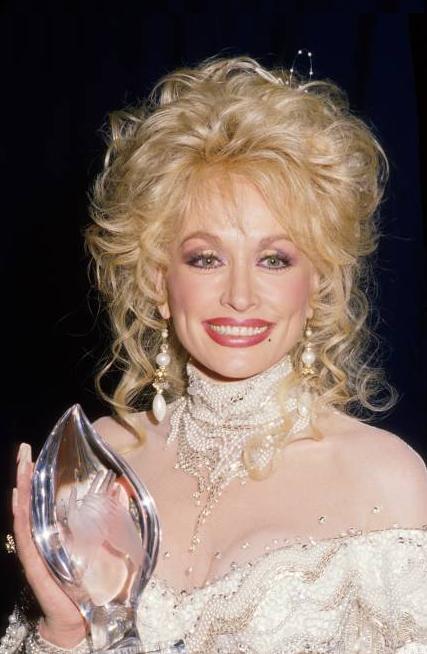 (Dolly Parton 1988 People's Choice Awards Photo: Alejo Castillo | Flickr Some rights reserved)
Having achieved crossover success on the music charts and in the movies, Dolly Parton turned her energy to business entertainment and philanthropy through her Dollywood foundation.  She is co-owner of the Dollywood Company which opened the Dollywood theme park in Pigeon Forge, Tennessee in 1986, and also operates a waterpark there. Dolly Parton's Dixie Stampede dinner theatre opened in Pigeon Forge, Tennessee in 1988 and other locations opened in the 1990's.
Not content with these ventures, Parton and her former manager Sandy Gallin established the film and TV production company Sandollar Productions (Buffy the Vampire Slayer; Father of the Bride, Sabrina) in 1986. The production company continued operations until 1997 and was associated with more than 50 movies and television episodes.
Her talent and efforts did not go unnoticed; in 1986 Dolly Parton was inducted into the Nashville Songwriters Hall of Fame, and that same year she was named one of the Women of the Year by Ms. Magazine. The following year, longtime 40-something friends Linda Ronstadt, Emmylou Harris, and Dolly Parton released the hit album Trio (1987), which achieved crossover success on the Country and Pop charts. Below, the Trio friends perform Those Memories of You on Dolly in 1987:
Dolly Parton was not yet finished with acting in the movies. She appeared in the commercially and critically successful movie Steel Magnolias (1989) co-starring With Julia Roberts, Sally Field, Tom Skerrit, Sam Shepard and others; and in the less successful Straight Talk (1992) opposite James Woods. Although her soundtrack to the Straight Talk movie was not a hit, her duet with James Ingram The Day I Fall in Love (1993) for the movie Beethoven's 2nd (1993) was nominated Best Original Song for the Academy Award. Below, Tom Skerritt, Dolly Parton, Julia Roberts, Sally Field, Olympia Dukakis, Shirley MacLaine, and Daryl Hannah are featured in a movie clip from Steel Magnolias.
She continued to record and see success on the charts through the 1990's, and although the #1 hits were not as frequent, her 1992 duet Rockin' Years (1992) with Ricky Van Shelton reached #1 on the Country charts; to-date, it has been her last #1 Country chart hit. Below, the music video for Rockin' Years, which starts off with a senior citizen couple on rocking chairs:
The album Honky Tonk Angels (1993) with Loretta Lynn and Tammy Wynette was certified gold, and Dolly Parton's re-release of I Will Always Love You as a duet with Vince Gill in 1995, made it to #15. That same year she founded Dolly Parton's Imagination Library which distributes 10 million free books each year to promote literacy.
Entering her 50+ years, in 1996 Dolly Parton released the album Treasures which included hit 60's and 70's songs by other artists. More albums followed including Trio II (1999), another collaboration with friends Emmylou Harris & Linda Ronstadt; their cover of After the Gold Rush by Neil Young won a Grammy. Dolly Parton's induction into the Country Music Hall of Fame that year was followed by an induction in the Songwriters Hall of Fame in 2001 when she was 55.
Dolly Parton has continued to record, perform and act in small parts and voice-overs on television and films throughout her 55+, 60's, and senior years. A tribute album Just Because I'm A Woman: Songs of Dolly Parton (2003) featured covers of her songs by top artists Shania Twain, Melissa Etheridge, and others, in addition to a cover of the title tune by Dolly. Below, Dolly Parton performing on the Grand Ole Opry stage in 2005, for a broadcast and video feed to U.S. soldiers in Iraq.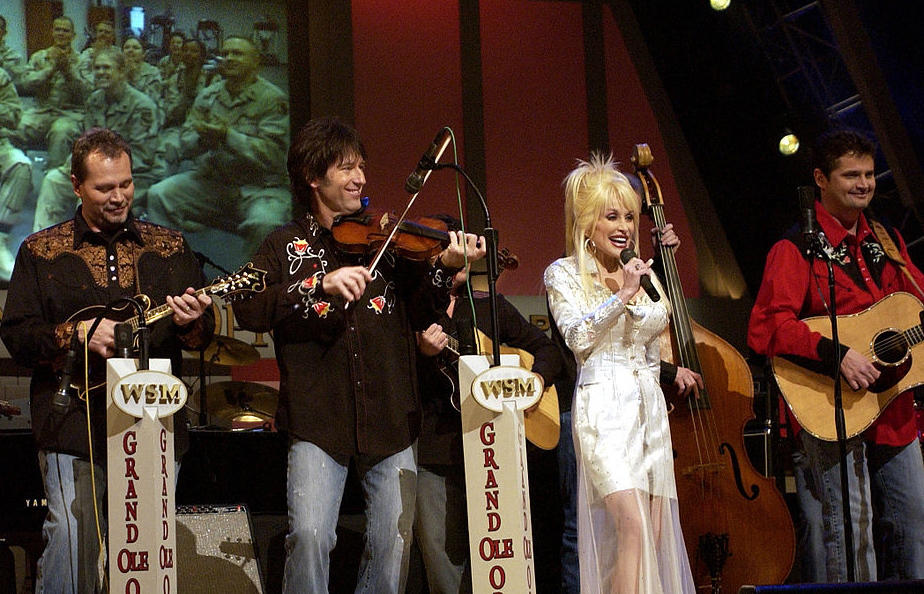 (Dolly Parton 2005 Photo: Sgt. Cherie A. Thurlby, USAF | Wikimedia Commons / Public Domain)
She wrote the song Travelin' Thru for the movie Transamerica (2005). Her vocal collaboration that year with Brad Paisley on his song When I Get Where I'm Goin' garnered a #1 Country chart hit, her most recent #1 hit single. 
Upon turning 60 in 2006, Dolly Parton's cookbook Dolly's Dixie Fixin's: Love, Laughter and Lots of Good Food, was published.
The following year she co-wrote the song Better Get To Livin' (2007) with Kent Wells. The song lyrics describe Dolly Parton's recipe for happiness – keeping a positive outlook in tough times. The single reached #48 on the Country charts and is her highest hit single on the charts during the 2000-2015 era so far. The Better Get To Livin'  music video below features a carnival and was filmed on a farm in Pigeon Forge, Tennessee.
As a senior citizen, Dolly Parton has appeared in the musical Joyful Noise (2012), co-starring with Queen Latifah. Her 42nd album Blue Smoke was accompanied by a world tour in 2014; and she announced in 2015 that her new television and film production company Dixie Pixie Productions would be producing movies of the week for NBC. Below, Dolly Parton on tour in the U.K. in 2011.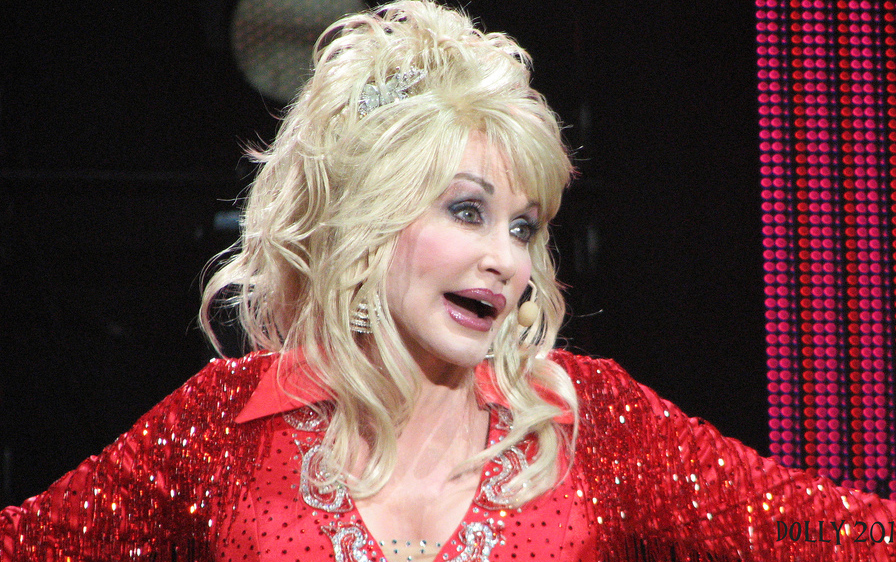 (Dolly Parton 2011 Photo: pipilongstockings | Flickr Some rights reserved)
Today as a septuagenarian senior citizen, Dolly Parton can reflect on her 8 Grammy Awards, including a Lifetime Achievement Grammy in 2011. Parton told Natalie Clark of MailOnline in 2014 that although she no longer has surgery to maintain her appearance, she does keep battling signs of aging with Botox, collagen injections, make-up and of course, wigs. She's not thinking about retirement – in any way – now that she's in her 70's, telling People Now in 2015 when asked about retirement that:
"I love what I do, and I just kind of find that peace within myself…I don't really intend to ever retire, unless I got sick, or my husband got sick…I would like to just work until I fall over dead, in 30, 40, 50 years."
Previously: Dolly Parton Turns 70 Part 1: Tennessee Roots & Going Solo (1946-1976)