Jennifer Warnes, Up Where She Belongs
When she was just 7 years old, budding singing superstar Jennifer Warnes' father turned down the first recording contract offered to her. She'd go on to star on stage musicals, TV comedy series, and finally hitting the top of the charts as a solo artist and oustanding duet partner of Leonard Cohen, Joe Cocker, and Bill Medley, among others.
As a twenysomething, Jennifer Warnes was a regular on The Smothers Brothers Comedy Hour (1967-1969) before starring in the west coast production of the musical, Hair. Below, Jennifer Warnes performing the song Easy to be Hard from Hair on The Smothers Brothers Comedy Hour.
1971 was an important year; Jennifer's fiancee died, and she met and became close friends with Canadian poet and singer-songwriter Leonard Cohen. For the next 40+ years Jennifer Warnes and Leonard Cohen would frequently co-write and perform songs together, and she toured with Cohen in 1972 and 1979, performing as a back-up singer and seizing the opportunity to write songs on the tour bus.
Both Leonard Cohen and Jennifer Warnes talked about each other and their songwriting processes and partnership in this interview.
 Jennifer went on to become a successful solo recording artist. Her first #1 hit single was the dreamy romantic tune The Right Time of the Night (1977). Composed by Peter McCann and include on his own 1977 album, it was Jennifer Warnes version of The Right Time of the Night which climbed to the top of the Adult Contemporary charts.
Jennifer Warnes met boyfriend and bass guitarist Roscoe Beck while touring with Leonard Cohen in 1979. At the end of the tour (she was then 32 years old) she moved to Austin, Texas to live with Beck. It was in Texas that Warnes met Stevie Ray Vaughan, and many others in the Austin & Texas music scene that influenced her music.
Although Roscoe Beck moved with her back to L.A. in 1981, Jennifer Warnes has lived off and on in Texas since then. Before they broke up personally and creatively in 1994, Beck worked with Jennifer and Cohen on the album Famous Blue Raincoat in 1986, and on her 1994 album The Hunter. 
Written by Leonard Cohen, First We Take Manhattan was recorded by Jennifer Warnes and included on her Famous Blue Raincoat album, produced by Roscoe Beck and Warnes. Cohen has said First We Take Manhattan is a response to terrorism. Below, Jennifer Warnes sings First We Take Manhattan, featuring Stevie Ray Vaughan on guitar and a cameo by Leonard Cohen. 
Many of Jennnifer Warnes' songs have been written and/or recorded for television shows and feature films:
1979's Norma Rae – recorded the song It Goes like it Goes – the song won the Academy Award for Best Original Song.
1981's Ragtime – recorded the song One More Hour – the song was nominated for an Academy Award for Best Original Song.
Growing Pains TV show – with B. J. Thomas, recorded the theme song As Long as We've Got Each Other.
A standout classic from Jennifer Warnes repertoire of movie theme songs is the beautiful duet Up Where We Belong, written by Jack Nitzsche, Buffy Sainte-Marie and Will Jennings, for An Officer and a Gentleman (1982). Warnes and Joe Cocker's recording of Up Where We Belong won the Academy Award for Best Original Song, and Cocker/Warnes won the Grammy Award for Best Pop Performance by a Duo or Group with Vocal. Up Where We Belong was a #1 mainstream hit in the United States and Canada in 1982. Joe Cocker and Jennifer Warnes performed Up Where We Belong live together in 1983, below.
Jennifer told Melissa Parker of Smashing Interviews Magazine in 2018, that while she always "known" she'd sing with Joe Cocker, her first knowledge of Bill Medley had been years before they sang together, when she was a teenager.
"My school bus was driving by the Flamingo nightclub in 1962 or 1963 when the Righteous Brothers were playing there, and we used to laugh about it. We'd say, It's 6:00 in the morning, and the cars are still in the parking lot. It was an all night place that I wasn't allowed to go into, so I think there was some karma involved with both those guys [Joe Cocker and Bill Medley]."
1987's Dirty Dancing – Recorded and performed (I've Had) The Time of My Life with Bill Medley – the song won the Academy Award for Best Original song; Medley/Warnes won the Grammy Award for Best Pop Performance by a Duo or Group with Vocal.
Twenty-five years later, Jennifer Warnes and Bill Bedley had a smash hit duet with The Time of My Life, composed by John DeNicola and Donald Markowitz, with lyrics by Franke Previte. Time of My Life is the theme song for the 1987 hit movie Dirty Dancing, and won the Academy Award for Best Original Song. Medley/Warnes also won the Grammy Award for Best Pop Performance by a Duo or Group with Vocal for their performance of Time of My Life. Below, Bill Medley and Jennifer Warnes singing The Time of My Life.
Jennifer Warnes was extremely close to her mother, who often went on the road with Jennifer on her tours. When her mother died in 2003, Jennifer was profoundly affected and did not write or perform for many years. On her website jenniferwarnes.com, she wrote in 2004: 
"I phoned Leonard on the day that my mother died, wanting to talk. "Was that somehow strange, giving one's life to one's mother?" Leonard's response was impeccable: "Jenny, never question where love comes from. We have no control over these things. From a stranger, a mother, a dog, or that perfect mate, it comes from wherever it comes. You were lucky in fact, everyone hopes to find love in the place that you found it."
Now a senior citizen, in December 10, 2014, Jennifer Warnes posted an update on her website that indicated she'd returned to songwriting and singing in earnest: 
"Roscoe Beck, my partner in the creation of our album Famous Blue Raincoat, has returned home from a three year world tour with Leonard Cohen. I am happy to share the news that Roscoe and I are in the very beginning stages of a new album."
Sadly, Jennifer lost her longtime close friend Leonard Cohen when he died on November 10, 2016 at the age of 82. Despite this loss, the new album Warnes had begun working on in 2014 was released early in 2018. Another Time, Another Place contains this beautiful, reflective single with words of wisdom from Jennifer Warnes – Just Breathe.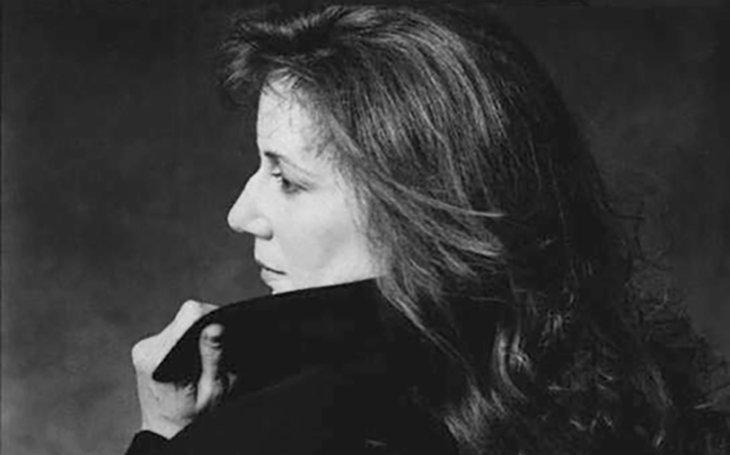 (Jennifer Warnes.com)
Jennifer Warnes is back up where she belongs.
Note: This article was first publishes in 2015 with the title Celebrating Seniors – Singer Jennifer Warnes, 68. It has been updated with new & additional content.
*Images are public domain or Creative Commons licensed & sourced via Wikimedia Commons, Vimeo, YouTube, or Flickr, unless otherwise noted*