Celebrating Seniors - Julie Andrews is 80 pt 1of2
Julie Andrews Part One: Star of Stage & Mary Poppins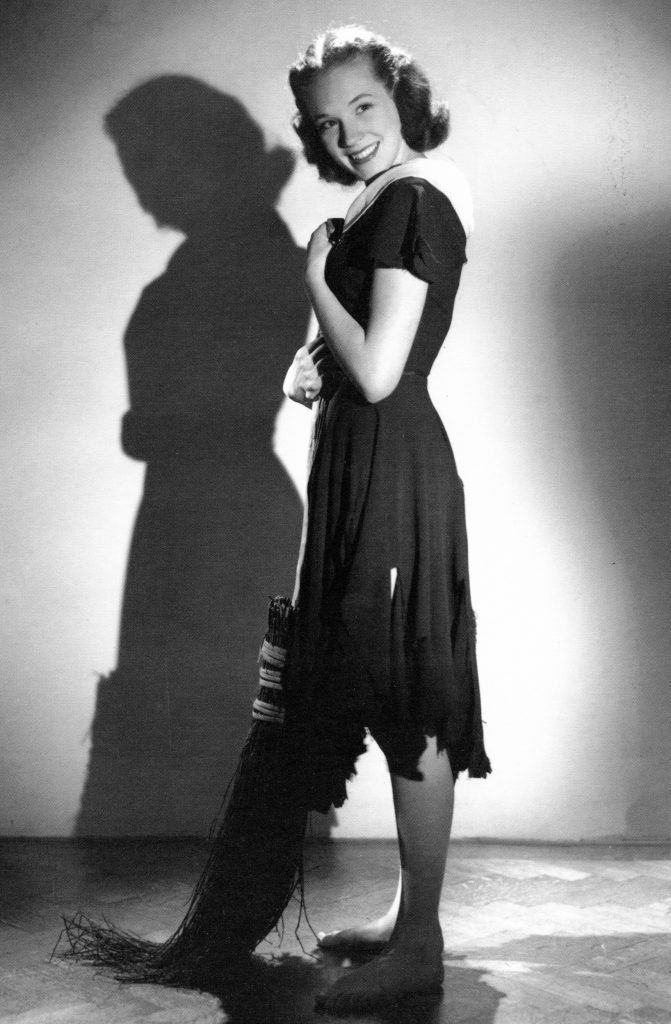 Before she was a successful singer, actress, dancer, director and author, new octogenarian senior citizen Julie Andrews was born Julia Wells in Surrey, England on October 1, 1935.
Right, a young Julie Andrews. (Photo: kate gabrielle | Flickr Some rights reserved)
Julia's mother Barbara Morris was a classical pianist and married teacher Ted Wells. They had two children together when Barbara met Canadian tenor singer Ted Andrews and became his accompanist, shortly before World War II broke out in England. In her 2008 autobiography Home: A Memoir of My Early Years, Andrews recalls having to put on gas masks, bombs dropping during air raids, and her mother leaving to go on tour with Ted Andrews to entertain the troops during the war.
Barbara and Ted Andrews were in France when Hitler invaded; when they came back to England they began living together in London with Julia, while her younger brother John stayed with her father Ted Wells.
It was her stepfather Ted Andrews that signed Julia up for singing lessons; as a child she had a 4-octave coloratura soprano voice and had "perfect pitch" (with age her voice mellowed and she lost the upper register). Ted Andrews and Barbara had a baby together (Donald Andrews) and when Barbara's divorce was finalized, they got married. Julia's name was changed to Julie Andrews.
Post World War II, Julie would occasionally tour with her mother and stepfather and watch their shows. When Julie Andrews turned 10 in 1945, she began joining her mother and stepfather onstage to sing, and remembers meeting Queen Elizabeth I when they performed for her.
Her father Ted Wells remarried and had a daughter Celia, and her mother and Ted Andrews had another son, Christopher. 
In 1947 Julie landed her first stage role in Starlight Roof, and her professional career as a singer and actress was underway. A recording company persuaded her to cut some songs and she did an unsuccessful screen test for MGM Studios. Acting and piano lessons, and more stage roles followed.
New teenager Julie Andrews met young Tony Walton one evening on the way home after an evening performance, and they became friends. Her mother Barbara and stepfather Ted Andrews began drinking heavily and both became alcoholics; by 1950 Julie was headlining their performances. 
During a house party one evening when Julie was 15, Julie was shocked when her mother told her that the host, a man whom Julie had seen a couple of times before and had spoken to that evening, was her real father.  
Julie Andrews and Tony Walton began dating just before she turned 17, in 1952. Julie's earnings from radio, plays, and musical performances were enough to buy a family car and co-own half of the family home with her stepfather Ted Andrews.
By 1953 Tony had left for Canada to serve in the RAF for two years and Julie was now starring in big productions, including Cinderella at the London Palladium.
19-year-old Julie Andrews accepted a one-year contract in 1954 to play the lead in the Broadway play The Boy Friend, moved to New York City, and began her first full-fledged (albeit short-lived) romantic relationship with a young Canadian actor named Neil McCallum.
Despite both Tony Walton and Julie dating other people, their friendship and letter-writing to each other continued.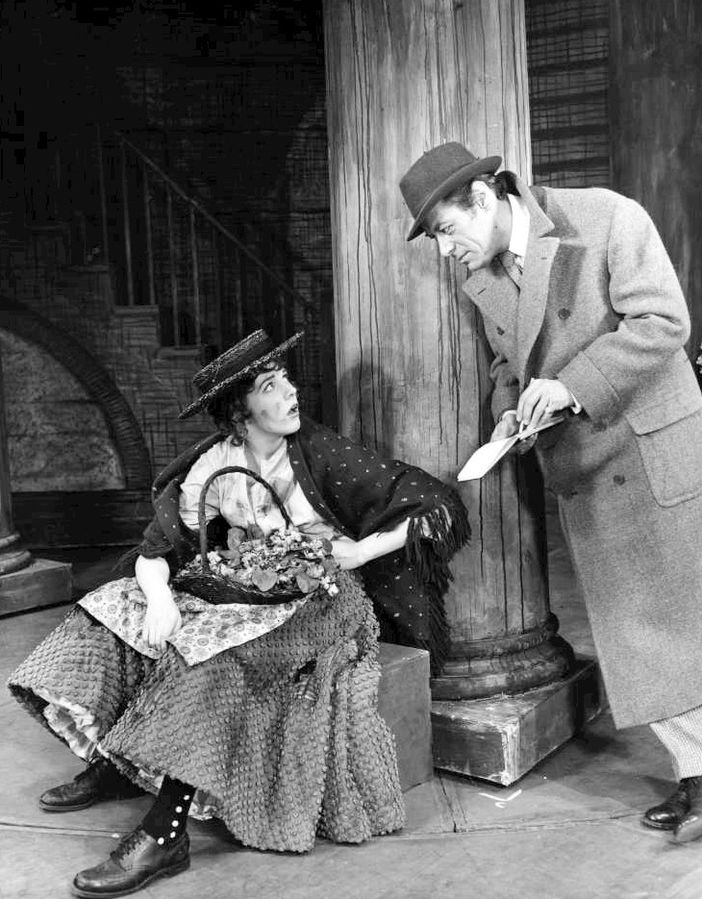 Julie Andrews was courted by competing Broadway composers and lyricists Lerner & Loewe vs Rodgers & Hammerstein, and accepted a 2-year contract from Lerner & Loewe to star in My Fair Lady opposite Rex Harrison, opening in March 1956.
Shortly after My Fair Lady opened, Tony Walton moved to New York City to begin a career in set design, and he and Julie began a full-time relationship. Julie's career was thriving as well; she was tapped to star in a live televised version of Cinderella that was seen by over 100 million viewers (baby boomer children and parents).
Julie Andrews and Rex Harrison in My Fair Lady. (1957 Photo: Friedman-Abeles / Richard Maney | Wikimedia Commons / Public Domain)
When her Broadway contract ended, she moved back to London to star in the My Fair Lady production there.
Julie Andrews and Tony Walton married in May 1959 and honeymooned in California; while there, they met and saw quite a few celebrities, including Jack Lemmon – who was talking to the famous movie director Blake Edwards.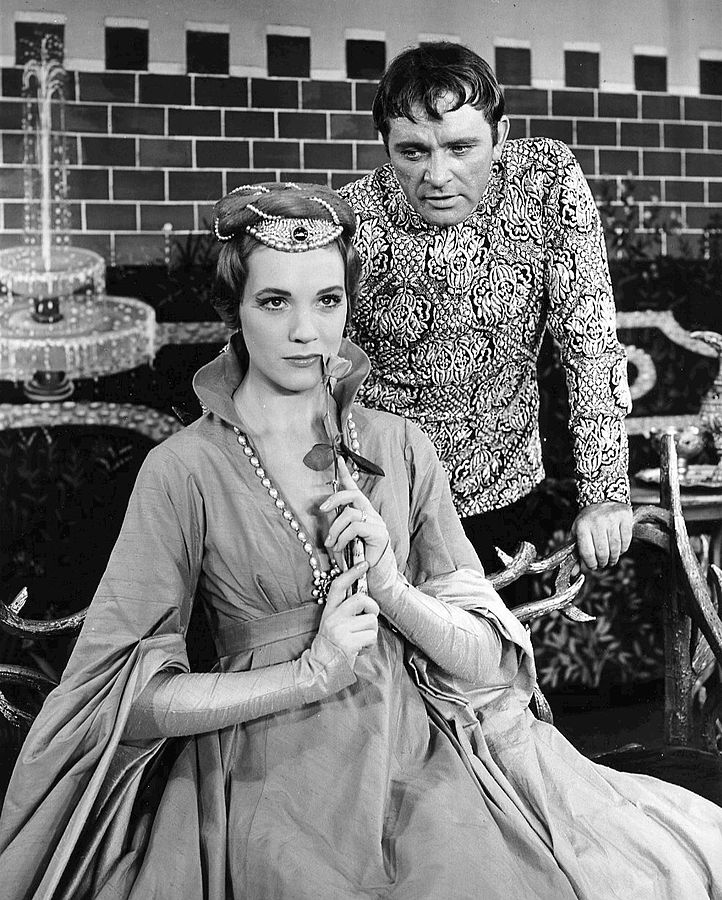 After her London run in My Fair Lady was over, Julie Andrews went on to star in Camelot on Broadway in 1960 opposite Richard Burton and Robert Goulet.
Julie Andrews with Richard Burton in Camelot. (Photo: Friedman-Abeles | Wikimedia Commons / Public Domain)
Julie Andrews was introduced to up and coming actress Carol Burnett, and guest-starring appearances on television shows and specials with Carol followed; they are still friends today.
Walt Disney saw Julie Andrews perform on Broadway in Camelot and cast her in the lead role of the movie Mary Poppins; Tony Walton was hired for set design on the movie as well.
Julie Andrews and Tony Walton's first child Emma Walton was born in November 1962. Three months later the Walton's moved to California so Julie could film Mary Poppins (1964). 
Julie Andrews won the Academy Award for Best Actress, and a Grammy Award for Best Album for Children, for her role as Mary Poppins. She had been passed over by Jack Warner to star in the film version of My Fair Lady (starring Audrey Hepburn) and in her Golden Globe win for Best Actress Motion Picture Musical or Comedy acceptance speech, she thanked Jack Warner for having "made this all possible in the first place." Mary Poppins was a commercial success and Julie Andrews film career was launched. (Gif source unknown)
Below, Julie Andrews as Mary Poppins, Dick Van Dyke as Bert, and David Tomlinson as Mr. Banks, are featured in the movie trailer for Mary Poppins.