August 12th Birthdays
If you were born on August 12th, you share a celebrity birthday with these famous people:
George Hamilton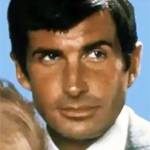 is 84 (ex of Alana Stewart; father of Ashley Hamilton)

American actor & host of TV (Jenny; The Survivors; Dynasty; The Best of Wine & Food; Paris 7000), movies (Where the Boys Are; Your Cheatin' Heart; Evel Knievel; Love at First Bite; Zorro: The Gay Blade; Angel Baby; Light in the Piazza), born August 12, 1939. (George Hamilton 1969 The Survivors Photo: ABC)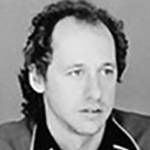 Mark Knopfler is 74 (brother of David Knopfler)
English guitarist, film score composer (The Princess Bride; Local Hero), lead singer & songwriter with Rock & Roll Hall of Fame band Dire Straits (Money for Nothing; Sultans of Swing; Walk of Life; Down to the Waterline), born August 12, 1949. (Mark Knopfler 1986 Photo: Warner Bros. Records)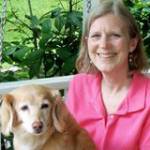 Ann M. Martin is 68 (nee Ann Matthews Martin)

American teacher, book publishing editor (Scholastic; Pocket Books), and youth fiction writer of The Baby-Sitter's Club and other series (Kristy's Great Idea; Claudia and the New Girl; The Doll People; Bummer Summer), born August 12, 1955. (Ann M. Martin Photo: By Permission of Ann M. Martin)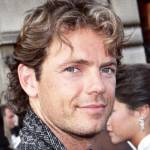 Bruce Greenwood is 67 (nee Stuart Bruce Greenwood)
Canadian actor of TV (Dr. Seth Griffin on St. Elsewhere; Knots Landing; Nowhere Man; American Crime Story), and movies (Double Jeopardy; Thirteen Days; Eight Below; The Sweet Hereafter; Exotica; Star Trek; Elephant Song; Gerald's Game), born August 12, 1956. (Bruce Greenwood 1987 Photo: Alan Light)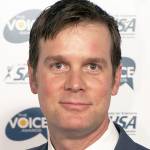 Peter Krause is 58 (ex-partner of Lauren Graham)
American actor of stage, TV (Adam Braverman on Parenthood; Nate Fisher on Six Feet Under; Casey McCall on Sports Night; Carol & Company; Cybill; Dirty Sexy Money; The Catch; 9-1-1; Beverly Hills, 90210), and movies (Lovelife; The Truman Show), born August 12, 1965. (Peter Krause 2010 Photo: SAMHSA)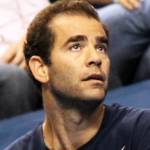 Pete Sampras is 52 (nee Petros Sampras; married Bridgette Wilson)
International Tennis Hall of Fame American, winner of 14 Grand Slams (Wimbledon – 1993-1995, 1997-2000; US Open – 1990, 1993, 1995, 1996, 2002;  Australian Open 1994 & 1997) & 2 Davis Cups (1992, 1995), 1993 World #1, born August 12, 1971. (Pete Sampras 2011 Photo: Shinya Suzuki)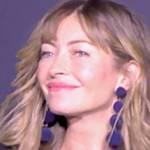 Rebecca Gayheart is 52 (ex of Eric Dane; ex-partner of Brett Ratner)
American model (Noxema), actress of TV (Hannah Mayberry on Loving; Earth 2; Beverly Hills, 90210; Dead Like Me; The Division; Nip/Tuck) & films (Nothing to Lose; Jawbreaker; Shadow Hours; Somebody is Waiting; Urban Legend), born August 12, 1971. (Rebecca Gayheart 2016 Photo: thepaparazzigamer)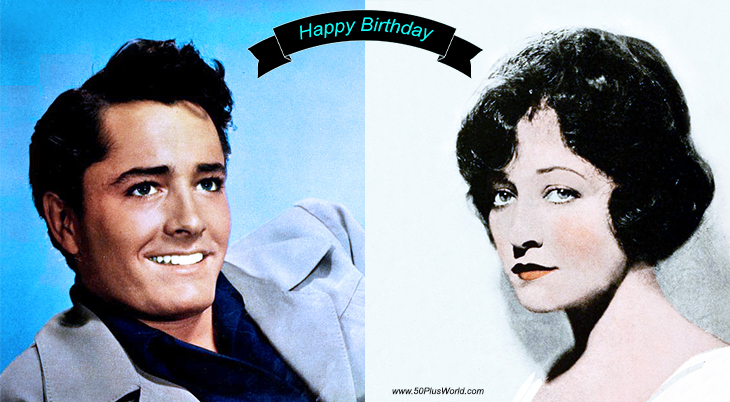 (John Derek 1950 | Pauline Frederick 1920)
Happy Birthday to everyone celebrating their birthday on August 12th!
Remember These August 12th Famous Birthdays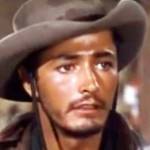 John Derek (nee Derek Delevan Harris; married Bo Derek)
American film director (10; Bolero; Tarzan the Ape Man), actor of TV (Frontier Circus) & movies (Knock on Any Door; All the King's Men; Rogues of Sherwood Forest; Mask of the Avenger; Scandal Sheet; Prince of Pirates; Thunderbirds) (born Aug. 12, 1926 – died May 22, 1998; age 71). Ex of Ursula Andress, Linda Evans, Pati Behrs. (John Derek 1953 Ambush at Tomahawk Gap)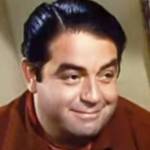 Kurt Kasznar (nee Kurt Servischer; ex of Leora Dana)

Austrian-American actor of stage, TV (Land of the Giants), and movies (Kiss Me Kate; My Sister Eileen; The Last Time I Saw Paris; Anything Goes; A Farewell to Arms; Legend of the Lost; Valley of the Kings; The Bad and the Beautiful) (born Aug. 12, 1913 – died Aug. 6, 1979; age 65). Kurt Kasznar was diagnosed with cancer before his death. (Kurt Kasznar 1953 Lili Movie Trailer)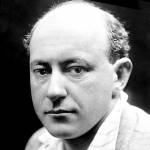 Cecil B. DeMille (nee Cecil Blount DeMille; brother of William C. deMille)

American film-making pioneer, Academy Award-winning movie producer and director (The Greatest Show on Earth; The Ten Commandments; Union Pacific; Male and Female; The Godless Girl; Carmen; Sunset Blvd.; Cleopatra; Samson and Delilah) (born Aug. 12, 1881 – died Jan. 21, 1959; age 77). Adoptive father of Katherine DeMille. (Cecil B. DeMille c. 1920: Witzel)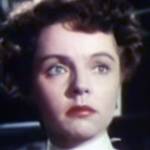 Jane Wyatt
Emmy Award-winning American actress of TV (Margaret Anderson on Father Knows Best; St. Elsewhere) & films (Great Expectations; Lost Horizon; My Blue Heaven; Task Force; Gentleman's Agreement; Boomerang!; We're Only Human; My Blue Heaven; Our Very Own; The Luckiest Girl in the World) (born Aug. 12, 1910 – died Oct. 20, 2006; age 96). (Jane Wyatt 1949 Canadian Pacific)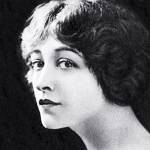 Pauline Frederick (nee Paulinle Beatrice Libbey; ex of Willard Mack)
American silent film star (Devil's Island; Smouldering Fires; Three Women; Married Flirts) & classic movie actress (Social Register; Evidence; Thank You, Mr. Moto; The Phantom of Crestwood; On Trial; Madame X; This Modern Age; Ramona; My Marriage) (born Aug. 12, 1883 – died Sept. 19, 1938; age 55). Pauline Frederick died from an asthma attack. (Pauline Frederick 1917)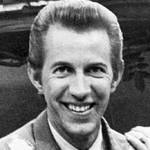 Porter Wagoner ("Mr. Grand Ole Opry"; aka Skid Row Joe)
Country Music Hall of Fame best-selling American songwriter & singer solo (Misery Loves Company; A Satisfied Mind; Sorrow on the Rocks; Big Wind), in Dolly Parton duets (Please Don't Stop Loving Me), and TV host (The Porter Wagoner Show) (born Aug. 12, 1927 – died Oct. 28, 2007; age 80). Porter Wagoner died of lung cancer. (Porter Wagoner 1969 Photo: Moeller Talent Inc.)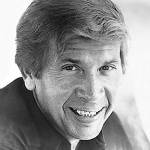 Buck Owens (nee Alvis Edgar Owens Jr.; ex of Boone Campbell Owens)
Country Music Hall of Fame American musician, singer & songwriter (I've Got a Tiger By the Tail; Only You [Can Break My Heart]; Act Naturally; Rollin' In My Sweet Baby's Arms), and TV host (Hee Haw; Buck Owens' Ranch Show) (born Aug. 12, 1929 – died Mar. 25, 2006; age 76). Buck Owens died of a heart attack. (Buck Owens c 1970s Photo: Jack McFadden / Capitol)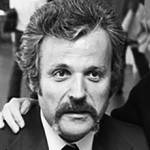 William Goldman (brother of James Goldman)
Academy Award-winning American author & screenwriter (Butch Cassidy and the Sundance Kid; All the President's Men; The Princess Bride; Marathon Man; The Stepford Wives; Magic; Harper) (born Aug. 12, 1931 – died Nov. 16, 2018; age 87). William Goldman died of colon cancer and pneumonia complications. (William Goldman 1975 Photo: Bert Verhoeff / Nationaal Archief)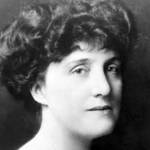 Mary Roberts Rinehart (nee Mary Ella Roberts)
American WWI war correspondent (The Saturday Evening Post), playwright and mystery novelist (The Door; The Circular Staircase; The Case of Jennie Brice, The Bat; The Breaking Point; The Red Lamp; The Great Mistake; Miss Pinkerton; Lost Ecstasy; Her Majesty, the Queen; "K"), (born Aug. 12, 1876 – died Sept. 22, 1958; age 82). (Mary Roberts Rinehart 1914 Photo: Theodore C. Marceau)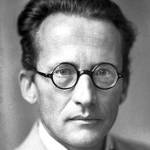 Erwin Schrödinger ("Father of Quantum Physics")
Austrian 1933 Physics Nobel Prize winner, author (What is Life), quantum theory researcher (wave equation developer; colour theory) & developer of the "Schrödinger's cat" thought-experiment (born Aug. 12, 1887 – died Jan. 4, 1961; age 73). Erwin Schrödinger died of tuberculosis. (Erwin Schrödinger 1933 Photo: Nobel Foundation)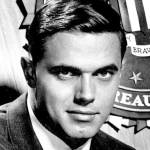 Stephen Brooks (nee James Gardner Brooks Jr.)
American actor of TV (Special Agent Jim Rhodes on The F.B.I.; Dr. Greg Pettit on The Interns; Joshua Fallon on Days of Our Lives; The Doctors and the Nurses; Barnaby Jones; Medical Center; 12 O'Clock High) and movies (Crystal Gazing) (born Aug. 12, 1942 – died Dec. 1, 1999; age 57). Stephen Brooks died of a heart attack. (Stephen Brooks 1966 The F.B.I. Photo: Warner Brothers Studios)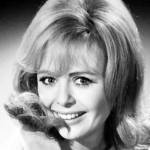 Deborah Walley (ex of John Ashley)
American actress of stage, TV (Suzie Hubbard Buell on The Mothers-In-Law), movies (Gidget Goes Hawaiian; Spinout; Bon Voyage!; Summer Magic; Beach Blanket Bingo; The Young Lovers; Ski Party; Ghost in the Invisible Bikini), and author (born Aug. 12, 1941 – died May 10, 2001; age 59). Deborah Walley died of esophageal cancer. (Deborah Walley 1967-1969 Photo: NBC Television)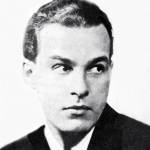 Alfred Lunt (nee Alfred Davis Lunt Jr.)
Emmy and Tony Award-winning American Theatre Hall of Fame actor of radio, Broadway plays (The Seagull; Ondine; Design for Living), TV, and films (The Ragged Edge; Second Youth; Stage Door Canteen), married to frequent co-star Lynn Fontanne (born Aug. 12, 1892 – died Aug. 2, 1977; age 84). Alfred Lunt died of cancer. (Alfred Lunt 1923 Photo: Backbone / Exhibitors Herald)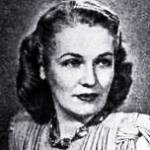 Kay Campbell (nee Catherine Campbell)
American actress of radio (Evey Fitz on Ma Perkins 1945-1960; Lucky Girl; The Flying Patrol; Katie's Daughter) and daytime TV soap operas (Kate Martin on All My Children 1970-1985; Helene Benedict on The Guiding Light 1957-1964; Rose Pollock on The Edge of Night) (born Aug. 12, 1904 – died May 27, 1985; age 80). Kay Campbell died after a car accident. (Kay Campbell Ma Perkins)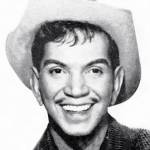 Cantinflas (nee Mario Fortino Alfonso Moreno Reyes)
Mexican singer, comedian, writer, personality & actor of movies (Around the World in 80 Days; Pepe; The Great Sex War; A Quixote Without La Mancha; Screen Snapshots: Hollywood Goes to Mexico), stage, & television (Miss Universe Pageant; Horror Kung-Fu Theatre; A Bob Hope Comedy Special) (born Aug. 12, 1911 – died Apr. 20, 1993; age 81). (Cantinflas 1961)
Diamond Jim Brady (nee James Buchanan Brady; lover of Lillian Russell)
American railroad investor & salesman (Reading Railroad; Pressed Steel Car Company), stock market investor, thoroughbred race horse owner, precious stone & jewelry collector, & philanthropist (Johns Hopkins Hospital; New York Hospital) with a voracious appetite (born Aug. 12, 1856 – died Apr. 13, 1917; age 60). (Diamond Jim Brady c. 1890s – 1910s)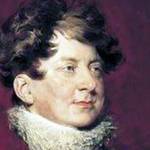 King George IV
King of the United Kingdom of Great Britain and Ireland and King of Hanover (1820-1830); Prince Regent (1811-1820); son of King George III and Queen Charlotte (of Mecklenburg-Strelitz); married Caroline of Brunswick; father of Princess Charlotte of Wales; brother of King William IV (born Aug. 12, 1762 – died June 26, 1830; age 67). (King George IV 1821: Thomas Lawrence)
Ruth Lowe (married Harold Cohen, Nathan Sandler)
Canadian musician, solo pianist, performer with bandleader Ina Ray Hutton, songwriter of the first Billboard #1 hit song, I'll Never Smile Again (performed by Frank Sinatra and the Pied Pipers with the Tommy Dorsey Orchestra) in the Grammy Hall of Fame, and other hit songs (My Next Romance; Put Your Dreams Away [For Another Day]) (born Aug. 12, 1914 – died Jan. 4, 1981; age 66).
*Images are public domain or Creative Commons licensed & sourced via Wikimedia Commons, Vimeo, or Flickr, unless otherwise noted*