April 1947 Headlines
News Headlines & Entertainment Trivia from April, 1947: 2000-Year-Old Dead Sea Scrolls Discovery, Babe Ruth Day, & Thor Heyerdahl's Kon-Tiki Sets Sail
Dead Sea Scrolls Discovery
The American Schools of Oriental Research (ASOR), announced the discovery of the original seven Dead Sea Scrolls on April 11, 1947. The scrolls, which date back to between 300 BC – 100 AD,  had been found in jars buried in and around the Qumran Caves area of what was at the time part of Jordan (today it's Israel's West Bank).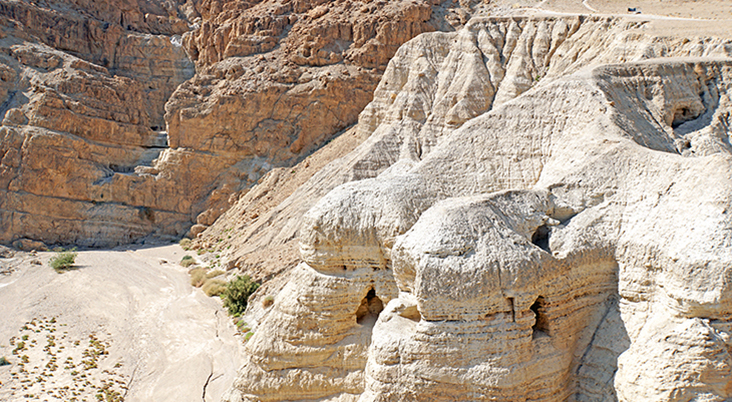 (Qumran Caves, West Bank, Israel 2016 Photo: Dennis Jarvis)
Some Bedouin shepherds had inadvertently stumbled upon these first seven scrolls between November 1946 and February 1947, when one of them (Muhammed edh-Dhib) fell into a cave. The shepherds took the recovered scrolls back to their camp and showed them periodically to their people, before trying to sell them to a dealer who told them they were worthless and might have been stolen.
The scrolls were eventually sold and changed hands a few times, until they came to the attention of the head of ASOR (Dr. John C. Trever) who examined them and found similarities between these scrolls and the oldest known biblical manuscript at the time, the Nash Papyrus (dated to 150-100 BC). 
Over the next 9 years, many more caves with scrolls and fragments of scrolls, were discovered during archaeological expeditions in the Qumran caves region. Ninety percent of the scrolls recovered have come from Qumran Cave 4.
Most recently, an archaeological dig by Hebrew University archaelogists uncovered a twelfth cave in 2017, however it appeared cave-robbers had already plundered the cave, possibly in the 1950s. Thus far 972 ancient manuscripts have been discovered at Qumran.
The scrolls/fragments, have been connected by Hebrew and Aramaic scholars to sections of the Hebrew Bible / Christian Old Testament / Torah, such as the Book of Isaiah, Genesis, Exodus, Leviticus, Deuteronomy, Testament of Levi, etc. 
Thor Heyerdahl's Kon-Tiki Sets Sail
Norwegian author, explorer, and ethnographer Thor Heyerdahl launched his Kon-Tiki expedition to sail from Peru to Polynesia, on April 28th, 1947. Heyerdahl and his crew of five other men sailed almost 7,000 KM on a raft made of mangrove wood and balsa tree trunks lashed together with hemp ropes.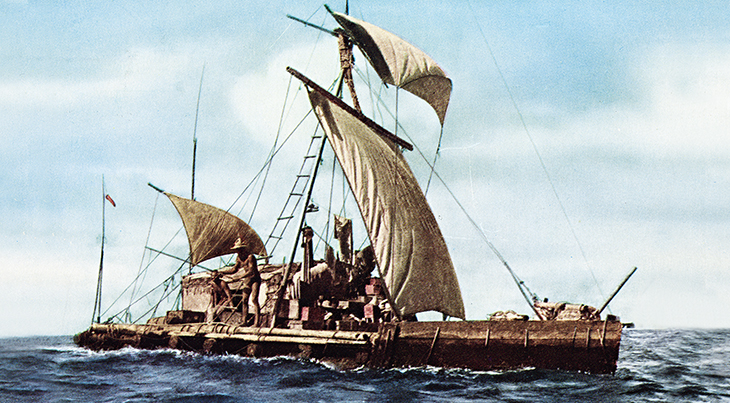 (Kon-Tiki 1947 Postcard: Mittet / National Library of Norway)
The Kon-Tiki  had a 19′ long steering oar, sails, and a plaited bamboo cabin with a banana leaf thatched room. Supplies such as water, food, etc. were stored aboard the raft in a mixture of modern and ancient containers, designed to measure the effectiveness of the ancient storage methods for such a journey.
The impetus for the expedition was to validate Heyerdahl's theory that migrants from Peru were the original inhabitants of Easter Island. He believed the huge, famed Easter Island statues resembled pre-Columbian Peruvian works, vs. sculptures by Polynesians. 
After travelling a distance of almost 7,000 KM, the Kon-Tiki expedition ended a little over 3 months later, on August 7th, 1947,  when the raft was beached on an uninhabited island in French Polynesia after hitting a reef. Thor Heyerdahl's subsequent book The Kon-Tiki Expedition: By Raft Across the South Seas (1948) was a best-seller and was the subject of an Academy Award-winning Best Documentary Feature, Kon-Tiki (1950). 
Thor Heyerdahl's background in biology, geography, and zoology, combined with his study of the peoples of Peru and of Polynesia, were unique qualifications to conceive of and lead the Kon-Tiki expedition. Heyerdahl later spear-headed several other expeditions in various locations around the world, and authored more books, including these best-sellers:
Aku-Aku (1957) – an archaeological expedition to Easter Island.
The Ra Expeditions (1972) – attempts to sail 2 papyrus boats made using an Egyptian boatbuilding method, across the Atlantic Ocean from Morocco, Africa.  
Born in Larvik, Norway on October 6, 1914, Thor Heyerdahl was 33 years old when he sailed the Kon-Tiki. His career extended over decades and by the time Thor Heyerdahl died at the age of 87 in 2002 from a brain tumour, he'd acquired a long list of academic and other honors from geographical and anthropological societies and colleges around the world. 
Babe Ruth Day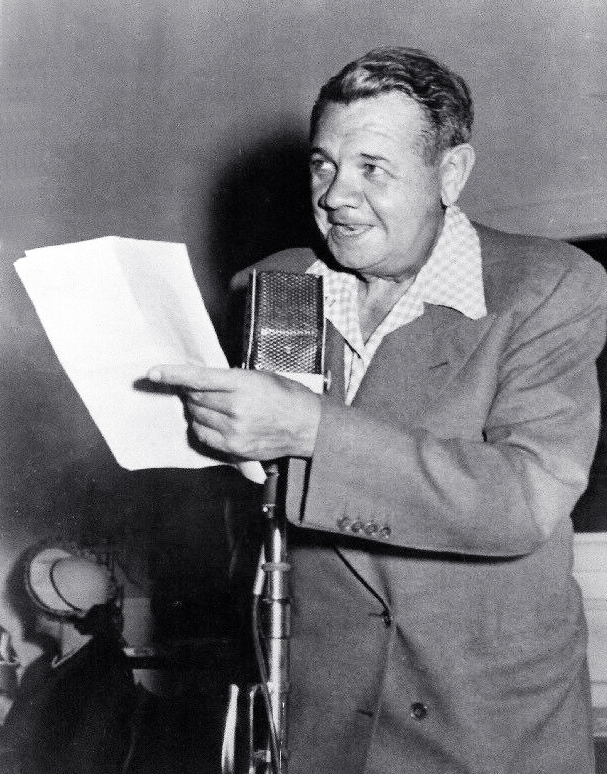 (Babe Ruth 1947 Gang Busters Photo: ABC)
Major League Baseball Comissioner Happy Chandler declared April 27, 1947 as Babe Ruth Day. Observances were held around the Major League for legendary retired MLB outfielder and pitcher George Herman "Babe" Ruth Jr. 
Babe Ruth had been diagnosed in November of the previous year with a malignant tumor in his neck and the base of his skill (nasopharyngeal carcinoma). He underwent experimental new drugs and radiation treatments at the same time, and had lost 80 pounds by the February of 1947. Ruth's voice was reduced to a low, raspy whisper when he addressed the 60,000 crowd at Yankee Stadium on April 27th, 1947.
Although Babe Ruth's health rallied during the summer of 1947, he began to decline again later that year. He died on August 16, 1948 at the age of 53. Many of the records he set for pitching and hitting stood for decades.
*Images are believed to be in the public domain and/or Creative Commons licensed & sourced via Wikimedia Commons or Flickr, unless otherwise noted*