Planning a Dinner Party for Beer Lovers
When warm weather is in full swing, many people agree that there's nothing better than cracking open an ice-cold beer and enjoying a refreshing brew in the great outdoors. Warm weather and cold beer go together like expensive cheese and wine. When you think about it, so many summer events just wouldn't be the same without beer, including baseball, barbecues, and block parties!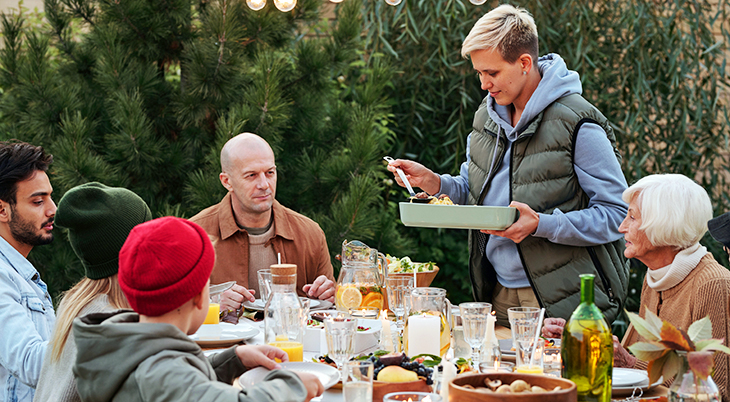 (Summer Outdoor Dinner Party Photo: Askar ABayev via Pexels.com)
If you're a beer lover and you've got plenty of family or friends with the same passion for a cold brew, consider planning a dinner party this season that will quench everyone's thirst. Putting together a dinner party is a fantastic way to reconnect with people, and when you get your favorite brews involved, everyone's bound to enjoy themselves.
Picking a Beer Party Theme
If you're not sure where to start when it comes to planning a party for beer lovers, consider different theme options. Start by deciding whether you want to host your party indoors or outdoors. Late spring, summer, and early fall provide an opportunity to host outside, even late into the evening, without people getting too cold.
Plus, you  might have more room outdoors than you would in your living room. You could even throw your own mini outdoor beer festival and center an entire day around tasting different options and hosting small events. Other ideas include choosing a "theme" country and bringing in imported beers, or playing responsible outdoor drinking games that get everyone involved.
If you do decide to have your dinner party outdoors, keep the following in mind to make sure everything goes off without a hitch:
Choose your location wisely
Check the weather forecast
Consider a mismatched aesthetic
Invest in quality lighting
Keep your food stored safely
This way, even your backyard can be the ultimate in relaxing fun. Outdoor parties are great for inviting more people, but if you want to host something more intimate or you're more concerned about having air conditioning than space, take things inside and keep everyone comfortable.
Make It BYOB
One of the greatest things about being friends with beer enthusiasts is that everyone tends to know a lot about different types of beers. Your party could end up being an educational experience for everyone if you ask your guests to bring their own beer. Some folks prefer lagers, while others prefer ales or wheat beers.
Having everyone bring a few of their favorite brews to share will introduce others to different tastes and brewing styles. You might even find a new favorite of your own. BYOB parties also require less work and expense for you, and it'll be much easier to have everyone bring their own beer and swap, rather than having to buy several cases on your own. 
If you decide to host a BYOB party, there will still be some minor work involved in the setup, including:
Having appropriate food pairings
Designating a place to keep everything chilled
Providing the right drinkware
With a little bit of preparation at the beginning, a BYOB party is a fantastic opportunity for guests to try new things and mingle with other partygoers.
A Refined Party for Beer Connoisseurs
If you're a beer enthusiast, you already know that a high-quality brew is just as good as a bottle of expensive wine. While most people are familiar with wine and food pairings, beer pairings are becoming more popular and prominent across the globe. As craft breweries continue to create new flavors and bring out the nuances of hops and grains, more people are becoming aware of just how well specific beers pair with different foods.
If you want to host a more "sophisticated" party experience, consider inviting over a few fellow beer lovers for a tasting event. You can make it extra special by choosing your selections ahead of time. This way, you can hone your cooking skills for the party.
This kind of get-together will require at least a bit of research ahead of time. If you already have a strong taste for beer, you might have a basic idea of which brews will pair with certain dishes. However, it never hurts to educate yourself on which styles go well together. Keep the following beer pairing ideas in mind as you start to put your menu together.
Light lagers and spicy foods
Wheat beers and fruity desserts
Brown ales and sausage
Dark lagers and pizza
Amber ales and smoked meats
If your mouth is watering now, imagine how excited your guests will be when you give them the pairing menu.
Whether you want a casual outdoor affair full of fun and festivities, or you're into something smaller and more intimate, the warmer weather offers plenty of opportunities to get together with  your fellow beer lovers. Keep these ideas in mind if you're interested in throwing a party of your own, and celebrate the season with friends, family, and your favorite drinks.