Retirement Freelancing & Travel Benefits
Do you dream of spending your retirement hopping from country to country? You're not alone! Over 67% of Americans in the workforce dream of traveling during retirement. The challenge lies in actualizing these goals.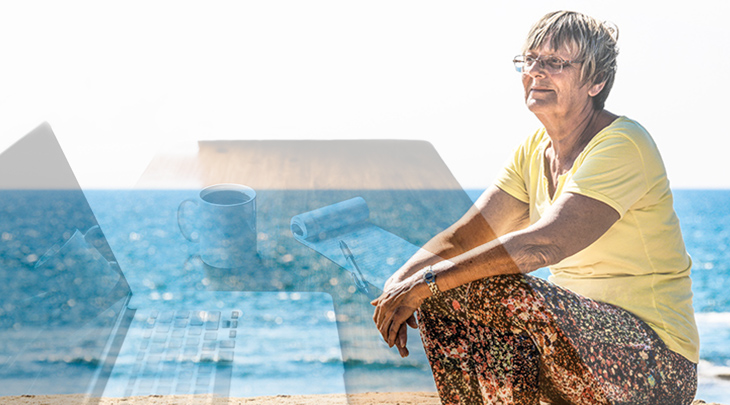 (Retirement Freelancing &  Travel Blended Photo*: A. Hamilton)
One of the main obstacles retirees face in making this dream a reality is cost. It's important to be conscious of your spending habits, so you can continue to enjoy the lifestyle you love as you age.
Fortunately, remote employment opportunities like freelancing make it easier for seniors to travel while maintaining financial stability. Read on to learn more about the benefits of combining freelancing work and travel to make the most of your retirement. 
Why Retirement Freelancing?
Retiring at age 65 used to be the norm. These days, however, many people find that they enjoy working and contributing to society even after the traditional age of retirement. Additionally, continuing light work after retirement has the bonus of providing you with extra income so you can travel without the guilt. Freelance work is a great way for you to keep your mind and skills sharp, while living the lifestyle you've always wanted.
Benefits of Being a Freelancer
There are countless benefits to doing freelance work, from the flexibility to decide your own hours to the financial independence it gives you to age in place and travel. These are some of the most common benefits of freelancing while retired: 
Work on your own schedule from anywhere.
Experiment in a new career field.
Practice better work-life balance.
Contribute to your savings.
Enjoy the fulfillment of work you love.
Keep your mind sharp.
Tips For Getting Started
Building up your client base from scratch, learning how to invoice, and budgeting your own time – it can all sound rather overwhelming. Luckily, it doesn't have to be. With these quick tips for getting started, your freelance career will be up and going in no time at all.
Working and earning an income while traveling in your home or another country, can have legal and financial requirements you must meet. It may also result in other impacts to your retirement plans and goals. Explore these considerations with trusted professionals familiar with your situation.
Ensure You Have a Safety Net
So, you've decided to get into freelancing. Fantastic! Embarking on a new career trajectory can be exciting, but especially as a retiree, it's important to have a safety net. Don't spend all of your savings on travel now that you're set on performing freelance work. Your freelance income may be unstable at times, which is why it's a good idea to have incomes from other sources, like stock market investments or real estate investments.
Decide on a Field
The beautiful thing about freelancing is that it can take many forms. Whether you want to continue your work as a travel agent or try your hand at seasonal jobs in hospitality, you're sure to find your niche. You're even free to experiment with multiple different professions, as a a way to explore your passions while out on the road.
If you're looking for non-traditional ways to capture your travel memories, consider turning your travel journal into freelance travel articles to make some quick cash.
Other job options for seniors include:
Tour guide
Blog writer
Virtual assistant
Online juror
Tutor
Website Designer
Graphic Designer
Photographer
Marketer
Customer service representative
Hospitality worker
Hone Your Skills
It may have been a while since you've had to submit resumes and discuss your credentials with potential clients. You could even be entering an entirely new career field!
By taking some time to assess your experience and brush up on your interviewing skills, you can maximize your chances of having a successful freelance career during your retirement.
Be Aware of Cultural Differences
It's also essential to know your audience. While traveling, you have the unique opportunity to meet new clients across international boundaries. This expands your potential client base, but may also pose some challenges.
For example, if you're on the hunt for freelance clients in Australia, know the difference between an American and an Australian resume. Staying in tune with the cultural differences of other nationalities can give you the cutting edge as an freelancer from your home country.
Put Yourself Out There
Now that you know the ins and outs of freelancing, it's time to jump into the job market. There's no need to feel intimidated because you likely already have a solid network of connections you can use as a starting point. Young people just starting their careers might not have access to such an extensive network, so use it to your advantage. You can also look for flexible jobs online or on your travels, giving you the chance to pull clients from various sources as you settle into your specialty.
Final Thoughts
You've worked hard to enjoy your retirement, and you shouldn't let financial worries get in the way of you achieving your dream. When you decide to freelance, you take control into your own hands. You'll no longer have to worry about travel expenses slowly eating into your pension or not being able to live the lifestyle you love.
Freelancing presents a unique opportunity for retirees to travel with financial freedom, so why not take advantage of this once-in-a-lifetime opportunity?
*Source pics via Unsplash – Andrew Neel & SK
*This article is for general informational purposes only. 50+ World does endorse any product or service providers, nor does it receive remuneration from them. Obtain expert advice – financial, legal, medical, industry-specific, etc. – from qualified practitioners about your unique situation.*