Remembering Author Anne Rivers Siddons
Southern blockbuster fiction author and best-selling novelist Anne Rivers Siddons (nee Sybil Anne Rivers) died on September 11, 2019 from lung cancer at the age of 83.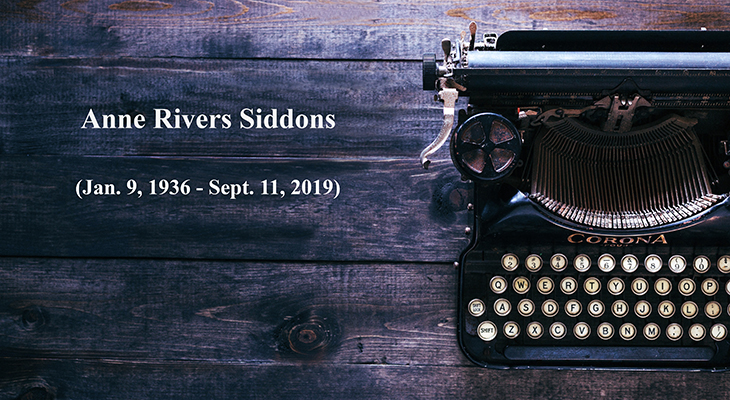 (Photo: Patrick Fore via Unsplash | Text: A. Hamilton / 50+ World)
According to AJC, she is survived by four stepsons and 3 step-grandchildren. Her beloved husband Heyward Siddons, and friend Pat Conroy both predeceased her.
Anne Rivers Siddons was born in Atlanta, George on January 9, 1936. An alumni of Auburn University (1954-1958) in Alabama, during her time there Anne Rivers wrote for the Auburn college newspaper. She was fired from the newspaper for promoting integration in her editorials. 
In 1959 Anne Rivers worked in advertising, first doing graphic design and layout, then began copywriting in 1961 for Citizens & Southern National Bank. From 1963-1967 she worked at Atlanta magazine as a writer and editor. She returned to advertising in 1967 and stayed with it until leaving in 1974, upon signing a book contract with Doubleday for her first book, the non-fiction John Chancellor Makes Me Cry (1974).
30 years later, her 1994 novel Downtown incorporated some of her own history and that time in Atlanta. Almost all of Anne Rivers Siddons books feature strong female lead characters, are set in the 1960's / Civil Rights era, and take place in southern states. On her website Q & A Siddons explains why:
"I lived in the epicenter of the civil rights movement and was a reporter during that time. I knew Dr. King and his lieutenants and besides, it was a time that literally changed the world we knew into something else."
In 1966 at the age of 30, Anne Rivers married a divorced 41-year-old father of 4, Heyward Siddons. Heywood was a former World War II B-29 navigator and proud Princeton University graduate turned writer and creative director. Although the couple did not have any children during their 48-year marriage, Anne was stepmother to Heyward's four sons with his first wife, Nancy.
Author Pat Conroy first met Anne and Heyward Siddons in 1973 when she was still working at Atlanta magazine, and a friendship of more than 40 years was born. Heyward Siddons died in April 2014, at age 88 an octogenarian senior citizen. Pat Conroy had this to say about the couple in an article on his website:
"They had sprung alive from the pages of an F. Scott Fitzgerald short story…Heyward, in his understated elegance and good taste, had fallen in love with Anne Rivers Siddons who was about to begin a career that would make her a household name among discriminating readers in America. By marrying Heyward, Annie had placed her destiny alongside one of the greatest readers she would ever encounter, her head cheerleader… The great, unseeable reward I received from watching the marriage of Heyward and Annie Siddons is to be a witness to the greatest love story it has been a privilege to watch."
Anne Rivers Siddons' first two published fiction books – Heartbreak Hotel (1976) and The House Next Door (1978) – have been made into movies: Heart of Dixie (1989) and the horror flick The House Next Door (2006). Heartbreak Hotel drew on her college experience and southern background. Since then, Anne Rivers Siddons has written another 17 novels. Six of these books were written since she became a senior citizen, including her most recent novel The Girls of August (2014).
As she approached her 50+ years, Anne Rivers Siddons battled severe depression during a 6-year gap between the publication of her third book Fox's Earth (1981) and her fourth book Homeplace (1987). In a 1998 interview with Alice Cary for BookPage, Siddons recounted being deeply depressed for 3 years, and credited a good therapist and finding the right prescription drug for her recovery and return to writing.
In 1998 Anne and Heyward Siddons moved from Atlanta, Georgia where Anne had lived for most of her life, to Charleston, South Carolina. The couple spent their summers in Brooklin, Maine in a home that had been in Heywood Siddons' family for many years. Anne Rivers Siddons was a septuagenarian when she was inducted into the Georgia Writers Hall of Fame in 2007. 
Note: This article was first published in 2016 under the title Celebrating Seniors – Author Anne Rivers Siddons is 80. It has been updated with new content.