May 11th Birthdays
If you were born on May 11th you share a celebrity birthday with these famous people: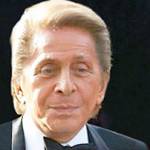 Valentino is 91 (nee Valentino Clemente Ludovico Garavani)

Italian fashion designer, founder Valentino SpA (Valentino Garavani, R.E.D. Valentino; Valentino Roma), designer for celebrities (Elizabeth Taylor, Jacqueline Kennedy Onassis), known for his homes, decor, and art collections, born May 11, 1932. (Valentino 2007 Photo: Georges Biard)
Eric Burdon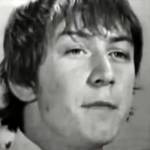 is 82
English songwriter, lead singer of War (Spill the Wine) and Rock & Roll Hall of Fame band Eric Burdon and the Animals (The House of the Rising Sun; Don't Let Me Be Misunderstood; Don't Bring Me Down; San Franciscan Nights; When I Was Young; It's My Life), born May 11, 1941. (Eric Burdon 1965 Hullabaloo)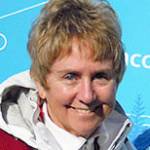 Nancy Greene is 80 (mother of Willy Raine)
Canada's Female Athlete of the 20th Century, Canadian women's apine ski champion, World Cup winner (1967-1968), 1968 Winter Olympics gold & silver medalist, and Conservative Member of Parliament since 2009, born May 11, 1943. (Nancy Greene 2010 Photo: US Embassy Canada)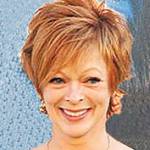 Frances Fisher is 71 (ex-partner of Clint Eastwood)
English-American actress of TV (Deborah Saxon on The Edge of Night; Strange Luck; Resurrection; Becker; Glory Days; Eureka; Guiding Light) & films (Wild America; True Crime; Titanic; The Lincoln Lawyer; Unforgiven; Patty Hearst; Laws of Attraction), born May 11, 1952. (Frances Fisher 2007: lukeford.net)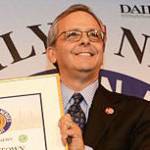 Mike Lupica is 71 (nee Michael Lupica)
American sports columnist (New York Daily News; Esquire Magazine; Golf Digest; Men's Journal; Travel + Leisure Golf), non-fiction writer, sports mystery novelist (Dead Air, Peter Finley series; No Slam Dunk), born May 11, 1952. (Mike Lupica 2013 Photo: Marc A. Hermann, MTA New York City Transit)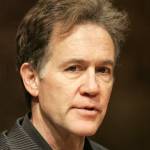 Boyd Gaines is 70
American actor of stage, TV (Mark Royer on One Day at a Time; Piece of Cake; L. A. Law; Angela's Eyes; Law & Order; Hotel), and movies (Second Best; Driving Miss Daisy; The Sure Thing; Call Me; Heartbreak Ridge; Porky's; The Confession; Fame), born May 11, 1953. (Boyd Gaines 2013 Photo: Eva Rinaldi) 
Roark Critchlow is 60

Canadian actor of TV (Dr. Mike Horton on Days of Our Lives & Friends; Pretty Little Liars; Dr. Ackland on Passions; V; The Bold and the Beautiful; Afterworld; Bordertown; Drake & Josh; 21 Jump Street; Joan of Arcadia; Arrow; Tin Star) and movies (Asylum Days; Buds For Life; Cadence), born May 11, 1963.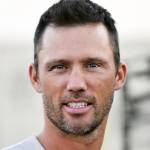 Jeffrey Donovan is 55
American actor of TV (Michael Westen on Burn Notice; Dwayne Collins on Another World; Crossing Jordan; Shut Eye; Fargo; The Beat), movies (Believe in Me; Come Early Morning; Sicario; Hitch), and martial arts expert, born May 11, 1968. (Jeffrey Donovan 2009 Photo: Edwin L. Wriston / US Navy)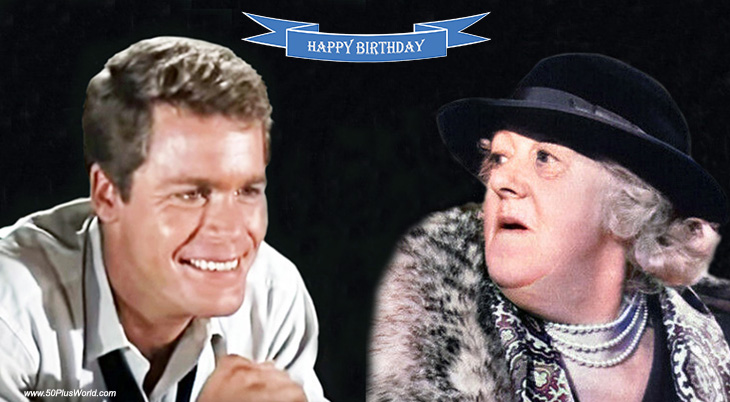 (Doug McClure 1966 Beau Geste | Margaret Rutherford 1963 The V.I.P.'s / MGM)
Happy Birthday to everyone celebrating their birthday on May 11th!
Remember These May 11th Famous Birthdays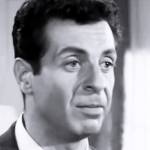 Mort Sahl (nee Morton Lyon Sahl; ex of China Lee)
Grammy Award-winning Canadian-American satirical comedian, writer, host & actor of stage, TV (The Merv Griffin Show; The Jack Paar Tonight Show; The Dick Cavett Show; The Hollywood Squares; What's My Line?), and movies (Johnny Cool; All the Young Men; In Love and War; Don't Make Waves; Max Rose) (born May 11, 1927 – died Oct. 26, 2021; age 94). (Mort Sahl 1960 Thriller)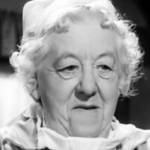 Margaret Rutherford (aka Dame Margaret Taylor Rutherford; "Miss Marple")
Oscar-winning British movie actress (Blithe Spirit; The Importance of Being Earnest; The V.I.P.s; The Mouse on the Moon; Arabella; Mad About Men; Murder at the Gallop; Murder Most Foul) (born May 11, 1892 – died May 22, 1972; age 80). Married Stringer Davis. Margaret Rutherford had Alzheimer's disease before she died. (Margaret Rutherford 1964 Murder Ahoy Trailer: MGM)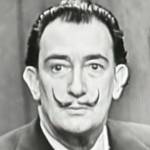 Salvador Dalí (nee Salvador Domingo Felipe Jacinto Dalí i Domènech)
Spanish cubist, futurist, and surrealist artist (Lobster Telephone), painter (The Persistence of Memory; The Elephants; The Madonna of Port Lligat; The Swallow's Tail), sculptor (Mae West Lips Sofa; Homage to Newton), and photographer (born May 11, 1904 – died Jan. 23, 1989; age 84). Married Gala (nee Elena Diakonova). (Salvador Dalí 1957 What's My Line?)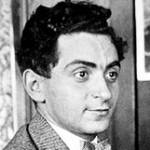 Irving Berlin (nee Israel Isidore Baline)

Academy Award-winning Russian-American lyricist & composer (Alexander's Ragtime Band; Easter Parade; White Christmas; Happy Holiday; Always; There's No Business Like Show Business; Puttin' On the Ritz; God Bless America; Blue Skies; A Pretty Girl is Like a Melody; Cheek to Cheek; What'll I Do) (born May 11, 1888 – died Sept. 22, 1989; age 101). (Irving Berlin 1906 Photo: Life)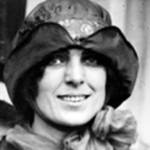 Harriet Quimby
National Aviation Hall of Famer, 1st American woman with a pilot certificate & to fly across the English Channel, silent film screenwriter, theatre critic & journalist (San Francisco Dramatic Review; Leslie's Illustrated Weekly) (born May 11, 1875 – died July 1, 1912; age 37). Harriet Quimby died when her airplane pitched & she was ejected. (Harriet Quimby 1911: Leslie R. Jones)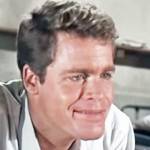 Doug McClure (ex of BarBara Luna)
American actor of TV (Trampas on The Virginian; Kyle X. Applegate on Out of This World; Checkmate; Barbary Coast) and movies (The King's Pirate; Nobody's Perfect; Beau Geste; Because They're Young; The Lively Set; Shenandoah; Gidget; The Land That Time Forgot) (born May 11, 1935 – died Feb. 5, 1995; age 59). Doug McClure died of lung cancer. (Doug McClure 1966 Beau Geste)
American actor of TV (Uncle Jesse on The Dukes of Hazzard; The Doris Day Show; Tammy; The Life and Times of Grizzly Adams; Gunsmoke; The Andy Griffith Show; Bonanza; The Rifleman) and movies (Tammy and the Millionaire; Return From Witch Mountain) (born May 11, 1920 – died Dec. 25, 1997; age 77). Denver Pyle died of lung cancer. (Denver Pyle 1961 Zane Grey Theater)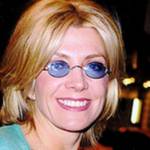 Natasha Richardson (married Liam Neeson; ex of Robert Fox)
English actress of stage & films (The Handmaid's Tale; Patty Hearst; Gothic; Fat Man and Little Boy; The Parent Trap; The Comfort of Strangers; Widows' Peak; Maid in Manhattan; Past Midnight; The White Countess) (born May 11, 1963 – died Mar. 18, 2009; age 45). Natasha Richardson died of an epidural hematoma from a skiing accident. (Natasha Richardson 1999: bucksboy)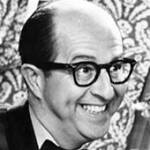 Phil Silvers (nee Philip Silver or Philip Silversmith; "The King of Chutzpah")
Tony Award-winning American comedian, actor of stage, TV (The Phil Silvers Show; The Beverly Hillbillies) & movies (It's a Mad, Mad, Mad, Mad World; A Funny Thing Happened on the Way to the Forum; Cover Girl; Top Banana; Racquet) (born May 11, 1911 – died Nov. 1, 1985; age 74). Ex of Jo-Carroll Dennison. (Phil Silvers 1958 The Phil Silvers Show Photo: CBS TV)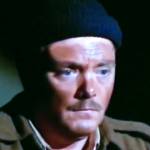 Bernard Fox (nee Bernard Lawson; nephew of Wilfrid Lawson)
Welsh actor of TV (Dr. Bombay on Bewitched, Tabitha, & Passions; Colonel Crittendon on Hogan's Heroes; Three Live Wires; General Hospital; Make Room for Daddy; The Andy Griffith Show) and movies (Munster, Go Home!; The Rescuers; The Mummy; Titanic) (born May 11, 1927 – died Dec. 14, 2016; age 89). Bernard Fox died of heart failure. (Bernard Fox 1966 12 O'Clock High)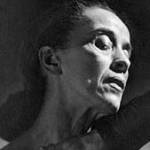 Martha Graham
American National Women's Hall of Fame modern dance choreographer, ballet dancer, creator of the Graham technique style of dance (Martha Graham School of Contemporary Dance; Martha Graham Dance Company) (born May 11, 1894 – died Apr. 1, 1991; age 96). Cause of death for Martha Graham was pneumonia. (Martha Graham 1948 Photo: Yousuf Karsh)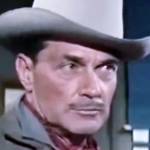 Kent Taylor (nee Louis William Weiss)
American actor of TV (Boston Blackie; Capt. Jim Flagg on The Rough Riders; Zorro; Hawaiian Eye) and movies (The Mysterious Rider; The Lady Fights Back; The County Chairman; I'm Still Alive; Ramona; White Woman; I'm No Angel; Sunset Pass) (born May 11, 1907 – died Apr. 11, 1987; age 79). Kent Taylor died of heart surgery complications. (Kent Taylor 1961 The Purple Hills)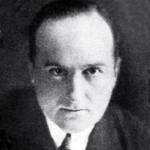 Albert Parker 
American film actor, producer & director (Sherlock Holmes; Arizona; Murder in the Family; American Aristocracy; In Again, Out Again; Late Extra; Second Youth; The Haunted House; The Branded Woman; Troubled Waters; The Riverside Murder; The Rejected Woman; The Black Pirate; The Love of Sunya) (born May 11, 1885 – died Aug. 10, 1974; age 89) (Albert Parker 1926)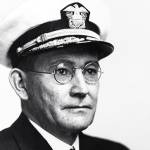 Willis Augustus Lee (aka Vice Admiral "Ching" Lee; grandson of Nat Lee)
American marksman, 1907 US National High Power Rifle Champ & Pistol Champ, 1920 Antwerp Summer Olympic Games 7X team events medalist (5 gold, 1 silver, 1 bronze), U.S. Navy officer & ship commander (destroyers, battleships), WWII Commander of Battleships Pacific Fleet (Navy Cross) (born May 11, 1888 – died Aug. 25, 1945; age 57). (Willis Augustus Lee 1942)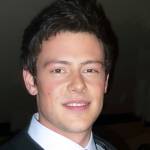 Cory Monteith (partner of Lea Michele)
Canadian musician (drummer), singer & actor of TV (Finn Hudson on Glee; Gunnar on Kaya; Charlie Tanner on Kyle XY) and movies (All the Wrong Reasons; Monte Carlo; Sisters & Brothers; Wannabe Macks; McCanick) (born May 11, 1982 – died July 13, 2013; age 31). Cory Monteith died of an accidental mixed drug toxicity (alcohol & heroin). (Cory Monteith 2010: Greg Hernandez)
*Images are public domain or Creative Commons licensed & sourced via Wikimedia Commons, Vimeo, or Flickr, unless otherwise noted*