Kirk Douglas Movies, Memoirs Before I Forget (1986-2017)
Kirk Douglas is 100, Part 3 of 3
Kirk Douglas continued acting in feature films as a new senior citizen. He appeared in the drama The Man from Snowy River (1982) with Tom Burlinson. The following year, Kirk Douglas played a Holocaust survivor that travels to Israel for a reunion, in Remembrance of Love. His co-stars in Remembrance of Love included Robert Clary (Hogan's Heroes) and Pam Dawber. The TV drama Amos (1985) was set in a nursing home and produced by his company Bryna Productions. Douglas' co-stars in Amos were Elizabeth Montgomery (Bewitched), Dorothy McGuire, James Sloyan, and Ray Walston (My Favorite Martian). 
Tough Guys (1986) was the last of 7 movies for frequent co-stars Kirk Douglas and Burt Lancaster. They play two elderly gangsters released from prison in Tough Guys, supported by actor Charles Durning in his third movie with Kirk Douglas. Tough Guys was one of the last movies to be produced by Bryna Productions. 
New septuagenarian senior citizen Kirk Douglas appeared in the TV mini-series Queenie (1987). His Queenie co-stars included veteran actors Joss Ackland, Claire Bloom, Joel Grey, Sarah Miles, Mia Sara, Topol, and Martin Balsam. Martin Balsam and Douglas had last acted onscreen together over 20 years earlier in in 1964's Seven Days in May.
Douglas was once again on social terms with the President of the United States, now Ronald Reagan. Below, Anne and Kirk Douglas with President Ronald Reagan in 1987 at the Eldorado Country Club in Rancho Mirage, California.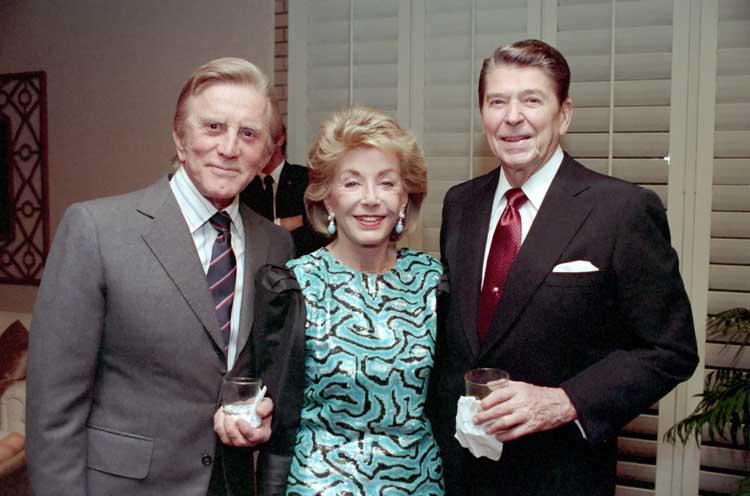 (Photo: White House Photographers | Wikimedia Commons / Public Domain)
Other film projects of note for Kirk Douglas in his septuagenarian senior years were:
Inherit the Wind (1988), a TV movie co-starring Jason Robards, Darren McGavin, Megan Follows, Kyle Secor, and Jean Simmons. Jean Simmons and Kirk Douglas had last co-starred in his 1960 epic Spartacus, 28 years earlier; they had remained friends off-screen. 
A guest-starring appearance in a 1991 episode of Tales from the Crypt, with his youngest son Eric Douglas, Lance Henriksen, and Dan Aykroyd.
The Secret (1992), a TV drama about a grandfather (Kirk Douglas) and his grandson, who both struggle with dyslexia. The Secret co-stars Bruce Boxleitner, Laura Harrington, and Richard Donat.
Greedy (1994), a comedy co-starring Michael J. Fox and featuring Kirk Douglas as his rich old Uncle Joe.
Kirk Douglas began writing memoirs as a septuagenarian senior, beginning with his first autobiography, The Ragman's Son (1988); followed by his second memoir Dance With the Devil (1990). After being injured in a February 1991 helicopter crash that was fatal for the two passengers in a plane it collided with, Kirk Douglas embraced his Jewish faith; he later chronicled this journey in another memoir Climbing the Mountain: My Search for Meaning (2001).
In his earlier autobiography, The Ragman's Son (1988), he recalled, "Years back, I tried to forget that I was a Jew," but later in his career he began "Coming to grips with what it means to be a Jew," which became a theme in his life. Other books written by Kirk Douglas during the 1990's include The Gift (1992) and Last Tango in Brooklyn (1994).
In January 1996 Kirk Douglas suffered a severe stroke that impaired his speech. Undeterred, he began what would eventually become years of voice and speech therapy, which was partially successful. Two months later, he accepted an Honorary Academy Award in March 1996 "for 50 years as a creative and moral force in the motion picture community", and was able to thank the audience. He has said his subsequent memoir My Stroke of Luck (2003) was meant to be a guide to help families support someone who has had a stroke. 
Kirk Douglas closed out 1996 celebrating his 80th birthday and became a new octogenarian senior citizen. Three years later, he made a return to the big screen. He was an elderly former prizefighter taking speech lessons while recovering from a stroke, in the mystery-comedy movie Diamonds (1999). Diamonds was a reunion onscreen for Kirk Douglas and Lauren Bacall, his longtime friend since the 1940's. Other co-stars in Diamonds included Dan Aykroyd, Kurt Fuller, and John Landis. Below, the Diamonds movie trailer from Lionsgate features Kirk Douglas, Dan Aykroyd, Corbin Allred, Jenny McCarthy, and Lauren Bacall.
The romantic family comedy It Runs in the Family (2003) co-starred Kirk Douglas, his son Michael Douglas, grandson Cameron Douglas, and his ex-wife Diana Douglas. It Runs in the Family was produced by sons Michael and Joel Douglas. Diana Douglas had remarried (twice) after divorcing Kirk Douglas; she was a 92-year-old nonagenarian senior citizen when she died in July 2015.
Illusion (2004), a romantic drama co-starring Michael A. Goorjian and Bryan Cranston, was the last feature film for Kirk Douglas. In Illusion he plays an aging former movie director nearing death. That same year, Kirk and his wife Anne Douglas lost their 46-year-old youngest son Eric Douglas, who died from an accidental drug overdose.
Since becoming a nonagenarian senior citizen in 2006, Kirk Douglas has continued to write, with 11 books (mostly memoirs) published, as well as two children's books. His last appearance onscreen was in the TV crime docu-drama Empire State Building Murders (2008). Empire State Building Murders features many Golden Ager Hollywood icons, with Cyd Charisse, Anne Jeffreys, and Marsha Hunt making appearances, and archive footage cameos of former co-stars such as Lizabeth Scott and Lauren Bacall. His friend Lauren Bacall was herself a long-lived 89-year-old octogenarian senior when she died from a stroke in August 2014.
The last project from Bryna Productions was the documentary Kirk Douglas: Before I Forget (2009), based on 4 performances of his autobiographical one-man show performed by Kirk Douglas in 2009.
In May 2016, Kirk Douglas and his wife Anne celebrated their 62nd wedding anniversary, and on December 9, 2016, he became a centenarian on his 100th birthday. He told Closer Weekly that "I am always asked for advice on living a long and healthy life. I don't have any. I do believe, however, that we have a purpose for being here. I was spared after a helicopter crash and a stroke to do more good in the world before I leave it," a reference to his ongoing support of various causes. With over 90 film credits, he has amassed a legacy that fans and film buffs can enjoy in the years to come. 
Previously:
Kirk Douglas is 100, Part 1: Kirk Douglas, His Lust for Life (1916-1958)
Kirk Douglas is 100, Part 2: Kirk Douglas, Spartacus Ends Blacklist (1959-1985)