Celebrating Seniors - Clu Gulager is 88, Part 1
Clu Gulager, Part 1: From The Virginian to The Last Picture Show (1928-1971)
Director and actor Clu Gulager was born William Martin Gulager on November 16, 1928 in Holdenville, Oklahoma and turns 88 in 2016.
 (Clu Gulager 1959 The Lawless Years Screenshot)
Clu Gulager comes from a long line of entertainers; his father John Gulager had been a Broadway actor, and Clu was a first cousin to cowboy humorist and actor Will Rogers on his father's side. It was his father John that nicknamed him Clu for the martins (clu-clu birds in Cherokee) that nested by their home when he was born, and Clu has Cherokee ancestors. 
Gulager told the Muskogee Phoenix that he grew up in Muskogee, Oklahoma (on his uncle's farm) and attended Longfellow Elementary School, appearing on stage in elementary school plays. 
"When I grew up we used to go to the Broadway Theater and see Gene Autry and Smiley Burnette…They came to the theater to entertain us. I believed them. So, when I grew up, I became a cowboy." 
Gulager played the French horn in his high school band. He told TRUEWEST that after graduating from high school at age 17 he enlisted and played the solo French horn for the U.S. Marine Corps band during his 19-month service at Camp Pendleton (1946-1948). He also began acting in plays while in the Marines, and told the Holdenville Tribune that he would go to Hollywood on weekends and study acting with a shoe salesman. When Gulager's tour was over in 1948 thanks to a Marines early release program, he made use of the G.I. Bill of Rights to attend post-secondary school.  
Clu Gulager's university career began at Northeastern State University in Tahlequah, Oklahoma, but ended at Baylor University in Waco, Texas. Clu Gulager received a BM from Baylor University in 1951.
He told interviewer David Del Valle that he met fellow student and singer-actress Miriam Byrd-Nethery (c 1950), and acted with her in a production of One Touch of Venus. Before 1952 was over, Clu Gulager had married Miriam Byrd-Nethery. Baylor Magazine records that both Miriam and Clu Gulager appeared on film in a Baylor production of A Different Drummer directed by Paul Baker (another mentor for Gulager). A Different Drummer was aired on the TV series Omnibus in 1955. Gulager told the Holdenville Tribune that he won a scholarship to study abroad, and went to England and then Paris, France to be mentored by actor and director Jean Louis Barrault. He returned to the U.S. and graduated from Baylor University with a BA in 1956. 
At Baylor, Miriam and Clu Gulager performed in a stage production of Hamlet, then moved to New York to find work in television. One of Clu Gulager's earliest film acting credits is in an episode of The United States Steel Hour in 1956, co-starring with Barbara Babcock, Paul Newman, and George Peppard (Banacek). He would work again with Barbara Babcock 40 years later, in a 1996 episode of Dr. Quinn, Medicine Woman starring Jane Seymour, Joe Lando, and Orson Bean. 
During his time in New York, Gulager also worked with actors Richard Boone, Martin Balsam, and John Forsythe in an episode of Goodyear Playhouse (1956).
Miriam and Clu Gulager's son John Gulager was born in December 1957. When television production shifted from New York to sunny California, Miriam, baby John, and Clu Gulager moved back to Oklahoma for a while. Gulager worked day jobs for the Highway Department, radio stations, and produced plays at a local theatre. 
In 1959, Clu Gulager travelled to Hollywood to visit his friend Richard Boone, who had moved there and now had a top-ranked TV show, Have Gun Will Travel. A guest-starring role on Have Gun Will Travel was followed by a contract with Universal and a flood of more episodic television work.
In 1959-1960 alone, Clu Gulager appeared in episodes of TV series that included:
Playhouse 90 with Eddie Albert and Dyan Cannon.
Westinghouse Desilu Playhouse with James Gregory (Barney Miller), Joseph Cotton, and Sebastian Cabot (Family Affair).
The Untouchables with Robert Stack; Gulager's performance as mob killer Vincent "Mad Dog" was critically acclaimed. 
Five Fingers with David Hedison.
Riverboat with Darren McGavin, Burt Reynolds. 
2 episodes of The Deputy starring Henry Fonda and Denver Pyle.
Whispering Smith starring Audie Murphy; this was Audie Murphy's only television series.
The Defenders with Robert Reed. Robert Reed and Clu Gulager later both guest-starred on an episode of Mannix starring Mike Connors in 1973.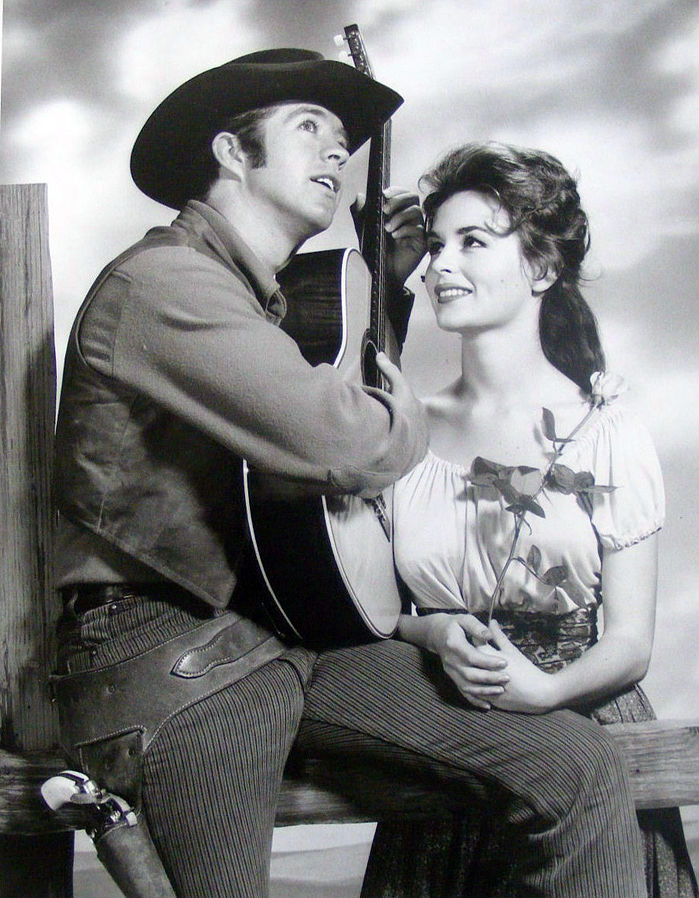 (Clu Gulager as Billy the Kid & Marianna Hill 1960-1962 The Tall Man Photo: NBC Television)
Gulager guest-starred 5 times on the popular baby boomer series Wagon Train between 1959 and 1964, appearing with other guest stars Louise Fletcher, Debra Paget, Henry Darrow, and Robert Fuller. Robert Fuller and Clu Gulager had worked together in a 1959 episode of Laramie, and a life-long friendship was been born. 
From 1960-1962, Clu Gulager co-starred as Billy the Kid on 75 episodes of the western series The Tall Man, opposite veteran actor Barry Sullivan as Sheriff Pat Garrett. Interestingly, both future President Ronald Reagan and First Lady Nancy Reagan guest-starred on The Tall Man. 
In A History of Television's The Virginian, 1962-1971 by Paul Green, Frank Price said:
"I got to know Clu very well when I produced The Tall Man. I thought he was a terrific actor. Additionally he became a social friend. However, Clu could be extremely difficult to work with…Ultimately, I came to the conclusion that the more successful Clu became, the more difficult he became. Perhaps, psychologically, he did not want success. His difficult behaviour helped get The Tall Man cancelled." 
Clu Gulager's first feature film role was as the hitman Lee, protege of co-star Lee Marvin's hitman character, in Universal's The Killers (1964). His co-stars in The Killers were Ronald Reagan, Angie Dickinson, Claude Akins and Norman Fell. Below, Lee Marvin in shades, with Clu Gulager as the ultimate cool hitmen in The Killers.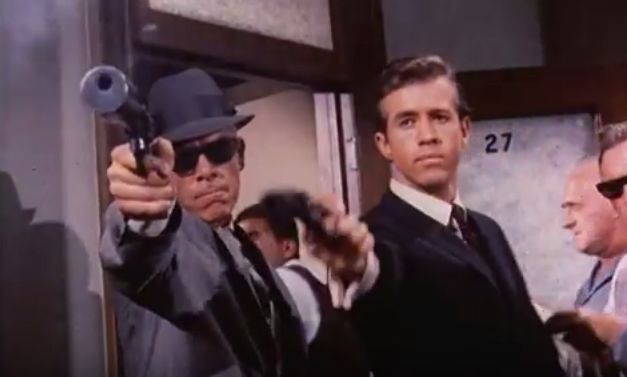 (1964 The Killers Movie Trailer) 
During the 1960's, episodic TV work for Clu Gulager included guest-starring on The Survivors in 1969. The Survivors starred Lana Turner, Kevin McCarthy, George Hamilton, Jan-Michael Vincent, Diana Muldaur, and Ralph Bellamy. Gulager would work with most of these actors again, including Jan-Michael Vincent when Gulager guest-starred on Airwolf in 1986, 17 years later.
More movie and television work followed for Clu Gulager, but perhaps the role that baby boomer fans will remember him best in is that of Deputy Sheriff Emmett Ryker on the hugely popular western series The Virginian, starring James Drury and Doug McClure. The Virginian aired for 90 minutes each week, and was the third-longest lived western series, behind Gunsmoke and Bonanza. Gulager had guest-starred on 2 episodes of The Virginian in 1963 as different characters, before becoming a regular cast member of the series from 1964-1968.
"I was broke when I stepped onto The Virginian. I had to ask Frank Price, who ran it, for a job. He fired an actor off the set and hired me. Had I known he had fired someone, I would not have accepted the job." – Clu Gulager, in True West Magazine
"I added Clu Gulager to The Virginian because I wanted to keep him working and I thought he had a very good chance to develop into a major star." – Frank Price, True West Magazine
Gulager missed the first half of Season 5 of The Virginian due to a financial contract dispute.
Below, The Virginian cast clockwise from top left: Roberta Shore (Betsy Garth), Clu Gulager (Deputy Sheriff Emmett Ryker), Doug McClure (Trampas), Randy Boone (ranch hand), James Drury (The Virginian), and Lee J. Cobb (Judge Garth).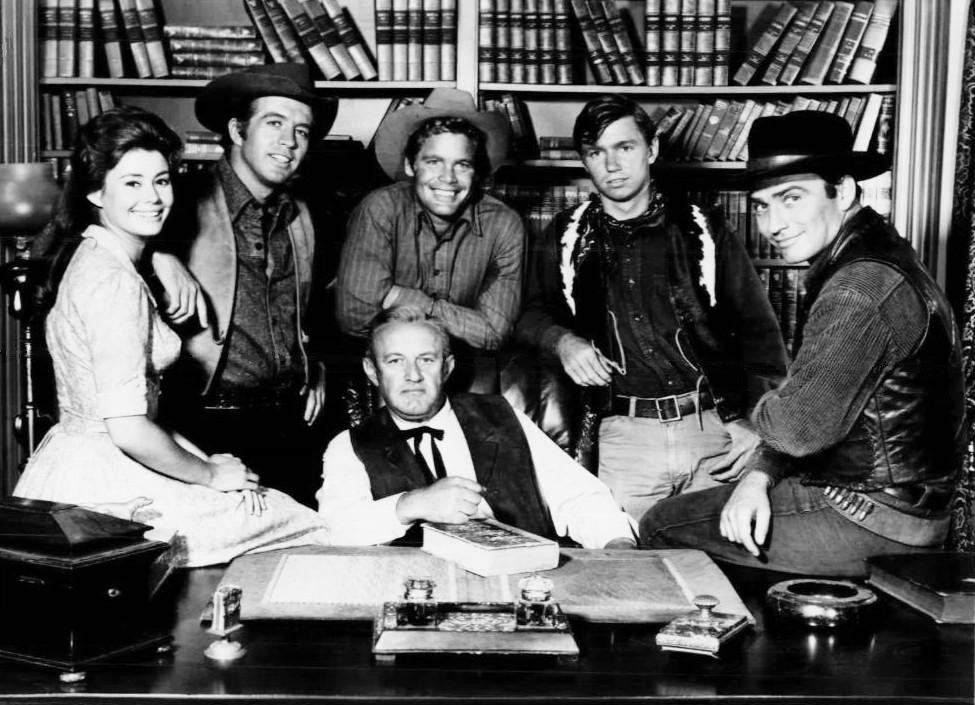 (The Virginian Cast 1964 Photo: NBC Television)
Clu Gulager worked with his The Virginian co-stars James Drury and Doug McClure again, many years later: 
Tapeheads (1988) musical comedy feature film starring John Cusack, Tim Robbins, Mary Crosby, Jessica Walter, Connie Stevens, and Doug McClure.
In 1995, James Drury and Clu Gulager were reunited onscreen in an episode of actor David Carradine's series Kung Fu: The Legend Continues. Gulager had guest-starred on David Carradine's original Kung Fu series in 1973, in an episode with John Anderson, and David Carradine had been one of the large cast along with Clu Gulager in the mini-series North and South, Book II in the 80s.
Miriam and Clu Gulager's youngest son Tom Gulager was born in July 1965, while Clu was still a regular on The Virginian. 
Clu Gulager guest-starred on 3 episodes of Ironside from 1968-1973 starring Raymond Burr (Perry Mason), in episodes with Steve Forrest. He later appeared on an episode of The Wild World of Mystery with Steve Forrest. 
Gulager played 3 different characters on 3 episodes of The Name of the Game between 1969-1970. The Name of the Game starred Robert Stack and Susan Saint James, and Gulager appeared in episodes with fellow guest stars Hal Holbrook, Jack Klugman, Ben Murphy, and Ed Asner. Gulager had also guest-starred on Robert Stack's previous series The Untouchables in 1959; and did so again on yet another Robert Stack series in 1976, Most Wanted.
In the car-racing feature film Winning (1969), Clu Gulager was reunited with Paul Newman, his co-star from a 1956 episode of The United States Steel Hour). Their co-stars in Winning were Robert Wagner, Joanne Woodward, and Richard Thomas. Richard Thomas and Clu Gulager later co-starred again in the biographical TV movie Living Proof: The Hank Williams, Jr. Story (1983) with Jay O. Sanders and Christian Slater. 
Clu Gulager wrote, directed and produced the short drama A Day with the Boys (1969), with his son John Gulager in the cast. 
Gulager worked steadily in the 1970's on television and in feature films. Notable episodic television work for Clu Gulager in the 1970's included roles in popular baby boomer TV series like The F.B.I., Hawaii Five-O, and with familiar actors such as Kim Basinger, Bradford Dillman, Loretta Swit, and Carl Reiner.
Clu Gulager played Bob Hatten in the pilot-turned-series San Francisco International Airport (1970) with co-stars Beth Brickell (Gentle Ben), Pernell Roberts (Trapper John, M.D.), Van Johnson, David Hartman,  and Lloyd Bridges (Sea Hunt). Gulager co-starred again on television productions with Pernell Roberts, Van Johnson, David Hartman, and Lloyd Bridges: 
Van Johnson and Clu Gulager both co-starred in the TV thriller Company of Killers (1971) with Ray Milland, and John Saxon; and in the TV miniseries Black Beauty (1978) co-starring Edward Albert, Peter Breck, William Devane, and Diane Ladd. In Black Beauty, Gulager was reunited after almost 20 years with actor Peter Breck, whom he had last worked with when he guest-starred on Black Saddle in 1959.
Gulager guest-starred twice David Hartman's series The Bold Ones in 1972, in episodes with Don Johnson (Miami Vice) and John Saxon.
Lloyd Bridges was one a large cast of co-stars in the miniseries North and South, Book II (1986). In North and South, Book II Clu Gulager was General Philip Henry Sheridan; his other co-stars included Kirstie Alley and her then-husband Parker Stevenson; David Carradine, Philip Casnoff, Mary Crosby, Lesley-Anne Down, Johathan Frakes and his wife Genie Francis (General Hospital), James Read, Olivia de Havilland, Linda Evans (Dynasty), Morgan Fairchild, Hal Holbrook, Lee Horsley, Nancy Marchand, Wayne Newton, and Anthony Zerbe. 
Pernell Roberts co-starred in the TV movie Charlie Cobb: Nice Night for a Hanging (1977). In Charlie Cobb: Nice Night for a Hanging, Clu Gulager starred as title character, Private Detective Charlie Cobb. Also in the cast were Ralph Bellamy, Blair Brown and Stella Stevens, all of whom would work with Clu Gulager more than once.
Vincent Van Patten and Clu Gulager appeared as guest-stars in the same episodes of Bonanza with Tim Matheson; and in Three For the Road with Leif Garrett.
On Mod Squad starring Peggy Lipton, Michael Cole, Clarence Williams III, and Tige Andrews, Gulager guest-starred in an episode with Beverly McKinsey (Another World, Texas). Tige Andrews and Clu Gulager later appeared in the same episode of Street Hawk starring Rex Smith, in 1985. 
When Clu Gulager guest-starred on 3 episodes of Cannon between 1971-1975, Monte Markham, Joan Van Ark (Knots Landing), Mark Hamill, Robert Hogan, and Julie Adams were among his co-stars. Gulager had guest-starred on The New Perry Mason starring Monte Markham as Perry Mason in 1973, before he worked with him in 1975 on Cannon. Mark Hamill and Gulager appeared in the same 1975 episode of Streets of San Francisco with Michael Douglas and fellow guest star Anthony Geary; Anthony Geary and Gulager also both guest-starred in the same episode of Barnaby Jones with Lee Meriwether. 
Clu Gulager co-starred in the feature film The Last Picture Show (1971). He co-starred with Timothy Bottoms, Jeff Bridges, Cloris Leachman, and actress Cybill Shepherd, who was involved with the movie's director Peter Bogdanovich. This made for an uneasy time when filming The Last Picture Show scene where Gulager's character Abilene has sex with Shepherd's character Jacy Farrow on a pool table.Other The Last Picture Show co-stars in included Ellen Burstyn and Randy Quaid.
This scene from The Last Picture Show featuring Timothy Bottoms, Cybill Shepherd, Jeff Bridges, Ellen Burstyn (as Jacy's mom) and Clu Gulager.
Gulager and some of his The Last Picture Show co-stars worked together before or after the movie:
Gulager guest-starred on Cybill Shepherd's series The Yellow Rose in 1984, along with David Soul, Edward Albert, and Chuck Connors.
He had first worked with Ellen Burstyn and Tina Louise (Gilligan's Island) in an episode of Kraft Suspense Theatre in 1964.
Gulager guest-starred on Cloris Leachman's series Phyllis in 1976, and they were both in the movie Willa (1979)
*Images are public domain or Creative Commons licensed & sourced via Wikimedia Commons, Vimeo, YouTube, or Flickr, unless otherwise noted*
Next: Clu Gulager, Part 2: TV Movies, Into the Night, and Horror Films (1972-2016)