Celebrating Seniors - Clu Gulager is 88, Part 2
Clu Gulager, Part 2: TV Movies, Into the Night, and Horror Films (1972-2016)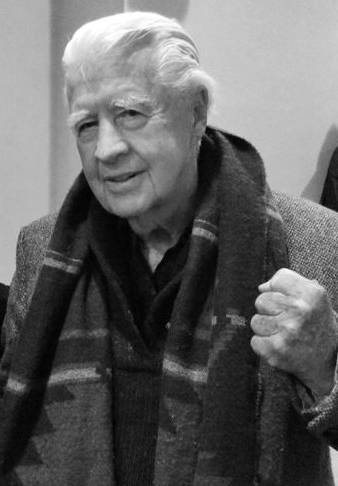 Octogenarian senior citizen Clu Gulager was born on November 16, 1928 and turns 88 in 2016.
In 2 episodes of Police Story in the 1970's starring Kurt Russell, Clu Gulager's fellow guest-stars included Gary Collins, Andrew Stevens, Danny Bonaduce (The Partridge Family), Tim O'Connor (Peyton Place), Michael O'Keefe, and Edd Byrnes (77 Sunset Strip). 
Gary Collins and Clu Gulager were co-stars again in the TV movie Houston, We've Got a Problem (1974). Houston, We've Got a Problem was a drama about Apollo 13 starring Robert Culp, with Sandra Dee, Ed Nelson, and Steve Franken in the cast.  
(Clu Gulager 2015 Photo: Michael Bugard | Wikimedia CC 2.0)
Clu Gulager guest-starred in two Rod Taylor TV series – The Oregon Trail (1977), in an episode with Andrew Stevens and Kevin McCarthy; and Masquerade (1984), in an episode with Kirstie Alley, Greg Evigan, and Gregory Sierra. 
Clu Gulager and Mariette Hartley worked together on 3 television productions in the 1970's. In the first, the Walt Disney comedy-thriller TV movie Mystery in Dracula's Castle (1972), their co-star was child actor Johnny Whitaker; baby boomers and their parents loved the movie. In 1975 they both guest-starred on an episode of McCloud, and the following year Mariette Hartley and Clu Gulager co-starred in the TV thriller The Killer Who Wouldn't Die (1976). Their co-stars in The Killer Who Wouldn't Die included Mike Connors, Patrick O'Neal and James Shigeta. 
Diana Muldaur and John Anderson were frequent co-stars with Clu Gulager. Diana Muldaur and Clu Gulager had appeared on an episode of The Survivors in 1969, and in an episode of Ellery Queen with George Maharis and James Shigeta in 1976. Clu Gulager, Diana Muldaur, and John Anderson were all in the TV movies Call to Danger (1973) with Peter Graves (Mission: Impossible) and Tina Louise (almost 20 years after Gulager first co-starring Tina Louise in a 1954 episode of Kraft Suspense Theatre); and Smile Jenny, You're Dead (1974) with Jodie Foster. Clu Gulager and Diana Muldaur were in the John Wayne feature film McQ (1974), along with Eddie Albert, who had co-starred with Gulager 15 years earlier in a 1959 episode of Playhouse 90; and Colleen Dewhurst, would later appear in the same 1982 Quincy, M.E. with Gulager. John Anderson and Clu Gulager were also in the 1972 western feature film Molly and Lawless John (1972) starring Vera Miles and Sam Elliott.  
The TV movie Hit Lady (1974) saw Clu Gulager co-starring with Yvette Mimieux, Joseph Campanella, and Dack Rambo (Dallas). Yvette Mimieux and Gulager had worked together before, on a two-part episode of the popular baby boomer series Dr. Kildare in 1964 starring Richard Chamberlain.
The star-studded television miniseries Once An Eagle (1976) was a hit with baby boomers, and had Clu Gulager co-starring with actors such as Glenn Ford, Amy Irving, Jane Elliott, Hayden Rorke, James Cromwell, Tom Reese, Lynda Day George, Juliet Mills, Ron Masak, and Melanie Griffith. Once An Eagle brought Gulager together with several actors he had worked with previously (or would work with again), such as: 
John Anderson – Molly and Lawless John (1972); a Kung Fu episode in 1973; Call to Danger (1973); Smile Jenny, You're Dead (1974).
Sam Elliott – Molly and Lawless John (1972).
Ralph Bellamy – The Survivors in 1969; Charlie Cobb: Nice Night for a Hanging in 1977; and the miniseries Space in 1985.
Robert Hogan – an episode of Cannon in the 70s.
John Saxon – Company of Killers (1971); an episode of The Bold Ones in 1972. 
James Shigeta – The Killer Who Wouldn't Die (1976); an episode of Ellery Queen in 1976.
Barry Sullivan – his co-star in The Tall Man series from 1960-1962
Andrew Stevens – a Police Story episode in the 70s; an episode of The Oregon Trail in 1977.
Anthony Zerbe – North and South, Book II (1986)
Other notable films for Clu Gulager in the 1970's include The Glass House (1972), a TV drama with Alan Alda and Billy Dee Williams; and the feature film The Other Side of Midnight (1977), a romantic thriller co-starring Susan Sarandon and Michael Lerner. The feature film A Force of One (1979) starred Jennifer O'Neill and Chuck Norris; in 1984, Gulager and O'Neill reunited when he guest-starred on her TV series Cover Up with Richard Anderson and Henry Darrow. 
Clu Gulager had was kept busy in his 50+ years, working constantly on television and the movies. In 1978 alone, Clu Gulager could be seen by his senior citizen and baby boomer fans in 4 TV movies and 2 miniseries – Black Beauty, and King (1978) co-starring with Cicely Tyson and Tony Bennett. 
Gulager's 4 TV films in 1978 included Lawman Without a Gun (1978) starring Louis Gossett Jr.; A Question of Love (1978) starring Gena Rowlands, Jane Alexander, Ned Beatty, Bonnie Bedelia, and Nancy McKeon; and Ski Lift to Death (1978) starring Deborah Raffin and Veronica Hamel.
Clu Gulager appeared in 2 more movies with Deborah Raffin – Willa (1979) with Diane Ladd (a co-star from the 1978 mini-series Black Beauty), Nancy Marchand (a co-star in North and South, Book II), Cloris Leachman, and Gary Grubbs; and Touched by Love (1980) with Diane Lane and Michael Learned.
The MacKenzies of Paradise Cove /Wonderland Cove (1979) was a 6-episode TV series that starred Clu Gulager as a bachelor in Hawaii.
Some of 50+ Clu Gulager's 1980's episodic television work that baby boomer fans may have caught include episodes of CHiPs, as well as:
Cutter to Houston with Alec Baldwin and Shelley Hack.
Medical Story with Shelley Fabares and Michael Callan; Michael Callan also appeared in an episode of Automan with Clu Gulager and Desi Arnaz Jr.
The Master starring Lee Van Cleef, Timothy Van Patten, with Claude Akins and Demi Moore.
Riptide starring Perry King and Joe Penny.
Magnum, P.I. starring Tom Selleck.
In 3 appearances on The Fall Guy between 1982-1986 starring Lee Majors, Heather Thomas, and Markie Post, Clu Gulager appeared in episodes with James Naughton and Lou Ferrigno.
Simon & Simon starring Gerald McRaney, Jameson Parker, and Tim Reid.
Clu Gulager guest-starred 3 times on Murder, She Wrote starring Angela Lansbury and Noah Beery Jr., between 1985-1987. He appeared in episodes with Stella Stevens, Norman Fell, Roy Thinnes, Eileen Brennan, Ed Nelson, and Jane Powell. Gulager had first worked with Roy Thinnes when he appeared on Thinnes' series The Psychiatrist in 1971; and with Stella Stevens in the 1977 TV movie Charlie Cobb: Nice Night for a Hanging.
MacGyver starring Richard Dean Anderson in 1988.
Notable feature films, made-for-TV movies and TV miniseries of the 1980's for Clu Gulager include:
Kenny Rogers as The Gambler (1980) with Kenny Rogers and Bruce Boxleitner.
Skyward (1980), a TV drama starring Bette Davis, Howard Hesseman, Marion Ross, and Rance Howard.
Chattanooga Choo Choo (1984) a feature film comedy starring Barbara Eden, George Kennedy, Joe Namath, and Christopher McDonald. George Kennedy and Clu Gulager also appeared in Uninvited (1988), a direct-to-video horror movie.
12 years after appearing together in the western movie Molly and Lawless John (1972), Vera Miles and Clu Gulager would co-star in the horror flick The Initiation (1984), with Daphne Zuniga and James Read (Remington Steele).
Into the Night (1985) was a big-budget comedy-thriller from John Landis starring Jeff Goldblum, Michelle Pfeiffer, Dan Aykroyd, and David Cronenberg. Into the Night featured Clu Gulager as an FBI agent.
Clu Gulager was reunited with actor Martin Balsam, whom he had first worked with in New York in an episode of Goodyear Playhouse in 1956, 29 years later in the miniseries Space (1985). Space had an all-star cast that included James Garner, Susan Anspach, Blair Brown (another co-star from 1977's Charlie Cobb: Nice Night for a Hanging), Bruce Dern, Harry Hamlin, Michael York, Beau Bridges, and Christina Pickles.
I'm Gonna Git You Sucka (1988), an action comedy starring Keenan Ivory Wayans. 
My Heroes Have Always Been Cowboys (1991), a western drama starring Scott Glenn, Kate Capshaw, Gary Busey, Clarence Williams III, and Mickey Rooney.  
Clu Gulager made several movies with his wife Miriam Byrd-Nethery, including the thriller Lies (1985) co-starring Bruce Davison; and the drama Summer Heat (1987) starring Lori Singer and Kathy Bates. 
By 1988, Clu and his family had moved back to Oklahoma (with a side stop in Waco, Texas) and focused on independent films, primarily in the horror or horror-comedy genre – often with his sons (Tom and John Gulager), and/or his wife Miriam, such as:
The Return of the Living Dead (1985) starring Clu Gulager, with James Karen. James Karen and Clu Gulager worked together again on the horror-comedy feature film The Willies (1990), co-starring Sean Astin. The movie clip above from The Return of the Living Dead features Clu Gulager, James Karen, Don Calfa, and Thom Mathews.
A Nightmare on Elm Street 2: Freddy's Revenge (1985) starring Robert Englund, with Hope Lange (The Ghost and Mrs. Muir).
Terror at London Bridge (1985) starring David Hasselhoff, Stepfanie Kramer, Randolph Mantooth (Emergency!), Adrienne Barbeau (Maude); that same year, Clu Gulager guest-starred in David Hasselhoff's series Knight Rider, co-starring Edward Mulhare.
The Hidden (1987) starring Kyle MacLachlan and Michael Nouri.
From a Whisper to a Scream (1987) starring Vincent Price, Terry Kiser, with Clu Gulager's wife Miriam Byrd-Nethery also in the cast. 
In 1993 Clu Gulager turned 65; he has been semi-retired during his senior citizen years. Gulager did come out of retirement to co-star in the TV action movie In the Line of Duty: Ambush in Waco (1993), starring Tim Daly, Debra Jo Rupp, and Dan Lauria (The Wonder Years). Gulager's wife Miriam Byrd-Nethery and daughter-in-law Diane Ayala Goldner (married to his son John Gulager) also played minor roles in In the Line of Duty: Ambush in Waco. 
Clu Gulager guest-starred on an episode of Walker, Texas Ranger in 1995 starring Chuck Norris, Sheree J. Wilson, and John Vernon; this was a reunion for Chuck Norris and Gulager, who had both appeared in the movie A Force of One (1979) 18 years earlier.
Since becoming a septuagenarian senior citizen in 1998, Clu Gulager's feature films and shorts almost exclusively involved his wife Miriam and/or sons (Tom and John Gulager). He came out of retirement at their request to appear in Gunfighter (1999), a western starring Robert Carradine and Martin Sheen, with both sons Tom Gulager and John Gulager in the cast. Previously, Clu Gulager had appeared with his Gunfighter co-star Robert Carradine 27 years earlier, in the TV football movie Footsteps (1972), with Joanna Pettet, Ned Beatty, and James Woods. Also in 1999, Robert Carradine, Clu Gulager and John Gulager appeared in another the feature film together, the comedy Palmer's Pick-Up (1999). Their Palmer's Pick-Up costars included Piper Laurie, Rosanna Arquette, and Talia Shire. 
Clu's wife Miriam Byrd-Nethery was a septuagenarian senior when she died in January 2003 at the age of 73, leaving Clu a widower after over 50 years of marriage. The short drama Vic was filmed before Miriam's death, but wasn't released until 2006. Vic stars Clu Gulager, with his son Tom Gulager, wife Miriam Byrd-Nethery, and daughter in law Diane Ayala Goldner in co-starring roles; son John Gulager served as cinematographer. Also in the cast of Vic are familiar actors Carol Lynley, Gregory Sierra, and Peter Mark Richman. 
Still not fully retired, Clu Gulager appeared as a shotgun wielding bartender in Feast (2005), the first of what became a trilogy of horror movies directed by Clu's son John Gulager. Feast had Clu Gulager and Duane Whitaker in the cast; Duane Whitaker and Clu had previously co-starred in the comedy Eddie Presley (1992). The sequels Feast II (2008) and Feast III (2009) both had Clu and son Tom Gulager in the cast, and were direct-to-video releases.  
In 2008 Clu Gulager became an octogenarian senior citizen. Gulager's recent feature films as an octogenarian have included the comedies: 
Piranha 3DD (2013), a horror-comedy directed by son John Gulager. Piranha 3DD reunited Clu Gulager with David Hasselhoff, whom he had worked with in 1985 on an episode of Knight Rider, and in the movie Terror at London Bridge. Also in the cast of Piranha 3DD were Christopher Lloyd and Gary Busey.
Tangerine (2015), a comedy-drama featuring Clu Gulager as "The Cherokee", with son John Gulager as "Shower Head". 
Give Til It Hurts (2015), a comedy with Jeremy Ratchford, and starring Duane Whitaker in his third time working with Clu Gulager, 23 years after the movie Eddie Presley in 1992. 
Clu told True West in 2014 that he teaches a film acting workshop in Hollywood. He has said he only acts when his son asks him to and doesn't consider himself an actor any more. That said, Clu Gulager fans can see him in the romantic drama feature film Blue Jay starring Sarah Paulson, released in October 2016. 
Happy 88th Birthday, Clu Gulager!
Previously: Clu Gulager, Part 1: From The Virginian to The Last Picture Show (1928-1971)