Celebrating Seniors - Michael Constantine is 89
Hardworking character actor and octogenarian senior citizen Michael Constantine was born Gus Efstration (mother's last name Ioannides) on May 22, 1927 to Greek immigrant parents in Reading, Pennsylvania. Below, Michael Constantine in If It's Tuesday, This Must Be Belgium (1969).
 (Michael Constantine Photo: If It's Tuesday, This Must Be Belgium 1969 movie trailer / Public Domain)
A younger sister died from spinal meningitis when Constantine was 5, and Constantine told online health education and information magazine WiRED International, that "this stays with a family"; he's long had interests in and supported health-related causes.
Michael Constantine's professional acting career began in New York City in Inherit the Wind. He understudied the play's lead, Paul Muni, and met actress Julianna McCarthy; they married in October 1953. While Constantine worked steadily on Broadway during the 1950's, he and Julianna had daughter Thea Constantine (b. 1956). 
Constantine's first big-screen movie role was in The Last Mile (1959) playing a convict. In 1961 he played Big John in the classic pool hall movie, The Hustler (1961) starring Paul Newman, Jackie Gleason, George C. Scott and others. 
He'd begun acting in episodes of television series during the 1950's, but the pace picked up in the 1960's. Michael Constantine appeared in popular baby boomer television series like Gunsmoke, I Spy, The Fugitive (in an episode with Joseph Campanella), The Virginian, The Dick Van Dyke Show, Perry Mason, The Twilight Zone, and My Favorite Martian.
Michael Constantine was a regular cast member on Hey, Landlord (1966-1967), a television series that lasted one season, and worked steadily in movies as well, acting in Hawaii (1966) with Julie Andrews, Max von Sydow, Richard Harris and Gene Hackman. He co-starred with Richard Anderson and Anne Jeffreys in Ghostbreakers (1967).
By the time son Brendan Constantine (b. 1966) came along, Julianna and Michael Constantine's had moved their family to Los Angeles so they could both pursue acting in films and television. In 1969, they divorced after 16 years of marriage; that same year, Michael Constantine appeared in 4 big-screen movies including the rom-com If It's Tuesday, This Must Be Belgium (1969) with stars Suzanne Pleshette and Ian McShane.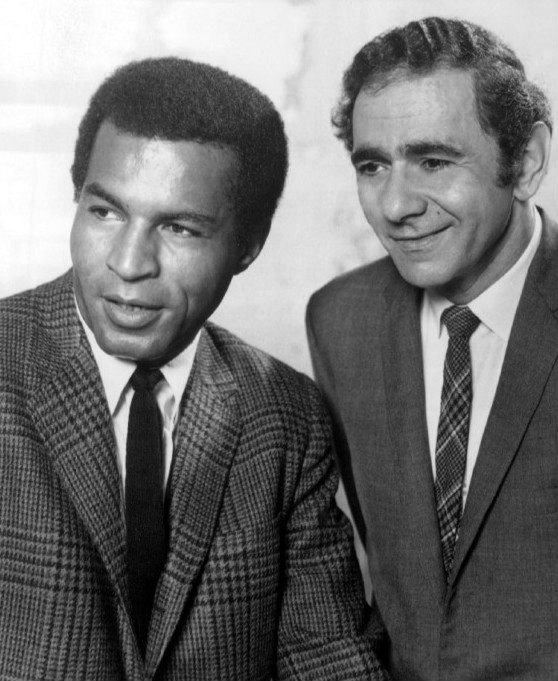 Michael Constantine landed a regular cast member role as Principal Seymour Kaufman in the high school drama series Room 222 (1969-1975) opposite co-stars Karen Valentine, Denise Nicholas, and Lloyd Haynes. Constantine won a Best Supporting Actor Emmy Award in 1970 for his role as Kaufman on Room 222, and was nominated again the following year for it as well.
(Lloyd Haynes and Michael Constantine 1969 Room 222 Photo: ABC Television eBay | Wikimedia Commons / Public Domain)
During the 1970's Michael Constantine married again, to Kathleen Christopher in September 1974. He made guest appearances on popular baby boomer TV shows such as The Mary Tyler Moore Show, The Streets of San Francisco, and The Odd Couple, and acted in the movie Voyage of the Damned (1976) starring Faye Dunaway, Lee Grant, Max von Sydow, and James Mason.
In the late 1970's as Michael Constantine entered his 50+ years, he appeared in two miniseries - 79 Park Avenue (1977) and Roots: The Next Generations (1979) - and the television movie Summer of My German Soldier (1978), starring Kristy McNichol and Bruce Davison. Along with Canadian actress Susan Clark, Barbara Harris, Karen Valentine (a former co-star in Room 222), Cloris Leachman, Alan Hale, Jr. (Gilligan's Island), and Laugh-In's Ruth Buzzi, Michael Constantine appeared in The North Avenue Irregulars (1979) Disney movie.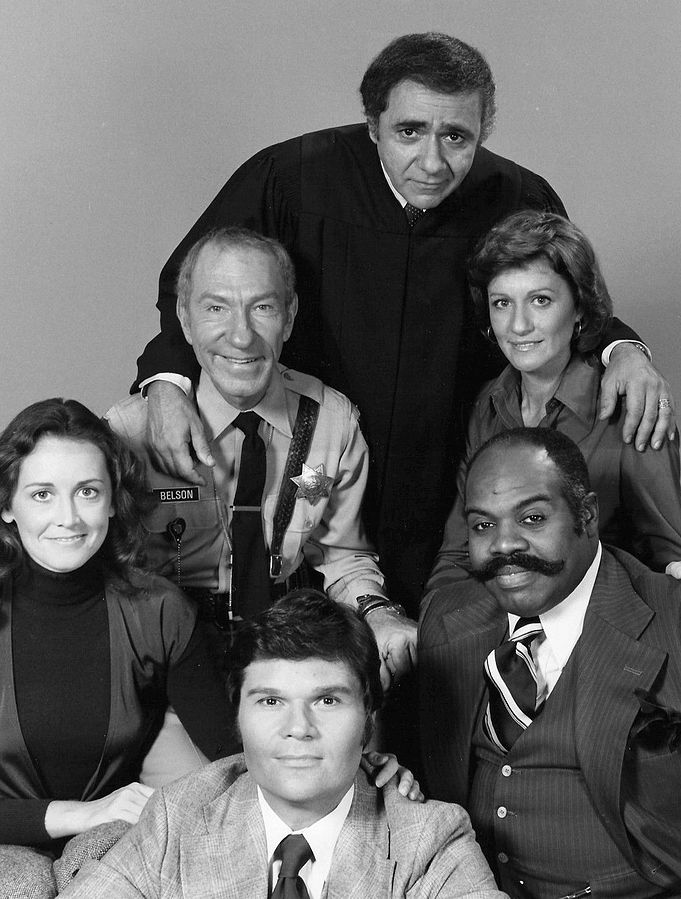 Michael Constantine had his own television series again in the 1970's, as Judge Matthew J. Sirota in the sitcom Sirota's Court (1976-1977).
Clockwise from far left, the cast of Sirota's Court: Kathleen Miller (Gail Goodman), Owen Bush (John Belson), Michael Constantine, Cynthia Harris (Maureen O'Conner), Ted Ross (Sawyer Dabney), and Fred Willard (H. R. 'Bud' Nugent).
(Sirota's Court 1976 Cast Photo: NBC Television eBay | Wikimedia Commons / Public Domain)
Kathleen and Michael Constantine divorced the next year, in August 1980. Throughout the 1980's and his 50's and early 60's, Constantine continued to act in the movies and make guest-starring appearances on television series such as Murder, She Wrote, Simon & Simon, MacGyver, Magnum P.I., Remington Steele, The Love Boat, and Quincy ME. He was Santa Clause in the Christmas movie Prancer (1989) along with co-stars Sam Elliott, Cloris Leachman, and Abe Vigoda. Michael Constantine told WiRED International that he turned to writing as a past-time in the mid-1980's, and began writing screen plays.
The 1990's and the advent of his senior citizen years did not see Michael Constantine retiring from acting. He appeared on television series such as Law & Order and Cosby, as well as acting in big-screen movies such as My Life (1993) with Michael Keaton and Nicole Kidman, The Juror (1996) with Demi Moore and Alec Baldwin, and Thinner (1996) co-starring Joe Mantegna, Bethany Joy Lenz, and Kari Wuhrer.
Michael Constantine's scene-stealing role as father Gus Portokalos in the box-office smash independent film My Big Fat Greek Wedding (2002), came when he was a septuagenarian senior citizen. My Big Fat Greek Wedding upped Constantine's visibility level with aging baby boomers and new generations alike and brought more television guest-starring roles followed on series like Cold Case, and a regular cast member role in a short-lived TV series produced by Tom Hanks and Rita Wilson - My Big Fat Greek Life (2003).
Today, 89-year-old octogenarian senior citizen Michael Constantine is back on the big screen after a 15 year absence, reprising his role as Gus Portokalos in the sequel movie My Big Fat Greek Wedding 2 (2016). 
In a 2016 interview with 69 News WFMZ-TV, Constantine said that people often ask him to sign their Windex bottles, or give him a gift of a bottle of Windex, in tribute to his My Big Fat Greek Wedding character. Although he's not retired from acting, he's particular about the roles he takes. He's been more focused on writing for the past 20 years, having just completed a historical fiction book Sins of Holy Men. Constantine says he loves researching and uses the internet for that; he's in the midst of researching a new book on the life of Irish nationalist William Smith O'Brien,and has also started writing a memoir.
Constantine loves to spend time with his children and two sisters, and divides his time between California and his home town of Reading, Pennsylvania. In an interview with Media Personality Brad Dalius, octogenarian senior citizen Michael Constantine had this to say: I love life...I love getting up in the morning and looking out the window and seeing trees and greenery."
Happy 89th Birthday, Michael Constantine!