Celebrating Seniors - José Feliciano Turns 70
Blind songwriter, English/Spanish singer, composer, guitarist, baby boomer and now septuagenarian senior citizen José Feliciano turns 70 today, September 10.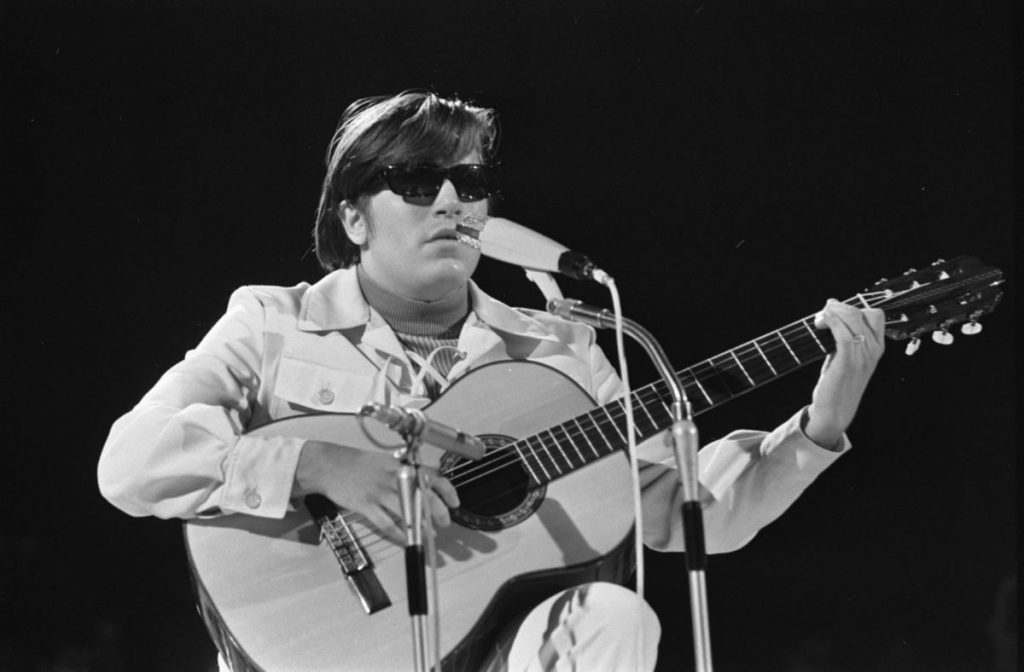 (José Feliciano 1970 Photo: Nationaal Archief, Den Haag | Wikimedia CC 3.0)
Born blind at birth (due to congenital glaucoma) in Puerto Rico in 1945, José Feliciano was among of the first wave of baby boomer babies. The Feliciano family – José, his parents and his ten brothers – moved to Spanish Harlem, New York City in 1950, where his father found work as a longshoreman. José grew up listening to classical guitarists, jazz, soul, and then finally like other baby boomers – rock and roll. As a child he first played the concertina (like an accordion) and then guitar, teaching himself by listening to records. Eventually he had classical music lessons with a disciple of Spanish guitarist virtuoso Andrés Segovia. According to a 1975 interview with Earl Wilson for the Beaver County Times, José Feliciano's first paying gig was at The Puerto Rican Theater in New York City for $100 a week, at age 9. He left school at 17 in the early 1960's to earn a living by playing in clubs in the US and Canada.
In an interview with Brian Fischler on cesarsway.com, José Feliciano disclosed that blindness did not prevent him from overcoming his fears and developing a love of animals, especially dogs and horses.
"Growing up in New York City a lot of people had dogs that would bark at you and seemed vicious. I was deathly afraid of them, and it wasn't until I went to Leader Dogs for the Blind in Rochester (Hills), Michigan that I got over my fear of dogs. After getting my first guide dog, I was captivated by animals. I love horses, and have learned to ride them, and of course absolutely love dogs."
José Feliciano got his first guide dog Trudy (a smooth collie), in 1963. Trudy would appear with him in concerts, taking him onto the stage and sitting beside him. She looks as if she is a fan! (Jose Feliciano 1968 photo: mcrfb.com)
Feliciano had gotten Trudy the same year he was signed by RCA Victor. His first single Everybody Do The Click was released the following year in 1964.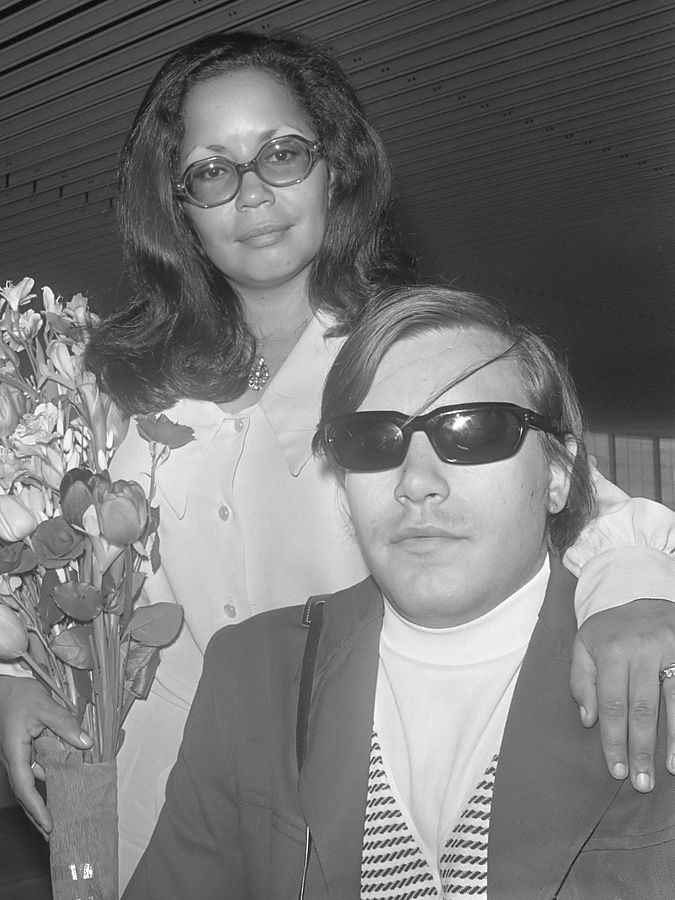 (Hilda Perez and José Feliciano 1970 Photo: Eric Koch / Anefo | Wikimedia CC 3.0)
According to footsweb.ancestry.com, on October 19, 1965 in Brantley County, Georgia, 20-year-old José Feliciano married Hilda Perez.
An interview of José Feliciano by Ritchie Yorke (ritchieyorke.com) uncovered that Hilda also came from a large Puerto Rican family that had lived just 34 miles away from where the Feliciano's lived in Puerto Rico.
Despite this Puerto Rican connection, they didn't meet until he was performing at the Greenwich Village coffee house in New York City that Hilda managed, before José Feliciano started touring clubs.
José Feliciano released two English language folk, soul & pop albums in 1965 and 1966 before RCA Victor asked him to record a Spanish language album while he was performing in Argentina.
Bolero music featured on José Feliciano' s first hit singles in Argentina from 1966-1968.
More albums and touring followed, but José Feliciano's United Kingdom tour in 1967 was marred when his guide dog Trudy was put into quarantine for two weeks when he arrived in England. His wife Hilda helped him navigate successfully during his trip, but two years later when he toured the UK again, Feliciano petitioned to change the laws for guide dogs in England.
In 1968 José Feliciano and Hilda (now called Janna Merlyn Feliciano) moved to Los Angeles, where they lived with a menagerie of 400 birds, 22 talking parrots, plus chinchillas, and numerous dogs/puppies.
José was persuaded to record a Latin-style version of Light My Fire (by the Doors) for his album of cover tunes Feliciano! (1968). His Light My Fire single went to #3 in the US, boosting his commercial success and helping him to win two Grammy Awards in 1969 – Best New Artist & Best Pop Song. Below, José Feliciano performing Light My Fire in 1968.
Broadcaster Ernie Harwell (the voice of the Detroit Tigers baseball team) invited baseball fan José Feliciano to sing The Star-Spangled Banner in October at the opening of Game 5 of the 1968 World Series. Critical backlash mixed with praise for José Feliciano's soulful Latin acoustic rendition of the The Star-Spangled Banner national anthem boosted his release of a single of The Star-Spangled Banner all the way to #50 on the 1968 US Billboard charts. Below, José Feliciano sings The Star-Spangled Banner.
13-year-old Susan Omillion of Detroit was in the audience for the game and liked his performance so much she tried for months (unsuccessfully) to contact José Feliciano through his record company. Finally she contacted Detroit announcer Ernie Harwell, who gave her Jose's contact information, and without meeting José Feliciano in person, she set up a fan club for him in 1969.
Numerous appearances on US musical variety shows followed in 1969; for some of these, José Feliciano used the pseudonym Werbley Finster. Using the Werbley Finster name, he recorded the single So Long Paul (referring to rumours of Paul McCarney's death). Five José Feliciano singles made the US Top 100 Billboard charts in 1969, and he also recorded Old Turkey Buzzard for the theme song to the Quincy Jones western movie Mackenna's Gold (1969). José Feliciano's recording of Old Turkey Buzzard  was a recurring "bit" on Late Show with David Letterman, and he appeared on the show 38 years later (below, in 2007) to sing it.
Fresh on his successes of the late 1960's, José Feliciano wrote and recorded an album of original Christmas music called José Feliciano (1970) which contained the hit single Feliz Navidad (1970). The Feliz Navidad single reached #10 on the US Billboard charts and that year and has become a staple of the Christmas season, one of the most-played and more recently, most-downloaded Christmas songs in the US; the album was renamed Feliz Navidad in 2001 (with 3 new songs added) and is available every year at Christmas time. Below, José Feliciano performing Feliz Navidad with Daryl Hall. 
José Feliciano wrote and jointly composed (with wife Janna Merlyn) the theme song to the hit 1970's TV show Chico and the Man; Feliciano even guest-starred on Chico and the Man playing singer Pepe Fernando, Chico's (Freddie Prinze) cousin. This kick-started his career of acting in and composing for other television shows and movies (MacMillan and Wife, Kung Fu). Feliciano. Below, José Feliciano performing live on Chico and the Man the theme song, and Light My Fire.
José Feliciano's 1971 versions of the Italian song Che Sarà – Que Sera in Spanish and Shake a Hand in English, were top ten hits in Europe and Latin America, although they didn't chart in the US. That year, Ernie Harwell finally introduced 26-year-old Jose to 17-year-old Susan Omillion, his fan club founder; they became friends. 
José and Hilda Feliciano divorced in January 1979 and three years later, Susan Omillion became Susan Feliciano when she and Jose married in October 1982. They moved to the Weston, Connecticut in 1990 and live in a renovated 18th century inn (the former Old Banks Tavern) with their three children – daughter Melissa Anne (born 1988), son Jonathan José (born 1993), and son Michael Julian (b. 1995). 

Since the 1970's José Feliciano has continue to record albums in English and in Spanish, and tour across the world. Although his English language albums didn't reprise his successes of 1968-1969, José Feliciano's Spanish-speaking audience continued to support him. From 1987-1994 he had 11 Top 100 Hit singles on the US Latin charts.
The year he turned 50 (1995), Public School 155 in New York city was renamed The Jose Feliciano Performing Arts School. Now in his 50+ years, José Feliciano appeared in a cameo role in the movie Fargo (1996) and continued performing and recording in Spanish and English. When interviewed in 2001 by Graham Reid (elsewhere.co.nz), José Feliciano had this to say about his career and aging:
"Now that I'm older and more mature I think I sing better and play better, and of course my writing is much better…When you've had a chance to live some experiences then you can really write."
60+ José Feliciano was presented with the Grammy Legend Award in 2000 and released Soundtrack of My Life, his first English language album written and composed by him, in 2007.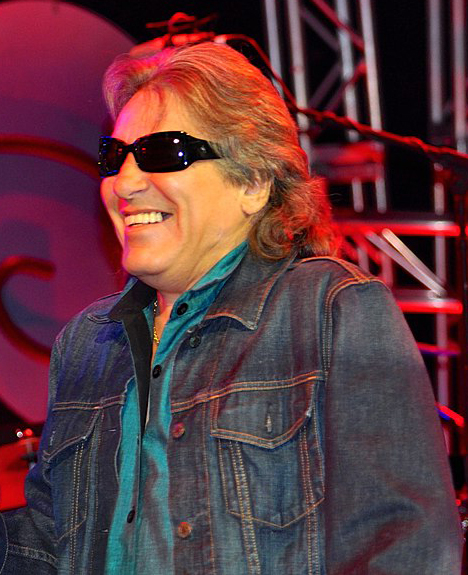 As he approached his senior citizen years, José Feliciano released the Spanish language album Señor Bolero, and was rewarded with his 8th Grammy Award for it. As an official senior citizen, he was awarded with the Latin Grammy Lifetime Achievement award in 2011. Through his professional recording career thus far (1965-2012), José Feliciano has released 38 English-language studio albums and 28 Spanish-language albums. His most recent album was the English language The King, Jose Feliciano Tribute to Elvis Presley (2012).
(José Feliciano 2010 Photo: Mgersh | Wikimedia CC 4.0)
During a 2012 interview with Joe Bosso for musicradar.com, when asked why he still plays hundreds of shows every year, he replied "
"I love it. I can't see stopping. Maybe when I get really old and my hands get fucked up from arthritis or something. But it's like when I played at school: When I do concerts now and the audiences go crazy, I'm playing and I'm thinking, Wow, Jose, can you believe that after all these years people still want to hear you? They still love your music? That's a thrill that never gets old. And I never take it for granted."
José Feliciano has performed concerts in support of guide dogs for the blind in different countries, and also works with the ASPCA (American Society for the Prevention of Cruelty to Animals). He embarked on a world tour in 2014 and in 2015 he can be seen performing in Germany in August, Colombia in September, and for his Canadian fans in Markham, Ontario in October 2015.