Celebrating Seniors - Nicolas Coster is 83, Part 1 (1933-1979)
Broadway, Movies, and & Television Soaps From Live TV (Young Doctor Malone) to Another World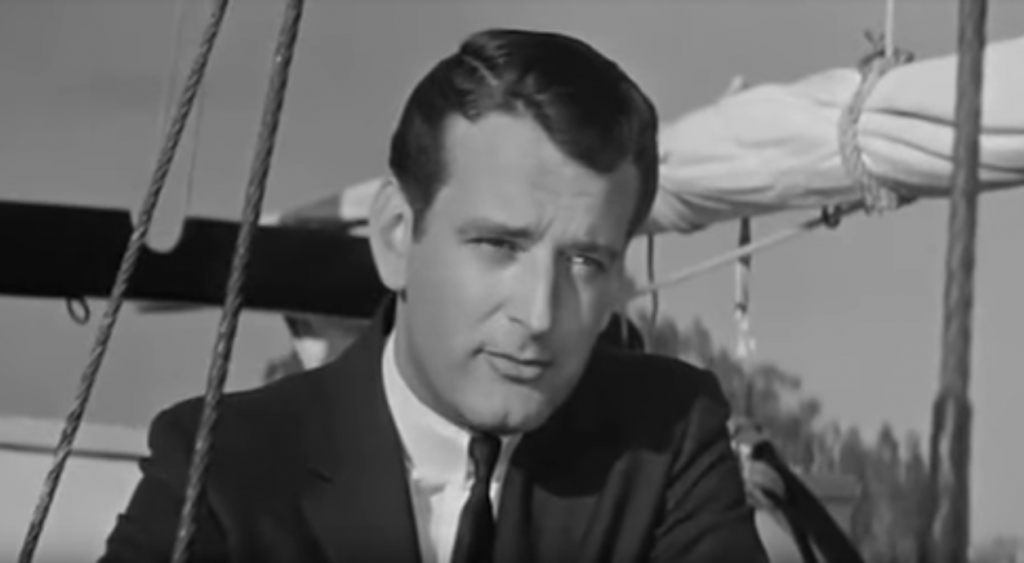 Octogenarian senior citizen, actor, scuba diving instructor, and philanthropist Nicolas Coster was born in London, England on December 3, 1933. With an acting career that is at 6 decades and counting, he's acquired over 160 film and television credits and appeared in movies with some of the biggest names in Hollywood - but is perhaps best recognized from his many long-running stints on various daytime soap operas. Below, Nicolas Coster from younger to older. 
Before World War II erupted in England, Coster attended a private school with a young Elizabeth Taylor. In a lengthy interview with Santa Barbara: le site Francais, Coster described how he ended up living in the U.S. and beginning a career in acting "I arrived as a very little boy in Canada, escaping what was to become the Second World War. My American mother brought her three children then to the USA where I stayed until 16. At 16 I went back to the UK to The Royal Academy of Dramatic Art and started my acting life."
In one of his first film roles, a 20-year-old Nicolas Coster appeared as an uncredited seaman on Titanic (1953) with Robert Wagner. He would go on to appear in another movie with Robert Wagner, The Concord...Airport '79 (1979), in which Coster played a doctor. Their co-stars in The Concord...Airport '79 included Alain Delon, Susan Blakely, George Kennedy (The Blue Knight), Charo, John Davidson, Ed Begley Jr. and Cicely Tyson. Almost 30 years after they first appeared in Titanic, Robert Wagner had Nicolas Coster guest-star on his 1980's series Hart to Hart in 1982, along with co-star Stefanie Powers, and fellow guest stars Michael Lerner, Alan Oppenheimer, Louise Sorel, and Alana Stewart. 
Nicolas Coster appeared in Desert Rats (1953) starring Richard Burton, and in two early movies with John Derek - Sea of Lost Ships (1953), and The Outcast (1954), along with Jim Davis (Dallas). He'd work again with Jim Davis over 25 years later, when he guest-starred 3 times on Dallas in 1979-1980. 
By the early 1960's, Nicolas Coster was well established in New York City, appearing on stage on and off-Broadway, and finding work in movies and television based out of New York. He co-starred in the comedy sci-fi TV movie Where's Everett (1966) with Alan Alda, in Alda's first made-for-television movie. 
Movie-going baby boomers and seniors might recall having seen Nicolas Coster in the mystery thriller My Blood Runs Cold (1965). His co-stars in My Blood Runs Cold were Troy Donahue, Joey Heatherton, Barry Sullivan, and John McCook (The Bold and the Beautiful) in his first feature film. Below, Nicolas Coster, Joey Heatherton, Troy Donahue, John McCook and Linda Meiklejohn are featured in a lip from My Blood Runs Cold.
Dancer-actress Candace Hilligoss had met Nicolas Coster when they took acting classes with Lee Strasberg (according to Hilligoss's memoir The Odyssey and the Idiocy - Marriage to an Actor (2016), and they married around 1960. When their two daughters came along (Candace Jr., b. approx 1968 and Janine b. approx 1970), his wife Candace became a full-time homemaker, allowing Coster to pursue more acting opportunities.
Nicolas Coster did occasional television guest-starring roles during the 1960's, appearing on episodes of Wendy and Me (1965) with Connie Stevens and James T. Callahan, Occasional Wife (1966) with Michael Callan, The Green Hornet (1967) starring Van Williams. Coster appeared in N.Y.P.D. (1967) with Jack Warden and a few years later, was in the 1971 comedy movie The Sporting Club starring Jack Warden again.
Nicolas Coster found frequent work as part of the regular cast on several soap operas, first appearing as Dr. Matt Steele (#3) from 1962-1963 on Young Dr. Malone, the first soap opera to be televised in color. 
Next, he originated the character of Professor Paul Britton on The Secret Storm in 1964, and again from 1967-1969. Coster's young daughter Candace Jr. briefly played his daughter Lisa Britton on The Secret Storm. Nicolas Coster told We Love Soaps about his time on Young Dr. Malone, The Secret Storm, and that era in television:
"Young Dr. Malone...was out in Brooklyn. That was live TV. Jada Rowland was one of the most delicious actresses I had ever worked with. She played Amy on The Secret Storm. She was a child when she started on the show, and then she was only 19 by the time I got to her [in 1964]. I was 29, and we played the first professor and student that ever got naughty together on daytime television. We had an affair and eventually got married, but not before the U.S. Senate brought us up as an example of immorality on daytime television. We were not even allowed to take off any article of clothing. We never did any more than hug and kiss a couple of times on a bear skin rug. That was considered immoral at the time..."
Left, Nicolas Coster and Jada Rowland on The Secret Storm. (Photo: Pinterest)
"When I was on The Secret Storm and Young Doctor Malone you couldn't be in the same bed, even if you were married. And you couldn't use the word pregnant. You had to say, 'with child.'" 
The prime-time serial Our Private World (May-Sept. 1965) was a unique spin-off from the daytime soap opera As The World Turns. As The World Turns actress Eileen Fulton brought her character of Lisa Hughes to Our Private World, to co-star with Nicolas Coster, who played her future husband John Eldridge; familiar daytime face Don Hastings also appeared on Our Private World. 
Nicolas Coster would work with Eileen Fulton again when he reprised the character of John Eldridge on As The World Turns in 1966; and again from 1993-1995 as a different character, Eduardo Grimaldo (another husband for the many-times-married character of Lisa). 
During the 1970's, Nicolas Coster was a regular cast member on several of the most popular daytime soap operas with baby boomers and teir parents. He was an original cast member of the new soap Somerset, playing Robert Delaney from 1970-1972. After some conflicts with Somerset's Executive Producer Lyle Hill, Coster left to work for producer Paul Rauch. 
Paul Rauch was producing the baby boomer favorite 70's soap Another World. From 1970-1976, and again in 1980 and 1989, Nicolas Coster played Robert Delaney on Another World. Nicolas Coster said of his co-stars and time on Another World, that almost all of the cast was hired by Paul Rauch from a Broadway or off-Broadway production:
"Oh boy did we have fun doing Another World. Susan Sullivan (Lenore) and I had more fun than a barrel of monkeys. People asked, "What is it with you two?" It's that we showed that making love can be fun, not just serious stuff... The show was the #1 daytime show in the country at the time. We had all sorts of fun."
"I got to judge Miss America contests. It was the first nationwide celebrity status I had obtained. Simultaneously I was starring in a Broadway show with Sada Thompson called "Twigs," for which she got the Tony.  I was her leading man. I represented the United States in a play in Europe celebrating our bicentennial in 1976...It was my heyday".
Not content with full-time work on daytime soap operas and appearing in touring plays, baby boomers saw character actor Nicolas Coster in some of the biggest movies of the 1970's, working with familiar faces and some Hollywood greats like: 
Robert Redford, in All the President's Men (1976) and The Electric Horseman (1979). Their co-stars in All The President's Men included Dustin Hoffman, Jack Warden, Hal Holbrook, Jane Alexander, Meredith Baxter, Ned Beatty, Robert Walden, F. Murray Abraham, and James Karen; and in The Electric Horseman, Jane Fonda, Willie Nelson, John Saxon, Wilford Brimley, James Sikking, and Quinn K. Redeker were also in the cast. 
Several of his co-stars in All the President's Men and The Electric Horseman were in other movies or television episodes with Nicolas Coster:
Jack Warden and Nicolas Coster had been in the comedy The Sporting Club (1971).
Jane Alexander, when he guest-starred on Family in 1978. 
Ned Beatty, in the TV Vietnam war drama  Friendly Fire (1979)  starring Carol Burnett, Sam Waterston, Timothy Hutton, and David Keith. 
F. Murray Abraham, in the comedy The Big Fix (1978) starring Richard Dreyfus, Susan Anspach, Bonnie Bedelia, John Lithgow, and Ron Rifkin.
James Karen, in both the feature film Freedom Strike (1998) and the TV drama The Day the Bubble Burst (1982) with Richard Crenna, Robert Hays, David Ogden Stiers, Robert Vaughn, and Ron Rifkin. Right, Coster played a 1920's stock exchange trader in The Day the Bubble Burst. 
Willie Nelson, when Nicolas Coster guest-starred on Jane Seymour's series Dr. Quinn, Medicine Woman in 1998. 
James Sikking, in a 1978 episode of The Rockford Files 1978 starring James Garner, in an episode with Jerry Douglas and Hector Elizondo. 
Gregory Peck starred in the WWII movie MacArthur (1977), in a cast that included Nicolas Coster and Marj Dusay. Marj Dusay and Nicolas Coster would later appear in the sci-fi TV drama A Fire in the Sky (1978) starring Richard Crenna, Elizabeth Ashley, and Michael Biehn. Dusay and Coster would also work together again on the daytime soap opera Santa Barbara in the 1980's. 
Nicolas Coster played the Olympic team doctor in the sci-fi movie Goldengirl (1979) starring Susan Anton, Leslie Caron, James Coburn, Robert Culp, and Michael Lerner.
George Burns, Brooke Shields, Christopher Knight, and John Shuck co-starred with Nicolas Coster in the comedy Just You and Me, Kid (1979); Coster played George Burn's son-in-law.
Ken Howard, Blythe Danner, William Daniels and Nicolas Coster were all in the movie 1776 (1972); 5 years later, they all co-starred in the TV drama The Court-Martial of George Armstrong Custer (1977) starring Brian Keith, Susan Sullivan, and Anthony Zerbe.
Other notable TV miniseries, movies and episodes on popular baby boomer series for Nicolas Coster during the 1970's included guest-starring roles on One Day at a Time, Wonder Woman, The Incredible Hulk, Little House on the Prairie, Dallas, and:
A guest-starring role on Charlie's Angels (1977) with Kate Jackson, Jaclyn Smith, Cheryl Ladd, and Linda Dano (a co-star from Another World). 
The TV mini-series The Word (1978) starring David Janssen, with Eddie Albert (Green Acres), Geraldine Chaplin, Diana Muldaur, and Kate Mulgrew. He later guest-starred with Kate Mulgrew on an episode of Mrs. Columbo in 1979 with Armande Assante, Don Stroud, and Jess Walton. 
The TV movie Long Journey Back (1978) starring Mike Connors, Cloris Leachman, and Stephanie Zimbalist. 
Guest-starring on Robert Blake's Baretta in 1978.
A 1978 guest-starring role on Husbands, Wives & Lovers with Lynne Marie Stewart and Ron Rifkin (his co-star from the movies The Big Fix, and The Day the Bubble Burst).
Next: Celebrating Seniors - Nicolas Coster is 83, Part 2 (1980-2016): Broadway, Movie & TV Soaps From One Life to Live & Santa Barbara to Internet Soap The Bay.