Celebrating Seniors - Marsha Hunt is 99
American actress (Peck's Bad Girl), songwriter, and nonagenarian senior citizen Marsha Hunt (nee Marcia Hunt) was born on October 17, 1917 in Chicago, Illinois. In an acting career that spanned more than seven decades – 70+ years – Marsha Hunt acquired over 100 acting credits and worked with some of the biggest stars in Hollywood.
Below, Marsha Hunt circa 1939 in a screenshot from the movie Longshot, and 74 years later as a nonagenarian senior citizen.
(Photo Sources: Longshot 1939 / Gazebo | Montage: Senior City)
The Hunt family moved to New York City when she was a child and 16-year-old Marsha graduated from Horace Mann High School for Girls in 1934. 
Marsha Hunt began modeling and taking acting classes, and according to columnist and long-time friend Colin Briggs in a biographical article he wrote for Classic Images, was invited by photographer Robert Mack and his wife to join them in Hollywood in 1934.
A screen test and contract with Paramount Pictures soon followed for 17-year-old Marsha Hunt; she made 14 feature films before her contract ended in 1938. Actor Robert Cummings was a romantic lead in Marsha Hunt's first movie, The Virginia Judge (1935). Off screen, Robert Cummings and Marsha were friends; they even dated and he taught her to fly. 
Marsha Hunt and Robert Cummings co-starred in 3 more films together that seniors may have seen at movie theaters in 1936 – Hollywood Boulevard, The Accusing Finger, and Desert Gold (1936), a western film which also co-starred actor Buster Crabbe (Tarzan). Buster Crabbe and Marsha Hunt were also paired together in two more movies – the western The Arizona Raiders (1936), and Murder Goes to College (1937). Below, the now public domain movie Desert Gold starring Robert Cummings, Buster Crabbe, Tom Keene, Monte Blue, Robert Cummmings, and Marsha Hunt.
Marsha Hunt starred in three films in 1936:
She was the title character Julia Atwater in the drama Gentle Julia (1936).
The comedy Easy to Take (1936) starring Hunt also featured Our Gang (Little Rascals) child actor Carl 'Alfalfa' Switzer.
Leif Erickson and Marsha Hunt were paired as romantic leads in the musical comedy College Holiday (1936), along with co-stars of a large cast that included Jack Benny, George Burns, Gracie Allen, Martha Raye, Mary Boland, Ben Blue, Eleanore Whitney, Johny Downs, and Etienne Girardot.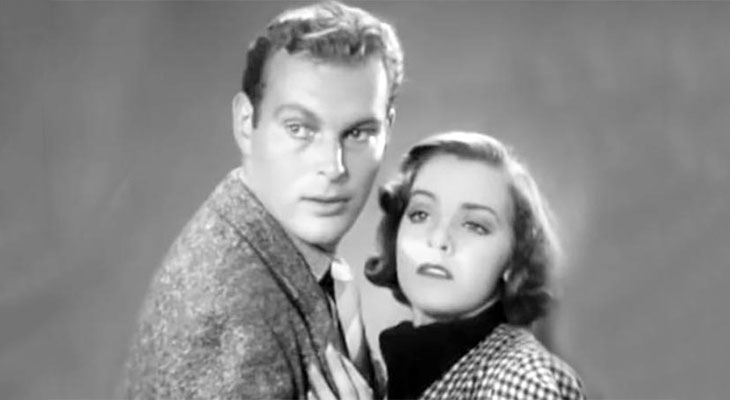 (Leif Erickson & Marsha Hunt 1936 College Holiday)
Another frequent and favorite leading man for Marsha Hunt was actor Van Heflin. Van Heflin and Hunt co-starred together for the first time in Annapolis Salute (1937), and then again in 1942's Kid Glove Killer and Seven Sweethearts. In Kid Glove Killer features Van Heflin as Detective Gordon McKay, Marsha Hunt as his assistant, Lee Bowman as suave suspected killer Gerald Ladimer, and Samuel S. Hinds as his Ladimer's boss, Mayor Daniels.
In one of her biggest pictures while still under contract to Paramount Pictures, Marsha Hunt co-starred with John Wayne in the western romance Born to the West (1937).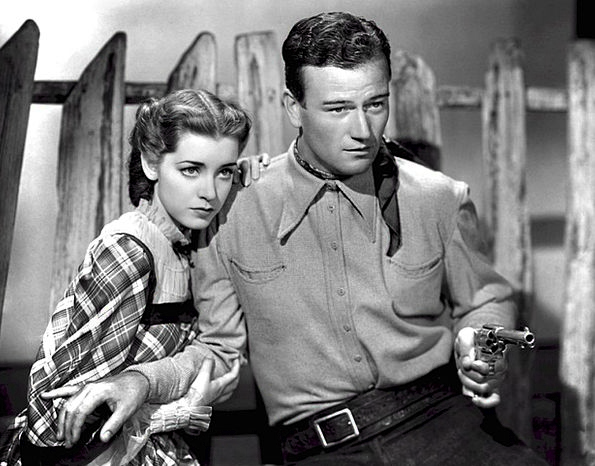 (Marsha Hunt and John Wayne 1937 Born to the West Photo: Pixabay)
Her Paramount contract wasn't renewed in 1938, but by then Marsha Hunt was happy off-screen. While filming Annapolis Salute, she had fallen in love with an assistant music department head at Paramount Pictures called Jerry (Jay) Hopper. Jerry was columnist Hedda Hopper's nephew and wanted to be a director. On November 23, 1938, 21-year-old Marsha Hunt married 31-year-old Jerry Hopper. 
Off contract, Marsha Hunt found more movie roles and friendships on her own. She co-starred in The Hardys Ride High (1939) with Mickey Rooney and Ann Rutherford, both in their first movies with Marsha Hunt. Marsha Hunt and Ann Rutherford both appeared in These Glamour Girls (1939) with Lana Turner, and in 1939 Marsha Hunt attended Ann Rutherford's 22nd birthday party along with actor John Payne and his then-wife, actress Anne Shirley (a close friend of Hunt's). 
Above, the movie trailer for These Glamour Girls features Ann Rutherford as Mary Rose Wilston, Lana Turner as Jane Thomas, Lew Ayres as Philip Griswold, Tom Brown as Horner Ten Eyck, Richard Carlson as Joe, Jane Bryan as Carol Christy, Anita Louise as Daphne Graves, and Martha Hunt as Betty Ainsbridge.
Marsha and Ann Rutherford worked together again in Pride and Prejudice (1940), which starred Greer Garson as Elizabeth Bennet and Laurence Olivier as Mr. Darcy, with Maureen O'Sullivan, Ann Rutherford, and Marsha Hunt as Bennet sisters and Edmund Gwenn (Miracle on 34th Street) as family patriarch Mr. Bennet.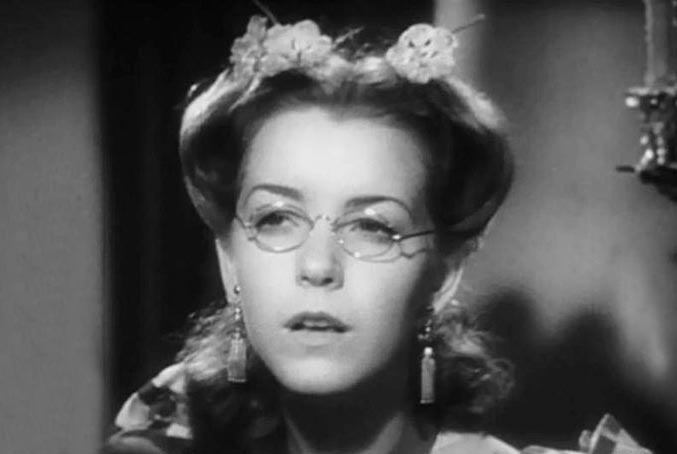 (Marsha Hunt  as Mary Bennett 1940 Pride and Prejudice Trailer: MGM)
Marsha Hunt's dramatic performance as a woman who commits suicide was praised by her These Glamour Girls co-star Richard Carlson, and they appeared together again in Winter Carnival (1939) and The Affairs of Martha (1942). Mr. and Mrs. Richard Carlson later became neighbours of Marsha Hunt and Jerry Hopper.  
After starring in a few more movies that included the comedy Irene (1940), Ellery Queen, Master Detective (1940), and taking a small role in the World War II film Flight Command (1940) starring Walter Pidgeon and Robert  Taylor, Marsha Hunt signed a new contract with MGM. She appeared in 11 movies between 1941-1942, including: 
The Trial of Mary Dugan (1940), a thriller with Robert Young and Marjorie Main. This was the first movie for Marjorie Main and Marsha Hunt (they worked together again in 1942's The Affairs of Martha); and Hunt's second movie with Robert Young. That same year, Robert Young and Marsha Hunt co-starred in the drama Joe Smith, American (1942).
Cheers for Miss Bishop (1941) with Edmund Gwenn, Hunt's Pride and Prejudice co-star.
Blossoms in the Dust (1941) a biography which reunited Hunt with her former co-stars Greer Garson (Pride and Prejudice), and Walter Pidgeon (Flight Command). 
Unholy Partners (1941), a drama starring Edward G. Robinson.
Seven Sweethearts (1942), a musical romance starring Kathryn Grayson and Van Heflin, resulted in a long friendship for Marsha Hunt and Kathryn Grayson. 
By now WWII was becoming more important in America, and Marsha Hunt and Kathryn Grayson spent time knitting sweaters for soldiers. Hunt volunteered as hostess at the Hollywood canteen, and toured Canada and Alaska with the USO. Jerry Hopper enrolled in the U.S. Army in 1942 and was stationed in Long Island, directing training films. Due to Hopper's military service, the couple was separated for almost 2 years (1942-1944). 
Marsha Hunt continued appearing in movies. She had first met actress Ann Sothern when they both appeared in Joe and Ethel Turp Call on the President (1939), and they worked together again in the movies Panama Hattie (1942), and Cry Havoc (1943) with Joan Blondell and Robert Mitchum in an early, small role. Hunt was reunited with Mickey Rooney for a third time in The Human Comedy (1943), which also had Van Johnson, Donna Reed, and Robert Mitchum in another uncredited, early role.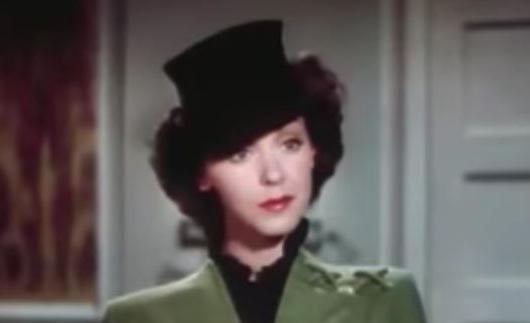 (Marsha Hunt 1943 Thousands Cheer Trailer)
The large cast of the musical comedy Thousands Cheer (1943) starred Hunt's friend Kathryn Grayson, Gene Kelly, and her former co-star Mickey Rooney (from 1939's The Hardy's Ride High), and featured numerous actors in cameos as themselves – including Marsha Hunt, Judy Garland, Ann Sothern, Lucille Ball, Lena Horne, Donna Reed, Margaret O'Brien, and June Allyson. 
The drama Lost Angel (1943) saw Hunt co-starring with Margaret O'Brien, James Craig, Keenan Wynn, Alan Napier and child actor Robert Blake (Our Gang). Marsha Hunt was the love interest of leading man Franchot Tone in the World War II drama Pilot #5 (1943), with Gene Kelly and Van Johnson in the cast.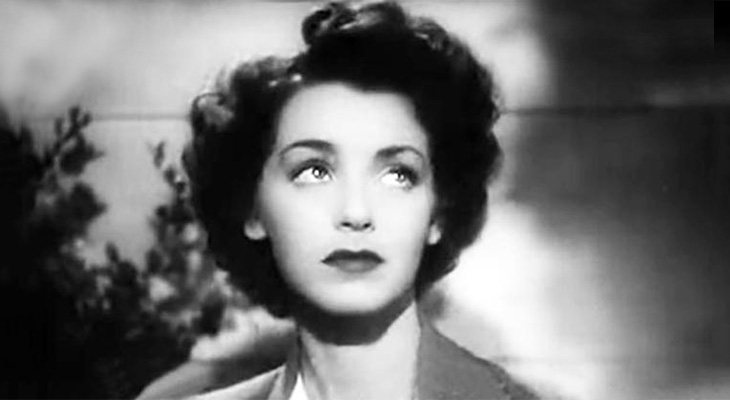 (Marsha Hunt 1943 Pilot #5)
Marsha's husband Jerry Hopper took took some leave time from the army to be with her while she filmed the movies Bride by Mistake (1944) with Laraine Day, and the musical comedy Music for Millions (1944) co-starring Jimmy Durante, June Allyson, and Hunt's friend Margaret O'Brien.
Despite these brief reunions with Jerry Hopper, when the war ended so did his marriage to Marsha Hunt; they found they were incompatible and divorced in 1945. Jerry Hopper remarried and was an octogenarian senior citizen when he died at the age of 81; he'd had a history of heart problems. 
Marsha Hunt appeared in The Valley of Decision (1945), a drama starring Greer Garson, Jessica Tandy, Gregory Peck, and Lionel Barrymore (Hunt's co-star from 1941's The Penalty).  This was Marsha Hunt and Greer Garson's third and final film together.
That same year, Hunt began filming the comedy A Letter For Evie (1946) with Jessica Tandy's husband Hume Cronyn. While filming A Letter for Evie (1946), Marsha met divorced father of one (son Peter) screenwriter Robert Presnell Jr. at MGM.
Actress Audrey Totter later told Marsha she had gone with her date at the time to see Hunt in 1943's Human Comedy, and at the sight of Marsha in a lace evening gown, Totter's date said,
"I think I'll marry her."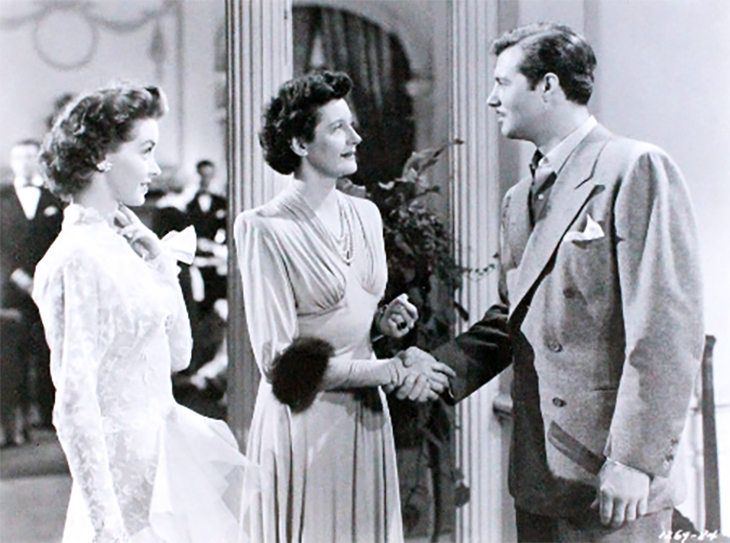 (Marsha Hunt & James Craig 1940 The Human Comedy Photo)
Totter's date was of course Robert Presnell Jr., and after he actually met Marsha Hunt in 1945, a romance ensued. In February 1946 Marsha Hunt married Robert Presnell Jr. at the home of her good friends, actor Richard Carlson and his wife. 
The Presnell family lived in Sherman Oaks, California during their marriage and Marsha Hunt returned to acting in the dramas Smash-Up: The Story of a Woman (1947) starring Susan Hayward and Eddie Albert, and Carnegie Hall (1947). Hunt was pregnant while filming Carnegie Hall and very sick; a premature daughter born in July 1947 died the next day. 
Below, Marsha Hunt, Dennis O'Keefe, and Claire Trevor are featured in a clip from the movie Raw Deal (1948), one of her last big starring roles.
Marsha Hunt was blacklisted in 1947 after she flew to Washington with fellow actors and Hollywood sympathizers (the Committee for the First Amendment) that included John Huston, Humphrey Bogart, Lauren Bacall, and Gene Kelly, to protest the investigation of "The Hollywood Ten" by the House Un-American Activities Committee (HUAC) . Marsha Hunt appears in several documentaries about the Hollywood blacklisting that took place during the late 1940's-1950's, including Dalton Trumbo: Rebel in Hollywood (2006). 
For the next 10 years Marsha Hunt's appearances in movies was minimal, although she did appear in plays and on television. Baby boomer fans might recall catching glimpses of Marsha Hunt in: 
Thrillers like Jigsaw (1949) starring Franchot Tone; Take One False Step (1949) starring William Powell, Shelley Winters, Dorothy Hart, and Sheldon Leonard; and the British thriller Diplomatic Passport (1954). 
The romantic dramas Bombers B-52 (1957) starring Natalie Wood, Karl Malden, Efrem Zimbalist Jr. (The F.B.I.); and Blue Denim (1958) with Carol Lynley and Macdonald Carey (Days of Our Lives).
The comedies Actor's and Sin (1952) with Edward G. Robinson and Eddie Albert (Green Acres); and The Happy Time (1952) with Charles Boyer and Louis Jourdan. Below, a clip from The Happy Time featuring stars Charles Boyer and Marsha Hunt as Susan and Jacques Bonnard, Bobby Driscoll as their son Bibi Bonnard, Louis Jourdan as Jacques' womanizing brother, Linda Christian as Mignonette Chappuis, and Kurt Kasznar as Uncle Louis Bonnard.
Although uncredited, Hunt also appeared in the John Wayne-Sophia Loren-Rossano Brazzi adventure drama Legend of the Lost (1957).
Among Marsha Hunt's 1950's episodic television work and co-stars, were several appearances on Zane Grey Theater with co-stars Dick Powell, Robert Vaughn, Wendell Corey, and Edmond O'Brien, as well as: 
Danger starring Martin Balsam.
Sure as Fate with Douglas Fairbanks Jr.
The Ford Television Theatre, in an episode that reunited her with former movie co-star Laraine Day (1944's Bride by Mistake)
The 20th Century-Fox Hour, in a cast with Constance Ford (Ada on Another World) and Denver Pyle (The Doris Day Show).
Climax! with Beverly Garland (Scarecrow and Mrs. King), Peter Lorre, Lee Marvin and William Shatner.
The Detectives, which reunited her with former frequent movie co-star Robert Taylor.
After a miscarriage, Marsha and husband Robert Presnell Jr. took a  trip overseas in 1955, and Hunt began to support the United Nations in the fight against hunger in third world countries, and for global peace, by writing, producing, directing, and speaking about the U.N.
The short-lived TV comedy series Peck's Bad Girl (1959) starred Marsha Hunt as Jennifer Peck, with co-star Wendell Corey as her husband Steve Peck.
 (Wendell Corey, Patty McCormack, Ray Farrell, and Marsha Hunt 1959 Pecks Bad Girl Cast: CBS TV)
The western movie The Plunderers (1960) co-starred Marsha Hunt, Jeff Chandler, John Saxon, and Dolores Hart. Off-screen, Marsha and her husband Robert became good friends with Dolores Hart. Later that year, Hunt announced her semi-retirement from acting.
Throughout the 1960's, Marsha Hunt could be seen periodically in episodes of popular baby boomer television series such as The Twilight Zone and My Three Sons. 
Hunt appeared with the Who's Who of TV's Golden Era, guest-starring in: 
Cain's Hundred with Peter Mark Richman, Robert Vaughn, and Marion Ross.
Gunsmoke with James Arness, Milburn Stone, Dennis Weaver, and Burt Reynolds.
The Defenders with E. G. Marshall and Robert Reed (The Brady Bunch).
Profiles in Courage with Edward Asner and Leonard Nimoy.
Ben Casey with Van Johnson, one of her co-stars over 20 years earlier in Human Comedy (1943).
Marcus Welby, M.D. starring James Brolin and Robert Young, who had appeared in three movies with Marsha Hunt in the 1940's.
Marsha Hunt guest-starred on two television series starring actor Darren McGavin, who had appeared with her in the short comedy A Word to the Wives (1955): The Outsider, and The Name of the Game. 
As the 1960's ended and the 1970's began, a 50+ Marsha Hunt appeared in the horror thriller TV movie Fear No Evil (1969) with Louis Jourdan, Lynda Day George, Carroll O'Connor, and Bradford Dillman. Around this time, Hunt spoke about her interest in songwriting, something she continued to work on as a senior citizen.
Marsha's episodic television work and co-stars in the 1970's and early 1980's included:
Ironside starring Raymond Burr (Perry Mason), who had co-starred with her in the crime movie Raw Deal (1948) over 22 years earlier.
Harry O starring David Janssen, with Anthony Zerbe.
Medical Story starring Juliet Mills and Bradford Dillman, with whom she'd worked in Fear No Evil.
During 3 episodes of Police Story, Marsha Hunt's co-stars were familiar faces – Bruce Davison, Tina Louise (Gilligan's Island), Frankie Avalon, and Tony Lo Bianco.
In the anti-war drama feature film Johnny Got His Gun (1971) co-written and directed by fellow former blacklisted writer Dalton Trumbo, Marsha Hunt played the mother of star Timothy Bottoms; their co-stars were Jason Robards and Donald Sutherland. In the book 80: From Ben Bradlee to Lena Horne to Carl Reiner, Our  Most Famous Eighty Year Olds, Reveal Why They Never Felt So Young, (2007) by Gerald Gardner and Jim Bellows, Hunt recalled her husband Robert Presnell Jr. letting Dalton Trumbo put Presnell's name on a script so Trumbo could "pay his bills." She also referred to the House un-American Activities Committee, warning
"We need to be on guard against that kind of hysterical political virus sweeping the nation again."  
Actor Edmond O'Brien co-starred with Marsha Hunt in the TV movie Jigsaw (1972); Hunt had previously co-starred on the 1962 TV series Sam Benedict with Edmond O'Brien and Michael Parks, and appeared in an episode of Zane Grey Theater in 1957 with O'Brien. All told Marsha Hunt guest-starred 4 times on Zane Grey Theater from 1957-1960.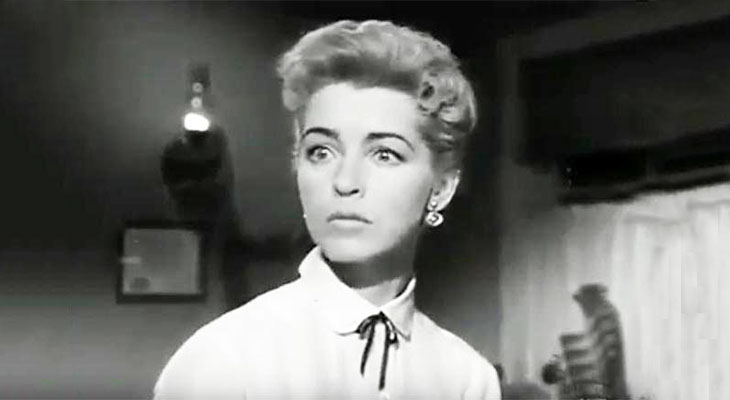 (Marsha Hunt 1959 Zane Grey Theater "Checkmate")
Senior citizen Marsha Hunt became the Honorary Mayor of Sherman Oaks in the early 1980's, and worked with then-mayor of Los Angeles Tom Bradley to found the Valley Mayors Fund for the Homeless, a cause she worked for and supported for almost 20 years. Hunt's husband Robert Presnell Jr. died unexpectedly in his sleep in June 1986 after 40 years of marriage. 
It would be two years before Marsha Hunt returned to acting, appearing in an episode of Murder She Wrote starring Angela Lansbury, with John Astin, Tom Bosley, Joseph Campanella, and Parker Stevenson; and in Matlock starring Andy Griffith and Linda Purl. 
In 1988, septuagenarian senior Marsha Hunt appeared in an episode of Star Trek: The Next Generation starring Patrick Stewart, Jonathan Frakes, LeVar Burton, Denise Crosby, Michael Dorn, Marina Sirtis, Brent Spiner, and Michael Pataki. 
After an 18 year absence from acting on screen, Marsha Hunt co-starred in the feature film drama Chloe's Prayer (2006) co-starring Cameron Daddo.  
The next year, a now 90-year-old Marsha Hunt advised that there were some advantages to older age, including the freedom to spend her day as she wants. She said she no longer worked on committees and boards of trustees as it was too difficult to hear people, and confessed that macular degeneration had reduced her vision to only being able to see 2-3 letters at a time.
"Though I'm in splendid health, partially diminishing sight and sound have slowed me down." 
Despite her vision and hearing loss, nonagenarian senior Marsha Hunt co-starred in the short crime drama The Grand Inquisitor (2008), and made her last on-screen acting appearance in the TV docu-drama Empire State Building Murders (2008) with former co-stars and Hollywood golden age legends Ben Gazzara, Kirk Douglas, Cyd Charisse, and Anne Jeffreys. Also in The Empire State Building Murders with Hunt was Mickey Rooney, whom she had first worked 69 years earlier in 1939's The Hardy's Ride High.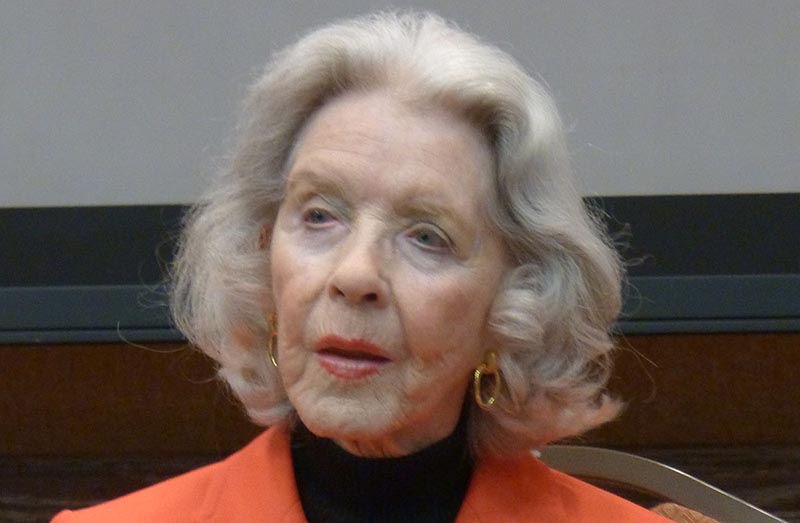 (Marsha Hunt 2013 Photo: Gazebo)
Most recently, in 2013, Marsha Hunt's song about love and same-sex marriage entitled Here's to All Who Love (written by her 40 years earlier), was performed on the TV series Glee. Here's to All Who Love was featured in the biographical documentary Marsha Hunt's Sweet Adversity (2015). Below, Marsha Hunt explains how Here's to All Who Love came about, and her actor friend Bill Jones sings the song. 
The following year, the World War II feature documentary Journey to Royal, scheduled to be released in 2017 when Marsha Hunt turns 100, stars the film's writer-director Christopher Johnson, and Marsha Hunt as herself.
*Images are public domain or Creative Commons licensed & sourced via Wikimedia Commons or Flickr, unless otherwise noted*