March 24th Birthdays
If you were born on March 24th you share a birthday with these famous people: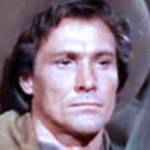 William Smith is 87
American actor of TV (Falconetti on Rich Man, Poor Man; Joe Riley on Laredo & The Virginian; The Asphalt Jungle; Zero One; Hawaii Five-O; Emerald Point N.A.S.; Mod Squad; Mission: Impossible) & movies (Any Which Way You Can; The Frisco Kid; The Mean Season), March 24, 1933. (William Smith 1970 Daniel Boone)
David Suzuki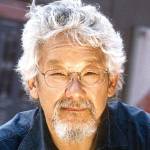 is 84
Canadian scientist, University of British Columbia genetics professor, environmental activist, author, CBC TV host (Quirks & Quarks; Science Magazine; The Nature of Things; A Planet For the Taking), and octogenarian born March 24, 1936. (David Suzuki Photo: David Suzuki Foundation)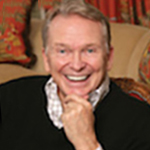 Bob Mackie is 81 (nee Robert Gordon Mackie)
Octogenarian senior citizen, American fashion and costume designer for TV (The Carol Burnett Show, The Sonny and Cher Show), movies (Gypsy, Staying Alive), and celebrities (Cher, Diana Ross, Carol Burnett, Mitzi Gaynor) born March 24, 1939. (Bob Mackie Photo: BobMackie.com)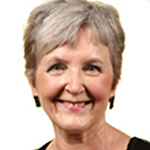 Mary Balogh is 76 (nee Mary Jenkins)
Welsh-Canadian Georgian and regency romance historical fiction novelist (Simply Unforgettable; Simply Quartet; Slightly Married and Bedwyn series; First Comes Marriage and Huxtable series; Someone to Love & Westcott series), born March 24, 1944. (Mary Balogh Photo: MaryBalogh.com)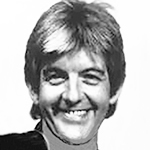 Nick Lowe is 71 (nee Nicholas Drain Lowe)
Septuagenarian English musician, music producer (Elvis Costello, Pretenders, Carlene Carter), and singer-songwriter (Cruel To Be Kind; What So Funny 'Bout Peace, Love, and Understanding; I Love The Sound of Breaking Glass) born March 24, 1949. (Nick Lowe 1980 Rockpile Photo: Columbia)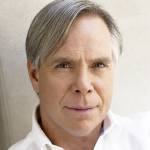 Tommy Hilfiger is 69 (nee Thomas Jacob Hilfiger)
American fashion designer, Tommy Hilfiger Corporation brand founder (sportswear, menswear, women's clothing, perfumes, etc.), author (All American: A Style Book; American Dreamer), philanthropist, and senior citizen born March 24, 1951. (Tommy Hilfiger 2009 Photo: Tommy Hilfiger)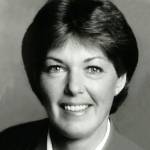 Pat Bradley is 69

World Golf Hall of Fame American LPGA Tour golfer, winner of 6 major championships (3 du Maurier Classics; U.S. Women's Open; ANA Inspiration; Women's PGA Championship), 1986 & 1991 LPGA Tour Player of the Year, & senior born March 24, 1951. (Pat Bradley 1987 Photo)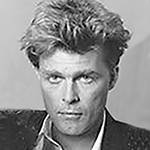 Nicholas Campbell is 68
Canadian filmmaker, actor of movies (The Dead Zone; Killing 'em Softly; Cinderella Man; Butterbox Babies; Fast Company; The Amateur) and TV (Da Vinci's Inquest; Diamonds; The Insiders; Street Legal; Haven), born March 24, 1952. (Nicholas Campbell 1988 Diamonds Photo: USA Network)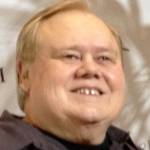 Louie Anderson 67 (nee Louis Perry Anderson)
Emmy Award-winning American stand up comedian, host & actor of TV (Baskets; Life with Louie; Family Feud; The Louie Show), movies (The Wrong Guys; Ratboy; Cook Off!), author (Dear Dad: Letters from an Adult Child), and senior citizen born March 24, 1953. (Louie Anderson 2012 Photo: Melly Allen)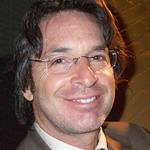 Robert Carradine is 66
American comedian, host & actor of TV (Lizzie McGuire; King of the Nerds; The Cowboys) and movies (Revenge of the Nerds; Gunfighter; Blackout; A Fish Tale; Dangerous Curves; Just the Way You Are; The Player; The Long Riders), born March 24, 1954. (Robert Carradine 2004 Photo: The 1 Second Film)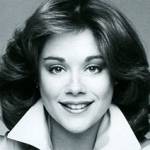 Donna Pescow is 66
American actress of TV (Donna Garland on Out of This World; Eileen Stevens on Even Stevens; Gertrude Morgan on General Hospital; Angie; All My Children; One Life to Live; The Flash; The Love Boat; Hotel) and movies (Saturday Night Fever), born March 24, 1954. (Donna Pescow 1980 Angie Photo: ABC)
Kim Johnston Ulrich is 65 (nee Kim Charisse Johnston)

American actress of TV (Ivy Winthrop Crane on Passions; Diana McColl on As the World Turns; Nightingales; Reasonable Doubts; Supernatural; Law & Order True Crime; Diagnosis Murder; Murder, She Wrote; Sisters; Jake and the Fatman; My Two Dads) and movies (Spellcaster; Rumpelstiltskin), born March 24, 1955.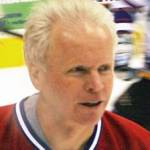 Doug Jarvis is 65 (nee Douglas McArthur Jarvis)
Retired Canadian 60+ NHL hockey player (Montreal Canadiens, Washington Capitals, Hartford Whalers) with 4 Stanley Cups & 964 consecutive games, now an NHL assistant coach (Minnesota North Stars, Boston Bruins, Vancouver Canucks), born March 24, 1955. (Doug Jarvis 2008 Photo: Horge)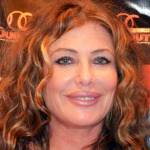 Kelly LeBrock is 60
Fifty-five-plus American fashion model and cover girl (Vogue; Pantene), movie actress (The Woman in Red; Weird Science; Hard to Kill; Wrongfully Accused; The Sorcerer's Apprentice; Gamers), and TV personality (Hell's Kitchen), born March 24, 1960. (Kelly LeBrock 2014 Photo: Rob DiCaterino)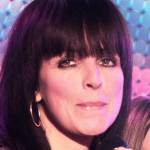 Nena is 60 (nee Gabriele Susanne Kerner)
German songwriter, composer, and singer (99 Luftballons / 99 Red Balloons; Just a Dream; Anyplace, Anywhere, Anytime; Liebe ist; That's Life [Verliebt in Berlin theme song), and actress of music videos and TV (Hangin' Out), born March 24, 1960. (Nena 2008 Photo: André D Conrad)
Diann Roffe is 52 (aka Diann Roffe-Steinrotter)
American 50+ retired World Cup alpine ski racer, 2-time Winter Olympic Games medalist (1992 Albertville, France giant slalom silver; 1994 Lillehammer, Norway Super G gold), and 1985 Giant Slalom World Championships gold medalist, born March 24, 1968.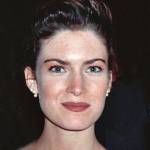 Lara Flynn Boyle is 50
American actress of TV (Helen Gamble on The Practice; Donna Hayward on Twin Peaks; Las Vegas; Huff; Amerika) and movies (The Big Squeeze; The Temp; Men in Black II; Red Rock West; Baby's Day Out; Threesome; Afterglow; The Rookie), born March 24, 1970. (Lara Flynn Boyle 1990 Photo: Alan Light)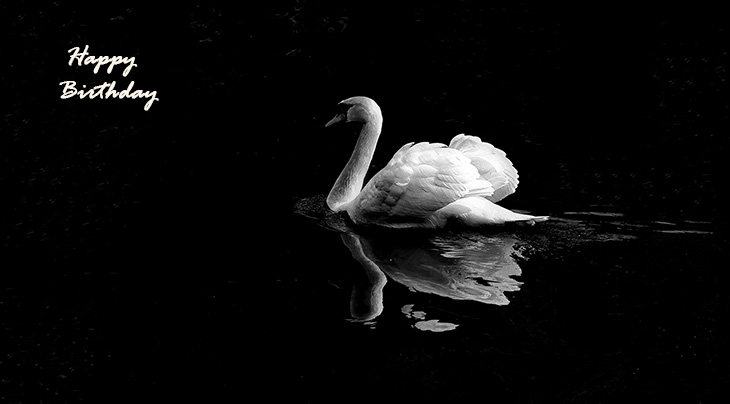 (Swan Photo: David Cohen via Unsplash)
Happy Birthday to everyone celebrating their birthday on March 24th!
And remembering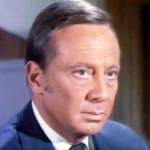 Norman Fell (nee Norman Noah Feld)

American actor of TV (87th Precinct; Stanley Roper on Three's Company & The Ropers; Dan August; Teachers Only; Needles and Pins; Dr. Kildare; Rich Man, Poor Man) and movies (Ocean's 11; The Graduate; The Killers; PT 109; Bullitt; Fitzwilly; Catch-22) (born Mar. 24, 1924 – died Dec. 14, 1998; age 74). Norman Fell died of bone marrow cancer. (Normam Fell 1971 Dan August)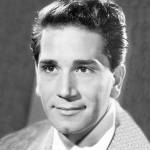 Richard Conte (nee Nicholas Peter Conte)
American actor of TV (The Four Just Men; The Godfather Saga) and movies (Hotel; The Godfather; A Bell for Adano; Call Northside 777; I'll Cry Tomorrow; The Blue Gardenia; Somewhere in the Night; Ocean's 11; Lady in Cement; Circus World) (born Mar. 24, 1910 – died Apr. 15, 1975; age 65). Richard Conte died of a stroke, after a heart attack. (Richard Conte 1945 Photo: 20th Century Fox)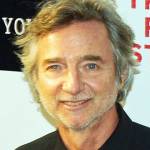 Curtis Hanson 
Academy Award-winning American screenwriter, movie producer & film director (L.A. Confidential; The Bedroom Window; The Hand That Rocks the Cradle; The River Wild; Wonder Boys; 8 Mile; The Big Year) (born Mar. 24, 1945 – died Sept. 20, 2016; age 71). Curtis Hanson died from natural causes. (Curtis Hanson 2007 Photo: David Shankbone)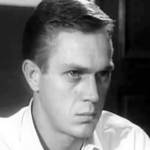 Steve McQueen (nee Terence Steven McQueen; "The King of Cool")
American actor of TV (Wanted: Dead or Alive), and movies (The Thomas Crown Affair; Bullitt; The Getaway; Papillon; Junior Bonner; The Cincinnati Kid; Baby the Rain Must Fall; The Great Escape; The Magnificent Seven) (born Mar. 24, 1930 – died Nov. 7, 1980; age 50). Steve McQueen had pleural mesothelioma and died of cardiac arrest. (Steve McQueen 1969 The Reivers Photo)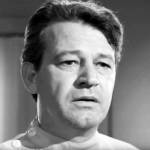 Murray Hamilton
Tony Award-winning American actor of stage, TV (B. J. and the Bear; Rich Man, Poor Man; Dr. Kildare) and movies (Jaws; The Drowning Pool; The Spirit of St. Louis; No Time for Sergeants; The FBI Story; The Graduate; Houseboat; 1941; Brubaker) (born Mar. 24, 1923 – died Sept. 1, 1986; age 63). Murray Hamilton died of lung cancer. (Murray Hamilton 1957 Seaway)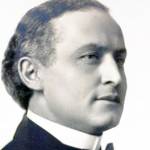 Harry Houdini (nee Erik Weisz; aka Ehrich Weiss; aka Harry Weiss)
Austrian-Hungarian-American magician, stunt performer and illusionist, renowned escape artist called "The Handcuff King" (Chinese water torture cell; milk can escape; suspended straightjacket escape; buried alive escape), actor (The Master Mystery) (born Mar. 24, 1874 – died Oct. 31, 1926; age 52). Harry Houdini died of peritonitis. (Harry Houdini c 1910 Photo: LaPine Studios)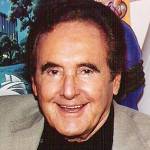 Joseph Barbera
Emmy and Academy Award-winning American cartoonist, animator, and co-founder of Hanna-Barbera studio (The Flintstones, Scooby-Doo, The Jetsons) (born Mar. 24, 1911 – died Dec. 18, 2006; age 95). Joseph Barbera died of natural causes. (Joseph Barbera 1993 Photo: Kerry Cisneroz)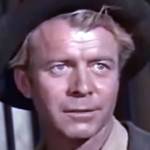 Gene Nelson (nee Leander Eugene Berg)
American TV director (Mod Squad; The F.B.I.; The Rookies; I Dream of Jeannie; The Rifleman; The Farmer's Daughter; The Donna Reed Show; Iron Horse; Destry; Blondie; Cannon; Dan August), actor & dancer of stage, TV (Gunsmoke), and movies (Oklahoma!; Tea For Two) (born Mar. 24, 1920 – died Sept. 16, 1996; age 76). Gene Nelson died of cancer. (Gene Nelson 1961 The Purple Hills)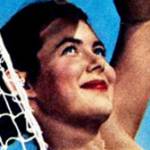 Vanessa Brown (nee Smylla Brind)
Australian-American actress of TV (My Favorite Husband) & films (The Ghost and Mrs. Muir; The Fighter; The Late George Apley; The Basketball Fix; Three Husbands; Tarzan and the Slave Girl;  Rosie!; The Secret of St. Ives; The Bad and the Beautiful) (born Mar. 24, 1928 – died May 21, 1999; age 71).Vanessa Brown had breast cancer when she died. (Vanessa Brown 1948 Photo: Modern Screen)
*Images are public domain or Creative Commons licensed & sourced via Wikimedia Commons, Vimeo, or Flickr, unless otherwise noted*