Celebrating Seniors - Donald Sutherland is 81 Part 3
Donald Sutherland Part Three: JFK to The Italian Job (1990-2004)
The 1990's saw now 55+ Donald Sutherland's movie roles increasing in quantity and quality over the 1980's and his younger years. In Bethune: The Making of a Hero (1990), he starred as Canadian anti-facist and medical innovator Dr. Norman Bethune.  The cast of Bethune: The Making of a Hero included Canadian actress Helen Shaver and English actress Helen Mirren as Bethune's wife. It was announced in May 2016 that Donald Sutherland and Helen Mirren would reunite onscreen 26 years after Bethune: The Making of a Hero, in the upcoming film The Leisure Seeker (release date TBD).
Sutherland had a role as U.S. Air Force colonel X in Oliver Stone's JFK (1991). The large ensemble cast of JFK included Kevin Costner, Ed Asner, Tommy Lee Jones, Joe Pesci, Walter Matthau, Jack Lemmon, Lolita Davidovich, and Jerry Douglas. Below, Donald Sutherland and Kevin Costner in a scene from JFK. 
Baby boomers, seniors and younger generations loved Backdraft (1991). Backdraft starred Kurt Russell, Scott Glenn, and Robert DeNiro, and featured Donald Sutherland as a pyromaniac.
In 1992, twenty years after he first worked with Tim Matheson in National Lampoon's Animal House (1972), Sutherland appeared in the B movie thriller Quicksand: No Escape (1992) with Tim Matheson. That same year, The Railway Station Man (1992) paired an older, now 55+ Donald Sutherland again his 1973 Don't Look Now co-star Julie Christie. 
Donald Sutherland was the older "watcher" Merrick in the cult movie Buffy the Vampire Slayer (1992), co-starring with Kristy Swanson and Luke Perry. Right, Donald Sutherland as Merrick in Buffy The Vampire Slayer. Although interviewers have commented on Sutherland's charm, Buffy the Vampire Slayer director and screenwriter Joss Whedon said in a 2001 interview with A.V. Club that he
"eventually threw up my hands because I could not be around Donald Sutherland any longer. It didn't turn out to be the movie that I had written..."
When asked if was a personality conflict between himself and Sutherland, Whedon clarified "He was just a prick…He would rewrite all his dialogue, and the director would let him." Although Whedon praised Sutherland's acting, he was less complimentary about his screenwriting abilities and his attitude.
"He was incredibly rude to the director, he was rude to everyone around him, he was just a real pain…He's a great actor. He can read the phone book, and I'm interested."
Joss Whedon later created the highly successful cult television series Buffy The Vampire Slayer (1997-2003) because he felt his original script for the movie had not done his creative vision justice…so perhaps Donald Sutherland did him a favor after all. Below, Kristy Swanson, Luke Perry, Paul Reubens, Rutger Hauer, and Donald Sutherland are featured in the movie trailer for Buffy the Vampire Slayer.
The comedy Younger and Younger (1993) co-starred Donald Sutherland, Lolita Davidovich (who had also been in J.F.K.), and Sally Kellerman, his former MASH co-star.
In 1994, Donald Sutherland appeared in Oldest Living Confederate Widow Tells All, an Emmy Award-winning television mini-series that co-starred Diane Lane (Diane Lane and Sutherland would work together again in the independent drama Fierce People in 2005). The thriller Disclosure (1994) that same year starred Michael Douglas and Demi Moore in her first movie with Donald Sutherland.
Donald Sutherland won both the Golden Globe and Primetime Emmy Awards for Best Supporting Actor for his performance in the TV movie Citizen X (1995) co-starring Stephen Rea and veteran actor Max von Sydow. Max von Sydow had worked with Sutherland before, in the Paul Gaugin biographical drama Oviri (The Wolf at the Door) (1986). Below, Stephen Rea and Donald Sutherland as a Soviet detective and soldier respectively, are featured in some powerful scenes from Citizen X; Sutherland is particularly compelling. 
The film Outbreak (1995) starred Dustin Hoffman, Rene Russo, Morgan Freeman, Cuba Gooding, Jr., Kevin Spacey and Donald Sutherland in his 60+ decade. The next year, A Time to Kill (1996) starring Sandra Bullock, Samuel L. Jackson, and Matthew McConaughey, was a critical and commercial success. A Time to Kill paired both Kiefer Sutherland and Kevin Spacey in their second movie with Donald Sutherland, although Kiefer had no dialogue with his father in the movie. Both Outbreak and A Time to Kill were financially successful movies.
After appearing in the spy thriller The Assignment (1997) with Aidan Quinn and Ben Kingsley, Donald Sutherland's performance in Without Limits (1998) as runner Steve Prefontaine's (actor Billy Crudup) coach Bill Bowerman, earned him critical acclaim and another Golden Globe acting nomination. Sutherland ended the 1990's with another 37 movies to his credit in one decade. The Warner Bros. preview clip of Without Limits, below, features Donald Sutherland, Billy Crudup, and Monica Potter.
In 2000, the year he became a senior citizen, Sutherland kept up his movie-making pace of 3-4+ movies a year.
Space Cowboys (2000), a film about aging astronauts starring Tommy Lee Jones (who had also appeared in JFK), James Cromwell, and James Garner, featured Donald Sutherland and Clint Eastwood in their second movie together. 30 years earlier, Sutherland and Clint Eastwood had both been in Kelly's Heroes (1970). Space Cowboys did well at the box office and with critics in 2000, and Donald Sutherland was inducted into Canada's Walk of Fame that same year. 
The made-for-TV biographical movie Path to War (2002) starred Donald Sutherland, who won the Best Supporting Actor Golden Globe Award for his performance as Clark M. Clifford, trusted advisor to President Lyndon Johnson. Actress Felicity Huffman, who had been in Sutherland's 1992 movie Quicksand: No Escape, played President Johnson's wife, "Ladybird" Johnson.
In 2003, Donald Sutherland was in the critically acclaimed Civil War movie Cold Mountain (2003), and The Italian Job (2003) action movie starring Mark Wahlberg, Charlize Theron, and Jason Statham. The Italian Job was a remake of the popular 1969 Michael Caine movie, and filmed in Canada, the USA, and several locations in Italy – Trento, Genoa, and Venice.
Jason Statham and septuagenarian senior citizen Sutherland would also appear in the 2011 thriller The Mechanic.
In a departure from his big-screen roles, Donald Sutherland appeared in two TV mini-series in 2004.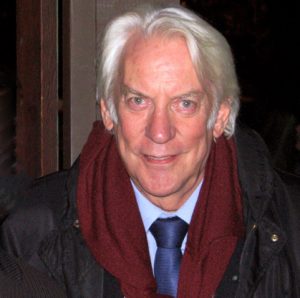 (Donald Sutherland 2005 Photo: Fongtorres)
In Salem's Lot (2004), both actors James Cromwell and Rutger Hauer worked with him for the second time; James Cromwell had been in Space Cowboys (2000) and Rutger Hauer in Buffy the Vampire Slayer (1992).
Veteran movie actor William Hurt worked with Sutherland for the first (but not the last) time in the mini-series Frankenstein (2004). 
As 2004 ended, there were no signs of Donald Sutherland retiring. 
More:
Donald Sutherland Part One: The Dirty Dozen to Don't Look Now (1935-1973)
Donald Sutherland Part Two: Casanova & Ordinary People (1974-1989)
Donald Sutherland Part Four: Pride & Prejudice to The Hunger Games (2005-2016)