Celebrating Seniors - Donald Sutherland is 81 Part 2
Donald Sutherland Part Two: Casanova & Ordinary People (1974-1989)
After living together for two years, Francine Racette and Donald Sutherland had their first son, Roeg Sutherland (b. Feb 1974 in Los Angeles, California). According to Time Magazine, Sutherland helped deliver the baby and took paternity leave – trailblazing for fathers in the early 1970's. Roeg is named for Donald's Don't Look Now (1973) director Nicolas Roeg. Today in 2016 Roeg Sutherland is an agent with Creative Artists Agency (CAA).
The Disappearance (1977) was a British-Canadian thriller which saw Donald Sutherland co-starring with live-in love Francine Racette, along with John Hurt and Christopher Plummer. The Disappearance was the second movie that Sutherland and Christopher Plummer co-starred in. Donald Sutherland, David Hemmings, and John Hurt are featured in the movie trailer for The Disappearance, below. 
In Fellini's Casanova (Il Casanova di Federico Fellini) (1976), Donald Sutherland starred as the 18th century womanizer and sexual adventurer Giacomo Casanova. Although Fellini's Casanova was critically acclaimed, director Federico Fellini said he didn't like his leading man, and baby boomer audiences didn't love the movie. Sutherland, for his part, has said he had long been an admirer of Fellini's work, despite having to shave his forehead and eyebrows at Fellini's direction.
Francine Racette and Donald Sutherland's second son, Rossif Sutherland, was born in September 1978 in Vancouver, B.C. Rossif is named for French director Frédéric Rossif, who had directed Racette in the movie Aussi loin que l'amour (As Far as Love Can Go) (1971). Rossif Sutherland has been acting in movies and on television since 2003.
In National Lampoon's Animal House (1978), a comedy co-produced by Canadian Ivan Reitman, "Professor" Sutherland appeared with a younger ensemble cast that included Tim Matheson and Karen Allen. Baby boomers made National Lampoon's Animal House a box office smash, and the movie is a modern comedy classic. Animal House co-stars John Belushi, John Vernon, Tim Matheson, Tom Hulce, Stephen Furst, Peter Riegert, James Widdoes, Karen Allen, and Donald Sutherland are featured in the movie trailer for Animal House, below.
Tim Matheson would reunite with Sutherland in the TV movie Quicksand: No Escape (1992); and in The Great Train Robbery (1979) starring Donald Sutherland, Sean Connery, and Lesley-Anne Down, Karen Allen appeared in an un-credited role.
Sutherland was made an Officer of the Order of Canada in 1978. That same year, baby boomer fans loved him in the horror movie Invasion of the Body Snatchers (1978). Sutherland was critically acclaimed in Invasion of the Body Snatchers, and starred opposite Brooke Adams, Leonard Nimoy, and Jeff Goldblum. The following year Sutherland co-starred with Brooke Adams again in the Canadian comedy heist movie A Man, A Woman, and A Bank (1979). 
As the 1970's came to a close, Christopher Plummer and Donald Sutherland's third movie together was another British-Canadian thriller, Murder by Decree (1979).
In the box office smash and critically acclaimed Ordinary People (1980) directed by Robert Redford, Donald Sutherland co-starred with Mary Tyler Moore, and Timothy Hutton (below). For his performance as loving father Calvin Jarrett in Ordinary People, Sutherland was nominated for a Golden Globe Best Actor. Below, Donald Sutherland and Mary Tyler Moore in a dramatic clip from Ordinary People.
Once again reuniting with a former co-star (Chief Dan George from Alien Thunder), Sutherland co-starred with Suzanne Somers in Nothing Personal (1980). In the Canadian movie Threshold (1981), he appeared with Jeff Goldblum, his co-star from Invasion of the Body Snatchers, and won a Canadian Genie Award for his performance.
The World War II spy-thriller Eye of the Needle (1981) saw Donald Sutherland co-starring with Canadian actress Kate Nelligan. Below, a younger Donald Sutherland in 1981.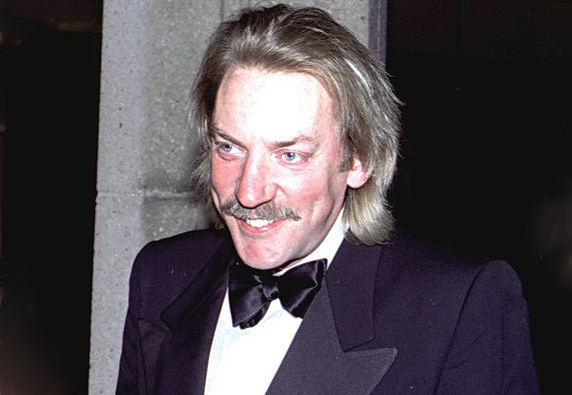 (Donald Sutherland Photo: Alan Light)
Donald Sutherland and Francine Racette's third son, Angus Redford Sutherland, was born in September 1982 in Los Angeles, California; his middle name Redford in honor of Sutherland's Ordinary People director Robert Redford. Angus Sutherland also works in the entertainment industry as a producer and actor in 2016.
In 1983, Donald Sutherland teamed up again with former Klute actress Teri Garr in The Winter of Our Discontent (1983), and made his first movie with oldest son Kiefer Sutherland – Max Dugan Returns (1983). Kiefer had only a very small part in the film.Below, Donald Sutherland, Marsha Mason, Jason Robards, Matthew Broderick are featured in a trailer for Max Dugan Returns.
In his 50+ years, the film adaptation of Agatha Christie's mystery Ordeal by Innocence (1984) had Donald Sutherland co-starring with Faye Dunaway. Ordeal by Innocence was Sutherland's fourth and last movie (so far) with Christopher Plummer, and his first experience working with actor Ian McShane. Twenty-six years later, Ian McShane & Donald Sutherland worked together again in the TV mini-series The Pillars of the Earth (2010).
The National Film Board of Canada produced the Donald Sutherland documentary Give Me Your Answer True (1987). Sutherland, Francine Racette, his son Kiefer, and director and cinematographer Richard Pierce (whom Donald has called his best friend), appear in Give Me Your Answer True along with archive footage from many of Sutherland's earlier movies.
The South African historical drama A Dry White Season (1989) saw Donald Sutherland, Susan Sarandon, and Marlon Brando (d.2004), all agreeing to reduce their salaries in order to get what they felt was an important movie, made. A Dry White Season was critically acclaimed, although it lost money. Donald Sutherland would work with both actors again – Marlon Brando in Free Money (1998), and Susan Sarandon 25 years later in The Calling (2014). Below, Donald Sutherland, Marlon Brando, South African actor Zakes Mokae, and German actor Jürgen Prochnow, are featured in the movie trailer for A Dry White Season.
The prison action movie Lock Up (1989) starred Sylvester Stallone as a prisoner, and an older Donald Sutherland as his warden in their second movie together.
Both Sylvester Stallone and Sutherland received the dubious distinction of being nominated for Razzie Awards for Worst Acting for their performances in Lock Up. Sutherland wrapped up the 1970's and 1980's decades with another 50 film credits.
More:
Donald Sutherland Part One: The Dirty Dozen to Don't Look Now (1935-1973)
Donald Sutherland Part Three: JFK to The Italian Job (1990-2004)
Donald Sutherland Part Four: Pride & Prejudice to The Hunger Games (2005-2016)