Celebrating Seniors - Donald Sutherland is 81 Part 4
Donald Sutherland Part Four: Pride & Prejudice to The Hunger Games (2005-2016)

Donald Sutherland hasn't let becoming a "senior senior citizen" years slow him down in the 2000s.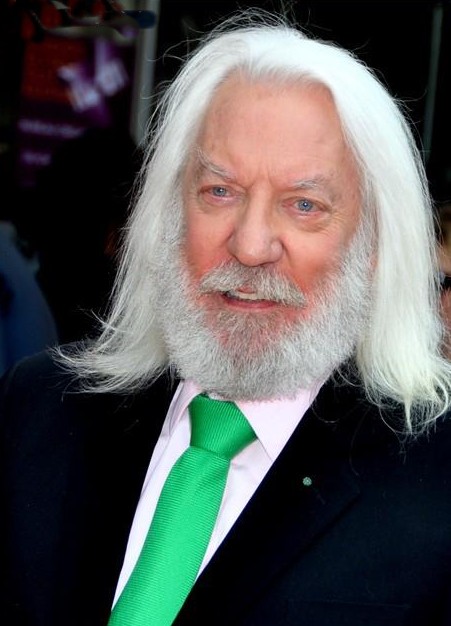 (Donald Sutherland 2012 Photo: Georges Biard)
In 2005 Sutherland had 4 movies released, including the independent drama Fierce People (2005) co-starring Diane Lane, one of his co-stars from Oldest Living Confederate Widow Tells All in 1994. His performance in Pride & Prejudice (2005) as head of the Bennet family, was critically accalimed. The movie clip above from Pride & Prejudice features Donald Sutherland and co-stars Keira Knightly, Rosamund Pike, and Brenda Blethyn in an early scene from the film. 
That same year Donald Sutherland was a regular on the new television drama series Commander-in-Chief (2005-2006) starring Geena Davis, earning  a Golden Globe Best Actor nomination for his efforts.
Not content with that, Sutherland acquired more nominations – for both a Primetime Emmy Award and Golden Globe Award – for his performance in the mini-series Human Trafficking (2005).
The television series Dirty Sexy Money (2007-2009) had Donald Sutherland playing patriarch Patrick "Tripp" Darling III. The cast of Dirty Sexy Money included Peter Krause and William Baldwin, now working with Sutherland for the third time. William Baldwin and Sutherland had previously been co-stars in Virus and Backdraft. Once again, Donald Sutherland was nominated for a Golden Globe Award for his performance in Dirty Sexy Money.
Although he has never become an American citizen (he's still got his Canadian citizenship status), during the 2008 U.S. Presidential Election, Sutherland was a blogger for The Huffington Post and supported future President Barack Obama. Below, Donald Sutherland with his new star on the Hollywood Walk of Fame in 2008 with his children, from left: Roeg Sutherland, Angus Sutherland, Michelle, Kiefer Sutherland (on his father's lap), and Rossif Sutherland.
While filming the adventure movie Fool's Gold (2008) starring Matthew McConaughey and Kate Hudson, 73-year-old septuagenarian senior Donald Sutherland told The Guardian that he again cheated death.
 "Walking down the street in Los Angeles on New Year's Eve I got an embolism in my lung. Nobody told me I was too old to scuba dive, for heaven's sake. I had to have a bronchoscopy; they thought it was lung cancer."
Fool's Gold was Matthew McConaughey's second movie with Sutherland; they had both been in A Time to Kill (1996).
Donald Sutherland was reunited with one of his Ordeal by Innocence (1984) co-stars, actor Ian McShane, in the television mini-series The Pillars of the Earth (2010). Fellow veteran Canadian actor Gordon Pinsent also appeared in The Pillars of the Earth. In the romantic comedy The Con Artist (2010), Sutherland appeared in a film with his son Rossif Sutherland for the first time.
Sutherland took a smaller role as actor Colin Farrell's father in the Jason Bateman comedy Horrible Bosses (2011); Colin Farrell and Sutherland had worked together before, in the movie Ask the Dust (2006). It was actor Kevin Spacey's third movie with Donald Sutherland, having previously appeared with him in Outbreak (1995) and A Time to Kill (1996),
The 2011 TV miniseries Moby Dick (2011) found Donald Sutherland appearing with Ethan Hawke and his Frankenstein (2004) mini-series co-star William Hurt. 
Sutherland told The Telegraph that he pushed hard for a role in 2012's The Hunger Games after his agent sent him a copy of the script. Sutherland was inspired by the potential of The Hunger Games as "a catalyst for political awakening", hearkening back to his younger years in the last 1960's as a political activist (along with girlfriend Jane Fonda, and wife Shirley Douglas).
Sutherland was rewarded with the role of President Coriolanus Snow in what became a 4-movie franchise – The Hunger Games (2012), The Hunger Games: Catching Fire (2013), The Hunger Games: Mockingjay – Part 1 (2014), and The Hunger Games: Mockingjay – Part 2. 
Although Philip Seymour Hoffman and Jeffrey Wright were in the last three Hunger Games movies, Jennifer Lawrence, Josh Hutcherson, Liam Hemsworth, Woody Harrelson, Elizabeth Banks, Stanley Tucci, and Donald Sutherland each appeared in all four films. Sutherland has won over new generations of fans with his performances in these films, winning the Teen Choice Award for Choice Movie Villain in 2013 and nominated again in 2014.
Sutherland appears in the German-French-Italian-American television series Crossing Lines (2013-2015) as a member of the International Criminal Court's special crime unit. Son Rossif Sutherland had a recurring role on Crossing Lines as a Paris police official, making this his second time working with father Donald Sutherland (the first was The Con Artist (2010). Actor Kim Coates and actress Carrie-Anne Moss appeared in their first production with Donald Sutherland. Crossing Lines can be seen on Netflix.
The 2013 crime drama The Best Offer has Geoffrey Rush playing a lonely art expert hired to auction an antique collection. Donald Sutherland is an old friend that helps him get another collection of paintings, while Jim Sturgess is an art restorer. The Best Offer was filmed in Austria, the Czech Republic, and several locations in Rome and Northern Italy, including Bolzano, Trieste, Milan, and Florence.
25 years after they first worked together in A Dry White Season (1989), senior citizens Donald Sutherland and Susan Sarandon appeared on screen together again in the crime thriller The Calling (2014). This time span was eclipsed by their The Calling co-star, octogenarian senior Ellen Burstyn, who had last worked with Sutherland 44 years earlier in Alex in Wonderland (1970).
In Pirate's Passage (2015), the animated Canadian children's adventure movie set in Nova Scotia, Donald Sutherland voices sea Captain Charles Johnson. Son Rossif Sutherland is heard in his third Sutherland production in Pirate's Passage, along with a plethora of new and veteran Canadian actors voicing parts, many of whom had worked with Sutherland before:  Megan Follows, Carrie-Ann Moss and Kim Coates (both in Crossing Lines 2013-2015), Colm Feore (Bethune: The Making of a Hero, 1990), Gordon Pinsent (The Pillars of the Earth, 2010), and Paul Gross. Donald Sutherland also co-produced and co-wrote the screenplay for Pirate's Passage, which aired on the CBC in January 2015.
In 2016 Donald Sutherland can be seen on the big screen in the musical romantic comedy Basmati Blues (2016, exact release date TBD), and in the western movie Forsaken (2016). Donald and son Kiefer Sutherland play a disapproving father and gunslinger son in Forsaken, and Demi Moore appears in her first Donald Sutherland movie since Disclosure (1994).
Donald Sutherland and wife Francine Racette have several homes, but spend as much of their time as possible in Canada in their Georgeville, Quebec home; he is a proud Canadian.
Son Kiefer Sutherland has made him a grandfather and great grand-father; Kiefer's daughter with his first wife Camelia Kath, actress Sarah Sutherland, was born in 1988; and Kiefer's step-daughter Michelle Kath has two sons.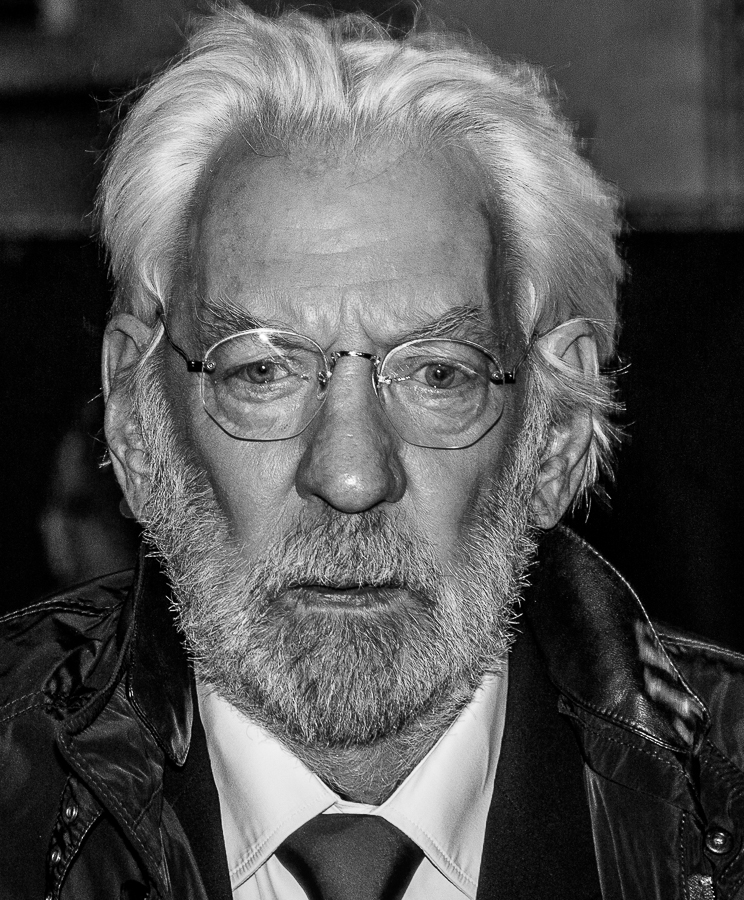 (Donald Sutherland 2014 Photo: Ibsan73)
 Francine and Donald's son Rossif Sutherland made him a grandfather for the second time in 2016, marrying actress Celina Sinden in February 2016 after the birth of their son. Rossif told the ET Canada that both Donald and Francine were present for the birth of his son.
In 2014 Donald Sutherland shared his thoughts about his own mortality – aging, retirement, and death – with GQ magazine:
"I'm getting more accustomed to the idea of being dead…But I don't want to give up living, because I enjoy it so much, and I love working—I don't expect I'll ever have to stop. But Alzheimer's or something like that would render me pretty useless."
*Images are public domain or Creative Commons licensed & sourced via Wikimedia Commons, Vimeo, YouTube, or Flickr, unless otherwise noted*
More:
Donald Sutherland Part One: The Dirty Dozen to Don't Look Now (1935-1973)
Donald Sutherland Part Two: Casanova & Ordinary People (1974-1989)
Donald Sutherland Part Three: JFK to The Italian Job (1990-2004)