Farewell Rod Taylor - Age 84
Octogenarian and rugged Aussie actor Rod Taylor has died in Los Angeles of natural causes on January 7th 2015, just days before celebrating his 84th birthday (January 11).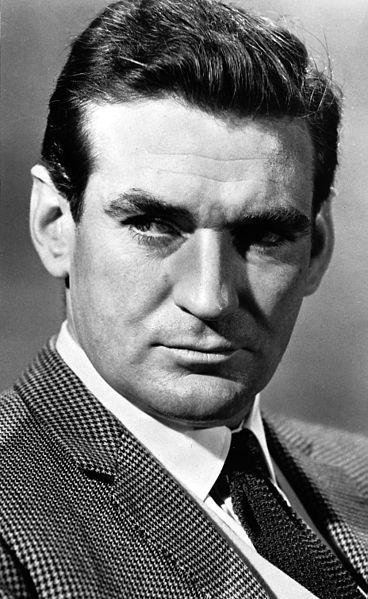 (Rod Taylor 1963 The V.I.P.s Photo)
Rod Taylor was born in Sydney, Australia on January 11 1930, into an artistically-minded family; his father was a construction contractor and commercial artist, and his mom a write of over 100 short stories & children's books. 
Rod Taylor married first wife Peggy Williams, a department store model he'd met when working, in 1951 just as he was starting his acting career in Australia. Peggy and Rod Taylor's marriage lasted only 3 years (no children) and they divorced before he left for Los Angeles in 1954.  
Soon after arriving in L. A., Rod Taylor landed small roles in television shows and films, including Giant alongside Rock Hudson, Elizabeth Taylor and James Dean; a contract with MGM followed his turn in Giant.
He co-starred with David Niven, Shirley MacLaine, and Gig Young in the romantic comedy Ask Any Girl (1959), a genre that would become his forte in the 1960's.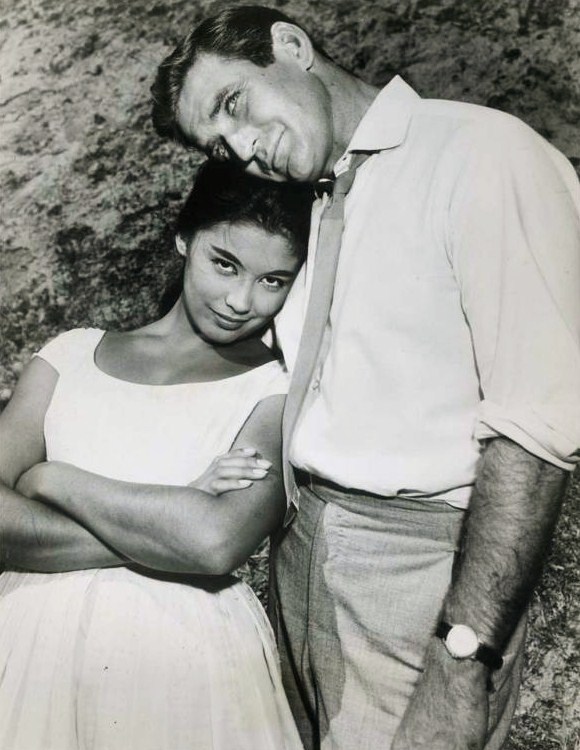 (Rod Taylor & France Nuyen 1960 Hong Kong Photo: ABC)
Rod Taylor had been making episodic television appearances since the 1950's on popular baby boomer shows before landing his own action series Hong Kong (1960-1961). France Nuyen guest-starred on Hong Kong in 1960. 
On Hong Kong, Taylor played action-oriented journalist Glenn Evans, opposite co-stars Lloyd Bochner (as Chief Inspector) and Canadian actor Jack Kruschen as Tully.
Taylor reprised his Hong Kong character Glenn Evans in the TV movie Dateline: San Francisco (1962) co-starring Barbara Rush (Peyton Place).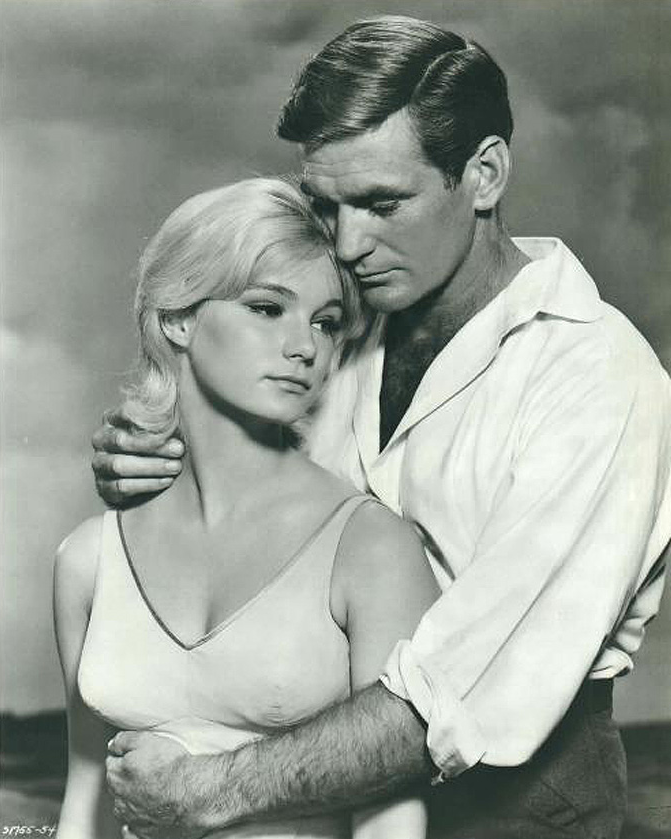 (Rod Taylor & Yvette Mimieux 1960 The Time Machine Photo: Film Star Vintage)
Rod Taylor's breakout leading man role came in 1960's The Time Machine opposite Yvette Mimieux, with Alan Young and Sebastian Cabot in supporting roles.
A series of big-screen starring roles in the 1960's followed, including Alfred Hitchcock's The Birds (1963) co-starring Tippi Hedren, and lighter fare such as The Glass Bottom Boat opposite Doris Day (1966) and Hotel in 1967. Actors Arthur Godfrey, Paul Lynde, Edward Andrews, Dom DeLuise, Ellen Corby, and Dick Martin brought their own comedy talents to The Glass Bottom Boat. Playing supporting roles in Hotel were Catherine Spaak, Karl Malden, Melvyn Douglas, Merle Obron, Richard Conte, Michael Rennie, Kevin McCarthy, and Roy Roberts. 
Sunday in New York (1963) co-starred Jane Fonda, Cliff Robertson as her brother, and Rod Taylor as her romantic leading man. Below, Rod Taylor and Jane Fonda are featured in the Sunday in New York movie preview clip from Warner.
In the 1960's, Rod Taylor could also be seen in the movies:
Nobody Runs Forever (1968) with Christopher Plummer.
Fate is the Hunter (1964) a thriller co-starring Glenn Ford, Nancy Kwan, Suzanne Pleshette, Jane Russell, Wally Cox, Nehemiah Persoff, Mark Stevens, Dorothy Malone (Peyton Place), and Constance Towers.
36 Hours (1964), a WWII film co-starring James Garner, Eva Marie Saint. Supporting actors in 36 Hours included Alan Napier and John Banner. 
Do Not Disturb (1965) another romantic comedy co-starring Doris Day. Below, Doris Day and Rod Taylor in a scene from Do Not Disturb. 
 (Doris Day Rod Taylor 1965 Do Not Disturb Movie Trailer Screenshot)
Rod Taylor married again to model Mary Hilem in 1963 and Rod's only child, daughter Felicia Taylor (now a news anchor), came along in 1964. Mary and Rod Taylor were divorced in 1969.
During the 1970's and 1980's, Rod Taylor continued to act in movies and on television, starring in several series: Bearcats! (1971) co-starring Dennis Cole; The Oregon Trail (1976); Masquerade (1983-1984) with Kirstie Alley and Greg Evigan; the western Outlaws (1986-1987); and a recurring role on Falcon Crest (1988-1989). 
The John Wayne western The Train Robbers (1973) co-starred Rod Taylor, Ann-Margret, Ben Johnson, singer Bobby Vinton in a rare acting role, Ricardo Montalban, and Christopher George. The Warner clip below from The Train Robbers features John Wayne, Rod Taylor, Richardo Montalban, Christopher George, and Bobby Vinton.
Actress Dina Merrill had guest-starred on Rod Taylor's adventure series Hong Kong in 1961, and over the next 4 decades they co-starred in 3 movies. Rod Taylor and Dina Merrill were in the TV movie Family Flight (1972), and 2 feature films in 1995:
The Point of Betrayal (1995), a thriller.
Open Season (1995), a comedy with Helen Shaver, Saul Rubinek, Tom Selleck (Magnum, P.I.), Alan Thicke, and Joe Piscopo.
After first meeting and briefly dating Carol Kikumura in the early 1960's when she was an extra on his TV Show Hong Kong, Rod Taylor and Carol started dating again in 1971. In 1980, after having known other for almost 20 years, Rod Taylor and Carol Kikimura got married. 
Although he was semi-retired by the 1990's, Rod Taylor continued acting on television and in movies. Most recently as a 79-year-old septuagenarian senior citizen Rod Taylor appeared  in a cameo as Winston Churchill, in the Quentin Tarantino film Inglorious Basterds (2009).
Farewell, Rod Taylor.
Article updated in July 2017 with additional content.