Celebrating Seniors - James Darren Turns 80
Gidget's "Moondoggie" has turned 80! Recording star, actor, and director – and now a new octogenarian senior citizen – James Darren (nee James Ercolani) was born June 8, 1936 in Philadelphia, Pennsylvania.  
Celebrating Darren's 80th birthday with his story and some vintage music videos/clips: Gidget, The Next Best Thing To Love, Goodbye Cruel World, Because You're Mine, All.
(James Darren 1971 Mooch Goes to Hollywood Screenshot)
James Darren was interested in acting from an early age, and began steadily dating girlfriend Gloria Terlitsky as a young teenager. Actor Eddie Fisher was friends with a neighbour's son in Philadelphia, and the success of this local boy inspired James to pursue acting.
At age 16, young James dropped out of school, began traveling back and forth from Philadelphia to New York City to study acting with Stella Adler, and changed his last name to Darren for professional reasons.
While working in the Brill Building in New York City, he met entertainer and singer Tony Orlando; they became friends. James Darren arranged to have professional photographs taken so he could get more acting jobs, and the photographer's secretary asked him if he wanted film work. She arranged for him to meet casting director Joyce Selznick (niece of legendary movie producer David O. Selznick); a week later James Darren had a contract with Columbia Pictures.
James Darren told Los Angeles Magazine that he went to Los Angeles in 1954 to get discovered, where he met and became good friends with actor John Saxon. John Saxon and Darren would hang out with actor James Dean; none of them were as yet stars, and both James Dean and James Darren shared a love of cars and motorcycles.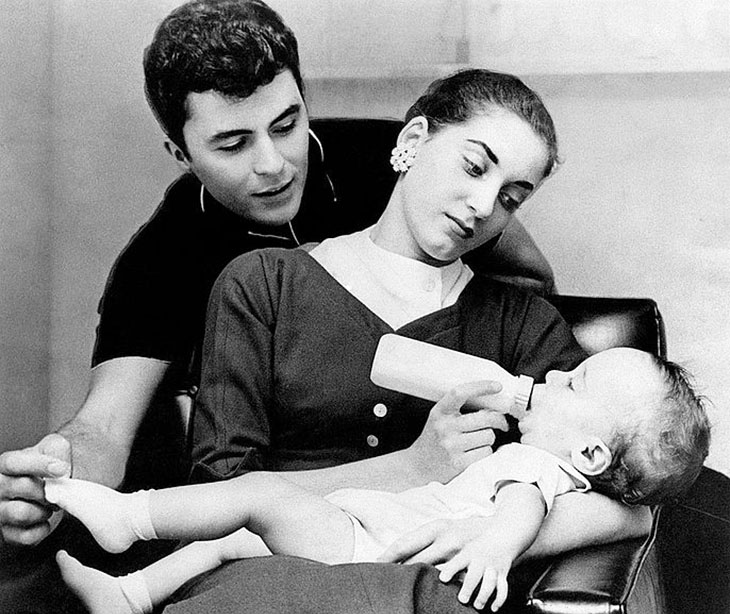 (James Darren, wife Gloria Terlitsky & son Jim Moret 1950s Photo: Mondadori Publishers)
In 1955 teenagers James Darren and Gloria Terlitsky eloped because her Jewish parents disapproved of the Catholic Darren. Their son James Jr. (Jimmy) was born in December 1956.
Roles in movies started to come his way beginning with Rumble on the Docks (1956), which generated fan mail and brought James Darren to the attention of the movie studio. Below, the movie trailer for Rumble on the Docks features James Dean, Laurie Carroll, and Robert Blake.
Darren met and became life-long friends with fellow Italian-American singer Frank Sinatra that year; he would also become lifetime friends with Elvis Presley. James Darren admired both singers and told Classic Bands in 2005 that
"Elvis was a friend. We used to play football together. I've always been a giant Elvis fan, from day one, before I knew him and still am to this day."
The western film Gunman's Walk (1958) in glorious colour, starred veteran character actor Van Heflin and young up-and-comers James Darren, Tab Hunter, and Kathryn Grant. Below, the movie trailer for Gunman's Walk features Van Heflin, Kathryn Grant, Tab Hunter, Mickey Shaughnessy, and James Darren.
Elvis Presley
was in the U.S. Army and unavailable to co-star with Sandra Dee and Cliff Robertson in a new movie, so the producers cast James Darren as "Moondoggie" in the quintessential young love/beach film Gidget (1959). (James Darren & Sandra 1959 Gidget Photo: Columbia Pictures)
When filming for Gidget began in early 1959, Darren told the producers that he could sing.
The title track Gidget (1959) written by Fred Karger and Patti Washington, became a #41 hit single for James Darren. 
Below, James Darren and the other beach bums play it cool in the movie trailer for Gidget.
James Darren also sang The Next Best Thing to Love (1959) written by Fred Karger and Stanley Styne, in Gidget (1959).
By the end of 1959, 23-year-old James Darren had been divorced by Gloria. Gidget had launched his singing career, earning him a recording contract.
Gidget also spawned two big-screen movie sequels which Darren also starred in – Gidget Goes Hawaiian (1961) with Deborah Walley, Michael Callan, Carl Reiner, and Kam Fong (Hawaii Five-O), and Gidget Goes to Rome (1963) with Cindy Carol. Below, Cindy Carol and James Darren in a clip from Gidget Goes to Rome. 
Darren didn't appear in subsequent Gidget made-for-TV movies or the 1965 television series starring Sally Field.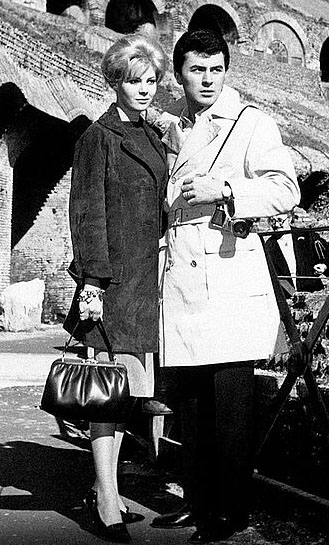 (Evy Norlund & James Darren 1960 Photo: Mondadori Publishers)
In February 1960 James Darren married former Miss Denmark 1958, Evy Norlund. Three weeks after their marriage, James Darren took Evy with him to shoot The Guns of Navarrone on location in Rhodes.
Their son Christian was born in 1960, followed by Anthony (Tony) in 1964. 
Evy and James Darren are still married and living in the house he purchased in 1966, on Kimridge Road in the Beverly Hills canyon of Los Angeles, California. Darren's house had previously been owned by film star Audrey Hepburn, and their neighbours included friend Frank Sinatra, Ernie Kovacs, and singer Peggy Lee.
James Darren played different characters when he guest-starred twice on The Donna Reed Show, starring Donna Reed (Donna Stone) and Shelley Fabares (Mary Stone).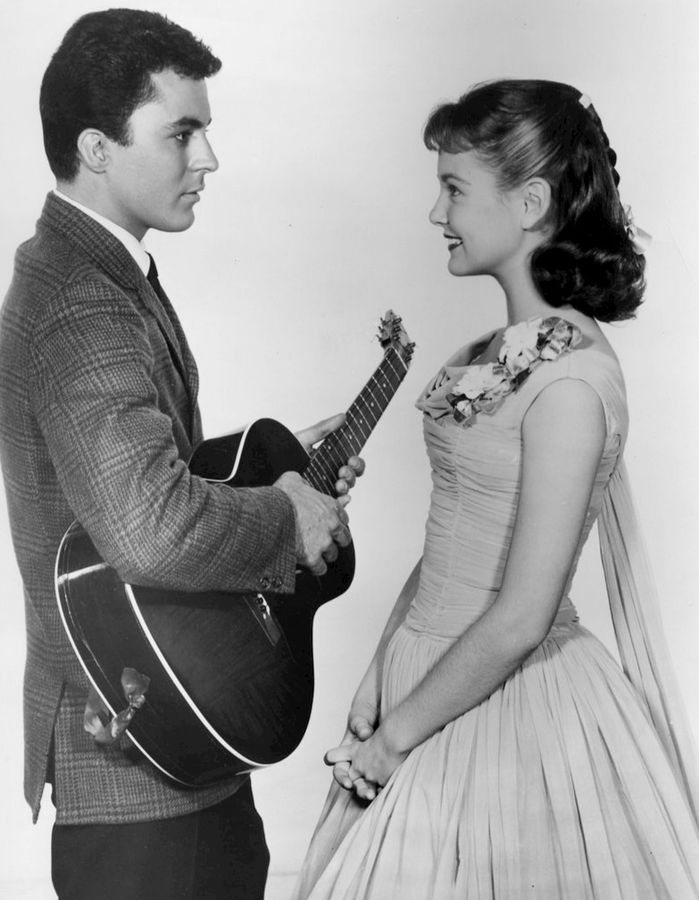 (James Darren as Buzz Berry & Shelley Fabares 1959 The Donna Reed Show Photo: ABC Television) 
More movie roles followed for James Darren, including the Korean War movie All the Young Men (1960) starring Alan Ladd and Sidney Poitier; Darren also sang the title track to All the Young Men. 
The Guns of Navarone (1961) saw James Darren sharing the screen with Gregory Peck, David Niven, and Anthony Quinn.
James Darren's biggest hit on the Billboard charts was Goodbye Cruel World (1961), a #3 hit single that sold over a million copies, and was nominated for a Grammy in 1961.
Below, James Darren (right) is joined by his younger brother John Darren (born John Ercolani in 1937), as he sings Goodbye Cruel World in a guest-starring scene from The Donna Reed Show (1961).
The following year, James Darren's single Her Royal Majesty (1962) made it to #6 on the Billboard charts; however, Darren preferred acting to performing live, and focused on his movie career.
In the Hawaiian drama Diamond Head (1963), James Darren once again sang the title track and co-starred with Charlton Heston and Yvette Mimieux. His other co-stars in Diamond Head included George Chakiris, France Nuyen, and Kam Fong who had been in Gidget Goes Hawaiian with him.
James Darren was back to acting in lighter fare and co-starred with actress Pamela Tiffin in both The Lively Set (1964), the first of a 7-picture movie deal with Universal, and For Those Who Think Young (1964). Frank Sinatra's production company was involved in For Those Who Think Young, and Sinatra's daughter Nancy Sinatra made her acting debut in the movie. James Darren once again sang the movie's title track in For Those Who Think Young.
Below, the movie trailer for The Lively Set features James Darren, Doug McClure, sportscars, and movie love interest Pamela Tiffin.
Because You're Mine (1965)  was James Darren's last Top 30 Pop hit. Below, note the 1960's swimsuit fashions as Darren sings Because You're Mine.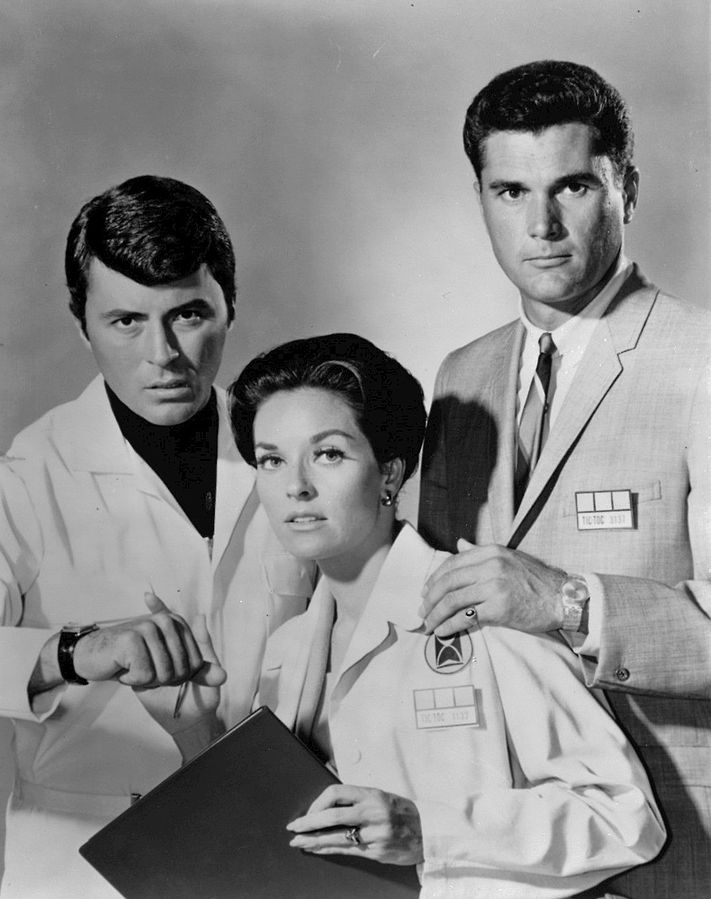 (The Time Tunnel Cast 1966 Photo: ABC Television)
James Darren starred in the sci-fi television series The Time Tunnel (1966-1967) along with co-star Robert Colbert, and Lee Meriwether; The Time Tunnel lasted one season.
By 1970, television and movie roles were getting scarcer for teen idol James Darren.
He met met comedian and actor Buddy Hackett at a Nancy Sinatra show at the Cocoanut Grove in 1970, and they became friends. James Darren accepted an offer from Buddy Hackett to perform with him as his "straight man". They toured together from 1970-1982 and did shows at the Sahara Hotel in Las Vegas for most of the year.
In additional to occasional episodic television work during the 1970's, Darren was a celebrity panelist on Match Game. 
James Darren had a Top 4 Adult Contemporary chart hit with the single All (1967). Below, a video clip of James Darren set to his hit song All .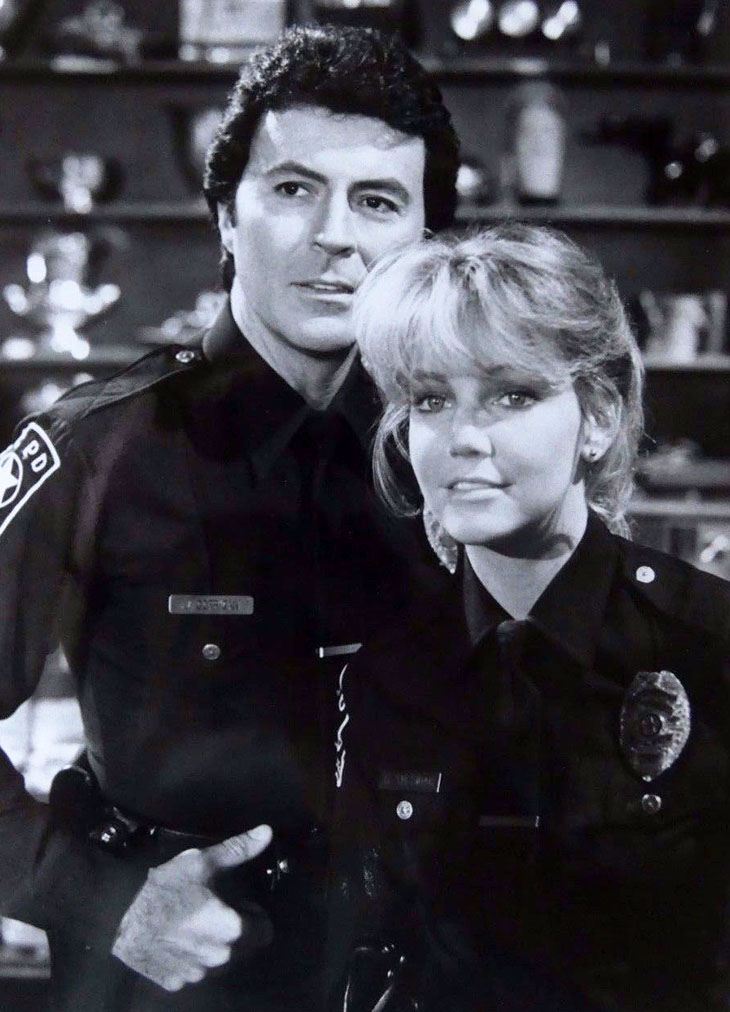 (James Darren & Heather Locklear 1983 T. J. Hooker Photo: ABC TV)
Popular TV series T. J. Hooker starring William Shatner as the title character, was in it's second season when James Darren was cast as actress Heather Locklear's on-screen partner, Officer James Corrigan.
Darren appeared on T. J. Hooker for 4 years until it ended in 1986, and directed the last episode – thereby launching a new career for himself as a director. James Darren went on to direct many other popular television shows such as Melrose Place, 90210, Hunter, and Walker, Texas Ranger.
Below, James Darren doesn't look as if he's aged very much from his younger days as Officer Jim Corrigan in 1983 on T. J. Hooker (left), compared to 2015 (right).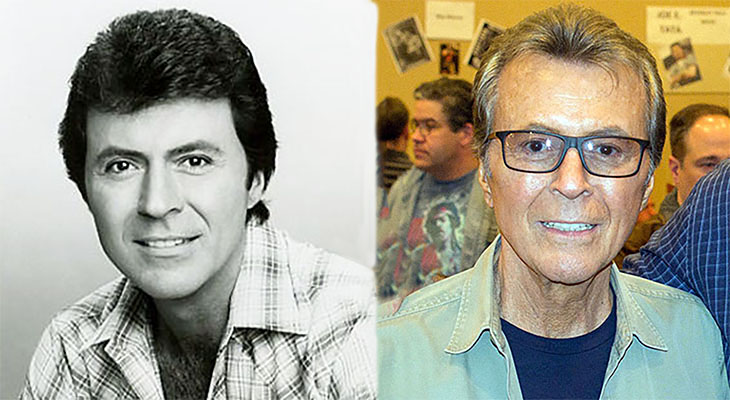 (James Darren Photos: 1983 ABC TV | 2015 Rob DiCaterino)
He was cast as holographic lounge singer Vic Fontaine in the sci-fi series Star Trek: Deep Space Nine in the 1998/1999 seasons, exposing James Darren to the children and grandchildren of his prime baby boomer audience from the 1950's, 1960's, and 1980's.
In 2016, octogenarian senior citizen James Darren can be seen in person for a couple of dates in Las Vegas in July and August, and in Chicago in September. He and wife Evy celebrated their 56th wedding in February.
Still cool senior citizen James Darren treasures his rare, vintage 1958 Porsche 1600 Super Speedster, which he's had for 40+ years; friend James Dean purchased the exact same model (Dean died in a different Porsche car, a 550 Spyder).
*Images are public domain or Creative Commons licensed & sourced via Wikimedia Commons or Flickr, unless otherwise noted*