Celebrating Seniors - James Brolin Turns 75
Future actor, producer, director and pilot James Brolin was born Craig Bruderlin on July 18, 1940 in Los Angeles, California, the oldest of 4 children (he has 2 sisters and a brother). He asked his parents to call him Jim at age 12, not liking either his first or last names. 
 (James Brolin 1981 Photo: Alan Light)
Jim was very shy, recalling in a 1998 interview with McCalls magazine that "I was terrified in high school to even deliver a book report in front of a class." While attending University High School, at age 15 a family friend invited him to tour a movie studio and asked him if he'd considered acting. Although his shyness foiled this early attempt to read a script, he was inspired to buy a camera and shoot films. He also met fellow student Ryan O'Neal, and they became friends.
In 1958 after graduating from high school and starting his own pool cleaning business at age 18, Jim was stopped on the street and asked if he'd like to act in a commercial, in a non-speaking role. When his next commercial was offered, it was for a speaking part and he joined SAG (Screen Actor's Guild), officially became an actor. His friend Ryan O'Neal invited him to meet a talent scout, and combined with some acting classes under his belt, he began to overcome the shyness that held him back from acting in speaking parts. He also discovered took his first flying lesson and discovered a love of flying that would never die.
James Brolin sold the pool company the following year, and in an attempt to get cast as Marlon Brando's son in the film Mutiny on the Bounty, travelled to Tahiti where the movie was filming. His part was written out but he stayed on and learned about film production as a crew member and production assistant, before returning to Los Angeles after a year.
When he officially changed his name to James Brolin in 1960, small roles on television shows (including recurring guest appearances on Batman) and specials started to happen for him, beginning with 1961's Bus Stop. Brolin honed his acting skills while working through a contract with 20th Century Fox, and studying with acting coaches including the renowned Stella Adler. 
 (James Brolin 1965 12 O'Clock High Screenshot)
James Brolin's first movie role in 1963's Take Her, She's Mine, was quickly followed by more small parts over the next few years. He met Jane Cameron, a casting executive with 20th Century Fox, and they married within 12 days. Jane Cameron and James Brolin had 2 sons – Josh Brolin in 1968; Jess Brolin in 1972. 
Meanwhile, James Brolin kept acting in small roles in films. He was a supporting actor in the WWII adventure flick Von Ryan's Express (1965) starring Frank Sinatra, Trevor Howard, and Edward Mulhare. Von Ryan's Express filmed in Italy (Florence, Rome, Cortina d'Ampezzo), Spain, and other European vacations. Brolin landed a slightly larger role in the movie The Capetown Affair (1967) opposite Jacqueline Bisset, before being let go by 20th Century Fox in 1968.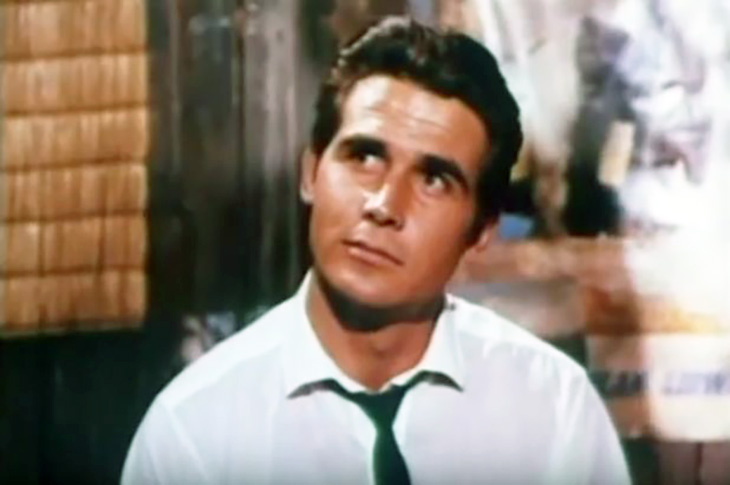 (James Brolin 1967 The Capetown Affair Screenshot)
(James Brolin as Dr. Steven Kiley – Marcus Welby, M.D. 1969 Photo: ABC Television)
Within weeks James Brolin was working for Universal Studios, and won the role of Dr. Steven Kiley on the new television series Marcus Welby, M.D. Marcus Welby, M.D. was tremendously popular, and 6'4″ Brolin and co-star Robert Young became heart-throbs with the younger baby boomer and 50+ audiences alike. James Brolin won the Emmy Award for Outstanding Performance by an Actor in a Supporting Role for the first year of Marcus Welby, M.D. (1969-70), and received 3 more nominations during the show's run. 
In the early 1970's, James Brolin's entrepreneurial instincts supplemented his acting jobs. He started a house construction and lumber business with partner and architect Nick Fortune (which he still had as of 2013).
He began to get more, larger roles in movies, and by the time Marcus Welby, M.D. ended in 1976, James Brolin had become a leading man in films such as Capricorn One (1978) and The Amityville Horror (1979). His co-stars in The Amityville Horror included Rod Steiger, Margot Kidder, Don Stroud, Murray Hamilton, John Larch, Helen Shaver, and Irene Dailey.
Below, James Brolin, Rod Steiger, Margot Kidder  are featured in the movie trailer for The Amityville Horror.
By the early 19890's, the Brolin family lived on a large rural estate in the Montecito suburb of Santa Barbara; Jane had quit her job to stay home and raise their sons, and was a wildlife activist. James Brolin was often away on set shooting movies and films.
James Brolin returned to television in 1983, starring as hotel manager Peter McDermott in producer Aaron Spelling's Hotel (1983-1988), opposite Connie Selleca. He also had the opportunity to begin directing TV episodes on Hotel. Connie Selleca and James Brolin remained friends after Hotel ended.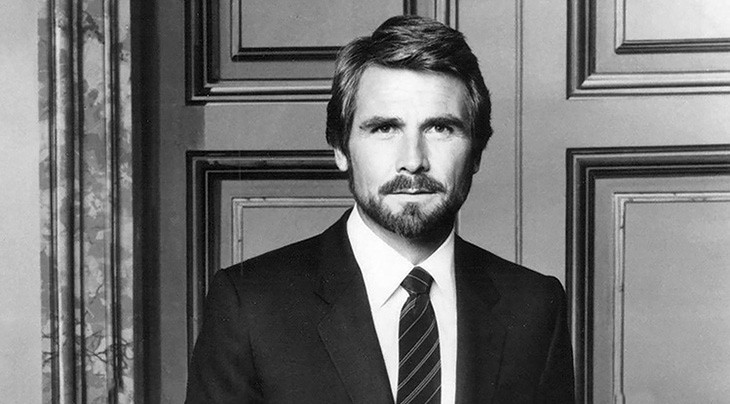 (James Brolin 1983 Hotel: ABC)
Unfortunately, Jane and James Brolin did not…James had met actress Jan Smithers (WKRP in Cincinnati) when she guest-starred in the first season of Hotel in 1983, and they began dating.
Post-divorce, Jane Brolin told reporters they'd had an open marriage for years. She died in a car accident in 1995. Son Josh Brolin told Men's Journal that she had been a drinker and exhibited extreme behaviour.
Jan Smithers and James Brolin were married in 1986. After daughter Molly Brolin came along in 1987, Smithers retired from acting. Jan Smithers filed for divorce from James Brolin in 1995, and the couple were divorced in 1984 after 18 years of marriage.
In his post-Hotel 50+ and senior years, James Brolin's acting career in the movies has continued non-stop, and included hit films and award-nominated performances in Traffic (2000), Catch Me if You Can (2002), The Reagans (2003). The same year, he played an executive in the comedy A Guy Thing (2003) starring Jason Lee, Julia Stiles, Selma Blair, Lochlyn Munro, and Diana Scarwid. Below, James Brolin and Jason Lee are featured in a clip from A Guy Thing. 
His big-screen movie career pace picked up when he became a senior citizen in 2005. As a septuagenarian senior citizen, James Brolin isn't slowing down at all. He co-starred in the senior romance movie Elsa & Fred (2014), starring Shirley MacLaine and Christopher Plummer, with Marcia Gay Harden, Chris Noth, Scott Bakula, and George Segal; and is in 3 films either currently filming or in post-production in 2015 – Accidental Love, The 33, and Sisters.
Below from left, Ed Helms, Alan Thicke, James Brolin, and Jeremy Piven in The Goods: Live Hard, Sell Hard (2009) movie.
 (2009 Photo: FAN THE FIRE Magazine)
James Brolin also starred in more short-lived television series after Hotel, including Angel Falls (1993) and Extreme (1995), before landing the 1997-2000 television series Pensacola: Wings of Gold. The series, about a marine fighter-pilot squadron, fit nicely into Brolin's own love of flying. In addition to starring in Pensacola: Wings of Gold, Brolin also had opportunities to direct and produce for the series.
James Brolin has been a pilot for 50+ years and owns his own small airplanes, as well as a jet charter company. His daughter Molly Brolin encouraged him to take a guest-starring gig on Community in 2013, his most recent television appearance.
When James Brolin met singer/actress Barbra Streisand in 1996 through Jon Peters ex-wife, Christine, sparks flew. James Brolin and Barbra Streisand were married in 1998 and have lived together in Malibu, California for almost 19 years. Brolin became step-father to her son Jason Gould (from Streisand's marriage to actor Elliot Gould). 
Of James Brolin's now adult children, oldest son Josh Brolin has followed him into show business and is a highly successful actor in his own right. Josh has also made James Brolin a grandfather twice over – grandson Trevor was born in 1988 and granddaughter Eden in 1996.
Happy 75th Birthday, James Brolin!
*Images are public domain or Creative Commons licensed & sourced via Wikimedia Commons, Vimeo, or Flickr, unless otherwise noted*