Celebrating Seniors - Barry Gibb Turns 70, Part 3
Barry Gibb & the Bee Gees Story & Songs, Part 3: Too Much Heaven to How Can You Mend a Broken Heart (1976-2016)
Barry Gibb's story and 8 songs: Too Much Heaven, What Kind of Fool (Barbra Streisand duet), One, Alone, To Love Somebody, How Can You Mend a Broken Heart (Michael Bublé duet). Below, a younger Barry Gibb circa 1973.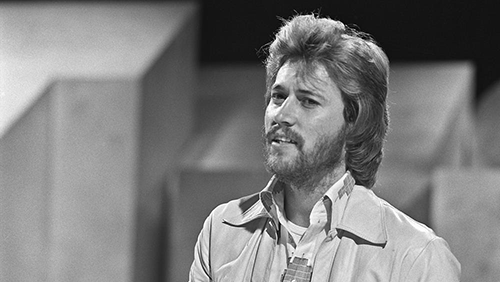 (Barry Gibb 1973 TopPop Photo: AVRO Beeld En Geluidwiki | Wikimedia Commons CC 3.0)
The first three tracks from the Bee Gees 15th studio album Spirits Having Flown (1979) became #1 hit singles and was their most successful album (aside from their contribution on the Saturday Night Fever soundtrack). Barry Gibb carried the heaviest load on the album with songwriting, producing, singing lead vocals and sometimes overdubbing background vocals as well. Robin Gibb contributed to songwriting, and Maurice Gibb was to provide bass guitar work. Maurice's back troubles and alcoholism kept him from a more active role in the album.
The ballad Too Much Heaven (1978) was written by Barry, Robin, and Maurice Gibb, in 1978 on the same day they wrote Andy Gibb's 1978 hit single Shadow Dancing, and the song Tragedy, during a break from filming the movie Sgt. Pepper's Lonely Hearts Club Band in 1978. Both Too Much Heaven and Tragedy were produced by the Bee Gees with Albhy Galuten, and featured Barry Gibb on lead vocals. Too Much Heaven was released in October 1978 and in January 1979 it hit the #1 spot on the Billboard Hot 100 chart in the U.S., proving popular with baby boomer fans.  Below, Barry Gibb and the Bee Gees performing Too Much Heaven.
Tragedy (1979) released in February 1979, became the Bee Gees eighth #1 hit single in the U.S. in March 1979 (it hit #1 in the U.K. in February). The Bee Gees third single from their Spirits Having Flown album, the funk song Love You Inside Out (1979) was released in April 1979. Written by Barry, Robin, and Maurice Gibb, Love You Inside Out was the Bee Gees ninth #1 hit single, sixth consecutive #1 hit single, and third hit single from the Spirits Having Flown Album, in the U.S. Love You Inside Out reached #1 in the U.K.in February 1979 and in the U.S. in March of 1979. 
By early 1979, Andy Gibb's use of cocaine had seriously affected his ability to write and sing. In May 1979 Andy recorded songs for his After Dark (1980) album, most of which were either written or co-written by Barry Gibb. In addition to co-producing the After Dark album, Barry Gibb also sand background and harmony vocals, contributed some lead vocals, and played acoustic guitar on Andy's album. Despite Barry and Andy Gibb's efforts, After Dark was a flop, producing only one Top 10 hit single, Desire (written by Barry, Robin, and Maurice Gibb).
The Bee Gees toured in 1979 to promote the Spirits Having Flown album and in November 1979, a 90-minute The Bee Gees Special (1979) aired on NBC, featuring concert footage from the tour. The Bee Gees won the AMA Favorite Pop/Rock Album Award for Spirits Having Flown.
Barry produced the three new songs – Time is Time, Me (Without You), and Will You Love Me Tomorrow – on Andy Gibb's Greatest Hits (1980) album, released in September 1980. In addition to co-writing the Top 15 hit single Time is Time with Andy, Barry sang harmony and background vocals, and played acoustic guitar on some of the songs.
Barbra Streisand had asked Barry Gibb to write songs for her 22nd album, Guilty (1980). When Guilty (1980) was released with Barbra Streisand and Barry Gibb on the cover, it became Streisand's top-selling album internationally. All the songs on Guilty were either written or co-written by Barry Gibb, and produced by Barry Gibb with Karl Richardson and Albhy Galuten, the Bee Gees producing team. Streisand's single Woman in Love written by Barry and Robin Gibb, was a #1 hit for 3 weeks, and was nominated for Song of the Year and Record of the Year.
Guilty was nominated for a Grammy for Album of the Year in 1981. The Barbra Streisand/Barry Gibb duet on the title track Guilty was released in October 1980. In addition to co-writing the single Guilty with brothers Robin and Maurice Gibb, and co-producing and singing with Streisand on the single, Barry Gibb played guitar on Guilty. Guilty was a #3 chart Hot 100 singles chart hit and won the 1981 Grammy Award for Best Pop Vocal Performance – Duo or Group.
The ballad What Kind of Fool (1980) written by Barry Gibb and Albhy Galuten for Barbra Streisand, was recorded as a duet with Streisand and Barry Gibb. When What Kind of Fool was released in January 1981, it climbed to the Top 10 on the U.S. charts (#1 on the U.S. Adult Contemporary charts). Below, Barbra Streisand and Barry Gibb sing What Kind of Fool.
Robin Gibb's first marriage to Molly Hullis ended in a bitter divorce in 1980 after years of separation; he complained in the press about being unable to see his children for several years, and was sentenced to 14 days in prison in 1983 for talking about his former marriage. He met druid-poet Dwina Murphy in 1980 and they had son Robin-John Gibb in 1983. Dwina and Robin Gibb were in open marriage from 1985 until Robin's death.
23-year-old Andy Gibb had met 31-year-old actress Victoria Principal in early 1980 and they became a couple, until Andy's drug use caused Principal to end their relationship a little over a year after it began. Andy Gibb was devastated and his cocaine use increased.
Meanwhile, the disco era was dying, and with it the popularity of the Bee Gees with their maturing baby boomer fans. With the Bee Gees on a recording hiatus beginning in 1981, Barry Gibb continued to write songs, produce and perform for himself and other artists, including Dionne Warwick, Kenny Rogers, Diana Ross, Elton John, and brothers Andy and Robin Gibb. Barry, Robin, and Maurice Gibb wrote the #1 hit single duet by Dolly Parton and Kenny Rogers, Islands in the Stream (1983).
The Bee Gees Robin, Maurice & Barry Gibb also wrote 5 songs for the soundtrack of the Saturday Night Fever sequel movie, Stayin' Alive (1983), which was co-produced by their manager Robert Stigwood and Sylvester Stallone. One of the Bee Gees songs from the Stayin' Alive soundtrack, The Woman in You (1983), made it to #24 on the U.S. charts, but neither the movie nor the soundtrack approached the commercial successes of Saturday Night Fever; baby boomers had declared disco dead. 
After taking a 6-year break, the Bee Gees began recording their first new album in 6 years, E.S.P., in 1987. The three brothers are credited on all of the songs on the album and there was a more equal distribution of lead vocals than on their previous albums. During their hiatus both Barry and Robin had gotten used to their own individual recording styles, and during the recording sessions for E.S.P. they argued frequently. Although E.S.P. sold well in Europe and the Bee Gees won the American Music Award for International Artist, North American baby boomers weren't interested. The only single from the E.S.P. album to crack the U.S. Hot 100 charts was the #75 single You Win Again, which was a #1 song in the U.K. and Australia.
The screenplay for the British comedy movie Hawks (1988) starring Timothy Dalton and Anthony Edwards was based on a short story co-written by Barry Gibb and David English, and Barry Gibb wrote or co-wrote all the songs for the movie, most of them in 1986.
The song Chain Reaction (1985) included in the Hawks soundtrack had been written by Barry, Robin, and Maurice Gibb for Diana Ross, who released it in 1985 and again in 1986. The Bee Gees sang backing vocals for Diana Ross on Chain Reaction. Although Chain Reaction was only a #95 single in the U.S., it was a #1 hit single for Diana Ross in the U.K. and Australia. The rest of the songs on the Hawks soundtrack were performed by Barry Gibb, but the soundtrack was only released in the U.K. in September 1988.
A few days after his 30th birthday, Barry's youngest brother Andy Gibb died on March 10, 1988 from inflammation of the heart caused by a viral infection. His family has said that Andy Gibb's previous heavy alcohol and drug abuse over many years and lack of proper nutrition damaged his heart.
The eighteenth Bee Gees studio album One (1989) yielded the #7 US  hit single from the title track, One. Released in June 1989, One was the only U.S. Top 10 hit for the Bee Gees in the 1980's, and was their biggest hit single since 1979's Love You Inside Out. One stayed in the U.S. Top 40 for ten weeks, and also went to #1 on the U.S. AC charts for 2 weeks in September 1989. Below, Barry Gibb and the Bee Gees perform One in the official VEVO music video.
The Bee Gees continued recording albums and releasing singles during the early 1990's and had some hits in Europe, but failed to crack the US Top 30 in the first half of the decade. Maurice finally kicked his alcohol addiction after a month-long bender in 1991 with some intervention from Barry and Robin, who didn't want to lose another brother. Linda and Barry's Gibb's fourth child, daughter Alexandra (Ali) Gibb was born 16 weeks early, on December 29, 1991.
In 1994 the Bee Gees were inducted into the Songwriters Hall of Fame. A planned tour to promote a new album was cancelled in February of that year, because Barry was experiencing problems with arthritis in his back, hand and knee, which he still suffers from today. In an interview with the Mirror in 2000, a 50+ Barry Gibb talked about the pain he's suffered from since 1985 and the back surgery he had after going on tour in 1989. His thumb is out of it's socket due to inflammatory arthritis, making it extremely painful for him to grip (ie, a guitar). Gibb has said his love of playing tennis exacerbated his arthritis problems and back pain, but that Miami's warm weather helps. He quit smoking in the mid-1990's, and after a heart scare with palpitations which he put down to stress, was feeling better due to dietary and lifestyle changes – swimming, eating less red meat, and no dairy products.
Despite his aches and pains from aging and arthritis since the mid 1980's, Barry has written or co-written songs for other artists like Tina Turner and Cliff Richard, and for the scores of several movies, including the films Cadillac Man (1990), Donnie Brasco (1997) Good Will Hunting (1997), Big Daddy (1999) and Mystery Men (1999).
With Barry Gibb now in his 50+ years, the last Bee Gees song to break into the U.S. Top 30 was the ballad Alone (1997) written by Barry, Robin, and Maurice Gibb and included on their best-selling, 21st studio album, Still Waters (1997). Still Waters was a Top 11 album in the U.S., and the Bee Gees biggest selling album since 1979's Spirits Having Flown. Alone made it to #5 in the U.K. and #28 in the U.S. Barry and Robin trade lead vocals on Alone. That same year, the Bee Gees were inducted into the Rock & Roll Hall of Fame, and the biographical movie Keppel Road: The Life and Music of the Bee Gees was released on Bravo in the U.S. At the 1997 World  Music Awards, the Bee Gees were given the Legend Award. Below, Barry and the Bee Gees in the official music video for Alone (1997),
In the early 2000's, and older Barry Gibb and his brothers Maurice and Robin continued to write songs and perform together. Below, the Bee Gees perform their early hit To Love Somebody live on Top of the Pops in 2001. 
Barry Gibb also co-wrote songs with his sons Ashley and Steve Gibb, for them and other artists including Cliff Richard and Barbra Streisand. Barry sang duets with friend Michael Jackson (who was son Michael Gibb's godfather), and background for Michael Bublé on his version of the Bee Gees How Can You Mend a Broken Heart (2002). Below, Michael Bublé and Barry Gibb sing How Can You Mend a Broken Heart.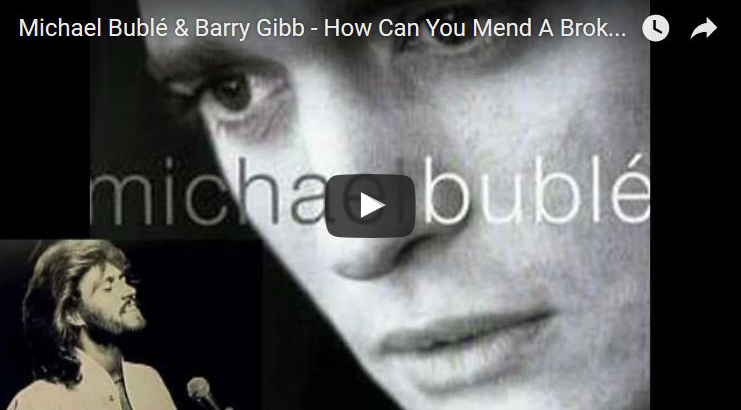 Barry's younger brother Maurice Gibb suffered a heart attack and died on January 12, 2003 at the age of 54; complications from a twisted intestine was given as the cause of death. At the 2003 Grammy Awards, the Bee Gees were given the Legend Award, and Saturday Night Fever soundtrack was entered into the Grammy Hall of Fame in 2004.
Robin and Barry Gibb were the only surviving Gibb brothers, but  they were the ones who had argued most often. They decided the Bee Gees couldn't go on without Maurice, and the brothers drifted apart after the band broke up. In November 2008, Robin Gibb and his former housekeeper Claire Yang had a daughter – Snow Evelyn Robin Juliet Gibb – the result of a long-standing affair that was reported to have started in 2001.  
Signaling a change of direction in his career, Barry Gibb and his wife Linda bought the Hendersonville, Tennessee (near Nashville) former home of June and Johnny Cash in 2006. They intended to restored the home and live there, but during renovation work in 2007 the house burned down (they later sold the property in 2014). Barry mentored contestants on American Idol's 6th season in 2007, and wrote his first country song Drown on the River (2007) with his sons Steve and Ashley Gibb. Drown on the River was included in the soundtrack for the poker drama movie Deal (2008) starring Burt Reynolds and Vincent Van Patten. In 2009, Barry and Linda Gibb became US citizens and have dual British/American citizenship. They have homes in Miami Beach and Beaconsfield, Buckinghamshire.
Barry's brother Robin Gibb was diagnosed with colorectal cancer in November 2011, and underwent chemotherapy followed by intestinal surgery and pneumonia in March 2012. He died on May 20, 2012 from liver and kidney failure. Barry, the oldest sibling and now a senior citizen, was the only surviving Gibb brother. Barry Gibb told Rolling Stone that he was very depressed for about a year and a half, until his wife and friend Paul McCartney encouraged him to go on with his life.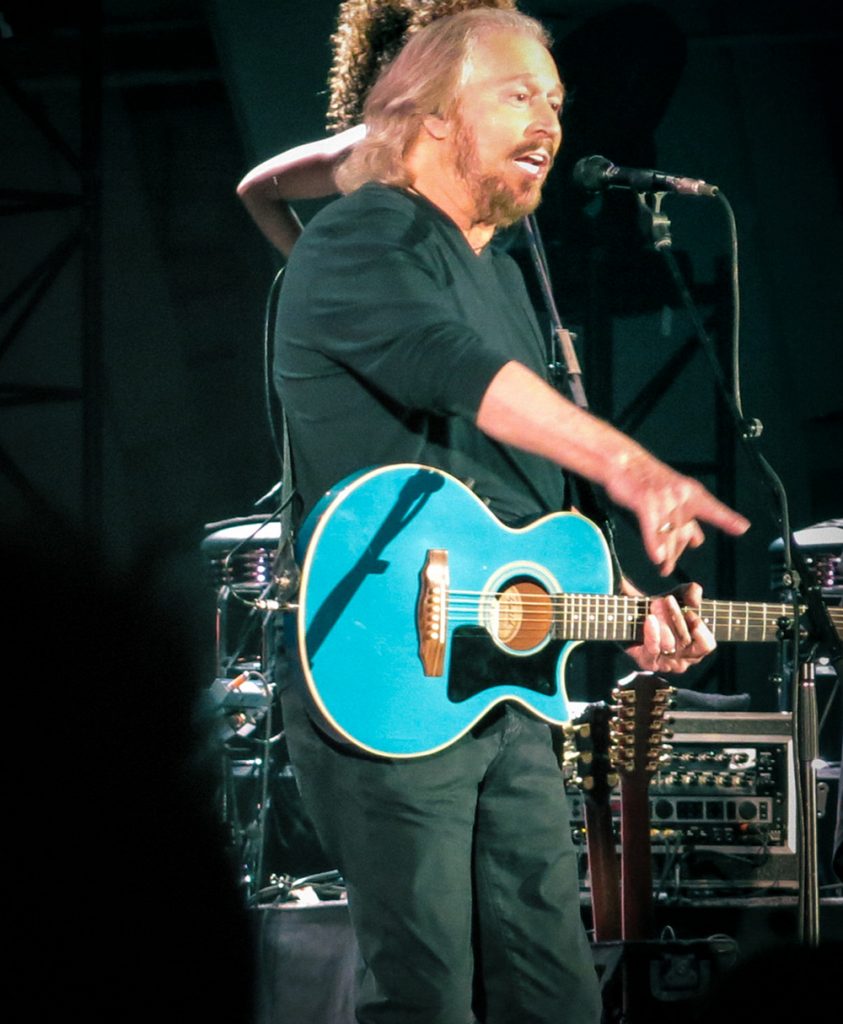 In 2012, Barry Gibb began working with country singer Ricky Scaggs on songs for Scagg's album Music To My Ears (2012). Barry Gibb wrote the song Soldier's Son, and recorded it as a duet with Ricky for the album. In July 2012, Ricky Scaggs welcomed a still-grieving Barry Gibb to the Grand Ole Opry for his Opry debut; the duo sang 3 songs together, including the Bee Gees tune To Love Somebody.
Right, an older Barry Gibb performing at the Hollywood Bowl circa 2014. (Photo: Louise Palanker | Flickr Some rights reserved)
Barry and his son Steve Gibb and Maurice's daughter Samantha Gibb toured Australia in 2013 singing the Bee Gees songs. Barry appeared on Saturday Night Live in a Barry Gibb Talk Show skit with Jimmy Fallon, Justin Timberlake and Madonna, and then Gibb appeared on Fallon's show a few months later in 2014 to announce his solo tour and sing the Bee Gees Jive Talkin' with Fallon's band.
Barry Gibb was in semi-retirement when he told Rolling Stone in 2014 that he'd been a collector of first editions, guitars, and guns, but stopped going to the shooting range when it affected his hearing. Gibb said he had no fear of death although he thinks about it a lot, and that when his time comes he wants it to be quick. "A heart attack onstage would be ideal, right in the middle of 'Stayin' Alive.'" On his bucket list? Seeing the inside of a nuclear submarine, and having one more hit song.
At the 2015 Grammy Awards the Bee Gees were given a Lifetime Achievement Award, and most recently septuagenarian senior citizen and grandfather Barry Gibb announced that he was working on a solo album set for release in October 2016 – In the Now. In the Now will have all new material and the songs were co-written by Barry with his sons Stephen and Ashley Gibb. Below, the Barry Gibb talks about the process of writing for his new album In the Now.
The Gibb family has been a close one over the years. Barry's older sister Lesley Gibb lives in Australia; his father Hugh Gibb passed away soon after Andy died in 1988, and Barry's nonagenarian senior citizen mother Barbara Gibb passed away a few weeks ago August 2016 at the age of 95. Barry Gibb's in-laws have lived with Linda and Barry since 1978, and grandparents Barry and Linda Gibb just celebrated their 46th wedding anniversary on September 1, 2016 (Barry's 70th birthday).
Updated April 2017: New videos
Happy 70th Birthday, Barry Gibb!
More Barry Gibb & the Bee Gees Story & Songs:
Barry Gibb & the Bee Gees Story & Songs, Part 1: Early Hits to How Can You Mend a Broken Heart (1946-1974)
Barry Gibb & the Bee Gees Story & Songs, Part 2: Jive Talkin' to Night Fever (1975-19