July 8th Birthdays
If you were born on July 8th you share a celebrity birthday with these famous people: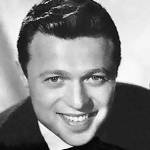 Steve Lawrence (nee Sidney Liebowitz)

American singer (Go Away Little Girl; Party Doll), Emmy Award-winning producer, actor & performer of stage, TV (Tonight Starring Steve Allen; The Carol Burnett Show) and movies (The Blues Brothers; The Lonely Guy) solo and with wife Eydie Gorme, born July 8, 1935. (Steve Lawrence 1950s Photo)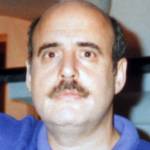 Jeffrey Tambor 
American actor of TV (Hank Kingsley on The Larry Sanders Show; George Bluth Sr. on Arrested Development; Hill Street Blues; Transparent; Max Headroom; The Ropers;The Good Wife) & movies (…and justice for all; The Hangover films; Hellboy movies), born July 8, 1944. (Jeffrey Tambor 2010 Photo: Will Hart)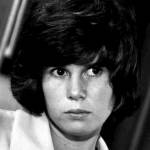 Kim Darby (nee Deborah Zerby; ex of James Stacy)
American actress of movies (True Grit; Bus Riley's Back in Town; The Restless Ones; Norwood; The Grissom Gang; The One and Only) and television (Rich Man, Poor Man; Gunsmoke; Dr. Kildare; Mr. Novak; The Fugitive; Trapper John, M.D.), born July 8, 1947. (Kim Darby 1974 Photo: ABC Television)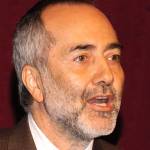 Raffi Cavoukian 
Egyptian-Canadian music producer, singer, lyricist and writer of children's music (Baby Beluga; Down by the Bay; Evergreen Everblue) and stories (Shake My Sillies Out; One Light, One Sun; This Little Light of Mine; Turn This World Around), born July 8, 1948. (Raffi 2007 Photo: Troubadour Music Inc.)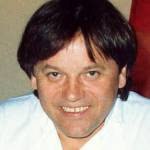 Wolfgang Puck (nee Wolfgang Johannes Topfschnig)
Austrian-American celebrity restaurateur (Spago), Culinary Hall of Fame chef, businessman, author, Daytime Emmy Award-winning TV cooking show host and personality (Wolfgang Puck; Las Vegas; Top Chef; Good Morning America), born July 8, 1949. (Wolfgang Puck 1988 Photo: Alan Light)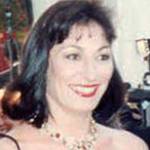 Angelica Huston (daughter of John Huston; sister of Tony Huston)
American actress of movies (Prizzi's Honor; The Witches; The Grifters; Crimes and Misdemeanors; The Addams Family; Ever After: A Cinderella Story) & TV (Medium; Lonesome Dove), born July 8, 1951. Granddaughter of Walter Huston; ex-partner of Jack Nicholson. (Angelica Houston 1990: Alan Light)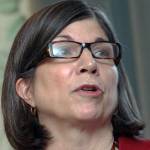 Anna Quindlen 
American journalist (New York Times; Newsweek), columnist (Public and Private), winner of the 1992 Pulitzer Prize for Commentary, writer and novelist (One True Thing; Object Lessons; Black and Blue; Rise and Shine), born July 8, 1952. (Anna Quindlen 1974 Photo: Angela Radulescu)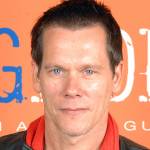 Kevin Bacon (married Kyra Sedgwick)

American producer & actor of movies (Footloose; Stir of Echoes; A Few Good Men; Apollo 13; She's Having a Baby; Diner; Sleepers; Wild Things; Mystic River; Loverboy; X-Men: First Class) and TV (The Following; Guiding Light; Search for Tomorrow), born July 8, 1958. (Kevin Bacon 2007 Photo: sagindie)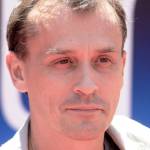 Robert Knepper 
American actor of stage, TV (T-Bag on Prison Break & Breakout Kings; Samuel Sullivan on Heroes & Heroes: Presidio Med; L.A. Law; Homeland; Twin Peaks), and movies (D.O.A.; Young Guns II; The Hunger Games: Mockingjay; When the Bough Breaks), born July 8, 1959. (Robert Knepper 2009 Photo: Angela George)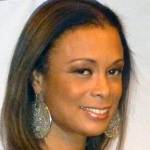 Valarie Pettiford 
American actress of stage (Fosse), TV (Big Dee Dee Thorne on Half & Half; Dr. Sheila Price on One Life to Live; Courtney Walker on Another World; The District; The Blacklist; House of Payne), and movies (Jumping the Broom), born July 8, 1960. (Valarie Pettiford 2009 Photo: Greg Hernandez)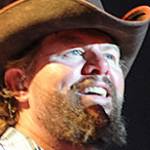 Toby Keith (nee Toby Keith Covel)
American country music songwriter & singer (Should've Been a Cowboy; Me Too; How Do You Like Me Now?!; Who's That Man; You Ain't Much Fun; We Were in Love; I Wanna Talk About Me; Whiskey Girl; Love Me If You Can), and actor, born July 8, 1961. (Toby Keith 2010 Photo: Rob McIlvaine / US Army)
Michael Weatherly (nee Michael Manning Weatherly Jr.)

American actor of films & TV (Anthony DiNozzo on NCIS, NCIS: New Orleans, NCIS: Los Angeles, & JAG; Cooper Alden on Loving & The City; Jason Bull on Bull; Logan Cale on Dark Angel) born July 8, 1968. Ex of Amelia Heinle; ex-partner of Jessica Alba. (Michael Weatherly 2012: Angela George)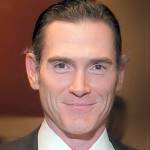 Billy Crudup (nee William Gaither Crudup)
American TV & movie actor (Almost Famous; Inventing the Abbotts; Sleepers; Without Limits; Mission: Impossible III; Eat Pray Love; Big Fish; Alien; Gypsy; The Morning Show), born July 8, 1968. Ex-partner of Claire Danes, Mary-Louise Parker. (Billy Crudup 2015: Beowulf Sheehan / PEN American Center)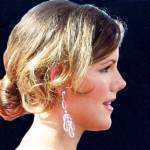 Kathleen Robertson 
Canadian filmmaker, actress of TV (Clare Arnold on Beverly Hills, 90210; Tina Edison on Maniac Mansion; Hildy Mulligan on Murder in the First; Torso: The Evelyn Dick Story; Boss; Bates Motel) & movies (Hollywoodland; Lapse of Memory), born July 8, 1973. (Kathleen Robertson 2008: Kristin Dos Santos)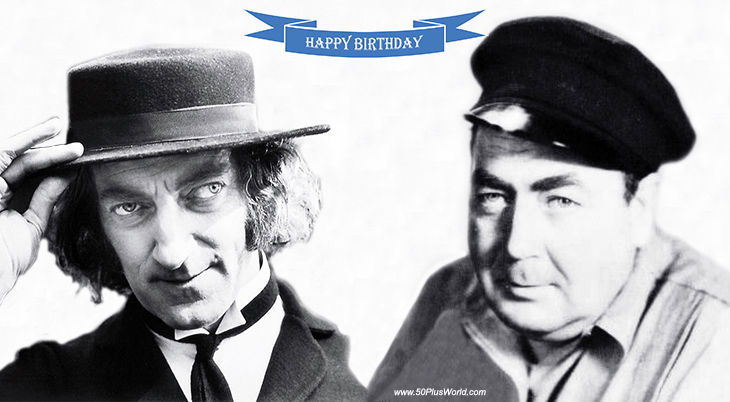 (Marty Feldman 1972: ABC TV | Eugene Pallette 1930)
Happy Birthday to everyone celebrating their birthday on July 8th!
Remember These July 8th Famous Birthdays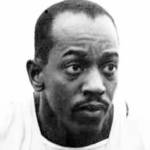 Harrison Dillard (nee William Harrison Dillard; "Bones")
American track and field athlete, 4-time Olympic Games gold medalist (1948 London Olympics 100M and 100M relay; 1952 Helsinki 110m hurdles and 100m relay) known in 1948 as the "World's Fastest Man" (born July 8, 1923 – died Nov. 15, 2019; age 96). Harrison Dillard died of stomach cancer. (Harrison Dillard 1948 Photo: National Science and Media Museum)
Craig Stevens (nee Gail Shikles Jr.; married Alexis Smith)
American actor of TV (Peter Gunn; Man of the World; Mr. Broadway; The Invisible Man; Rich Man, Poor Man; Fantasy Island; Hotel; The Love Boat; Quincy, M.E.) and movies (Spy Ship; Secret Enemies; Humoresque; Buchanan Rides Alone; Gunn; Dive Bomber) (born July 8, 1918 – died May 10, 2000; age 81). Craig Stevens died of cancer. (Craig Stevens 1967 Gunn Photo: UPI Telephoto)
Louis Jordan ("The King of the Jukebox")

American saxophonist, jump blues & swing music big band leader, songwriter, Rock & Roll Hall of Fame singer (Blue Light Boogie; Ration Blues; G.I. Jive; Choo Choo Ch'Boogie; Caledonia; Ain't Nobody Here But Us Chickens), and movie actor (born July 8, 1908 – died Feb. 4, 1975; age 66). Louis Jordan died of a heart attack. (Louis Jordan 1946 Photo: William P. Gottlieb)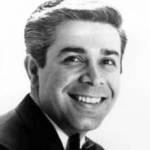 Jerry Vale (nee Genaro Louis Vitaliano)

American pop singer (You Don't Know Me; Have You Looked Into Your Heart; For Mama; Deep in Your Heart; The Star Spangled Banner), performer &  actor of TV (Growing Pains; The Ed Sullivan Show) and movies (Casino; Goodfellas; No Tomorrow; A Wake in Providence) (born July 8, 1930 – died Mar. 6, 2014; age 83). Jerry Vale died of natural causes. (Jerry Vale 1965 Photo: GAC)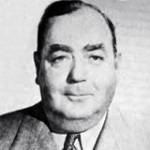 Eugene Pallette (ex of Phyllis Gordon)
American film actor (The Mark of Zorro; The Three Musketeers; The Kennel Murder Case; The Ghost Goes West; The Adventures of Robin Hood; The Lady Eve; The Sea God; Shanghai Express; Slightly Scarlet; The Virginian; Huckleberry Finn; The Border Legion) (born July 8, 1889 – died Sept. 3, 1954; age 65). Eugene Pallette died of throat cancer. (Eugene Pallette 1942 Photo: Hollywood)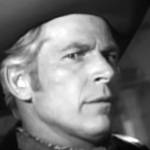 Fred Kohler Jr. (son of Fred Kohler & Marjorie Prole)
American actor of TV (The Cisco Kid; Adventures of Wild Bill Hickok; 26 Men; Judge Roy Bean) and movies (The Pecos Kid; Toll of the Desert; Lawless Valley; Texas Stampede, The Gay Amigo; Social Error; The Hoosier Schoolmaster; The Holy Terror; Ruby) (born July 8, 1911 – died January 7, 1993; age 81). Cause of death for Fred Kohler Jr. is unknown. (Fred Kohler Jr. 1958 Zane Grey Theater)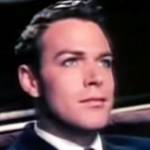 Glenn Langan (married Adele Jergens)
American actor of stage, TV (Hondo; The Loretta Young Show), and movies (Dragonwyck; Treasure of Monte Cristo; Forever Amber; The Return of Doctor X; The Iroquois Trail; Fury at Furnace Creek; Hangman's Knot; Sentimental Journey; A Bell For Adano) (born July 8th, 1917 – died Jan. 26, 1991; age 73). Cause of death for Glenn Langan is unknown. (Glenn Langan 1946 Margie Trailer)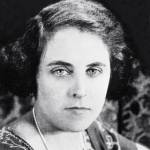 Bradley King (nee Josephine McLaughlin; aka Bradley King Windley)
American writer of short stories, silent films & classic movies (Footlights and Shadows; Lying Lips; The Miracle of Manhattan; I Am Guilty; East Lynne; That's My Man; Maid of Salem; 6 Hours to Live; A Passport to Hell; Westward Passage; Three Girls Lost) (born July 8, 1889 – died Aug. 24, 1977; age 86). Married John Griffith Wray. Ex-partner of Laurence Trimble. (Bradley King 1924)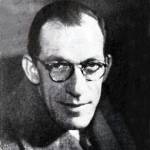 Arthur C. Miller (nee Arthur Charles Miller)
Oscar-winning American cinematographer (How Green Was My Valley; Anna and the King of Siam; The Blue Bird; The Song of Bernadette; This Above All; A Letter to Three Wives; The Keys of the Kingdom; The Perils of Pauline; The Little Princess; Gentleman's Agreement; The Gunfighter; The Ox-Bow Incident) (born July 8, 1895 – died July 13, 1970; age 75). (Arthur C. Miller 1946)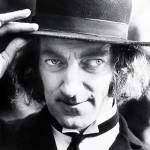 Marty Feldman (nee Martin Alan Feldman)
British comedian, writer & character actor of radio, stage, TV (Marty; At Last the 1948 Show) and films (Young Frankenstein; The Last Remake of Beau Geste; Silent Movie; The Adventure of Sherlock Holmes' Smarter Brother; Yellowbeard) (born July 8, 1934 – died Dec. 2, 1982; age 48). Marty Feldman had thyroid disease and died of a heart attack. (Marty Feldman 1972: ABC TV)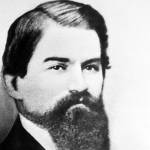 John Pemberton
American doctor, chemist / pharmacist, & Civil War Confederate Army veteran who invented Pemberton's French Wine Cola as a medical alternative pain reliever for morphine. To prevent comply with temperance laws, he substituted carbonated water for wine to create the soft drink Coca-Cola (born July  8, 1831 – died Aug. 16, 1888; age 57). (John Pemberton c. 1870s)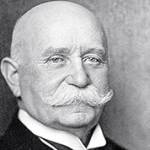 Ferdinand Graf von Zeppelin
International Air & Space Hall of Fame German military officer (1860s-1870s Prussian wars), engineer, businessman (founder of Luftschiffbau Zeppelin) designer & inventor of rigid frame inflatable airships / dirigibles, aka Zeppelins (pre-WWI, passenger carriers; during WWI, bombers) (born July 8, 1838 – died Mar. 8, 1917; age 78). (Ferdinand Zeppelin 1917: Nicola Perscheid)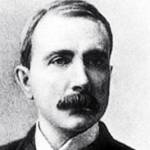 John D. Rockefeller (nee John Davison Rockefeller)
American entrepreneur (founder of Standard Oil Company), petroleum industry innovator, America's first billionaire & the richest person in America; medical, scientific, & educational institution philanthropist (University of Chicago, Rockefeller University; Central Phillipine University) (born July 8, 1839 – died May 23, 1937; age 97). (John D. Rockefeller 1875)
*Images are public domain or Creative Commons licensed & sourced via Wikimedia Commons, Vimeo, or Flickr, unless otherwise noted*