Celebrating Seniors - Clint Eastwood Turns 85 - Spaghetti Westerns and Malpaso - 2 of 5
Senior City celebrates the 85th birthday of Clint Eastwood on May 31st 2015, in the second of a five part series this week.
By 1963 Maggie and Clint Eastwood had purchased a home in California's Carmel-by-the-Sea as their full-time residence, and Eastwood had invested in other properties in the area. From left, Clint Eastwood, Paul Brinegar, and Eric Fleming on Rawhide. (1961 Photo: CBS Television | Wikimedia Commons / Public Domain)
Pictures of Clint with other women and rumours of affairs were always rampant in the media, but unknown to Maggie and the world – including Eastwood himself at first – was that in 1963 during a trial separation, Clint had fathered his first child, daughter Kimber (b. 1964), with Rawhide extra Roxanne Tunis. Clint and Maggie Eastwood eventually reconciled, but he did not confess the affair or the birth of his daughter to her until years later (in 1972).
Eric Fleming had further helped along Clint's acting career by turning down the offer to star in Sergio Leone's spaghetti western A Fistful of Dollars, filmed during Rawhide's between-season summer hiatus. Tired of playing the "white hat" on Rawhide, Clint liked the idea of being the anti-hero and signed to star in the movie for $15,000 (and a bonus Mercedes car).
A Fistful of Dollars was released in Italy in 1964, followed by the trilogy sequels A Fistful of Dollars (1965) and The Good, the Bad and the Ugly (1966). All 3 movies were released in the US in 1967 to commercial success (and critical pans), and helped to boost Clint's post-Rawhide movie career. During the filming of The Good, the Bad and the Ugly, Clint prophetically warned co-star Eli Wallach to stay far away from the scene when special effects and explosives would be used to blow up a bridge; sure enough an unplanned-for special effects explosion happened during the scene but a forewarned Wallach was unharmed. Below, Clint Eastwood in A Fistful of Dollars.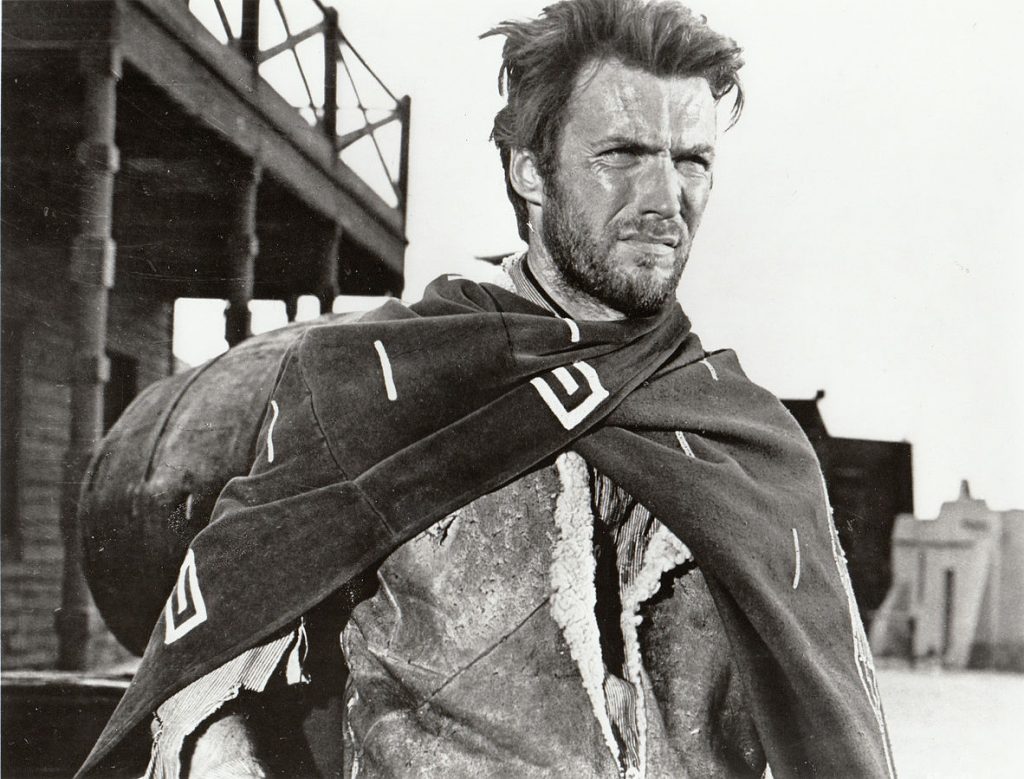 (Clint Eastwood 1964 Photo: A Fistful of Dollars | Wikimedia Commons / Public Domain)
Despite often being depicted smoking in his movies, Clint was never a smoker and has always followed a healthy lifestyle; he considers working out and paying attention to his nutrition and diet the keys to healthy aging. 
In 1967 Eastwood used the money from his Leone trilogy to establish Malpaso, his own film production company, and from that point on Malpso produced almost all of his movies. Malpaso was named for the creek than ran through his property near Carmel-by-the-Sea in California. Kelly's Heroes in 1970 was the last movie Clint acted in that wasn't produced by Malpso Productions.
His next movie, 1968's western Hang 'Em High was jointly produced by United Artists and Malpaso, and was both a critical and commercial success. Co-starring with Clint Eastwood in Hang 'Em High are Inger Stevens, Ed Begley, Pat Hingle, Ben Johnson, Charles McGraw, Bruce Dern, Alan Hale Jr., Arelene Golonka, and Dennis Hopper. Below, a clip from Hang 'Em High featured Clint Eastwood and a hanging-minded posse comprised of Alan Halr Jr., Ed Begley, and Bruce Dern, among others. 
To the delight of his loyal baby boomer fans , over the next 20+ years Clint Eastwood went on to star in many more western, thriller, and war-themed movies.
Happy 85th Birthday, Clint Eastwood!
Next in the Celebrating Seniors – Clint Eastwood Turns 85 series:
Previously in the Celebrating Seniors – Clint Eastwood Turns 85 series: